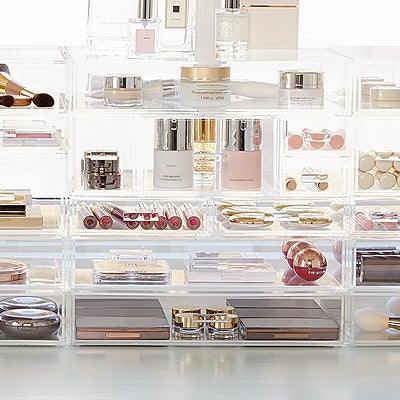 BATHROOM
Makeup Organization Ideas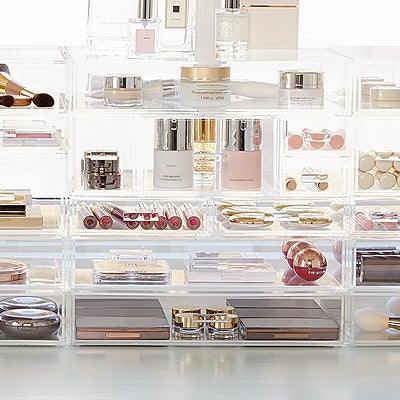 Having your makeup neatly organized and accessible makes for a much smoother morning routine. It also can help you save money, because you won't buy items you already have (that you may have forgotten you had!) Here are some tips to help you get organized.
Protect
Check the use by date on cosmetics and replenish accordingly to avoid transfer of bacteria. Discard out of date items immediately. Some experts recommend storing cosmetics away from the humidity of the bathroom which can cause bacteria to grow and shorten the life of cosmetics. A vanity area in a bedroom is ideal. If you must keep makeup in the bathroom, make sure you keep everything covered and the lids on tightly.
See
Cosmetics you use regularly should be kept where they are easily accessible and viable to save time when getting ready. Consider a countertop or vanity drawer organizers for everyday items. There are lots of pretty options to choose from. Other items not used as often can be kept in a cabinet or linen closet.
Sort
If you have a large collection, group cosmetics by function. Use bins to separate eye shadows, pencils, powder, etc. It's an effective, pretty way to see what you have.
Organize
Once you've cleaned out expired items and sorted what remains, it's time to organize items based on your space.
Related Blog Stories:
The Ultimate Way to Organize Your Entire Makeup Collection
Organizing a Vanity Space
Related Video:
---