Rated

5

out of

5
 by
Roya26
Useful little organizer
I bought one of these to organize tea in the kitchen. Easy storage and fit well on a crowded counter top. I bought a second to organize make up! Love a multi-functional product!
January 8, 2017
Rated

5

out of

5
 by
goldencorridorshopper
Great space-saver!
Holds a ton of tea bags, and the removable "boxes" make it easy to fill before slipping back into the holder. Each "box" held 16-20 tea bags...a bit time consuming but alternating the tea bags right side up and up side down helped pack more in. It's a great product and I was so impressed I immediately came back and purchased the spice bottle holder from the same manufacturer.
June 4, 2014
Rated

5

out of

5
 by
NYAuntie
Organizing Tea
I am a big fan of YouCopia products and this Teastand only reinforces my loyalty. This simple item not only organized my tea selection, but it created a great presentation options for entertaining. I used to show visitors my tea selection in my cupboard and they'd simply pick the one at the front. This organizer now allows for presentation of a variety in a simple, easy-to-manage case. I'd highly recommend this.
September 25, 2016
Rated

5

out of

5
 by
LHarmonDesign
Tea Organized
Slim fit slides right into the cupboard and has enough storage for a heavy tea drinker.
May 13, 2016
Rated

5

out of

5
 by
LCRN
Such a great purchase, and would make a great gift
I LOVE this purchase. I am a tea lover and this helps me keep all my tea bags organized and easy to see without taking up a ton of space. The plastic containers are removable for easy filling. This would be a seriously fantastic gift for any tea lover!
April 22, 2016
Rated

4

out of

5
 by
TJHappy
I really like my tea stand! It was a huge space saver in my cabinet since I was able to get rid of my tea boxes.
March 15, 2016
Rated

4

out of

5
 by
Princess78
12 Compartments!
I like this because you can have 12 different flavors of tea and they call all have their own compartment. Each compartment will fit many packets. It takes up little space because it stands vertically.
January 16, 2016
Rated

5

out of

5
 by
whatanutt
Gifted and then got one
I got this as a gift for someone who truly enjoys tea. She has a ton of the stuff and it's constantly a big mess in here cabinets. This eliminates the mess and gives you more space. I loved it so much I bought myself two!
January 12, 2016
Rated

5

out of

5
 by
TXnCutie82
I keep it at work
I love tea, but hate having tons of boxes everywhere. This does a great job of displaying what I have and I use it daily at work. It's a bit of a snug fit for some tea bags, but on the whole has been great at saving room and making everything visible.
December 7, 2015
Rated

5

out of

5
 by
Jaxx007
This is great
I gained so much space back in my cabinet using this TeaStand. I was able to fit 10 boxes of tea into it. They probably weren't all full boxes but it does hold a lot. Wasted space is now freed up.
September 26, 2015
Rated

5

out of

5
 by
spooknrun
Organized at last!
I had seen this a while back from a friend and wanted one, but only recently finally purchased one for myself. I love it! My cabinet is no longer attacking me with tea boxes, and I've been enjoying more tea lately because I can actually find my teas! My mom was so impressed she bought one as well! I've added a photo that shows the before and after of my cabinet.
February 12, 2015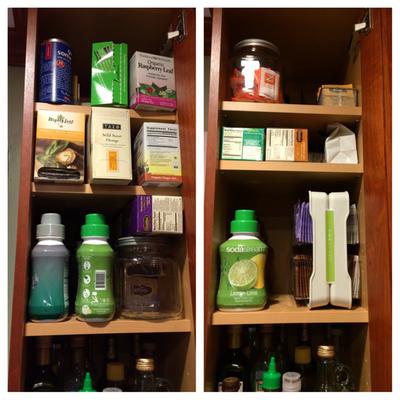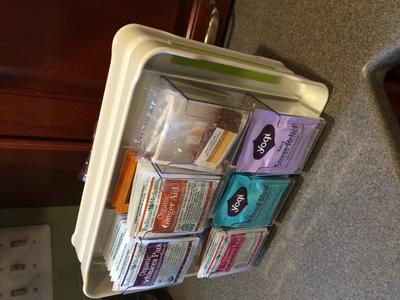 Rated

5

out of

5
 by
shazba
Love this tea caddy
neat, organized and takes up minimal space in the cupboard. love this item enough to buy two - one for regular tea and one for decaf/herbal teas.
June 19, 2014
Rated

4

out of

5
 by
bluedragon
great to find a specific tea
I was using a large plastic container to hold all my tea bags. While it was compact, it made things difficult when someone wanted to know what kinds I had or if I was looking for a specific kind. Now I have this nice organizer that has them separated out. It takes up a bit more space than my old container but it makes things much easier when trying to locate something specific or to give a guest a choice.
June 1, 2014
Rated

5

out of

5
 by
Estyberman
Tea bag organizer
This idea is so smart because it takes up so little room in our pantry yet it offers twelve types of tea and at least ten bags of each. Now the tea is all organized and in a very handy to reach and see way. We love it.
May 22, 2014
Rated

5

out of

5
 by
MissGina
Love my tea stand
I am an avid tea drinker and this is the perfect way to store and access all of my favorites. Plus it is very streamline and pretty on my buffet.
May 15, 2014
Rated

5

out of

5
 by
stazia
Just perfect
This is something I have wanted for a long time. Finally, found it! It holds so much on both sides, is sturdy, is attractive, takes up very little room considering all it holds, and is steady on whatever flat surface you choose. I bought one for a friend, also.
April 29, 2014
Rated

5

out of

5
 by
RHighley
TeaStand
Provides a handy way to display a great variety of teas using little countertop space.
April 25, 2014
Rated

5

out of

5
 by
containerstore4me
Love it!
This really does hold over 100 teabags and fits in a small space. Wonderful design, easy to use, love it!
April 23, 2014
Rated

5

out of

5
 by
MGreer
Awesome organizer
It was very easy to load and to slide into cabinet. It made my mess of tea boxes in my cabinet an organized pleasure to get to. My only wish is that I bought it a long time ago and saved myself the multiple tea box frustration!
April 19, 2014
Rated

5

out of

5
 by
ElRayoX
Awesome Space Saver
This is a great space saver. It takes up alot less space than the 12 boxes of tea bags that it replaced. I love it. Very handy.
April 8, 2014
Rated

5

out of

5
 by
TeaJunkie
Tea For Plenty
This took my 7 tins of tea and turned them into an organized, easily accessible display for my tea! I love it!
March 14, 2014
Rated

5

out of

5
 by
GoodWitchPA
Best tea keeper
My husband is a huge tea devotee and we've been trying to find an efficient tea management system for years. This was recommended by a tea fan working at the store we visited. We cleared two shelves of tea boxes. It's tidy and you kind find everything easily.
March 10, 2014
Rated

4

out of

5
 by
Kayote
By far the best organization for tea I've found. Note that it takes 2 slots for a normal box of tea (and sometimes that's tight). I wish tea holders would be made to match tea boxes, but oh well. The slots are wide enough for all the tea I've put in it. Hooray! I prefer the look of the elegant wooden tea boxes, but this one works so much better than any of those I tried. It's easier to see the tea, get the tea in and out, and it's big enough for the tea. I'll take function over elegance, and it isn't ugly. It's just not elegant. Is easy to pull out of the cabinet since it has nice hand hold on the side.
February 27, 2014
Rated

5

out of

5
 by
cevgreen
Brew in style!
I love this product! It takes up a fraction of the space all those boxes took up, and now I can instantly see what teas I have on hand. Compact, functional, cupboard to table... a must for any bag tea drinkers. If giving as a gift, make sure they use bagges vs loose leaf, this won't be much help for loose leaf types.
February 19, 2014
Rated

5

out of

5
 by
Margaret88
Tea caddy
I love team but often find I have to keep the box too! The tea caddy I purchased freed up a pn entire shelf, plus, things look so organized. Great product!
February 12, 2014