Rated

5

out of

5
 by
GadgetMaster
BIG tray!
This cutlery tray is great. I have a drawer that is 19"x19" and every other tray I found would just slide around in it and annoy me. The drawer was always a mess. This one only leaves a little less than an inch front to back, and completely fills the drawer from side to side. After combining 2 households, we had service for about 16 and lots of serving pieces and miscellaneous items. This tray is big enough to hold everything, and nothing spills over the top of the dividers. The sides that slide out felt a tiny bit flimsy when I opened the package, but once in the drawer, everything is really solid. The whole household loves it! If you want a big tray that will hold all your stuff, and take up your whole drawer, this is the one!
May 3, 2016
Rated

5

out of

5
 by
NewNester
Great organizer
The Expand-a-drawer cutlery tray is a great way to organize drawers. Since it is adjustable it works for more than just kitchen drawers. Desk drawers, work bench drawers, etc. can be accommodated.
July 7, 2010
Rated

5

out of

5
 by
MOSOCD
Great organizer
Easy to use. Easy to install. I used double sided tape to help keep it in place.
September 30, 2016
Rated

5

out of

5
 by
orvus
Must Get!
I just moved into a studio apartment from a 1-bedroom, and I needed to be creative with my kitchen storage. I LOVE this item. It was able to hold all of my kitchen tools and make it look nice at the same time.
January 27, 2015
Rated

5

out of

5
 by
Qjvaw52
The best organized kitchen ever!
I bought several expand-a-drawers trays. Now, almost all of my kitchen drawers are organized and I can find every gadget with ease.
January 8, 2015
Rated

5

out of

5
 by
Elna
Expand a drawer cutlery tray
Just what I needed for the large cutlery drawer in my new kitchen island. Fits nicely, adjusts easily, accommodates a lot. Highly recommend.
December 31, 2014
Rated

5

out of

5
 by
CAM2
Great Expand-a-Drawer® Cutlery Tray
This fits in my large drawer perfectly with some room to spare for those items that don't fit in it. It really helped organize all the items in this drawer. I love it! The expanded sides help to add additional items that needed organized. I would recommend especially if you have a slight unorganized silverware drawer getting out of control.
December 29, 2014
Rated

5

out of

5
 by
mersh
ideal cutlery divider
This was to replace an old junky plastic tray I had. This tray has a very nice flat, sleek profile. It expands fairly wide (sorry, no measurements on hand) at its widest point. The 3 panels are not attached, so while you could theoretically expand this tray to fit ANY drawer, there might be a gap between the pieces depending on how wide you need it. But I found it expanded perfectly for my needs. The tray does not wiggle apart or need re-adjusting once set. I like the amount and types of dividers as well, it lets me separate out smaller sizes of spoons, etc.
December 12, 2014
Rated

5

out of

5
 by
kschadel
Amazing!
Honestly, amazing! Fit my drawer perfectly and the ability to expand both sides of the tray allow me to make more small divided spaces. My utensil drawer went from disorganized to super easy to use. LOVE IT!
June 24, 2014
Rated

4

out of

5
 by
FormerQueenOfChaos
Perfect
We used to have two silverware trays because we couldn't fit all of ours into just one tray. Seriously. We did that for MORE THAN FIVE YEARS! So weird. Well, one day I decided it was time for a change. So we bought one of these, and we've never looked back. It EASILY fits all of our flatware, knives, and other serving utensils. Seriously, I think we actually have room for another complete set of flatware! Not that we need more...or do we?
April 26, 2014
Rated

5

out of

5
 by
Shelly1961
Awesome Product
I really wanted to squeeze a little more storage out of my kitchen utensil drawer and my two bathroom drawers, and this product did the trick. I wasn't able to use the expanding part in my bathroom drawers, b/c they're too narrow. But the drawers are deep, and the insert, which is 16-1/2", goes all the way to the back, so it still holds a ton. In the utensil drawer, it also goes all the way to the back AND I was able to use one expanding side piece, so I gained 3 extra compartments. It's awesome, I love it, and I may buy another 1-2 for other kitchen drawers.
April 5, 2014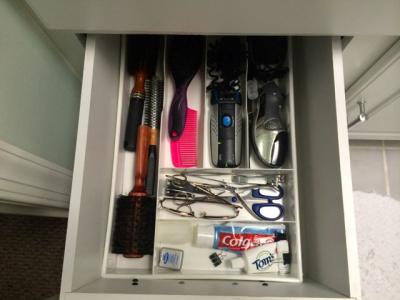 Rated

5

out of

5
 by
4Joy
Organizing is Not Always A Simple Thing
This was EXACTLY what I needed. You cannot go wrong with this as a purchase
March 2, 2014
Rated

5

out of

5
 by
MPMCP
Wonderful product
I liked this so much I went back and bought more. The first product that filled the drawer with useful space.
July 16, 2013
Rated

2

out of

5
 by
ScottSatellite
A Little Disappointing
Great concept but a bit lacking on execution. The shrink wrap conceals two big shortcomings of this tray. For the price I find the weight of the plastic somewhat flimsy. I could overlook that except for the bigger issue that there is nothing to keep the expanding end sections from coming off the center section if your drawer is wider than the maximum width. I was willing to spend $17.99 to get a super organized drawer but this really isn't much of an improvement over what I started with. I gave this two stars instead of one as I appreciate the fact that this is made in the USA option and that the plastic has no ambient smells or odors, a big problem with a lot of plastic items on the market today.
June 27, 2013
Rated

5

out of

5
 by
mifrett
The Perfect Drawer Organizer
I got this today to replace the old cutlery tray that I was using. The expandability made it a perfect fit for my drawer! I now have more usable space in my drawer.
May 5, 2013
Rated

5

out of

5
 by
hmanu
Simple yet useful
This is not only adjustable to fit different size drawers, the expand-a-drawer cutlery tray has the couple extra areas for storage of additional utensils or other items which is really nice to reduce clutter.
May 3, 2013
Rated

4

out of

5
 by
shopper78
Would work even better in a larger drawer!
Got this to replace my current utensil organizer. Only really utilized the expansion side enough to hold some straws (my fault for not really realizing the measurements on this one.) But I love the extra space above (or below depending on how you put it in the drawer) for miseallaneous spoons or whatnot. Maybe separate organizers would have worked better this time, but it's working and it's sturdy construction. I'll keep it! :)
April 30, 2013
Rated

4

out of

5
 by
act1
Good for the drawers we have
Good inexpensive buy for the drawers we have. Fits perfectly, the build does not feel sturdy, but does the job.
April 29, 2013
Rated

5

out of

5
 by
Moviequeen
Large drawer organizer
Love this utensil organizer. It is very true to the size listed, so be sure it will fit your drawers prior to ordering. I organized all my knives and other utensils, and the slide-out side allowed me to customize it to fit.
April 26, 2013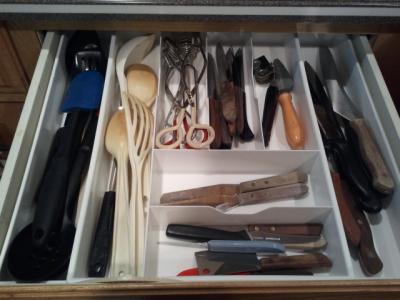 Rated

5

out of

5
 by
Jkennyfamily
Makes drawer organization easier
We are a military family and move frequently. It used to be aggravating having to buy a new silverware organizer every time we moved because our old one didn't fit. This makes everything so much easier. I also don't have to guess if it will fit.
April 26, 2013
Rated

5

out of

5
 by
Rkpsc
Best cutlery tray
Best cutlery tray ever. Keeps draw more organized then any other cutlery tray.
April 4, 2013
Rated

5

out of

5
 by
Annie78
Perfect for large drawers
I had bought a product from another store and had to return it. The expandable feature on this product make it ideal for large drawers. I even made an additional purchase for the utensil organizer one. I would highly recommend.
April 3, 2013
Rated

5

out of

5
 by
MarionSouthAfrica
Really convenient!
I bought 3 of these and am thrilled with how my drawers look now - I can find everything so easily. The trays are simple and fit really well. They do not shift around in the drawer at all when it's opened and closed. I'll be back for more!
March 18, 2013
Rated

4

out of

5
 by
jecw
Pretty good for my junk drawer
I have a narrow junk drawer that wouldn't fit my preferred draw organizers (linus narrow). This works pretty well. Not as customizable, but it does keep my junk in separate sections! The expandable part moves a bit after the drawer is pushed in and out several times, but I just straighten it back out.
March 18, 2013
Rated

5

out of

5
 by
Verified Reviewer
Functional
This Expandable Tray is amazing. Cooking and baking is my life so I have every possible utensil out there. This try holds all of my stuff and keeps everything organized how I like it.
March 18, 2013
Rated

5

out of

5
 by
Lollie123
Best Cutlery Tray I've Ever Used
I purchased this tray when we were remodeling our kitchen and LOVE it! It expands for a custom fit, is easy to assemble, clean and now my drawer is organized with plenty of room for all of my utensils. It is a lifesaver.
March 18, 2013
Rated

4

out of

5
 by
appstate2012
Great Organizer!
Such a great product to simply organize flatware and it expands to fit perfectly in my drawer! Love it!
February 28, 2013
Rated

5

out of

5
 by
retiredinvermont
Great for all your utensil needs in one drawer
Wonderful purchase. I especially like the availability to take out and to be able to wash the tray. I did read other reviews and some said it moved, but my drawer is 23" and it extends perfectly to the sides and only has about one inch in front/or back. Perfect size and I am totally pleased with the purchase from the Container Store. Arrived in 3 days!
July 4, 2012
Rated

5

out of

5
 by
KARENALEXIS
Cutlery Tray
This is so handy. I bought 3 for different drawers. Great for organizing & for gifts.
April 28, 2012
Rated

4

out of

5
 by
Maggs
Nice Little Tray
This is a great product, holds our numerous cutlery and serving items as well as knives and other odds and ends. The only thing I don't love about it is the two sides that expand do not stay in place very well. They have grooves that the sides sit in when expanded but the groves don't hold the sides tight. Not a big deal once the unit is full of heavy cutlery but I do notice that the sides shift a bit now and then. I'd still buy this again. It's a great product and it keeps our drawer clean and neat and it's sturdy.
April 12, 2012