Rated

5

out of

5
 by
lmvsdesigns
Our Dream Closet is Now REAL!!
We are thrilled with our new ELFA walk-in closet!! From early design, to the finished product we had nothing but a fabulous experience! The staff was friendly, listened to us carefully, and designed a closet to fit our space and needs. We assembled the closet ourselves using the guides and photos provided to us. Our "stuff" is now easy to find, and looks clean and well organized. Thank you Container Store, we are so happy with our new closet!
September 29, 2016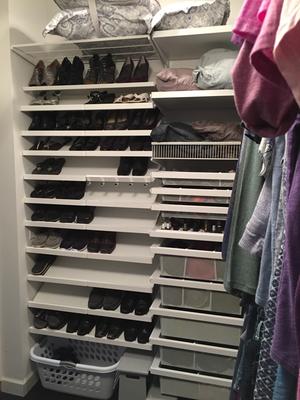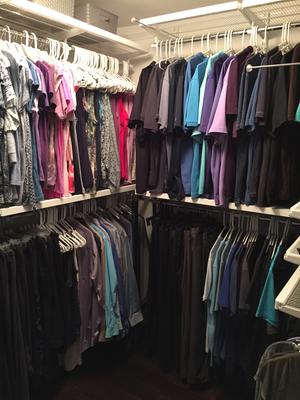 Rated

5

out of

5
 by
Cara88
Out of the box or custom design, WOW what a snap!
We started looking at the ready made options for our master closet. But, a wonky shaped closet lead us to go with a custom designed option. Boy was that ever easy. We just told them what our measurements were, (I had to e-mail a drawing since it was SOOO oddly shaped) and bam, they had everything figured out, measured, and ordered. Since there isn't a CS near us, we had to drive 2 hours to get to one so it was really important that nothing got left behind; and it was perfect! We had it up and filled in 2 days. It is Gorgeous and money well spent. If you look at the big box stores, you might wonder if Elfa is worth the cost...it is. The level of fit and finish is way above the other stuff. We are already looking at customization and tweaks we'd like to add in and since this system can change and grow and last forever, we can easily do that. Next up, our son's closet.
April 25, 2014
Rated

5

out of

5
 by
Steph24
Closet Dreams do Come True!
Thanks to the Elfa sale I could buy the closet of my dreams. There is a place for everything! I don't have to worry about my closet falling due to the weight of all my clothes and shoes. The installers were quick and very professional. Designing it was a breeze. I couldn't say enough good things about this product. Now I am well on my way to remodeling and installing Elfa closets in my home.
January 12, 2017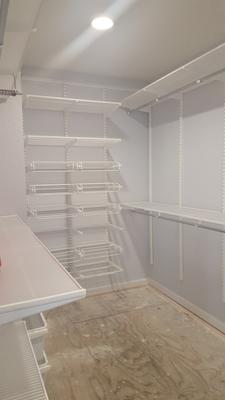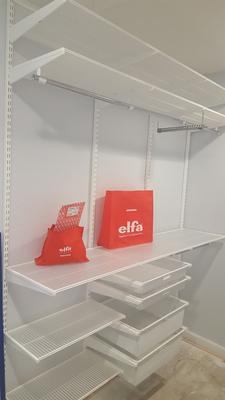 Rated

5

out of

5
 by
Lilly3
Love my elfa closet
We had our closet installed about a month ago. Wow, what a difference it has made in organizing things. A place for everything and everything in its place. The installer was great. He had to make a couple of changes to the original plan, to accommodate obstacles I hadn't thought of. Thanks Container Store.
September 18, 2016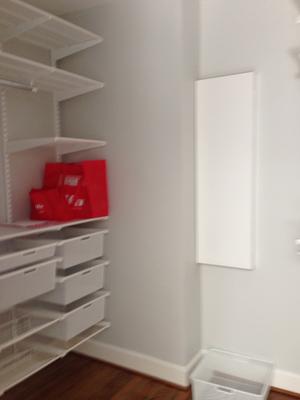 Rated

5

out of

5
 by
Alyssak
Amazing Master Closet
Finally have an amazing master closet after remodeling. It was very easy to get help in the designing phase for the closet. The installation was very easy to do after setting up the top mounting racks.
May 2, 2014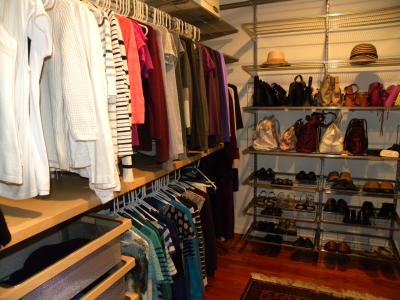 Rated

5

out of

5
 by
1GeorgiaPeach
Designer Walk-in Closet for Her
I love my Elfa walk-in designer closet. I took a one shelf, one rod on a two wall closet and converted it into this great space where I can see my shoes, my beautiful designer dresses and suits with plenty of drawer space for knits and jewelry! The Container Store helped me to design the closet and I am so glad that I had them install it for me. The installers were professional and fast.
April 29, 2014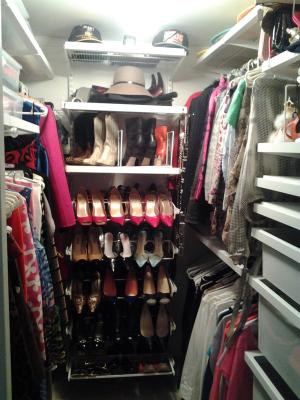 Rated

5

out of

5
 by
KnRR
Love it!
We were able to design a system around a window, and the results was perfect! We have so much more hanging space now and plenty of light to see everything. In fact, now that my clothes aren't crammed into a tiny, dark closet, I think it's time to donate a few things!
April 27, 2014
Rated

5

out of

5
 by
Sanigree
Durable, Sleek, Clean, and Crisp
I bought this closet for my bedroom and it is so convenient and keeps everything organized. I am in love with the fact that my closet looks like I am at a store made just for me and my taste. I love the fact that this closet can grow with me and I can mix and match pieces or even take my design in any store and consult with a designer to see if I would need to make changes should the system not work in its current state any longer. Very well worth the purchase. Love, Love, Love my Elfa Closet System.
April 25, 2014
Rated

5

out of

5
 by
Brittany1
So easy, even I could do it!
My walk in closet was designed in such a way there was a lot of wasted space. So when I decided to redo it, I knew I wanted to utilize the space much better. I spent quite a bit of time figuring out how best to arrange everything and played around with many different Elfa configurations on www.contaiinerstore.com. Once I made my Elfa purchase I set to work. I am SOO NOT handy and had a heck of a time rearranging my old fixtures so was quite frustrated when I finally got around to installing my new Elfa fixtures. I was relieved when it took me less than ten minutes to install my Elfa fixtures after taking multiple hours with my old fixtures. Right then and there I knew I could never go back to any other closet organization system, I was an Elfa girl! I love this product and I have had my newly arranged closet for a year now and my Elfa fixtures look great and meet my needs very well!
April 25, 2014
Rated

5

out of

5
 by
BarbieMac
Unbelievable Space!
My home is nearly 40 years old with small closets and no lighting. I had my master closets done several months ago and wallah, space and the ability to see what's in there! I was so impressed I did every closet in my house...unbelievable amount of space now! And the planners at the store were fabulous. I highly recommend spending the money to gain more space!
March 23, 2014
Rated

5

out of

5
 by
MissLillie1206
How do you explain a love affair w/a closet? ELFA
My love affair with my master closet started with a call to the ELFA design team. For years I struggled with organization since I utilize my master walk in closet as a home office as well. I had the typical builder shelves on 2 sides and I put my desk against the back wall. Clothes were everywhere, shoes were strewn everywhere and doing simple paperwork was impossible and frustrating! The designer at ELFA took the time to listen to my needs and we came up with an amazing design. I now have everything completely organized, shoes are where they belong as well as clothes. My desk area is neat and clean. It was important to me that when I sell my home in the future there was a good product installed. ELFA met that need and now the future homeowner can easily customize the desk area to more regular closet space if they so desire. A complete win-win situation! The install team were punctual, efficient and neat. The best part was that my ELFA was on sale! So the love affair continues......
February 26, 2014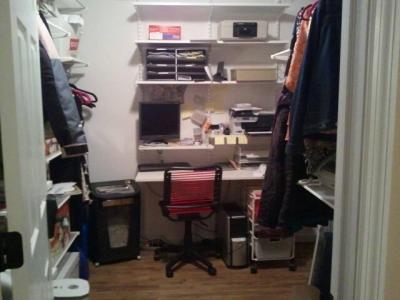 Rated

5

out of

5
 by
1qualityseeker
Love! Love! Love It!
I love my new closet. Before, my walk in closet wasn't walk in. Now I can actually walk into my closet. There wasn't room for one more thing and now I have plenty of room. My husband kept telling me that I was going to loose space I think because he didn't want to put it up. But I was so easy to install. I took everything out took out the old system patched the holes and painted. Hung the new Elfa system and now it is so beautiful and my husband liked it so much we went the next day and bought a system for him and will do the same thing for his closet. Love it! Love it! Thanks Elfa!
February 26, 2014
Rated

5

out of

5
 by
bakerash1004
So Amazing It Makes Me Smile Everyday!
I just LOVE LOVE LOVE my new elfa closet system!!! The design was done perfectly starting from scratch and only a few tweeks were made after it was installed and filled up with my clothes and shoes. The installation was great with every detail covered flawlessly. I could not be more pleased with every aspect of my experience with The Container Store and the elfa system! I LOVED it so much I went back after Christmas and did my food pantry. :)
February 22, 2014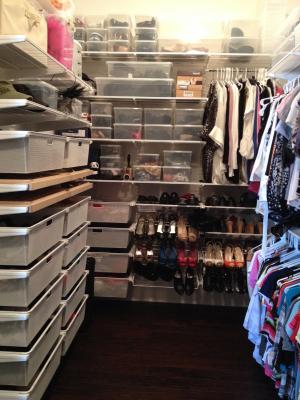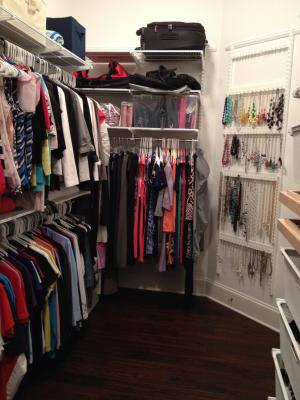 Rated

5

out of

5
 by
1890sHouse
Great System for House Without Closets
We live in an historic circa 1890s home and this Elfa system was a great solution to our lack of closet space. We placed the Elfa Walk-in Clothes Closet in our front entry way and closed it off with two10 foot floor-to-ceiling draperies. It looks great and holds all my husband's clothing from workout clothes to winter jackets and boots. Great buy!
February 15, 2014