Rated

5

out of

5
 by
Kimmi7
Perfect folding crate
My company uses these crates twice a year at our registration desks to hold packets for our members at our conventions. They are a perfect size, sturdy enough to hold a lot of heavy packets, the handles make it easy to move them around, they are professional looking and the best feature, they fold up and are easy to ship back to our home office. Stop using the boxes that your paper comes in and invest in some of these folding crates. You'll be glad you did.
July 1, 2016
Rated

5

out of

5
 by
Buttons58
Grocery holder
Keep in car to hold groceries. Easy to bring in house
May 30, 2016
Rated

5

out of

5
 by
bikemary
great folding crate
I really like this folding crate for use in the back of my Lexus. It works wonderfully to contain all the little packages that I bring home.
March 6, 2016
Rated

5

out of

5
 by
KAFN
Fantastic product
I bought 4 of these probably 20 years ago; they came in all different colors then; have loved them and so many people have asked about them; I'm giving these as gifts.
November 29, 2015
Rated

5

out of

5
 by
michrob
Excellent Organizer
This crate is great to hold your groceries in so they do not fall all over in the trunk. It keeps soda bottles and other things standing up so they don't fall over when driving. It is definitely well worth the price!
July 7, 2014
Rated

4

out of

5
 by
Disorganizedcar
Great
Exactly what I need for my trunk and easily collapsible.
May 14, 2014
Rated

5

out of

5
 by
JillyMcQuilly
Have Used It Every Week for YEARS!!
I have used this crate (an older version) every week for YEARS - I LOVE this thing! It s been a perfect addition to my reusable bag arsenal that I take to the grocery/big box store. Great way to protect those fragile items that tend to get squashed in a bag. But, be prepared for all the "ohhs & ahhhs" from cashiers and fellow shoppers!
May 1, 2014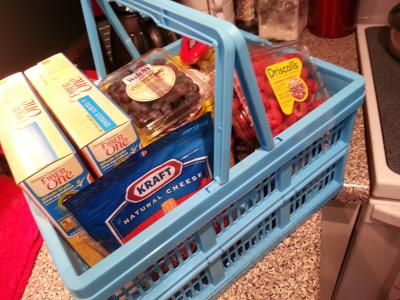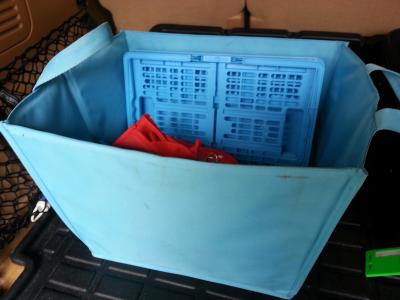 Rated

5

out of

5
 by
marti2012
Works for years
I use this tote to collect and carry items to our vacation home. I was always forgetting things I intended to take so now I collect them in this tote during the week. It collaspes to flat for the trip home or for storage during our stay.
April 26, 2014
Rated

5

out of

5
 by
lovestosort
Exactly What I Needed
These folding crates are exactly what I needed for the back of my SUV. My previous SUV had a built in crate and I really liked that when I went grocery shopping. It kept the bags from falling over. My new SUV does not have the built in version. I wanted something that would hold my bags up securely. These crates are perfect for the job. I put two of them in the back, secured them with bungee cords and I still have room for my re-usable cloth bags. Each crate can fit 3 of my cloth bags. I placed mine in one next to the other, long-ways, and I can still fit several other bags in between the crates and the back hatch. Some of the reviews said the crates are cheaply made. I would say they are light weight plastic. If you are looking for something to haul heavy stuff around, then get molded milk crate style crates instead. I don't use these to take the grocery bags inside, I leave the crates in the car, secured with the bungees. But if I need to take them out to make more room for hauling, they come down in a flash, and fold nice and flat. I ordered two crates, and one did come in with a broken corner, which make them unusable. I sent an email to The Container Store and they replied immediately. They replaced the broken crate in 3 days at no charge to me. Their customer service is wonderful. I have bought from them numerous times in the past, and will continue to do so. It is so refreshing to find a company that takes customer service seriously, and offers innovative products at reasonable prices. Good product, good prices, great people!
January 15, 2014
Rated

2

out of

5
 by
hedge
Folding Crate
I needed something for the cargo area of my car that could be collapsed down when not in use. This looked to fit the bill. I like its size (both folded and open). The problem I have with the crate is the sides that are suppose to hold it constructed came bent and will not actually click into place causing to to want to fold .The way it is constructed if you have any weight on it while closed it will bend the cheap plastic (which looks to be what happened with this one).
September 4, 2013
Rated

1

out of

5
 by
twinmomOH
Disappointing
I have several foldable crates that I purchased a few years ago from The Container Store. I believe they were a different manufacturer. Those crates are super and high quality. I purchased 4 of these newer folding crates. Only one worked as it should. The other 3 wouldn't stay constructed and they seem very flimsy. I don't trust them to carry much and not fall apart. I am returning all of them.
August 24, 2013
Rated

5

out of

5
 by
crazyneet
have been looking for awhile
We had been looking to replace an older one which cracked. Perfect replacement and more sturdy!
August 11, 2013
Rated

5

out of

5
 by
Newday
Strong,durable crate
I have found the folding crate to be able to handle the very heavy groceries I purchase in a bulk store. There is no sagging or bowing, although I have easily 40 lbs of groceries in each. Collapsing it is simple. I keep two in my car and use them weekly. Great quality!
August 7, 2013
Rated

5

out of

5
 by
Gadgetman
Great product. They take up little room in my car when folded and quickly fold open to use. Can handle a pretty heavy load and the hand gripes are easy on the hands.
June 8, 2013
Rated

5

out of

5
 by
ElenaN
I love my crate!
This is my very first purchase from The Container Store! I do my grocery shopping once a week and this crate is going to be perfect to hold all the groceries without having to also get store plastic bags. The handles are very sturdy and comfortable and the crates hold a lot of weight! When folded, it disappears into my trunk and does not take any room at all. I am gonna get another one soon!
April 29, 2013
Rated

5

out of

5
 by
Jenn321
Great Product!
This folding crate is great for the trunk of a car. It folds flat easily and assembles quickly to put groceries in!
April 27, 2013
Rated

5

out of

5
 by
manda27
Super Strong
I moved college books in this and it held, my hands were hurting from the weight and plastic but this held them!
April 26, 2013
Rated

5

out of

5
 by
neeuqc
Great for everything you want to move or store
I use to travel a lot with my dog and these were great to stick the dog cage into. Then I would just pull the dog through the airport. I still have two from 1989. I love CS they have something for everyone. I've been going to CS since I discovered them in San Antonio - mid-80's.
April 15, 2013