Rated

5

out of

5
 by
Vidal
Elfa Shelving
The most versatile shelving unit ever. I've have been using Elfa products for the last 12 years. It never fails. Solid construction, easy to assemble and myriad possibilities. I also let friends and family know about Elfa. I often end up installing it for them, but it is so easy to put together.
December 9, 2016
Rated

5

out of

5
 by
PamelaZ
Could not live without this!
We have been using our Elfa shelf unit for years. This is the third home we have used it in. Container Store always sends out expert installers to rehang our unit. We collect DVDs and this is used almost every day. It looks great in our new home and we have lots of room for expansion. We could not display our over 1,200 movies without this!
January 10, 2016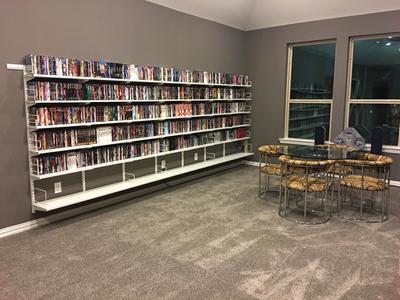 Rated

5

out of

5
 by
JeniferAbi
Kid's Homework Station/Shelving
I purchased a whole system to handle the kid's books and school work. It was so much fun to create and assemble that I expanded it to hold DVD's and games. I am thrilled with the looks and functionality.
April 28, 2014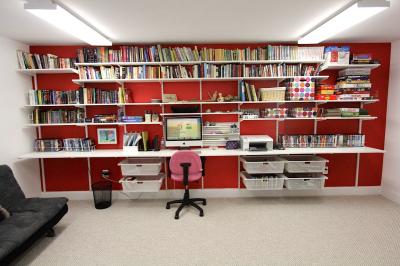 Rated

5

out of

5
 by
Anastasiia
Great Purchase
We redid our clothes closet and this shelves look perfect! Modern style. Also easy to install and they are strong! We are strongly satisfied with this purchase. Thank you Elfa and The Container Store for Great Ideas and Perfect Cusomer Service!
January 13, 2017
Rated

5

out of

5
 by
Soni
Great, versatile product
Easy install, easy cleaning. looks great. I have bought and installed the Melamine shelves both in closets and in my craft room. they are versatile for any organization space you want.
July 21, 2016
Rated

5

out of

5
 by
VirgieJo
Great for any room.
Purchased for extra space in my laundry room. Very handy.
April 1, 2016
Rated

5

out of

5
 by
BWTN1
Did the job
Nice quality and finish ...............................
March 21, 2016
Rated

5

out of

5
 by
Pathe
Perfect Fit
Bought these 24 inchers to put in-between my 25 inch end shelves. But had some left over that I wanted to stand alone, not next to any other shelf. I called customer service and found out that if turned both elfa connector wires underneath to the outside I was able to use the leftover 24 inchers by themselves. Note that the 24 inchers will not cover the entire elfa bracket that attaches to the standard. There is a little bit of space left open on the bracket, but I'm happy; its sturdy!
February 20, 2016
Rated

5

out of

5
 by
Haywood
Handy & Versatile
These are strong and can hold weight. This is the second shelf I have purchased as a stand-alone item. I use one on a luggage carrier as a plant stand. I put the other one, when needed, on the surface of the stove under the excellent stove light for a stand-up desk. Of course, I check to make sure no burners are hot first.
December 15, 2015
Rated

5

out of

5
 by
Susiekrochets
Best Hanging Shelves Ever
I love Elfa shelves and the entire system. Very easy to hang (for this type of shelf) and they look great. Very sturdy - they hold a lot of weight. I use them in my home office where they hold books, binders, paper, etc.
March 23, 2015
Rated

5

out of

5
 by
ElfaLove5
Elfa Desks very functional and stylish
We love our elfa desks and shelving units. We had to remodel our home for our baby, including reconfiguring our guest room and building a nursery. The Elfa desk and shelving solutions provided a functional and stylish solution for our modern home.
March 22, 2015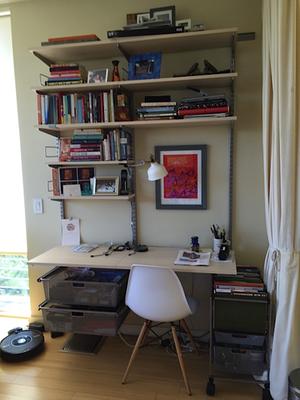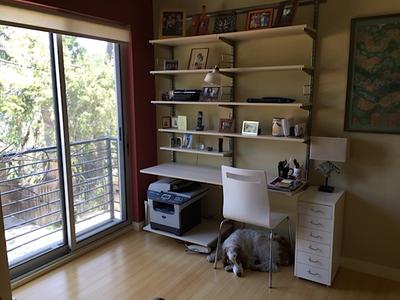 Rated

3

out of

5
 by
VaBeachMom
Nice Looking But Quality Not Great
I purchased the Elfa Office in a Closet (no longer available). The product was VERY easy to install. All of the parts are of a very good quality except for the melamine shelves. I purchased 8 white melamine shelves (various sizes) and the white melamine desktop. Of these 9 pieces, 4 arrived chipped. Unfortunately, the shelves have a set front and top, so you do not have a lot of options in placement making hiding the blemishes difficult. I decided not to try to exchange the shelves because I feel that if nearly half of my pieces arrived damaged, it is very likely that some of the replacement pieces would also arrive damaged. I also do not feel like packing the shelves back up. Overall I am happy with the look of my closet, and once I fill the shelves the blemishes won't be noticeable. However, I would not purchase an Elfa closet system again. I have used similar products in the past and have found those other products to be a little more difficult to install but a little better quality for the same price point. I prefer better quality.
March 14, 2015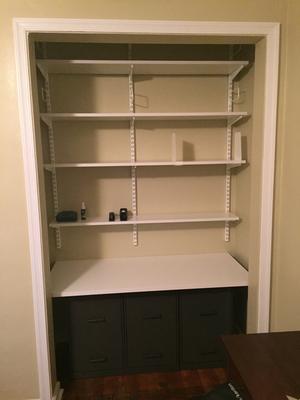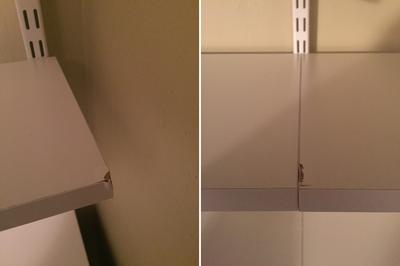 Rated

4

out of

5
 by
MikeinFortWorth
Melamine Shelf Warning
The Elfa shelf system are easy to install and look good, but if you are going to put an entire row of books on a Melamine shelf expect it to bow. If you need sturdy bookshelves, you need to get the more expensive ones.
March 12, 2015
Rated

5

out of

5
 by
Zanadue
Love Elfa
These shelves were to supplement a pre-existing Elfa office set up. There was also a guest room converted into a closet. I love everything Elfa and you will too.
January 24, 2015
Rated

4

out of

5
 by
Fiownahsees
Looks sleek, goes with everything
Used these with the Easy hang system to make a nice shelving unit for our home office. The shelves look great and the driftwood finish manages to go with the black stained oak desk and the lighter stained oak credenza. As a bonus the driftwood colour doesn't show dust. Was nice to be able to order a shelf in a deeper width to accomodate a stereo system on one of the the shelves. Ordered by phone and found the customer service helpful in ensuring I had all components necessary.
May 29, 2014
Rated

5

out of

5
 by
ILoveShopping
Dream Shoe Closet
We installed the Elfa system for our hallway entrance closet. I wanted a place to put my shoes and also my hubby's shoes. Our closet is long and the side walls were a waste of space. We decided to add shelves on the sides (see the second picture on the bottom). The ladies at the store were amazing. They helped us figure out exactly what we needed based on our needs and the measurements that my hubby had written down. They knew exactly what would meet our needs. The installation was done well and professionally. This system is worth every penny and it adds value to our home if we ever choose to sell it. What girl wouldn't want a shoe closet?! I love my Elfa closet so much and sometimes I stop and admire my closet when I walk past it!!!!! It is the perfect dream shoe closet! I love it!
April 26, 2014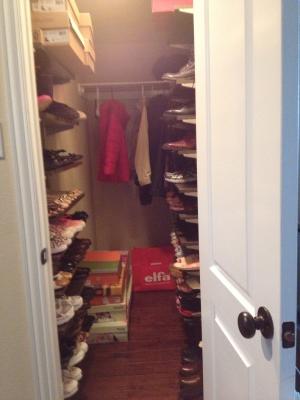 Rated

5

out of

5
 by
Helga
Wonderful
So easy to install compared to other shelf systems. These were perfect for our needs.
April 25, 2014
Rated

4

out of

5
 by
OrganizationByVal
Garage shelf
Great product and looks good in my garage elfa system.
April 25, 2014
Rated

5

out of

5
 by
InTheCity215
What a compliment
When I had a vision to turn the guest room's wall into a custom "closet", I pictured drawers in the center, hanging space and a book shelf on the right. After realizing that Elfa would allow my custom design I knew I wanted solid white shelves on that side and everything looks great. While using the same platinum color pieces the solid white shelves stand out and really give the whole look some depth.
April 1, 2014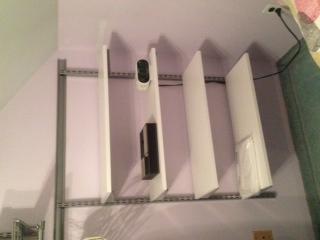 Rated

5

out of

5
 by
KPRP
Beautiful Shelving
We purchased this shelving for our bedroom to help organize our ever expanding mountain of "stuff." The shelves look beautiful, and the the convenience of being able to easily adjust their size is such a plus. Highly recommend.
March 25, 2014
Rated

5

out of

5
 by
tammyg
bookshelves work great
The Container Store made it super easy for me. I used the online chat and within minutes the design, list of items needed, and the cost were ready for me to purchase. I was concerned about installing myself but the videos I watched really made me confident that I could do it myself. The shelves look great in my son's bedroom for his many many books. I definitely secured the top rack in 5 studs to be sure it could hold the weight. Really happy with the product and service.
March 25, 2014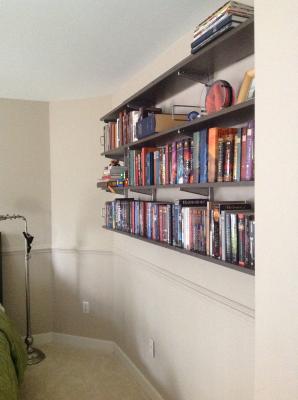 Rated

5

out of

5
 by
DanishElfa
In LOVE with Elfa
Took some extra Elfa parts and created a media and book shelf to in my living room . The driftwood is a nice color that goes with any style and the product is packaged well. One self had a defect, but the awesome employees at the Easton store took care of me.
March 12, 2014
Rated

5

out of

5
 by
CarpMaster
The Right Stuff
I have installed several brands of shelving/closet systems over the past several years. Elfa is by far the best, especially for a nice, finished look. The quality of the materials and excellent quality control make the installation smooth and straightforward. The Container Store staff is second to none! Their knowledge and expertise is demonstrated from the design to packaging the products after checkout. They are always so patient with us when entering and editing a design!
March 6, 2014
Rated

5

out of

5
 by
ShopnFun
High Quality, Durability and Longevity
Use shelves for my books. Have had some for over 12 years, with two moves, and they still look like new. Have bought another 15 or so in the past year and they have the same quality.
March 4, 2014
Rated

5

out of

5
 by
mdrivel
Vertical storage above a desk
I purchased and installed a 5' wide shelving system above an existing desk. The store designer helped me figure out the best layout and I was able to install this relatively easily (although this was about as wide as I would be able to handle on my own). The only issue I had was with my 'wavy' walls the shelves don't meet properly along two verticals. I suggest staggering the shelves so that each individual shelf has two supports on either side. This will camouflage wall irregularities.
March 1, 2014
Rated

5

out of

5
 by
KaiDoi
Easy to hang
I built shoe shelves for my girl using the Elfa shelving. Looks great at it took me less than 30 minutes.
February 22, 2014
Rated

5

out of

5
 by
Bmorrette
Worth every penny
I've heard a lot of great things about elfa products but I will admit I am a cheapskate. This year after dealing with a messy and unorganized workspace. When I saw container store was having their annual elfa sale, I decided to give them a try. I am now an elfa convert! They are perfect - sturdy and solid. My only complaint is, if you are installing the standard uprights on your own, like I did, that they didn't include some sort of spacing guide, paper, cardboard or anything really. The videos on the site are fine, but from what I could tell there is no information on how to properly space out the uprights. Other than that, the shelves have kept me mess free and organized. Note about the photos, the shelves are actually level, for some reason in the photos they don't look like it
February 16, 2014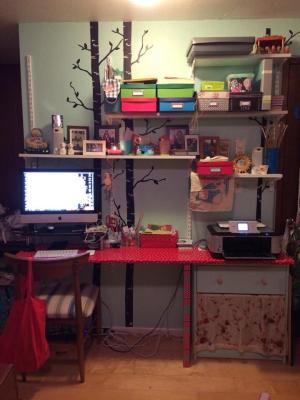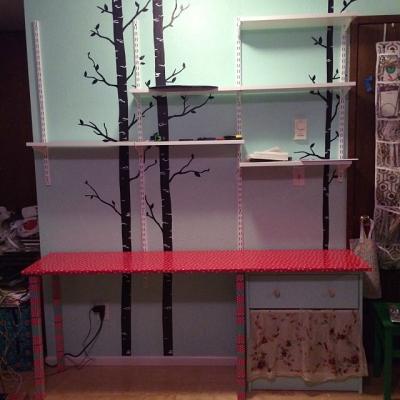 Rated

5

out of

5
 by
Carbo74
Just what I needed!
When installed with the corresponding brackets and hardware, the elfa shelving is unsurpassed by any! This shelf was the perfect solution to filling the unused wall space and getting my microwave off of the counter for additional counter space. Love the elfa items!
February 16, 2014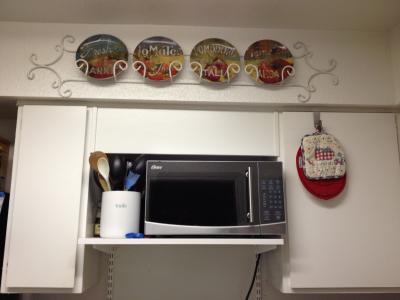 Rated

5

out of

5
 by
Rondina
A good home investment for resale
When I first moved into my 20's bungalow, there was one pitiful 3-ft white shelf and a galvanized pipe for hanging laundry.in the mudroom over the washer and dryer. I put up the Elfa ventilated shelves. Those are now moved to the garage above a chest of drawers and being replaced by the driftwood solid shelving. The ventilated shelves were great, but this will give the room a more polished look without the custom cabinet expense. Configuring all the closets in the house with Elfa has given me and future owners options. A good resale investment.
February 14, 2014
Rated

5

out of

5
 by
JenandJames
Great looking shelving
We started with platinum and driftwood shelving in our study and then liked it so much designed outside wall unit in son's bedroom.
February 13, 2014