Rated

5

out of

5
 by
Perisan
Best Purchase Ever
I liked them so much, I ordered a second set. I ordered 6 total. Would order more if I had more room in my freezer. I shake a lot and the lid solved that issue. The cubes come out so easy. I love these trays.
June 10, 2016
Rated

5

out of

5
 by
GramPam
Finally!!! ice cube trays that work as advertised!
After getting so frustrated with grocery store ice cube trays which crack and refuse to release the ice, I did an online search for the best ice cube trays. I read the reviews, and this was the most convining. I have taken ice cubes out twice now, and you don't have to twist the trays but a small amount to make the ice pop out. Easy to fill, and the covers are great. Well worth the modest price!!
June 27, 2014
Rated

5

out of

5
 by
GrandmaS
great product
These trays aregreat. Liked the smaller size and cover.
June 27, 2014
Rated

4

out of

5
 by
Feelsilky
Covered Ice Trays
I am very happy with these Ice Cube Trays. They make a solid good sized Ice cube and they are easy to fill and empty.
June 23, 2014
Rated

5

out of

5
 by
marty3727
great tray
I love the thickness of these trays,,, the ice just pops out!
June 11, 2014
Rated

2

out of

5
 by
shopper8888
Too small
This was cute in the store and it had a lid, which I thought would be great and prevent spilling the water on the way to the freezer. Once I started using it the lid didn't close all the way and the ice cube tray barely holds enough ice cubes for 2 drinks.
June 2, 2014
Rated

5

out of

5
 by
coopie
Love! Love! Love!
These are the best ice cube trays ever! Ahhh yes! With lids. I ordered 3 and am worry free now about my ice cubes getting exposed to BPA which is unfortunately in most plastics!
April 17, 2014
Rated

5

out of

5
 by
rosearbor
An ice cube tray with a lid. Genius!
Sometimes the simplest things are genius. I love the lid on this tray so that I can stack boxes on top of it in the freezer.
April 14, 2014
Rated

5

out of

5
 by
MaMar
Perfect for compact refrigerators!
My daughter bought one of these as an extra tray for my compact refrigerator and it is much nice than the one that came with it because of the lid. It allows you to stack things much nicer in the small freezer section. Love it, love it!
April 13, 2014
Rated

4

out of

5
 by
Icegirl
Broken ice maker
Compact, convenient ,affordable product. The cover is neat as it keeps the ice protected from spills and odor, and also serves as a temporary holder when transferring the ice to another container. You just turn it over and it neatly flips out. Great alternative while ice maker is out of order.
April 9, 2014
Rated

5

out of

5
 by
Notrub
An excellent product. A friend has these trays, which is how I found out about them. The cube size is perfect for drinks, they stack neatly, the cubes release easily. I will buy more.
April 8, 2014
Rated

5

out of

5
 by
JuliaFromNYC
Perfect ice cube trays!
My fridge ice maker broke a few years ago (don't they all) and rather than paying service to fix I just went with ice trays - I am a bit particular about ice cubes and I had actually disliked those long shape automatic ice maker "cubes" (but had used them anyway while the maker still worked simply because of convenience). I think long ice cubes are ugly, lol. Many manual ice cube trays also make long rectangle or oval cubes. When I went to using my own trays I literally hunted through the internet for hours on end and ordered many ice cube trays trying to find some that had the right size and shape. The silicone trays were terrible - you can only get one cube out at a time. Some others left a strong plastic or rubber taste/smell on the cubes. Still others were the right size but warped or didn't stack by design. Some small cubes were TOO small and the little cubes would stick together in a mass once you put them in a glass with water. Others were oddly large and awkward. It was almost impossible to find a perfect small square cube. Finally - after years of making do with some warped blue cube trays that were made for camper freezers (and stacked terribly) - I saw these in the Container Store - and bought 10 of them! I don't need the lids, I just stack all 10 filled with water and put them on the top shelf and they make the most beautiful perfectly sized square ice cubes - EXACTLY what I had been searching for. I like to make a lot of ice at once and keep it in a big ice bin - ready for parties etc. These are everything I was looking for!!!
April 4, 2014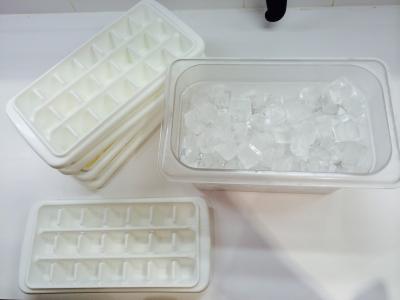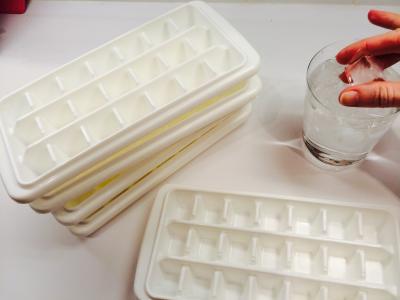 Rated

5

out of

5
 by
igirl
Great and compact
I bought three of these when my automatic ice breaker stopped working. I love that they have lids and can easily stack which means they take up less room in my freezer. The size of the cubes is great for both large and small glasses. I would definitely buy these again.
April 2, 2014
Rated

3

out of

5
 by
Lori888
Ice cube tray
I bought this ice cube tray thinking the lid snapped securely, but found out it does not. The lid simply lets you stack on top. The size of the cubes is perfect though.
March 11, 2014
Rated

5

out of

5
 by
kwoman
love this
We found 2 of these in the store and went back for more after we tried them out. A cashier at the store said she was looking for some also and gave me the item number to use online at home. She explained that the store was out of stock because every time they come in ....they are quickly bought out. She suggested I order them online for store pickup. I did not have to pay shipping and they were held in my name at the store. It was easy and we are very happy with our purchase. I like the size of the cubes. They fit in our reusable water bottles. We now use 6 of these.
September 24, 2013
Rated

4

out of

5
 by
mankneejr
Like the size
I really like the size of the ice cubes and will buy more.
July 7, 2013
Rated

5

out of

5
 by
gigisam
use in rv
this tray is perfect for our rv. able to stack other items on top because there isnt alot of space to spare.
March 30, 2013
Rated

5

out of

5
 by
Cherokee7
Covered Ice Cube Tray
The ice trays are really nice and I love that they have covers. I never was very good at getting all the water in the trays in the freezer and these are a great help. Am definitely enjoying the purchase.
March 28, 2013
Rated

5

out of

5
 by
Stacye
Best ice trays ever!
I bought these after purchasing a reverse osmosis water filtration unit. I wanted smaller cubes than the standard trays. My cubes come out crystal clear. I usually use about 3/4th of a tray to fill my ice tea glass. Perfect size! Of course, when ever my dog hears the ice, she comes running for her ice cube, which is like a treat to her. :)
February 22, 2013
Rated

5

out of

5
 by
Jeremy
Great
Just like all the others have said. They work perfect, aside from the lids not being able to snap closed. They work fine for stacking though, with or without the lids. I have cursed those cheap Wal-Mart ice trays for the last time. The cubes are good size too, like 1" cubes.
December 16, 2012
Rated

5

out of

5
 by
arkaboogie
perfect product for intended use
purchased these trays for freezing pureed garlic and ginger for northern Indian cooking. no need to repeat other reviewers, but they work great and hold the right amount for my purpose (1 TBSP).
October 15, 2012
Rated

5

out of

5
 by
justmeagain
Best Ice Cube Tray on the Market
The search for the perfect ice cube tray has ended. After years of looking for an ice cube tray for its intended use - to freeze water and have frozen cubes of ice slide out easily, THIS IS IT. With all the other glowing reviews on the site, we just went out on a limb and bought six trays. Though the cubes are smaller than a standard ice cube, they are perfect. The cubes just pop out of the tray with a twist - no more banging, twisting left and right, they just slide right out. The lids are nice to have in order to stack and to keep freezer odors from the cubes. The tray tops are loose fitting, but work as intended. Highly recommend!
June 14, 2012
Rated

5

out of

5
 by
Emme
VERY Happy ~ Highly Recommend!
I highly recommend these trays! I purchased a few of these, along with another set from the container store, and these won out by a landslide. First of all, the lid just rests on top, keeping the ice fresh but not making it hard to use. The ice cubes are a nice smaller size than normal and I found that to be just fine. In fact I am going to buy more of these and get rid of my other lidded trays. The lid does build up frost, but it does not keep the lid from fitting nicely. The size of the trays are just a little smaller in size and I really like that. In fact I have a large full size freezer and these fit better than the larger trays. These would also work nicely in a smaller RV freezer! You CAN use these trays without the lids and they will stack just fine. Overall I HIGHLY recommend these and will be purchasing more today!
June 3, 2012
Rated

5

out of

5
 by
hallk16
Covered ice cube tray
Love this product. I purchased for my camper, but now use in my house as well. The lid serves as a storage tray. Great idea and I love the smaller ice cubes.
April 27, 2012
Rated

5

out of

5
 by
nh320
Love!
These are the best ice cube trays ever. They hold about 1 Tbsp in each cube and I use them all the time to freeze extra broth, buttermilk, etc to use later when cooking. The lids don't snap on, but it still keeps stuff and odor out of whatever I'm freezing. Great for kid food or homemade cooking.
March 19, 2012
Rated

5

out of

5
 by
lovemyfamily
Love this product!!
Love the size of the cubes. Love that it has a lid and that they are stackable. Plus the kids love them because they are fun. Definitely getting more of them.
March 13, 2012
Rated

5

out of

5
 by
msbidding81
Cool Ice Tray
I love these Ice trays. They keep the ice fresh and protected. They don't break apart or crack. I think they are well worth the price.
February 21, 2012
Rated

5

out of

5
 by
Claire
Best Ice Cube Tray EVAH!
I've tried a lot of ice cube trays, as always having enough ice is one of my goals in life. If you can't have an ice machine at home, this really is the next best thing. Not only are the cubes the right size for picking up with ice tongs or fitting into a small diameter glass, one tray makes 21 cubes. I got these for my RV freezer, and they are exactly what I needed. The only problem is I can see it wouldn't hurt to pick up one or two more! Highly Recommended!
February 14, 2012
Rated

1

out of

5
 by
BarbJ
Lid doesn't snap on
Wasn't happy that top just lays on top of cube tray. I thought it would snap on securely. Was very happy with customer service though.
February 2, 2012
Rated

5

out of

5
 by
galechim01
spectacular
it's ideal for small fridges, as you can put other things over it.
December 8, 2011