Rated

5

out of

5
 by
scombro01
Keeps our new cabinets looking new
We have brand new kitchen cabinets and purchased 4 rolls of this product to line our shelves. It works well. It is thick and sturdy, but cuts well. Unfortunately, both the 12" and 24" wide rolls were too wide for all of our cabinets. We had to do a lot of trimming and had a lot of waste. But they keep scratches from occurring and let air circulate, in case dishes are still damp when put away. Our four rolls were not nearly enough so we will be purchasing more!
January 8, 2017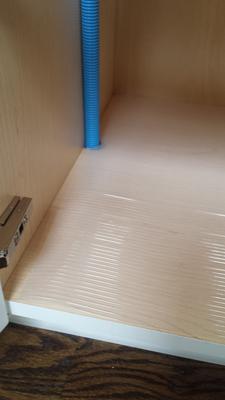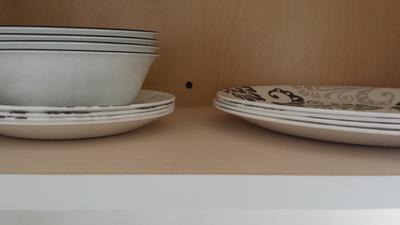 Rated

5

out of

5
 by
MRSO
THE Best
I highly recommend this product. You will love it!
January 8, 2017
Rated

5

out of

5
 by
shoelovemoe
Amazing Cabinet/drawer liner
This liner is the best ever!! It's easy to cut to fit perfectly where you place it and it doesn't slip. Durable liner- you will want to use it all over your house or apartment!! I lined drawers in bathrooms and kitchen cabinets and drawers- love it!
March 20, 2016
Rated

5

out of

5
 by
Avivan5
best shelf liner ever
I hate the kind of liners that stick to the shelves. This one is sturdy enough not to move once you put it down, but you can clean it and replace it when you want to. It is expensive, but it is well worth it.
May 21, 2015
Rated

5

out of

5
 by
JBG2121
Great for under the sink and more
I bought this to line the cabinet under the sink to protect it from potential water as well as the cleaning products that are stored under the sink. After I was done with that project, I had some left over and lined my pot/pan cabinet shelves - they look great and it's much easier to slide the heavier pots into the cabinet without worrying about scratching the shelf surface.
April 29, 2015
Rated

5

out of

5
 by
MyWinner
Best liner EVER!
I wished I had bought this liner years ago! It is durable and easy to clean. You cut to fit once and you are done for a lifetime!
April 11, 2015
Rated

5

out of

5
 by
pickypicky1939
Great stuff
Was looking for something to put on the top of my new front-loading dryer, so that the detergents would not drip and cause rust, as had happened with my previous one. This stuff works great - just cut it with an ordinary scissors, lay it down, put the bottles on it (so it stays in place), and rinse it off every so often. Much better than other methods I'd tried. Glad its a large roll - expect to find many similar uses.
January 15, 2015
Rated

5

out of

5
 by
search4organization
A must have in every home
This will keep your cabinets in top condition and allow air to circulate in your dishes.
May 25, 2014
Rated

5

out of

5
 by
Timmerlee
Best Shelf Liner - ever!
After much searching in stores & on-line for shelf liner for our new kitchen cabinets, I decided to try the clear Plast-O-Mat ribbed liner. This stuff is wonderful!! It is thick, but lays flat. It cuts easily with scissors. The ribs make it a cinch when cutting length-wise, too - just measure at one end and follow the rib across! And it is made in the USA. I would definitely recommend this!
May 8, 2014
Rated

5

out of

5
 by
loveorganizing7
Greatest liner
So easy to install. Cuts nicely. Cleans easily from spills and gunk. Great for all cabinets, but especially in laundry room!
April 26, 2014
Rated

5

out of

5
 by
namaste2
Love this product!
I bought this shelf liner for freshly painted shelves in my kitchen 2 years ago and think it's well worth the extra expense over other shelf liners. It's durable and doesn't stick to my shelves and leave a nasty residue behind like the old contact paper did. The best part is how easy it is to clean - I'm in the process of moving, and I've been wiping the shelf liner down with a wet cloth to clean it after clearing out each cupboard. When this product went on sale again recently, I stocked up on several rolls of both sizes for the shelves in my new house. Don't bother trying any other products like this - this is the one you want!
April 25, 2014
Rated

5

out of

5
 by
organizer45
I LOVE this product!
I bought.this the first time to line my shelves where dishes and glassware are kept. Sometimes I put things that are not quite dry in the cabinet, and the ribbed plastic allows them to finish drying without causing rings on the wooden shelves. THEN I used the large size under my sinks in the kitchen and bathroom because I always used to have rust rings from cans of comet or sticky stuff from cleaning supplies or damp cleaning supplies. It protects the base and is so easy to take out, wash and put back in place. Finally, it is a great gift for my friends or kids when they move into a new house and want to protect the finishes. Also good on elf a shelve!
April 25, 2014
Rated

5

out of

5
 by
MrsHakey
So fabulous!!!
This stuff was a great bargain! So easy to use and works great in the kitchen & bathroom- both drawers & cabinets = ) Very forgiving, as it can just run up the sides a bit if it's cut a little larger than space.
April 25, 2014
Rated

5

out of

5
 by
MABD
Best Shelf Liner on the market
I would recommend this product to everyone. Great for lining Shelves (Kitchen Pantry, Cabinets Bathrooms Closets, etc....)
April 23, 2014
Rated

5

out of

5
 by
MrsBagby
Problem Solved
We have recently redone our kitchen. Our plumbing under the sink is still . . . shall we say . . . in flux. As such, there is sometimes intermittent leaking and I was worried we would have water damage in the cabinet. With this, everything is nice and water tight so no more worries! Yay!
April 21, 2014
Rated

4

out of

5
 by
murmurray
Medicine for my kitchen cabinets
I bought a small roll of this to use under my kitchen sink and really liked how invisible it is in my recently painted white cabinets. I also noticed that the cabinet near the kitchen sink had black scrape marks from putting heavy objects in. To make a long story short-ish, it's now EVERYWHERE in my kitchen, and I love it! I would give it 4 1/2 stars if I could. It would be perfect if it had a bit of tacky/sticky stuff to hold it in place where heavy objects need to slide across it. Otherwise - PERFECT!
April 21, 2014
Rated

3

out of

5
 by
JudiBlue
A clean refrigerator
I used these to line refrigerator shelves. Really helps keep things clean. I would love it if they came in custom sizes for fridge shelves. Also, it would be useful to have a grid for cutting straight edges.
April 19, 2014
Rated

5

out of

5
 by
pampam
Great product
This is easy to cut and install in cabinets and items don't stick to it.
April 18, 2014
Rated

5

out of

5
 by
FLSkater
Wow, won't ever use anything else to line shelves
The house we bought was not kept up very well, and I had to scrub the shelves clean 3 times with bleach before I let any of our stuff get put away. At the time, we figured we would redo the cabinets - so I didn't want to spend a lot of money. So I bought the cheap adhesive white liner. It was a pain to use. Fast forward a year later. All new kitchen cabinets installed. Once again, no way I would put our stuff away without a liner - only this time it was because I didn't want to ruin the beautiful wood! I couldn't bear to cover it up with opaque liner, and didn't want to use anything with a sticky back. I researched this to death, narrowing down some contact liner and the plast-o-mat/life liner. The plast-o-mat/life liner was much clearer than the contact brand. I do think the plast-o-mat and lifeliner are one and the same, since they are from the same company, they are just marketed differently. Anyway this stuff is amazing! It was super easy to cut, no backing to peel, and gives a nice look to the shelves/drawers. The ribbing helps things from shifting in drawers. Even my husband was impressed with the quality, and how nice the cabinets look with this on it. I am going back to get more - I think I just might redo the other cabinets and drawers in the house, which have the textured white or beige vinyl that curls up all the time. Try to get this when it is on sale - it winds up being much cheaper per square foot than you think!
April 17, 2014
Rated

5

out of

5
 by
DB8Mom
Saving my cabinets!
When we moved, I had to scrub the shelves of my cabinets with a Magic eraser to get them shiny again. Even after that, they had some scratches left. Determined not to let that happen again, I purchased a roll of this shelf liner to try. I wound up going back for more to do all my cabinets and vanities. It's easy to cut, doesn't shift around and provides a great base for the cabinets. Even in the vanities, items stand up straight even with the ribbing.
April 16, 2014
Rated

5

out of

5
 by
CPLinChicago
Good choice for shelf liner
Bought this to line the new kitchen cabinets. Excellent liner and will help to keep shelves clean. Serves as a bit of buffer between glasses and other hard surfaces such as cans placed in the pantry cabinets.
April 14, 2014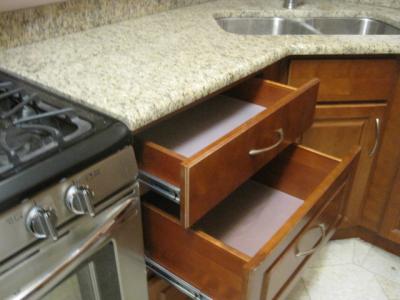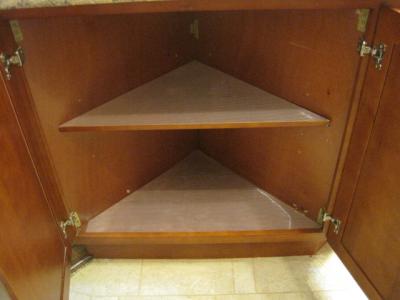 Rated

5

out of

5
 by
huneyride
Brilliant
Purchased 22 rollers of liner for a new home. This product is thick and very easy to cut.
April 13, 2014
Rated

5

out of

5
 by
TinaP
Perfect Fit
This product was the easiest shelf liner I've used. It was a perfect fit for the shelves and they offered several different lengths & widths. All I had to do was unroll the liner & cut once.
April 11, 2014
Rated

5

out of

5
 by
MKthePA
Great Product
I bought both sizes of this product to line kitchen drawers and shelves, as well as under all the sinks in the house. It's easy to cut, easy to install and easy to maintain.
February 28, 2014
Rated

5

out of

5
 by
Gardens
Clear shelf liner
Easy to use, clean and custom fit to size. Large roll is enough for several drawers and shelves.
February 23, 2014
Rated

5

out of

5
 by
Pn5erv
Plast-O-Mate
I needed to replace some old plastic liner for the storage area of our two bathrooms and purchased this. It's a nice big roll and will be used for other areas.
February 20, 2014
Rated

5

out of

5
 by
LeeLa
Best shelf liner ever!
I have been usung this shelf liner for years. Not only does it protect dishes, linens glasses, etc. but after having it in place for over 15 years,my shelves looked like new! It is impervious to spills and messes and wipes up clean and easily. Put it down and forget about it. Easy placement with no adhesives. Easy removal as well. The only liner you will ever need!
February 18, 2014
Rated

5

out of

5
 by
Sandy111
Excellent product!
Easy to use, cut, lay. Works equally as well with supper and lower cabinet shelves and drawers. Clear plastic works well easy to clean.
November 26, 2013
Rated

5

out of

5
 by
DeniseTN
Favorite shelf/drawer liner
This is a strong durable plastic shelf and drawer liner. I like this better than the cushioned kind of liner. The ribs make items stay on it well and also makes it easy to cut to size without using a ruler to cut it. Unlike the cushioned kind if liquid spills on it it doesn't seep through the liner.
September 29, 2013
Rated

4

out of

5
 by
Froggal
Easy to cut shelf liner
The vertical rib lines of this shelf liner make it easy to cut to fit. Most lay flat; one roll had a wave in it but was usable.
September 7, 2013