Rated

5

out of

5
 by
Like2Shop
Great for many reasons
I have several of these. They are wonderful for setting up a couple of weeks of pills. I made labels for each day of the week by cutting address labels to fit each section. I can set up 3 weeks of pills/vitamins at one time. Best product ever!
January 3, 2016
Rated

3

out of

5
 by
notiowa
Useful but inferior to previous model
Clever idea, keeps all pills together. But design is not as good a previous model of same item. In this one, the extra lid has screw threads on only one side so it can cap off a vial but not attach to the bottom of the stack -- it is loose. Bottom vial, similarly, has screw threads only for a lid so cannot be included in a re-arranged order of the stack, e.g., if you label them Sunday through Saturday, you cannot take Saturday and put it at the top of the stack. Previous model allowed complete re-arrangement of the order of the days, putting a different day at the top, or putting an emptied vial at the bottom. Nonetheless, this is better than the other 7-day pill containers that I have seen. Second best to a discontinued model, but best among current offers.
May 22, 2015
Rated

5

out of

5
 by
WayTooBusy
travel jewelry case
Stuck felt to bottom, now a perfect travel jewelry case. Take as many sections as you need, leave the rest at home. Easy to find what you want. Comes in different sizes - this size is perfect for a pair of earrings.
April 19, 2015
Rated

5

out of

5
 by
mijim48310
Functional and Useful
I am done with the flip to M-S 7 day pill storage unit. I finally found a perfect solution. I bought 90 days worth storage as that is the size of refills. I labeled the tops with AM/PM and the 7 section Sunday-Saturday with my P-Touch label tape. They take less room. I am so glad I stumbled on this site. I have added a picture it took a bit of time but well worth the effort. Jim
February 28, 2015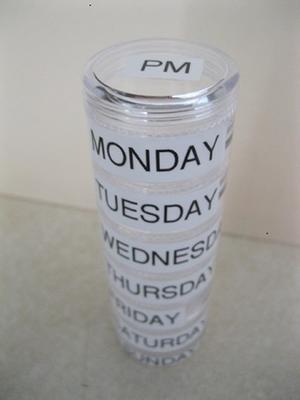 Rated

5

out of

5
 by
NYgirl
Securing medications on the go!
I like the versatility of this organizer. I can take three cups of meds for the three days I work and still secure the remaining ones with the extra screw cap.
June 11, 2014
Rated

1

out of

5
 by
jetlady
Don't Travel
After flying, these pill boxes won't open. I tried banging them on the counter (and cracked them) or running under hot water, but can barely open them. very frustrating! I tried switching order, but all seem to stick. Finally threw them away after breaking them and not being able to open them.
October 2, 2013
Rated

1

out of

5
 by
excpa
Poor quality
I have bought these in the past and been pleased with them. This batch is significantly smaller and the tops don't connect. I will not buy them again.
June 23, 2013
Rated

2

out of

5
 by
probeauty
Fragile
I loved how these pill organizers stacked and were clear and bought some for use in my makeup kit. I've only had mine maybe 2 weeks and already multiple cracks and breaks and one section even split in two pieces. These would be amazing ONLY IF the plastic was stronger or shatter proof. I have been careful and handled them cautiously so they were in no way forcefully handled. Cheap material.
May 15, 2013
Rated

5

out of

5
 by
kareliada
Use them for Beads
I've been using these 7 section pills organizers for years to hold and separate my beads. You can make them longer than the 7 section (or shorter). They work well and you can see through the sides easily. I also use the larger 3 section pill organizer for my larger beads.
April 28, 2013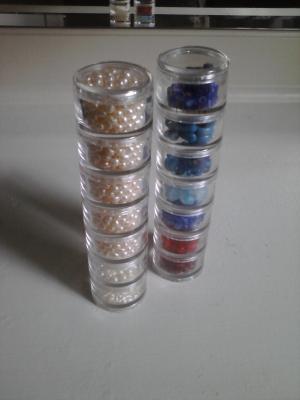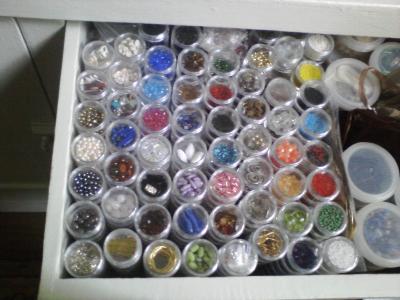 Rated

5

out of

5
 by
susiii
Craft Buddy
I use these containers to hold the pieces of paper that fall out of the die cuts when I do crafts. They make great leaves and fill in shapes. I also save the extra stars and dots that get cut. Then I always have little shapes around to use. These containers make it easy to organize by color and shape and are clear so you can see the bling quickly. They also screw together so they don't get lost. The lids are tight enough. They don't fall apart and come off easily when needed.
April 26, 2013
Rated

5

out of

5
 by
Lucyknickers
Great for Travel
This pill organizer allows me to take just number of days I need when traveling. 2-3 for a weekend, or all 7 for an entire week. Small & compact, they fit perfectly in my overnight bag. They make perfect stocking stuffers too!!
March 18, 2013
Rated

5

out of

5
 by
cheche7
Holds large pills easily
I bought this because I have some vitamins that were too big for my old pill organizer - the kind where the lid flips up. I really like this one - it's easy to see what is inside and it holds everything perfectly.
January 14, 2013
Rated

5

out of

5
 by
Verified Reviewer
Great for what I needed it for!
I needed these to break down lipsticks and it's perfect
November 14, 2012
Rated

5

out of

5
 by
OrganizedOrchid
Looks small but fits a decent number of pills
I keep my 7-day pill organizer in my purse because otherwise, I'll forget to take my medicine. I've had three other pill organizers before this (all the traditional rectangle kind, two of which had 'locks', but all three ended up spilling in my purse from time to time which was really annoying. Because this pill organizer screws together, it's nearly impossible for it to spill in my purse and it hasn't so far. I take 7 pills each day including a large multivitamin. I have to put them in just right for them to all fit, but it's better than I originally expected and I'm happy I bought it.
November 4, 2012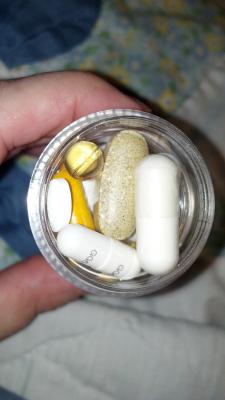 Rated

4

out of

5
 by
charvitale
A bit disappointed, but love it anyway
Much smaller than originals. Was able to get two-days meds in one section which was great for over 7-days vacations.
October 9, 2012