Rated

5

out of

5
 by
SMN4
Sturdy box
Love how thick the paper board are. Would purchase more
October 11, 2016
Rated

4

out of

5
 by
SLund
Great container
I like the size of this container. It easily holds all of my stray papers, cards, etc. in a beautiful way. The top drawer sticks a little, but overall good function and fit for my home office.
February 13, 2016
Rated

4

out of

5
 by
valdorien
So Dang Practical
I absolutely enjoy the fact that this drawer is made of recycled paper. It's also strong where the connections are which is great. The only thing is that the middle is a bit weaker. As I added a bit more weight to the top of the drawer, the middle dips and sticks the top drawer when I pull it out. Other than that, this is a great drawer for light weight storage. I am an artist and crafter so having these drawers organize my papers and canvases is great. :3
August 17, 2015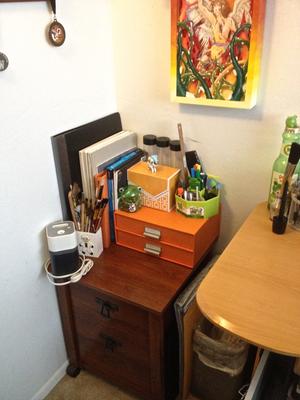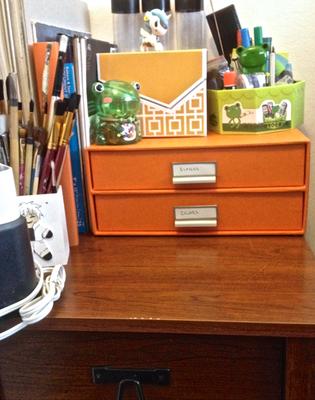 Rated

5

out of

5
 by
Veronica79
sturdy, practical, and looks nice too!
This is perfect for storing mail and important documents in one central location without any clutter. I thought the cost was a little pricey, but the drawers are far sturdier than I thought they'd be. Overall, very happy with my purchase.
March 18, 2015
Rated

5

out of

5
 by
Melissa1105
Love this product
I love the look of these drawers. There is a large name plate, it's sturdy, and the drawers slide nicely. I'm using mine to contain my mail and it's working beautifully.
July 20, 2014
Rated

5

out of

5
 by
Shambles
Bright box
These boxes are well made, look great and the measurements are accurate. Using two of them to store extra printer paper, colored paper, three-hole punched paper. Drawers are just barely big enough for a new package of printer paper - another centimeter would have helped. Comes with little plastic dot feet that are essential if you plan to stack the boxes, else the top one slides off the bottom one when you pull the drawer open. Wish they came with card stock labels to pop into the handles, but you can make your own.
July 19, 2014
Rated

5

out of

5
 by
LizaRae
Great product!
Love my box! Very sturdy and well constructed! I am going to use it in my classroom.
July 11, 2014
Rated

5

out of

5
 by
Janet2966
Perfect for Craft RoomStorage
I bought two of these paper drawers to store my specialty paper. They are perfectly sized for 8 1/2 X 11" paper. Each drawer probably holds a ream of paper, so they are very roomy. The construction is good, and the drawers are sturdy. I love that there is a metal holder for labels. I highly recommend these and am considering buying more.
April 29, 2014
Rated

5

out of

5
 by
Kaey
Stockholm Paper Drawers
This collection is the best !!! I live in a studio and it allows me to maximize my storage space and keep things from looking cluttered. My Stockholm Paper Drawer doubles as a jewelry box !!
April 10, 2014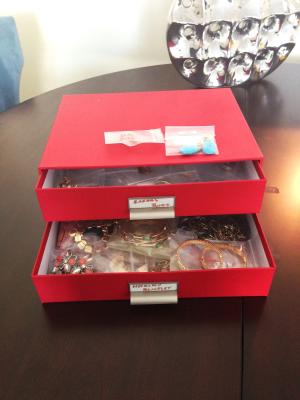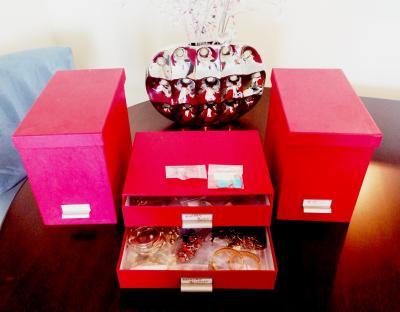 Rated

5

out of

5
 by
lilstietz
Perfect for pens, pencils and other desk items
My desk does not have any drawers, so these are perfect to keep all necessary items handy and not have to have them all over the desk top.
April 5, 2014
Rated

4

out of

5
 by
apostle13
My cabinets are so pretty now!!!
I love the coordinating pieces in this collection. So many pretty colors and patterns to choose from. Plus, they are made from recycled materials, even more to love! I am hoping that they hold up over time. I have successfully transformed my messy, cluttered craft cabinet into an organized masterpiece!!!
April 3, 2014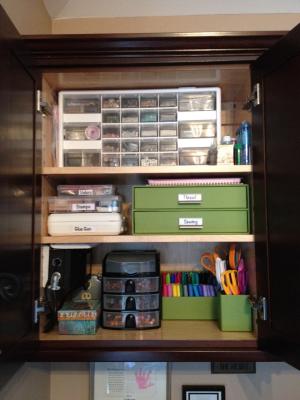 Rated

5

out of

5
 by
LIRO13
Stylish and Organized
Works great to store away all those loose papers. Very stylish and handy for the home office.
March 29, 2014
Rated

5

out of

5
 by
SherryS
Beautiful!
My new home office is painted with light aqua walls. I am accenting with lime green. So this fits in SOOOO well! And it's sturdy and will do the job all the while looking awesome!
March 24, 2014
Rated

5

out of

5
 by
thoroughbred21
Beautiful organization tool for home office
Could not believe how much these improved my home office, which had piles of papers and device cables hanging out everywhere.
March 21, 2014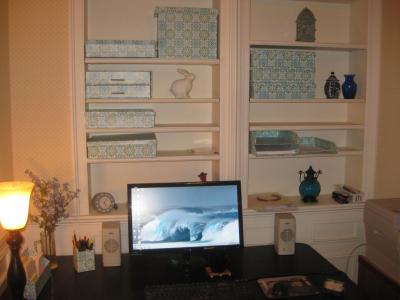 Rated

5

out of

5
 by
Elizabeth2014
Colorful and looks great!
These look awesome on my white bookshelves. They're great and I couldn't be happier!
March 20, 2014
Rated

5

out of

5
 by
Grannmarie
Pretty design brightens any space!
I used these drawers to store gift wrap tissue paper in my gift wrap area in my laundry room! The easy slide drawers kept everything contained and the file label area was perfect to place a piece of the tissue paper in so I can easily find what I needed! I also used the file box for card for the year and a magazine holder just was put in today to hold laminating paper. I also used the clear sweater drawers from the Container Store for bows, scissors and more.
March 19, 2014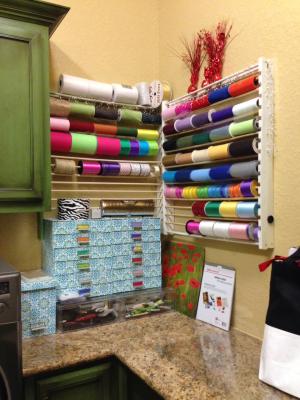 Rated

5

out of

5
 by
Trcashmoney
Excellent storage
Tired of all those remotes getting lost? This is a great storage solution for them! I bought this product to put on my nightstand. In one drawer I have all the remotes for my tv, DVD player, Roku, fan. In the other are all those miscellaneous things, Chapstick, pens, scissors, my fit bit accessories, etc, in so they aren't cluttering my night stand. Contain the clutter in a cute, functional set of drawers!
March 6, 2014
Rated

5

out of

5
 by
Hopeh
I love these
These drawers were just what I needed. I have a desktop with no drawers, so these are perfect. And the color (turquoise) goes perfectly with my room.
February 24, 2014
Rated

5

out of

5
 by
Wada
This brightens my art studio
I purchased this piece so I could put my watercolor tubes and sets in it. I have other storage boxes in royal blue and turquoise, and this beautiful pattern works so well to bring everything together! So glad I found it at the Container Store!
February 24, 2014
Rated

4

out of

5
 by
JJinCT
quite solid, very attractive
These help me corral all the stupid-yet-essential mail and papers i must keep (medical, insurance, blah blah). i have four of these stacked about (kitchen and the corner that functions as my home office). Neatness abounds (well, somewhat) only thanks to these fine fellows.
February 16, 2014
Rated

5

out of

5
 by
mplsgal
Love Bigso!
I have several other Bigso storage boxes. They come in great colors and are well constructed. Very strong and durable. Perfect for storing extra papers (rather than seeing piles everywhere). I keep the two-drawer stack in a kitchen cupboard for some nearby office storage. Love the pop of red when I open the cupboard. Great modern design.
February 11, 2014
Rated

5

out of

5
 by
MickeyR
Efficient
Paper drawers sturdy and open smoothly. Work perfectly as a kind of horizontal file system.
January 19, 2014
Rated

5

out of

5
 by
SB959
Great addition to the office
I've bought several out of this group and love them all. Great alternative to the usual metal-wire-plastic office storage. Very durable, well made, easy to use. Great value.
September 29, 2013
Rated

5

out of

5
 by
1GirlTwinBoys
Great drawers for paperwork
These are sturdy and I love the way it looks on my desk. I have one drawer for personal paperwork and another for our business. I keep all the things that need attention in them.
September 18, 2013
Rated

5

out of

5
 by
7Zbug89
Great Style
As I recently redecorated my study/office, purchased these to replace plastic file drawers. Color and size fit perfectly on my bookcase.
September 16, 2013
Rated

5

out of

5
 by
SuzieV
Perfect splash of color for a dull office
I needed something to hide/organize the papers that I use for work.
September 15, 2013
Rated

5

out of

5
 by
heroner76
Great Purchase for my office
I bought a white set of drawers and a pink set. They dress up my office with color and quality. I am using them to store my computer paper so it won't get dusty or draw dampness.
August 26, 2013
Rated

4

out of

5
 by
GerofNeenah
Nice looking, drawers stiff
I purchased to keep personal papers out of view, so I like for this purpose. I would have given five stars if I could open the drawers with one hand. Arrived with a few minor scuffs, but I have three kids so chances are it would have gotten a few anyway. To be fair, I only noticed them when I took item out of package but can't tell when looking at item in room. Nice turquoise, not too bright or cheap looking.
August 16, 2013
Rated

5

out of

5
 by
cjoy
Great addition to my desk.
These products help organize my fun things, like greeting cards, tablets and "to do lists" for the week ahead. Color options are perfect.
August 2, 2013
Rated

5

out of

5
 by
Mathwiz
Attractive paid bill storage
I purchased two sets of these to file my paid bills. I really dislike using a file cabinet at home (I file way too much at my employers!). So I looked around Container Store (one of my very favorite stores) and found these. It makes it very simple for me. These 4 drawers (in total) provide me with a convenient spot to stash my paid bills (utility, credit cards, maintenance, and miscellaneous) - easy, no fuss, and you've got everything together at the end of the year. I have a separate box for all tax-related items.
May 28, 2013