Rated

5

out of

5
 by
bayadere
This is a godsend.
In order to get into the cabinet over the back of my refrigerator, I have to reach over the entire top and that is why this expandable three-tier shelf is so brilliant. I can now get at jars and tins in what amounts to my larder with ease. At my age, step stools are a trifle awkward, so I am relieved to be relieved of the necessity of using one. If it weren't for my sizeable collection of noodles of various nationalities, I could expand this all the way from one side to the other. This makes me glad to have the option should the need arise.
November 17, 2016
Rated

5

out of

5
 by
1245
Best Purchase!!
Love this spice rack! Fits perfectly in any size cupboard and allows you to see all your spices.
September 18, 2016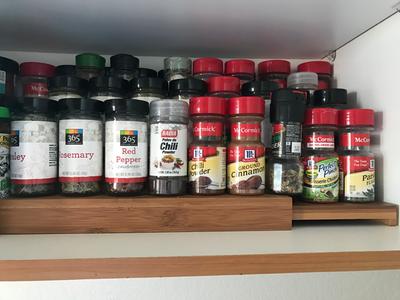 Rated

5

out of

5
 by
Shanny
Bamboo-riffic!!
I bought these not to use for spices but for tiered displays on my dressers for picture frames and other momentos from vacations. They have a nicer look than similar acrylic shelves and do the job beautifully. They are a little narrow for our purpose but we were able to make them work.
June 8, 2016
Rated

5

out of

5
 by
Craftyone
Great Spice Shelf
I bought this to use in my kitchen area for baking and it fit the cabinet perfectly. Very nicely made and sturdy!
March 20, 2015
Rated

5

out of

5
 by
superhh
Perfect
This product allowed us to organize what was formally a very disorganized space. For the first time, it allows us to see all spices without pulling out those toward the front first.
May 4, 2014
Rated

4

out of

5
 by
RecentMover
Very Useful!
This shelf is great for stacking items in deep cupboards, and it's nice looking (not cheap) as well.
April 16, 2014
Rated

4

out of

5
 by
ccqdesigns
Great looking
These shelves are great looking, expandable so fit where I needed them and work great for my oversized spice bottles.
April 8, 2014
Rated

4

out of

5
 by
Wedge817
Spiced up our cabinet
Actually came early. Nice quality with steps that are wide enough to handle most spice jars. Easily expands to fill the width of the cabinet.
October 16, 2013
Rated

5

out of

5
 by
lnwBoston
see it all
fabulous space saver and gives perfect visibility for all items.
June 3, 2013
Rated

5

out of

5
 by
Misspeppermint
Great spur of the moment purchase
I bought this on a whim a few years ago and it still looks new despite it's long use. I have moved since and I am grateful for the adjustable second set of shelves. They are the perfect height for me to find all my jars. I have purchased this as a gift twice since my purchase and highly recommend these expanding shelves.
April 27, 2013
Rated

5

out of

5
 by
HJA2013
Great
Fits perfectly in my new cabinets and helps me to see all items because they are on tiers.
April 27, 2013
Rated

5

out of

5
 by
Betsy66
Such a space saver!!
Very useful. Could not believe how much space it saves. I can see all the spices on the 3 shelves. Love that it expands.
April 17, 2013
Rated

5

out of

5
 by
brooklynNY
Love!
Just bought these and I am so glad I purchased them. They look great in my kitchen cabinets and I know they'll last a long time unlike their plastic counterparts. So happy!
April 16, 2013
Rated

4

out of

5
 by
Maize
I love bamboo
Love this even though the width of the shelves could be a bit bigger and the bamboo matches my cabinets very well.
April 14, 2013
Rated

5

out of

5
 by
gonzo
Must have!
I use this in many cabinets. Not just for spices. It's a perfect fit in any cabinet. Looks great! Easy to find all the little bottles when they're stacked on shelves. Strong & sturdy! Highly recommend it!
March 19, 2013
Rated

4

out of

5
 by
MsGoddard
Nice looking way to display spices
This is an attractive spice rack for open shelves, and displays a good amount of spices. I had hoped you would still be able to read the spices in the back, but you can't.
August 18, 2012
Rated

5

out of

5
 by
writergirl
A great way to display spices
I was first put off by the strange smell of the bamboo, but it wore off within a couple of days. I love how I can see all the labels on my spice jars immediately. Great product.
May 16, 2012
Rated

4

out of

5
 by
msanna4040
works well
just i thought. This really helps to see behind other cans. I would reccomend.
May 12, 2012
Rated

5

out of

5
 by
skytoucher
sweet way to store spices in small kitchens
Love bamboo for its ecological properties and "the look." Found this at my local Container Store and love it. One caution before buying it is to make sure that you measure your cabinet space before purchase. Mine didn't fit in the cupboard I hoped it would, since apartment kitchen cabinetry is made so small now.
April 30, 2012
Rated

5

out of

5
 by
Tgonza
Great Organizer
I was so happy when I saw these. I never was a fan of the white plastic spice racks. I can finally see all the spices we have in our pantry. My pantry looks so neat and it's nice to know what I actually have in spices. As I was organizing the spices, I noticed I had double of some spices. Now that will no longer be the case since I can see everything now.
April 27, 2012
Rated

5

out of

5
 by
Lisintexas
Great Buy!
I purchased this to replace an old plastic expanding spice rack. I have an open area where I keep my spices so the rack is visible. I purchased this on a whim and it was on sale....Needless to say I am thrilled with it!! not only is is functionable it is GORGEOUS!!!! It is solidly made and I don't think I'll ever have to (or want to) replace it again.
April 24, 2012
Rated

5

out of

5
 by
countrygal
Just what I needed!
This is a quality shelf and is great for getting all my spices/herbs organized! Made my cabinet clean and organized! Love it!
February 4, 2012
Rated

5

out of

5
 by
engh
Happy about Purchase!
We used the main piece on one shelf, snapped leg off extender to balance it and used it on another shelf. Love!
October 14, 2011
Rated

5

out of

5
 by
lizznc
nice spice rack
Spice rack is great, gave it to my parents for christmas. Did not have to worry about measuring because it is expandable. Great gift and now i want one. Very sturdy and nice looking.
December 27, 2010
Rated

5

out of

5
 by
luxepiggy
Attractive space saver
Finally, an attractive cabinet organization solution. No more ugly wire mesh or cheap white plastic! I use this to organize my nail lacquers - it keeps everything visible but only requires a small space.
December 26, 2010

Rated

5

out of

5
 by
Claxter
Practical and attractive
This is the most attractive and practical spice shelf I've ever owned. I can see and reach all the spices which makes keeping them organized incredibly easy. I have so many spices that I ended up using 4 of these in combination with 2 of the long mesh stacking shelves to organize our collection (housed on the InterMetro shelving unit, of course). It worked out perfectly, and I couldn't be more pleased with the result.
May 20, 2010
Rated

5

out of

5
 by
Calbear
Great for organizing spices
Over the years of learning how to cook, I've gathered what seemed like a ga-jillion containers of spices. While a few spices were manageable, many bottles of spices in the cupboard became a challenge to deal with. Although the most often used spices took a front seat, those not used that often got buried in the back and getting them meant that the surrounding spices often ended getting knocked down. This shelf was a great solution. The fact that it expanded meant that it was sure to fit my cupboard and the bamboo material was "green" and didn't make my spice cupboard look cheap (which often happens with the white plastic version. Highly recommend!
May 17, 2010
Rated

5

out of

5
 by
nhassler
I can see my spices!
I can finally see all those short bottles in the back of my cabinet.
May 17, 2010
Rated

5

out of

5
 by
Organizediva
Favorite Container Store purchase
This is absolutely one of my favorite purchases ever. It was extremely reasonable in price and every time I open my cabinets I am thrilled with how they look. The finish is much nicer looking than the standard white plastic shelving that others have. I used this in a brand new cabinet to organize all of my spices. The way it tiers is perfect to be able to see everything in the cabinet instead of just wasting space. Would absolutely recommend to others to purchase.
March 3, 2010