Rated

5

out of

5
 by
Kaseyb
Perfect for Public Bathrooms!
My boyfriend scoffed at me when I bought these but I love them! They were just what I needed when I got to the airport at 5am and just wanted to wash my face. They're a little thin but perfect in a pinch.
December 28, 2014
Rated

5

out of

5
 by
Mbarin9581
Great for on the go
I keep these in my purse & car glove compartment for the quick wipe up. True, there's no water or moisture on them - you'll have to supply that. But I don't have to worry about having a canister of wet wipes dry out because I don't use them often. I really like to bring these when I'm camping. Good overall towel. Know that these are not a solid fabric; they have little holes in them. So don't expect a Bounty-like sheet; but they are very study.
January 13, 2014
Rated

5

out of

5
 by
RebeccaB
Great for travel
These little "tablets" turn into a really strong 8" x 8" wipe when you add a little water! Great for cleaning hands or face. Takes up NO room in my purse. We ran one under a faucet and scrubbed our hands with it to see when it would disintegrate. IT NEVER DID!!!!
October 10, 2013
Rated

5

out of

5
 by
JaniceV
Great little wipes
I keep a tube of these wipes in my purse. They fit nicely into the Nalgene tubes sold at TheContainer Store. They are very useful when travelling, especially with children. They are strong and produce a lot less lint than paper towels when I have to clean a spot on clothing.
March 22, 2013
Rated

5

out of

5
 by
KWallGPA
Love these!
I think these are the best little towels ever made. I always have some on me as I travel with my Papillon dog all the time. Since we have a bottle of water with us these are perfect to use for cleaning up any mess. Enjoyed watching the video of the product too. Very clever product.
February 18, 2013
Rated

5

out of

5
 by
Verified Reviewer
Excellent for quick clean up!
These are perfect to use on the go. I usually carry a bottle of water with me, so just a little from it works great!
February 14, 2013
Rated

5

out of

5
 by
Barry
A real hit.Sush a great idea.
What a noval idea. It will come in handy when you least expect it.
January 5, 2013
Rated

5

out of

5
 by
CynthiaB
They May Be Small But 1 Wysi Wipe Does A Lot !
One Wysi Wipe is about as big as a Life-Savor when dry,but when activated it's 9x9 inches! It's soft,strong and can be reused ! There are lots of ways to use a Wysi-Wipe . I like to add nail polish remover to it and it quickly takes it off.Unlike a cotton ball that shreads & gets all over my nail. The Wysi-Wipe stayed strong and took off my polish quick. I also used it to remove my make-up by adding my make-up remover to the Wysi Wipe it was very soft on my face.
October 13, 2012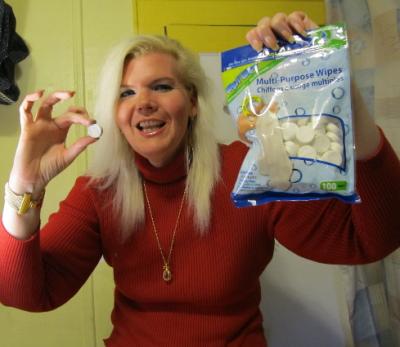 Rated

5

out of

5
 by
Nazareth
Treaveling Perfection
Though thin, theses were purchased as my college son travels to Ghana for a service progect for 3 months - we tried one of them before he packed and they were perfect for a quick towel - when he wasn't sure when the next wash day would be!
April 28, 2012
Rated

3

out of

5
 by
SquareBear
Nifty Idea
But I'm still searching for the ideal situation in which I need these. I have a package of these stashed in the trunk of my car, but thats obviously not a good place for them, since I never get to use em. I think part of the problem is that you need two ingredients to make this product work. ⿿A cloth, and then water. Well, wherever you find one you're likely to find the other. So I'm never missing part of the equation. If I spill something in my car, then I just reach for the healthy stack of fast food napkins in the back pocket. If I need water, than I'll stop someplace (probably a fast food restaurant, or a quick mart); and again, they have napkins. (not to mention a bathroom) And I don't think it's a good idea to have one of these things tumbling around the coat pocket. The moisture of perspiration and other external factors, like rain for instance, will cause this thing to swell and become a globby mess in your pocket. (let alone if you forget about it and send it thru a wash cycle with your clothes.) And for that matter again, you can just fold up paper napkin to keep in your pocket. Same amount of work/Same amount of risk⿦ So maybe these things need a little help to make them worth while. They could be pretreated with a little soap or something. At least then, it's a gimmick that's harder to reproduce under normal circumstances. I guess I just need to take these camping with me, or perhaps to Europe, like one of the other reviewers suggests. ⿿Anywhere that'll remove me from my normal routines of preparedness. And wont you know, that'll be the exact time I forget to pack them⿦
January 25, 2011
Rated

5

out of

5
 by
marmar
Great for European Travel
No hotel in Europe offered wash cloths. These were indispensable. They took up no room and I didn't have to worry about carting around a wet cloth in my bags. I never had an issue with them tearing.
November 17, 2010
Rated

5

out of

5
 by
Shoog
Perfect for what they are!
I love that these are biodegradable. Despite that, they are strong and soft. They are not solid but are more "meshy" when they expand. These do NOT have soap on them already ... which is actually great because I used them to wipe a child's eyes and face on a hot, sunny day.
June 14, 2010
Rated

5

out of

5
 by
SusanD
Indespensible Travel Item
These towels are fantastic! I keep a bag in my purse at all times and they have come in handy so many times - whether I've needed to deal with a small spill, wipe off my face on a hike, or quicly clean my hands, these towels have served as a quick solution with a little water.
May 17, 2010
Rated

3

out of

5
 by
vb4heath
NIce to have
I have these in my travel pack and while they have come in useful at times, they are so thin that sometimes they just fall apart before completing the task. They have though come in hand in an emergency when there is nothing else around and I just need a quick clean up. Not a rush out and get item but if you are the store and see them and have a bit of extra cash they are not a bad investment.
March 3, 2010