Rated

5

out of

5
 by
Lana2
Quality desk
I have been looking for a desk of this size to fit in our home office. It is made of wood, very solid construction. Roomy drawers too. It took my husband and me about 20 minutes to assemble it as only the legs needed to be attached. A new record for us.
October 18, 2014
Rated

5

out of

5
 by
Lovinit
Great find
Full-sized drawer is perfect for housing dry art brushes at your fingertips. Desk top is good size for art work, but takes up little floor space. I love the blue drawer with the white desk.
July 9, 2014
Rated

5

out of

5
 by
chillpaw
This desk makes me happy
When I first came across this desk on my maiden voyage thru the Container Store, I knew I would be back to buy it. It's the perfect size, and the orange inside the drawer just makes me happy every time I open it! Well-built and stylish, simple to put together (the drawer is already assembled, just need to bolt on the legs) it is a nice addition to my office.
July 25, 2013
Rated

5

out of

5
 by
Momanddot
LOVE this desk!!!
We purchased this desk for my daughter so she could start studying in her room and not at the kitchen table anymore. She absolutely loves it!! We loved the price. It is sturdy and so easy to put together. She loves the built in drawer organizer that matches her decor. This was my first purchase from the Container Store and I'll be back for more.
January 9, 2017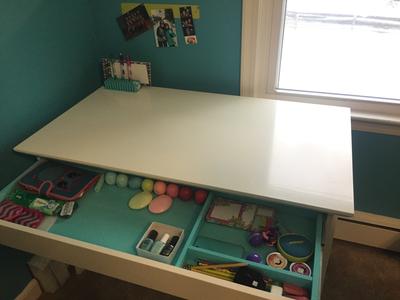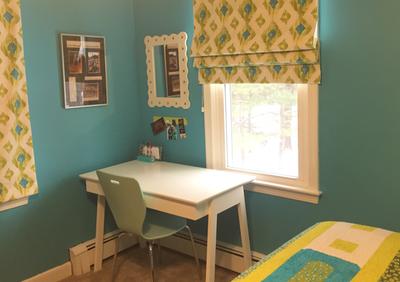 Rated

4

out of

5
 by
dcs5556
all parts not included
I bought 2 of these to use as sewing desks. When I opened the packaging to put together one of the desks none of the washers were included. I will have to make a trip into town to purchase. Very frustrating.
November 13, 2016
Rated

5

out of

5
 by
cruzer
I love my desk
The desk was easy to assemble (no need for another person) and was in perfect condition upon opening the box. It's been easy to clean and move
May 24, 2016
Rated

5

out of

5
 by
MSM4750
Great Little Desk
We bought this desk to fit into a tight space in the guest bedroom for a little home office. It worked out so well we bought a second one for our bedroom office.
December 2, 2015
Rated

4

out of

5
 by
Callmesue
Very nice small desk
I live in a small 500 square foot apartment, and this desk fits my needs very well. It is compact and stylish and very functional. Nice color too (it is a little wobbly, but not bad). Maximum weight it will hold is 100 pounds. My laptop and other items fit easily in the drawer. I received terrific customer service at the Bellevue, WA (Seattle) store. A cheerful employee assembled the desk for me and disposed of all the styrofoam and cardboard packaging. I am not a do-it-yourself person at all, and I really appreciated this extra free service. The assembled desk fit in the back of my Honda CRV.
November 7, 2015
Rated

5

out of

5
 by
impious
Great desk
Not sure why other people have commented on it being "wobbly" or unstable. May have to do with user error in attaching the legs. I find this desk to be very sturdy. Nice and compact. The drawer is fine. I did check this out in a store prior to ordering - ordered online mainly to save myself having to schlep it home.
October 28, 2015
Rated

3

out of

5
 by
Actiasluna
Nice desk, does job, issues with drawer quality
Bought as a desk for my 3rd floor walkup condo to save space. Good for the space. Wood top is solid and drawer is handy, extends the width of the desk and has dividers with plenty of storage room for stationery, pens, pencils, etc. Desk overall is sturdier than expected based on reviews (tightening up all connectors after constructing and setting upright fixes wobbliness). HOWEVER... Construction of drawer is not as good as I expected, drawer box is skewed (from the drawer box apparently not being properly squared, so drawer is wobbly and drawer slide doesn't connect right on one side). This means that drawer doesn't close properly - it often comes open again if you don't really push it closed. I would not buy this again. Would return item but the small hassle isn't worth taking it apart and lugging down 3 flights of stairs and driving it to a store. Disappointed in the construction issues but it does the job. Was easy to put together.
September 26, 2015
Rated

5

out of

5
 by
goobygoo
Great looking, easy to assemble
This is exactly the desk I was looking for-color, size, price, ease of assembly. The driftwood color blends well with a grey/cool decor or brown/warm decor.
August 12, 2015
Rated

5

out of

5
 by
MomO3
Can't find a desk like this anywhere else!
I have bought 2 Cache Desks and am about to buy another. I have old Ethan Allen bedroom furniture and wanted a desk that matched the Ethan Allen wood. Found it! Both of my girls do homework on the desk and there's room for their laptops and books. Great drawer that will actually hold a laptop and office supplies. I think I'll get one more for my son. This is a piece of furniture that will go with my kids to college! Cost a bit more, but it's worth it.
June 3, 2015
Rated

4

out of

5
 by
TxMama66
Good but a little unstable
The stability of the desk is a little questionable. I think the design of the legs could be different. Opening of the drawer makes the desk seem like it's going to tip but it really doesn't. Albeit I don't have a lot of heavy stuff on the desk. I have a laptop and a few office things like a pencil holder and some papers. Maybe if a monitor was on top of the desk, this would make it less "wobbly" but even writing that word seems a little strong. It is a great desk and goes well with the other like-colored desk we purchased years ago from Container Store. The colors are not exact but they match well enough. The large drawer is awesome!
November 18, 2014
Rated

5

out of

5
 by
tidygenie
Worth Every Penny!
I've looked for a desk for my not so tidy kid for a long time. Finally came upon this one. It has a large writing area and just enough space in the drawer to fit all the nick nacks. The design is very simple, elegant, and would fit in any decor. Assembly is a cinch.
August 30, 2014
Rated

5

out of

5
 by
mrslouth
Great Desk for Small Spaces
This desk is wonderful. I have a small office area and it works perfectly in the space. It was very easy to put together and only took me about 15 minutes. The drawer is slides smoothly, and I love the pop of color inside.
April 28, 2014
Rated

1

out of

5
 by
Aghast
Wobbly
This desk looks nice, but it was just too wobbly. I thought that I might have gotten a defective table, but no. Every other store that had it was just as unsturdy. I did not return this because it was just too heavy to lug it back to the store. I would caution people about putting a computer, monitor or printer on this. If you must, use it as an entry table that holds magazines.
April 24, 2014
Rated

5

out of

5
 by
frankpc
Well built, solid and stylish
The Cache Desk is a stylish table or desk very suitable for a small home office. Great looking Walnut finish the desk is solid and easy to assemble.
April 2, 2014
Rated

5

out of

5
 by
stellalee86
Fantastic desk
This desk is compact and looks great tucked into a corner or by a window. I love the openness of the design and the drawer is conveniently already segmented to keep things organized. It's also a breeze to assemble--took me about 20 minutes and it was ready to use. I couldn't be happier with this purchase.
January 24, 2014
Rated

4

out of

5
 by
newreview
Great little desk
Great looking desk. Easy to put together and relatively sturdy. Can't be beat especially for the sale price. Works perfectly in the small nook I use as an "office" area. And it's true, the pop of orange when you open the drawer is smile worthy. (Not to mention that the drawer rolls very smoothly). I ordered the desk online and picked it up at the day and time of my choosing. Extremely smooth transaction and pick up.
September 21, 2013
Rated

5

out of

5
 by
HenryL
Love this desk!
I am so pleased with this lovely little desk! It looks great in the room - clean and modern. Doesn't take up much room but is big enough for computer and other things. The drawer is useful and makes me smile each time I see the orange lining. Easy to assemble and sturdy. Love it!
March 29, 2013
Rated

5

out of

5
 by
poppylove
Just what I was looking for!!!!!
We recently made over our home office, & had to refurnish the space, my boyfriend & I share the room, he gets most of the space, & I get a little area, & this desk fit in my little nook perfectly!!! I put this desk together in just a couple of minutes, so easy, just three screws on each side, & it is sturdy! It is sleek with clean, simple lines, & I LOVE the pop of orange in the drawer...it's sooooo cheery!!! LOVE IT!!!!!
March 18, 2013
Rated

4

out of

5
 by
ercomisar
Solid Desk
I bought this desk to make my "home office" space more homey -- and it has. It was easy to assemble. I love the finish and the color. My only hesitation about it is that the structure of the legs makes it ever so slightly wobbly if you push. I've never had any problems myself, but would be cautious of putting too much weight on it. Definitely wouldn't stand on it to reach anything as I might other pieces of furniture.
March 18, 2013
Rated

5

out of

5
 by
Keepitcleanandsimple
Simple, small and sleek
I was looking for something small, sleek, and with a small drawer to hide away pens. This is perfect. It was easy to assemble. The only one thing that I wasn't used to was that it is not completely smooth on top (I'm new to real wood desks perhaps), so that if I am writing on paper, I put it under something.
March 18, 2013
Rated

5

out of

5
 by
Merry1
Just what we needed
We needed a small computer desk for our busy family room, and this desk fits perfectly in the space, looks great, and the pop of orange makes me smile when I open the drawer. I was concerned when one of the other reviewers said it was wobbly and the display model at the Oak Brook store was also very wobbly, but we've had ours for two months and it's holding up well to my family's abuse. I did keep the allen wrench in case the screws need tightening. In all, it was very easy to assemble, and for the price, I couldn't ask for more. I'm very pleased with our purchase.
February 28, 2013
Rated

5

out of

5
 by
Verified Reviewer
Clean lines
This desk was very simple to put together and fits in our tiny office with ease. I love the pop of orange/red on the inside drawer. So far, it's perfectly suited for our needs.
February 27, 2013
Rated

4

out of

5
 by
maltamark
Stylish Inexpensive Desk
I picked this desk because it's a stylish, yet simple desk that could fit into a small space. After about a week of use, it's working out just fine, other than it being a little wobbly. The wobbling is not terribly bothersome, but I'm sometimes aware of it when I type on my laptop.
October 11, 2012