Rated

5

out of

5
 by
Lauretta112
In love with my closet!!
I am absolutely in love with my new Elfa closet system. My clothes, shoes and accessories are perfectly organized. The walnut and platinum components really look great. I especially love the fact that all the components are adjustable! During the summer I'll be able to remove one of my side shelves and make room to hang all my long, pretty sundresses. I couldn't ask for more!
April 26, 2014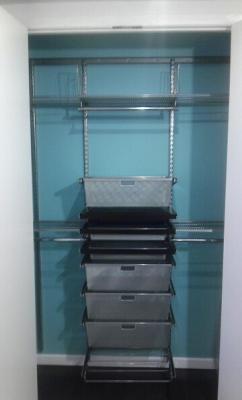 Rated

5

out of

5
 by
kaleman
Love!!
We are using this as an extra counter top in our kitchen. It has really helped me having extra space to juice!
March 13, 2014
Rated

5

out of

5
 by
mintjulip
Most Favorite Purchase
This has become one of my most favorite components of the elfa system. Comes in handy when folding laundry!
March 12, 2014
Rated

5

out of

5
 by
MakeMeOver
Sleek, functional, and classy.
When i was designing my new Elfa system, I was immediately drawn to the gliding shelf. It looks just like the standard decor shelf, but when you need something sitting at the back of the shelf it becomes instantly easy to reach without knocking anything over. It gives a very sophisticated appeal to the system, and the walnut color is perfect for todays modern man.
March 4, 2014
Rated

5

out of

5
 by
TNT8
Amazing customizable system
I just had a custom designed media center installed in my living room in Walnut and Platinum with these drawers as well as shelves. To begin with, the customer service was wonderful. They were friendly, took the measurements I provided, and we talked through my needs and wants. Then they came up with a brilliant design that does everything I wanted AND is modern and elegant. I had them install for me. It looked easy and Eddie was great! It was all done in about 1.5 hours. After watching, I do think I could've done it on my own. Overall the design make my tiny apartment feel bigger. It looks modern and elegant. The shelving is extremely sturdy and very easy to customize/move around. The drawers have a nice easy glide, and hold a lot of stuff. I highly recommend any Elfa product!
February 23, 2014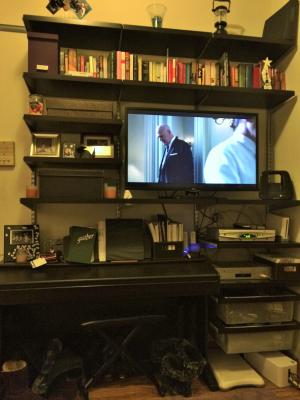 Rated

5

out of

5
 by
LeeWhite1234
Elfa Decor Gliding Shelf - Great
I went back and bought several of these. I thought this was a silly purchase at first, but being able to easily pull out a shelf with my folded jeans and casual shorts and quickly find the one I want made me realize how practical and convenient this shelf is. No more bending over and looking through a stack of pants. Worth every penny.
October 14, 2013
Rated

4

out of

5
 by
sail2sunset
TV stand
I have an old Sony TV in the bedroom that still works so I don't want to replace it. Creating an elfa space for it was a brilliant idea. It finally looks like it has a home in the room.
August 22, 2013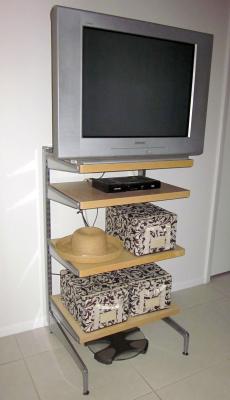 Rated

5

out of

5
 by
Marcellam
Elfa sliding shelf
This unit is great for the laundry room as a folding counter. It tucks away when not in use and is easily accessible.
June 21, 2013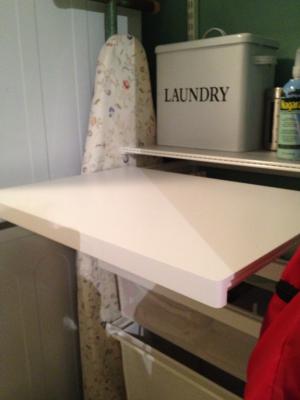 Rated

5

out of

5
 by
simyj
great item
I bought these shelvings to redo my home office closet and I couldn't have chosen any better. They work great in the space, they are modern, very spacious and above all, we installed them ourselves, so we were able to cut some expense. They really give a nice touch to the space since I remove the closet doors ...
May 1, 2013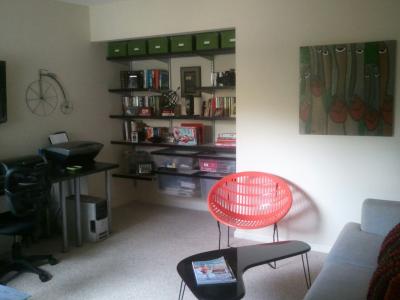 Rated

5

out of

5
 by
ClosetHappy1
Glad I added this to my closet!
I'm so glad swapped out one of my ventilated shelves for the Birch elfa decor Gliding Shelf. I can pull the shelf out in order to rest a shoe box (while taking out or putting away a pair of shoes), or to fold a sweater, without having to leave the closet. When i'm done, I can just slide the shelf back into place, out of the way until I need it pulled out again. Very functional!
March 18, 2013
Rated

5

out of

5
 by
Teeball33
Gliding Shelf
My walk-in closest in an Elfa and it is amazing! The gliding shelves are sturdy and quiet, and the design is beautiful. The installation takes time but is not complicated at all. Great product. Well worth the money, and the staff is a great help with design and suggestions for maximizing space.
March 18, 2013
Rated

5

out of

5
 by
angelp
Glides smoothly
These pull out so easily with just one hand. They are super smooth with no rough edges. Perfect for keeping things stored away that you don't use often but still easily accessible.
April 16, 2012
Rated

5

out of

5
 by
jmc12
helpful!
The pull out is very helpful and very easy to move around when you decide to change the location.
March 26, 2012
Rated

5

out of

5
 by
Pov95
Useful
My husband wanted this pull out shelf to be able to neatly fold his shirts and sweaters for stacking on his shelves. This was a great addition to our Elfa master closet.
March 6, 2012
Rated

5

out of

5
 by
arlingtonshopper
solid
This shelf is solid, slides out smoothly and easily, and looks great.
February 9, 2012
Rated

5

out of

5
 by
sunnybrook
Love the Gliding Shelf
I really love the Gliding Shelf. It makes it so much easier to access my folded sweaters and or t-shirts. In addition, I LOVE my Elfa closet system. I can change things up, add or subtract as my lfie/clothing styles change. Thank you.
February 3, 2012
Rated

5

out of

5
 by
Butterlady
smooth gliding
These elfa gliding shelves have made my life easier! I can see what's on the shelf with just a gentle pull. They glide very smoothly, and they look great.
January 23, 2012
Rated

5

out of

5
 by
flash
Desk Parts
Love my new desk made with elfa parts. Built myself a customized computer desk.
October 6, 2011
Rated

5

out of

5
 by
Smore
Perfect for a printer in a desk
I absolutely love my gliding shelf. I have my printer on it so it saves space and can simply slide out when I need it. Love the design and simplicity, yet it goes so far to help you stay organized!
September 29, 2011
Rated

5

out of

5
 by
ronaldar1
Perfect!
I just finished making an elfa entertainment center -- the gliding shelf is perfect for my record player. I'm reeeeeally happy with the way everything turned out!
January 28, 2011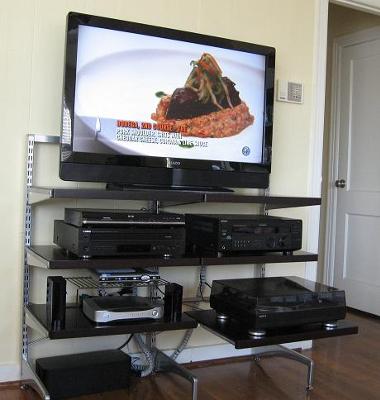 Rated

5

out of

5
 by
shopper353
a place to fold my clothes
replaced a solid shelf with this gliding one. It provides a nice surface for folding shirts, etc.
May 22, 2010
Rated

4

out of

5
 by
DanG
Great Shelves -- Need instructions
We bought these shelves to add on to our existing unit. They worked great once we found instructions online. Also, the instruction weren't in text format -- we had to watch an entire video to find what we needed. That said, very happy with these overall.
May 21, 2010
Rated

5

out of

5
 by
emmapug
Great shelf
These gliding shelves are so convenient in my hanging space -- it's great to be able to pull them out to set things down while I'm putting away laundry. They glide smoothly and are easy to install.
March 7, 2010
Rated

5

out of

5
 by
Rosa
Awesome drawers!
With these drawers in my closet, I don't have to move bulky dressers anymore!! They are strong, and the decorative molding gives it such an expensive look. This elfa has moved with me several times and saved me a load of money every time I reuse it.
March 5, 2010