Rated

5

out of

5
 by
ImContained
Beautiful and Functional
I love when I open my silverware drawer that my silverware has a beautiful wooden backdrop. The compartments are just the right size and this allows me to use the entire drawer because it is able to expand to fit. This product is durable and looks great, who could ask for more?
January 16, 2010
Rated

4

out of

5
 by
Indybindy
Good quality at a great price
I've been eyeing this for a while. It's really roomy and looks very nice in the drawer. There's plenty of room for everything. My one slight problem with it is that sometimes the regular (non-chopping) knives slip under the divider and i have to pull them out, but it's not that big of a deal.
December 21, 2016
Rated

4

out of

5
 by
rdef
Stylish and Functional
Love this product. Sturdy, clean looking and expandable for any drawer size. The only issue I had was the strength of the tray was stronger than the facing of my drawer.
March 22, 2016
Rated

4

out of

5
 by
Msmystery
Pretty Useful
Nice looking, makes the drawer manageable. Only wish the slots for flatware were longer
January 16, 2016
Rated

4

out of

5
 by
KBLB
Works and looks good, with slight adjustments.
Works good, fits most drawers. My door is wide, so I had to open it all the way and supplement it with the individual bamboo trays to feel the drawer. But flatware fits nicely, and it keeps everything organized, and it looks great. The only thing I would change is to put some kind of stop on the tray so that it doesn't slide close so easily once open. And rubber feet would help as well. It tends to slide around in the drawer. I will add some myself. Overall, it's a great purchase!
December 17, 2015
Rated

5

out of

5
 by
Binrah
Very Nice Cutlery Tray
Substantial piece that expands smoothly and looks as if it were made with my kitchen drawer. Very impressive looking piece. If you are ordering online, make sure you measure your drawer first. This tray is made for drawers that are both wide and long.
June 5, 2015
Rated

5

out of

5
 by
Kuechenfee
Love it
Love my new organizers in my oversized kitchen drawers. Just two covered the whole drawer width.
May 16, 2015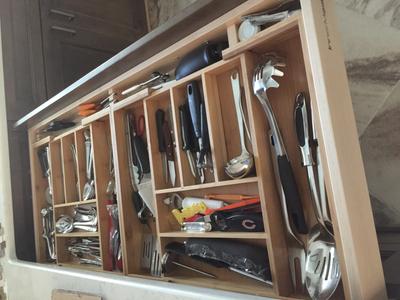 Rated

4

out of

5
 by
amp0809
great quality
I wish it suited my needs. The expandable portion stretched in the wrong direction of the drawer I needed it for....I needed the expandability to go side-to-side, not the depth of the drawer. But it looks to be very well made.
May 12, 2015
Rated

5

out of

5
 by
Debbiez
Awesome
Love this! Looks like the expensive drawer organizer but so reasonably priced. A MUST HAVE
April 3, 2015
Rated

5

out of

5
 by
cluv2organize
Tray
I love it! It keeps all my forks and knives organized and in a pretty material! I prefer it than the plastic. I loved it so much I bought a second one for my other cooking tools, such as spoons and spatulas. Love it!
March 23, 2015
Rated

1

out of

5
 by
Reorganizing
Not the width listed!!
I have a small kitchen and my drawers are exactly 13" wide. This bamboo organizer is 13 1/16", not the 12.75" listed on the outside of the package. Since I lack a wood planer or wider drawer, it's going back.
August 10, 2014
Rated

5

out of

5
 by
sandepiper
repeated purchase
I had one, bought at the container store three years ago, needed another one to match and bingo!
May 29, 2014
Rated

5

out of

5
 by
smudgecity
Love it!
This makes my silverware drawer so much more organized and looks professionally done.
May 16, 2014
Rated

5

out of

5
 by
Bridge6
Expandable Bamboo Cutlery Tray
Excellent product, works great in my kitchen. Perfect that you can change to whatever size you need.
May 12, 2014
Rated

5

out of

5
 by
Musiclady818
Very versatile
Wonderful quality! Makes a great holder for our remotes!!! :D
May 11, 2014
Rated

5

out of

5
 by
oppa
expandle tray
Expandable utensil tray very versatile, can adjust to any drawer .. The drawer is of good quality and looks good. I highly recommend this product.
April 30, 2014
Rated

5

out of

5
 by
ChrisyB
Awesome Purchase
I love this cutlery tray!! It is perfect for my new kitchen drawer. It is larger that I expected, which is geat. The several different compartments make it easy to find exactly what you need.
April 29, 2014
Rated

5

out of

5
 by
tjones
Expandable bamboo drawer tray
Keeps everything from sliding around. Makes it easy to find the right kitchen tool.
April 29, 2014
Rated

5

out of

5
 by
gaspasser
Loved this tray
Allows us to use every inch of the draw. Expands so easily and now everything fits
April 29, 2014
Rated

5

out of

5
 by
JBClark
Good looks and Eco Friendly
I love this tray. I use it with the individual bamboo trays to keep my kitchen drawers organized. They have a clean look and help me keep visable and accessible. LOVE them. I plan to by more for the bathroom cabinet drawer and my office desk drawer.
April 28, 2014
Rated

5

out of

5
 by
AGAK
good looking tray
This is a much nicer look than the plastic tray when you open the drawer. My cabinets are oak & custom-made so the tray almost can pass for built-in. Good quality, very good price.
April 26, 2014
Rated

5

out of

5
 by
drfrn40
Love this cutlery tray
Beautiful bamboo tray that expands to fit all of my silverware! Best tray I have owned and love how pretty and natural it is!
April 25, 2014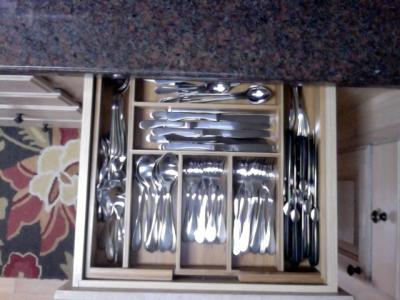 Rated

5

out of

5
 by
Slynnes
Love how easily it expands to fit drawer while holding quite a lot of silverware.
April 25, 2014
Rated

5

out of

5
 by
efitch
good buy
Goes well with our recently renovated kitchen! Love the high end look with the expandability.
April 24, 2014
Rated

5

out of

5
 by
ehipchicago
high end look and eco friendly
I wanted to organized a catch all junk drawer in the kitchen. I realized these expandable bamboo cutlery tray would look good for the silverware but why not for the junk drawer as well. They matched the cabinets in the kitchen so I thought it would be a nice addition.
April 19, 2014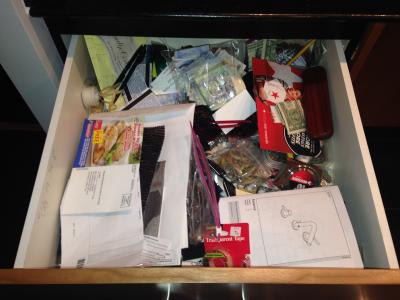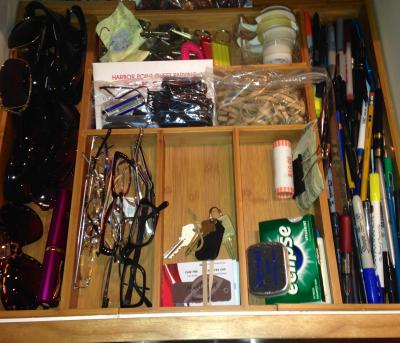 Rated

5

out of

5
 by
HouKate
Beautiful upgrade!
This is a great product. We finally upgraded from the dirty old plastic trays and it was money well spent. Looks beautiful inside wooden drawers and fits everything!
April 14, 2014
Rated

4

out of

5
 by
SandytoesMcGee
spacious and lovely
This fit perfectly in our drawer and help all of the necessities with a bit of room to spare. I love that it is attractive looking as well as sturdy. I have shopped for something like this for quite some time and have found them all to be a bit cost prohibitive and not exactly what I was looking for - not a good combination. This was the perfect size and a great value - highly recommend!
April 14, 2014
Rated

4

out of

5
 by
Desertdweller
Beautiful but stinky
I have been wanting to purchase bamboo drawer organizers for a very long time to replace the ugly mismatched ones I've moved with us around the country. Finally, they went on sale! So, I purchased this expandable one along with various other individual sizes to completely redo two large kitchen drawers. Once opened, they exuded a chemical smell I assume was a finish they put on to seal the bamboo. I was afraid I'd have to return my long awaited organizers! Instead, I washed them in mild dish soap & dried them per instructions on the packaging, but they still smelled horrible. Not wanting to give up on them yet, I aired them out for several days on our patio until the smell greatly subsided. Bamboo is supposed to be so great for the environment, so I'm not sure why the manufacturer would use toxic smelling stuff on them. Love how they function & look, but beware the smell!
April 14, 2014
Rated

5

out of

5
 by
lollygagger
Very nice!
This is a great deal on a very nice expandable cutlery tray. Very solid and beautiful construction. So much nicer than those hard ugly plastic ones!
April 11, 2014
Rated

5

out of

5
 by
Zimmy
One of my best purchases ever
The expandable bamboo cutlery tray is perfect for my new kitchen drawer. The expandable section really adds to it's usefulness. The bamboo is much nicer looking than the other options that I have seen. I also got is on sale, which makes it even a better deal. My friend came over to see my new kitchen and she loved all my bamboo cutlery holders, especially this one!
April 8, 2014