Rated

5

out of

5
 by
Laffincat
20 Year Review - It's That Good
Any product that has moved 4 times, stood up to the heat of a Texas garage for 8 years with no warping and still looks and functions great is a rarity. I added a unit in a pantry 6 years ago, and I am adding another section today. It is rock solid and ready for whatever you can throw at it.
December 20, 2015
Rated

5

out of

5
 by
DebaryGirl
Skandia Uprights
I really like this shelving system. I needed a narrow tall shelf for my laundry/pantry. This worked beautifully. I then purchased a shorter wider one for under a window. Adding the x brace on the back makes them very sturdy. I wanted to use a wall support for the tall one, but because there are no baseboards, the wall supports would not adjust to fit that close to a wall. Discovered that the tall shelf is sturdy enough with the back bracing that I really did not need the wall anchor after all. I assembled the shorter wider unit myself, but for the tall one, I needed help for the first bottom shelves, then it was sturdy enough to finish on my own.
April 3, 2016
Rated

5

out of

5
 by
Oldprep
Quality that lasts for years to come
I recently reconfigured and added to a Skandia bookcase that I have owned for over 20 years. I appreciate that this quality product is still available from The Container store. It is sturdy, has clean lines, and I enjoy the light-colored wood that slowly takes on a golden patina.
February 12, 2015
Rated

3

out of

5
 by
PierreL
Skandia uprights
We were adding to our existing Skandia system which is over 15 years old. This product works as expected but we found after getting home, that on of the feet (the end of the shelf marked with an "X") there was missing a lot of wood. Still functions properly but one would think that for this cost their quality department would have rejected this side-panel.
December 28, 2014
Rated

5

out of

5
 by
WisconsinDIYdoer
skandia project:Kitchen
I love Sandia products. I have preciously purchased a few 67" upright unit, I decided for my kitchen I would purchase a 82" upright unit, this unit fixes nicely in my kitchen.
October 31, 2014
Rated

5

out of

5
 by
BernerBarb
Well Made & Lovely
very sturdy and easy to put together except instructions were not included and had to search awhile on website to find them likely to buy more later on
March 31, 2014
Rated

5

out of

5
 by
Madbear
Love Skandia
Purchased Skandia 20 years ago to cover a wall in a den like room. Like the 16 inch shelves because they will accomodate books and photos on the same shelf. Over the past 20 years we have moved five times and have added Skandia drawers and shelves along the way. Used the drawers originally to hold extensive music collection. Every move has had storage challenge. Now use drawers as dressers with lots of shelves above. Skandia has solved issues in every place we have lived. Very versital.
June 12, 2013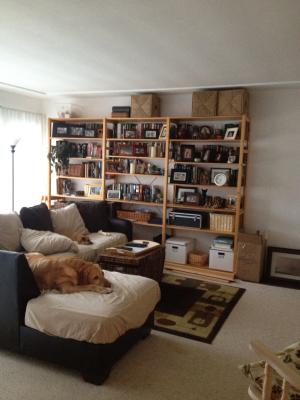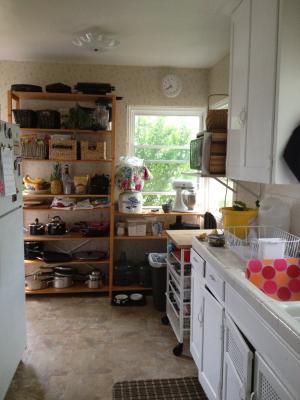 Rated

4

out of

5
 by
jane23
nice but pricey
Skandia shelving is a nice, flexible solution for shelving needs. It is easy to assemble and sturdy, but for the quality and look, it is pricey.
April 29, 2013
Rated

5

out of

5
 by
JHIndy
Skandia
Great product. Gives the finishing touch to the shelves.
November 4, 2012
Rated

5

out of

5
 by
MisterBee
Skandia is timeless shelving
I first used Skandia shelving in Europe for inventory storage. When I opened a retail store here in TX it was perfect for my merchandise displays. Now I use it at home in my office and garage. It is so flexible and can be re-used and reconfigured when circumstances change. I am thankful that the Container Store still offers this great system. And what's more, the service at our local Container Store is just excellent!
September 25, 2012
Rated

5

out of

5
 by
Sonocontento
Quality and flexability
I knew this product from YEARS ago and amazingly, it has maintained its quality and ease of assembly and adjustment....well, that's a function of the excellent and simple design but still.. I will say that there are NO INSTRUCTIONS...now, if I didn't remember how to do this w/ the best approach, that would not have been good. I did go on line and they were there w/ a few tips but an assumption, from the pictures at least, that there would be two of you to assemble. Not always so and I managed the thing by myself. A few more tips on where to put strategic shelves would have been helpful.
July 26, 2012
Rated

5

out of

5
 by
RickM
Skandia uprights
Easy to asemble and very sturdy. I have several build as bookshelves.
May 6, 2012
Rated

5

out of

5
 by
DCEJ
Skandia
I have been buying Skandia shelving since you first started selling it. I appreciate that it did take up allot of space in each store so I understand you removing it but I love the fact that I can still order and receive/purchase it from the Container Store. I don't mind waiting for it either because I am always redesigning what I have, just adding to it. Thanks
January 1, 2012
Rated

5

out of

5
 by
BJHam
SKANDIA
Our first set was purchased from a store in Dallas in 1991. Now,after moving 3 times and adding more sets, I consider this shelving heirloom furniture. They have held encyclopedia sets , reference books, many old computers and teenage boys for these 18 years without turning or sagging or injury. I just ordered this new set for my sewing room. I can adjust them anyway I want, and I know they will endure
November 5, 2010
Rated

5

out of

5
 by
scrapgrrrrl
love Skandia
Haven't found anything stronger to hold all my tons of books.Great product!
May 18, 2010
Rated

5

out of

5
 by
melrowgo
Over 10 years old and still looking good
My husband and I created a wall of shelves for our den using Skandia shelving, including a L-shaped desk. They've been there for well over 10 years now and they still look and work great. I like the open look and feel they give, and they're super sturdy. The great thing about them is we can disassemble them and take them with us if we move, or we can give them to one of our sons later on. Well-made product.
May 17, 2010