Rated

5

out of

5
 by
tigerinbamboo
attractive wine display
I have these on my kitchen counter. It's sturdy, holds a case of wine in a very compact space, and is very attractive. The curves make it look modern and clean, without being industrial.
July 7, 2010
Rated

5

out of

5
 by
organizingourfamily
Thinking outside the bottle
I bought this for a different purpose - we have a water bottle problem in our house. I have cabinet space to store them, but I can't seem to keep them organized and neat. The different shapes and rounded bottoms do not help! This was a great solution to my water bottle problem!
August 27, 2015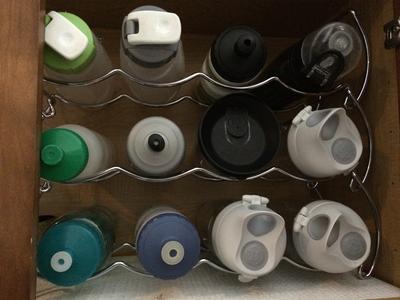 Rated

5

out of

5
 by
433541234
Quick and Easy
Needed a place to store our new wine collection. Found these StackRacks to be very quick and easy. Best storage capacity for the price. I would recommend for anyone that needs a quick and easy storage solution. If I had the space, I might consider these for a larger setup.
July 7, 2014
Rated

5

out of

5
 by
WinesConstantly
Just what I was looking for!
It was exactly what I was looking for, it was very easy to assemble, and very affordable. I bought three sets and have stacked them into two racks. Look great and are really functional. I would definitely recommend them. I shall be purchasing more...
April 11, 2014
Rated

5

out of

5
 by
JennDed
I feel like a creative genius
My husband has an unnecessarily large collection of water bottles and protein shake bottles. I didn't know where to put them, so they've been just sitting on top of my refrigerator and falling off every time I open the freezer door. I bought this wine rack and the bottles fit perfectly. Now they're all neatly stacked, but reachable, and nothing falls when I reach for food. I felt like a genius for realizing the potential of this wine rack.
April 2, 2014
Rated

4

out of

5
 by
DaveD
Great product for my application
This is a really good option for a small space. I looked at a number of options, but this was by far the best.
January 13, 2014
Rated

3

out of

5
 by
lilmo
Hard to put together
I have been looking for new wine rack and saw this one. Brought it home and had a hard time putting it together during the process of putting it together one of them snapped in half, not sure if it was a weak point in the metal. Decided to return it, which I had no problem doing so. Will continue to look for another wine rack.
September 23, 2013
Rated

1

out of

5
 by
VeryVirgo
Hard to Put Together
I bought this product as I liked the look and thought it would work well inside a cabinet. I found the wine rack very difficult to assemble and am considering returning it. I'm just not confident that it's assembled correctly - racks don't snap together as instructions state and it seems awfully loose; I'm afraid the weight of the wine bottles might not hold up...
August 15, 2013
Rated

5

out of

5
 by
sexykeri
Just what I wanted
I bought this at the grand opening at Westbury location. It was just what i was looking for; easy to assemble, goes with any decor. I notice that it is stackable it comes with 3 racks you could easily buy more & stack them together as your wine collection grows.
August 11, 2012
Rated

5

out of

5
 by
mamacat513
Holds several bottle sizes
The Stack Rack is very easy to put together and is sturdy. I really like the fact that this is one of the few wine racks that accepts champagne bottles, .750 ml, and 1.5 ml bottles of wine. Another plus is that this wine rack works with the Elfa ventilated shelving. The "feet" fit perfectly in the spaces of the shelving without falling through. The chrome finish goes well with the platinum shelving. To be overly cautious, I attached two of the feet to the center support of the shelving with small cable ties to prevent it from sliding.
March 19, 2012
Rated

5

out of

5
 by
mkni
Fantastic product!
I was looking for an inexpensive wine rack for months. Not an easy task. Then I found these 4-Bottle Wine StackRacks! They work perfectly for my win storage.
November 25, 2011
Rated

5

out of

5
 by
Joules
Great item
I like the sterling silver color. Also, very convienent that it stack on top to fit more and conserve space. Very great item. good display in the kitchen.
March 17, 2010
Rated

5

out of

5
 by
ellabelle
Perfect for wine collections big and small!
I absolutely love this wine rack. It can grow with you and your wine supply. It fits nicely in a cabinet or on a shelf. I strongly recommend this!
March 2, 2010