Rated

5

out of

5
 by
mommaM
Kids Reach In Closet- for kids and adult use
We got the system for my little girl's room but realize that it had so much space we could store some of my items inside as well. We worked with one of the designers in the container store and got the layout just the way I wanted it. Had their team install it too (love our installer who did a superb job while not making too much noise for my LO). If your husband works and you're busy with a baby, have them install...saves you a ton of work and they work quick! We had shelves, drawers, rods, and even a shoe rack. The quality is superb and we are using it a lot now. Looking forward to her using this for many many years to come. Highly recommend to any new moms or ladies looking for something for their kids or themselves.
January 17, 2017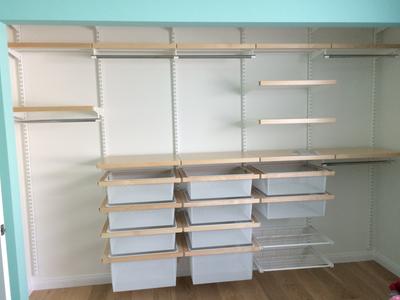 Rated

5

out of

5
 by
JustPeachy
Love, Love, Love the Elfa System.....
After owning several homes throughout the years, I recently moved into a newly built apartment in the city. The closets were large, but completely inefficient. As one might expect, they used the standard shelving (or should I say shelf) found in the "big box" stores. Vertical space was completely wasted. As this is an apartment and storage space is at a premium I looked to rework the closet. I've had the high-end closets installed in my previous homes at a premium price and left them for someone else to use. This time I turned to the Container Store and came upon the Elfa Birch System. Easy to install and it will be easy to take down when I move on to my next adventure. I tell my friends that it's like a puzzle; I keep moving the shelves as I need them. Easy as can be. I'd highly recommend the system to anyone. It makes it much easier to keep organized now. In fact, I don't have a linen closet, so I also use the shelves to store toiletries, towels, etc. I have completed three walls with a fourth to go - wish me luck! Did I mention that I love this system....
May 3, 2014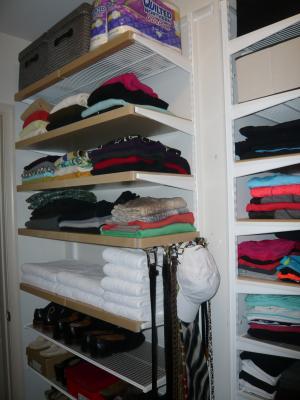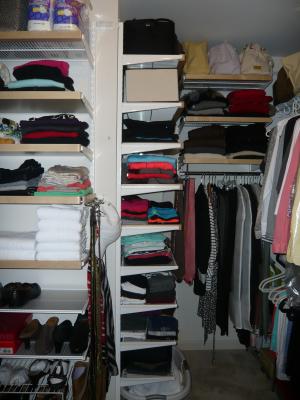 Rated

5

out of

5
 by
Nann
So Easy!!
I took measurements and brought them to the Container Store. I explained what I was looking for and the store rep designed a custom space. She knew all the ins and outs of designing a space and asked all the right questions! There were certain setups that I saw in the store and I asked for them to be included in the design. She reviewed my request and added them in just the right location. Finally, although it would have been quite easy to install, I decided to have it installed since I am very short on time. The installer came to my home, removed the old hardward in my closets, installed elfa and left my home spotless. The Container Store personnel are experts in Organization and I would not hesitate to use them for all my closets. I have three closets done now and best of all I can mix and match pieces if I want to move shelves.
May 17, 2010
Rated

5

out of

5
 by
wizbif
This product changed everything!
For the last 8 years my husband and I have lived in a 2 bedroom home. In that time we have added 3 cats and 3 children to our family, so as you can imagine, space is tight. Overtime, our bedroom became more of a storage room than it was our personal space. When I saw the ELFA sale I knew I had to finally invest in something I have been dreaming of for a long time, a real closet. My husband made fun of me for wanting something like a closet organizer, but even he became a believer once he saw the difference it made! Now everything has a place and a plan in our closet and that has cleared up a ton of space in our room as well. The product is as sturdy and functional as it is nice looking and I know it will last forever. We plan on taking it with us when we finally purchase our new home. My wish list from this store gets longer everyday!
January 19, 2016
Rated

5

out of

5
 by
MegO
Best investment in my no-closet bedroom
My husband and I purchased a home with a bedroom without a closet. So we quickly turned to the Container Store to design and install a white Elfa closet with birch accessories. It looks so beautiful against our gray wall. We installed carpeting after the elfa unit was put in but it was easy to take the pieces off while the carpeters installed. The drawers slide out effortlessly, and the birch is sturdy and strong. Tip: I'd recommend investing in all-the-same felt hangers and utility bins to make the whole closet look more streamlined.
April 25, 2014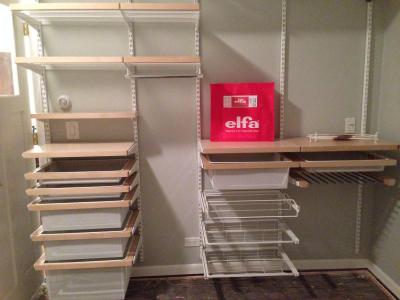 Rated

5

out of

5
 by
Kaylan
Absolutely a great investment
The ease and peace of mind the Elfa system has brought to my life every time I need to access my closet is indescribable. If you are thinking of investing in a solution for organization, Elfa is a great investment. We just bought our first home and my fiance and I share a TINY closet. The existing "DIY" setup had two shelves and no closet rods! I went to the Container Store as soon as possible and a friendly sales associate immediately put together a great solution for our space based on my measurements. She asked questions that helped us build the most effective solution. At home, I was able to install the Elfa system just fine myself. It does take time, but it is worth it. The pieces were easy to put in place and everything turned out perfect! I am so grateful for my Elfa system.
April 24, 2014
Rated

5

out of

5
 by
DormKidsMom
Space, space and more space!!
What I love about my new closet is all the stuff you can't see! An entire shelf on top that stores a ton
February 21, 2014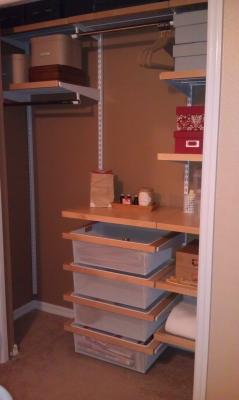 Rated

5

out of

5
 by
HappyElfaCustomer1
Elfa Bedroom Closet Comes To The Rescue
My bedroom did not have a functioning closet. I took one empty wall (& a portion of the other nearby wall) to create a much needed closet. The Elfa team was wonderful in assisting me. The closet still needs some work, but I am so happy with how it has come out thus far. I bought the value pack matching hangers (which include dress, shirts, pants, combo hangers). I have clear boxes for shoes. I love my Elfa cart for smaller items.
March 13, 2013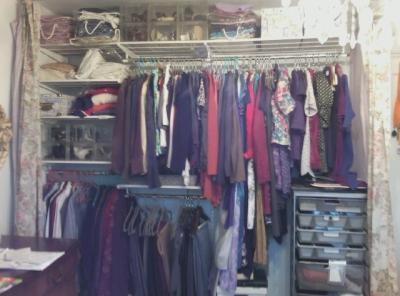 Rated

5

out of

5
 by
Verified Reviewer
Elfa Kills Chaos
Designed to your own space dimensions, Elfa birch & white closet components organize garments, shoes and accessories and your closet looks fantastic. Separate your garments by color, length, or style and locate favorites in a flash. The ventilated shelves are mesh so soft clothing lies flat - no marks from wires and nothing falls through. Shoe shelves, drawers and racks hang from the horizontal top rack, the only mounted piece making it a snap to install. Elfa actually e x p a n d s the useable space in a closet. The whole Container Store design process is flawless. Neat definitely trumps chaos!
February 28, 2013
Rated

5

out of

5
 by
ssuzemore
Love my closet!
Elfa is the best! I had been wanting an elfa closet for several years and finally made the purchase. The store designers made the process so easy and the installer was fantastic.He was quick ,efficient and meticulous. My husband thought it was on the costly side.However now that it is installed we both agree it is worth every penny.
February 4, 2013
Rated

5

out of

5
 by
Sercat
OMG!! Love, Love Elfa
(1) teen elfa closet & (1) child elfa closet = stress free parents
January 10, 2013
Rated

5

out of

5
 by
Aqua
Happy Dance!
I am absolutely thrilled with my new closet! Craig delivered and installed it yesterday in a very professional manner. Everything is gorgeous and it is so great to be organized! Of course now I have to go back to the Container Store to get more fun shoe boxes, etc. I love it!
September 11, 2012
Rated

5

out of

5
 by
batya11
Love all 3 closets
We remodeled this winter and got 3 reach-in closets. Master, teen and entryway. These closets have made our lives much more organized! I would highly recommend the Elfa closets. Also, if you can wait till the annual Elfa sale, it's worth the wait.
April 27, 2012
Rated

5

out of

5
 by
Valencia
Happiness in A Closet
My husband and I lived with our closet in chaos. We spent the majority of our time searching for clothes in the black hole that we called a closet. Then the container store came along and saved us. We purchased the elfa closet. It is a dream come true. Our clothes now have a place to call home. We can now find our clothes in a timely manner without becoming frustrated. This truly was the best purchase. Now our closet is a place of beauty instead of the black hole. Thank you container store!!
April 17, 2012
Rated

5

out of

5
 by
gowwowgirl
Best purchase for tough closet spaces
The different components of these elfa systems are the best! WE looked everywhere and were so happy with the service and the product from Container Store. WE have a challenging laundry room and needed containers for above the washer/dryer. But it was hard to reach. The ladies at Container Store and us figured out these pull out bins were easy to reach in a tough spot and gave us much needed storage. If you have a tough spot for storage and are creative and patient, you will find the solution here!
April 13, 2012
Rated

5

out of

5
 by
BLee
Updated Closet
We updated our main closet about 2 years ago in the Birch and Stainless finishes. We just love the way it looks and the ease with which we were able to install it ourselves. The components we chose work beautifully for all our storage needs, with space to spare! I would recommend this system to anyone interested in updating their closer.
March 19, 2012
Rated

5

out of

5
 by
Smartin
Great for kids
I love this product. I bought this for my five year old son because I did not want a dresser taking up play space and he loves it. I could mount it at any hight so both he and I could reach it and it leaves him with the ability to put away his own clothes. I would recommend this for both children and adults, it looks nice but can take a beating at the same time.
March 15, 2012
Rated

5

out of

5
 by
Chillen
Great value and product!
I purchased two reach in closet kits that I designed. It was soooo easy. The first kit arrived and I was skeptical that it would be everything it was advertised to be. It was even better. The kits went up without a hitch, it looks absolutely perfect in my daughter's closet and has tripled the amount of space to hang her clothes. Now we have to go shopping! Where I needed a larger dresser, I managed to even hang up her pants and downsize the dresser to a two drawer and giving her more floor space to put a chair in her room. She now LOVES hanging up her clothes and even getting dressed in the morning without me hounding her to 'get ready for school'....we even modified the valet hanger to fit her shorter shelf and she pulls her clothes out in the morning, hangs them on the valet and is dressed before I even ask...
March 10, 2012
Rated

5

out of

5
 by
CNMS
Closets made easy
the hardest apart was picking out the lay out! easy to install (yes, we did it ourselves!) and easy to adjust. doubled the closet space and made it much easier for my kids to find their clothes! thanks elfa!
March 1, 2012
Rated

5

out of

5
 by
Sylvie
We love our new closet. Well worth it. We were going to buy a dresser but instead decided to transform the closet and its better than I had ever expected it to be. The draws and shelves are sturdy and beautiful. I am so happy my friend introduced me to the Container Store.
February 15, 2012
Rated

5

out of

5
 by
crafty
Elfa in my closet saved me money
Elfa closets in the store are beautiful, but 2 weeks after installing in, my closets are still "showroom ready." And now that all of my clothes are in plain sight, it's easy to combine different components to make new outfits. I am not even tempted to go clothes shopping because I have so many options in my own closet. I removed 2 existing closet systems to install Elfa. The quality of the Elfa system is far superior to what I removed. Nothing but Elfa for me from now on.
February 1, 2011
Rated

5

out of

5
 by
collegemom
Elfa Drawers and Shoe Rack Purchase
Very easy to install into existing closet with build in shelves! Brought measurements into the store of the spaces available, and everything fits great!
January 13, 2011
Rated

5

out of

5
 by
SuSu
I love my pantry
Simply love it. Would do my entire home if I could.
January 11, 2011
Rated

5

out of

5
 by
Chriss
Love My Closet
For my birthday last year, my husband and family gave me an elfa closet. Everyone gave me Container Store gift cards, we brought the cards along with the measurments to the elfa consultant and she designed a closet for me. She was so nice! She asked me questions about how I use my closet space and then designed a space that was perfect for me! It is nearly a year later and I don't know how I lived without this closet. I use the dresser in my bedroom to store out of season clothes and my elfa closet is my every day clothes place! Whenever friends come over, I take them in to see my closet because it is always neat & tidy, every thing is in its place. My next goal is to do the other two bedrooms in my house with elfa. If we ever decide to sell this house, I think the elfa closets would be a BIG selling point.
March 16, 2010
Rated

5

out of

5
 by
Danica
The best purchase ever!
The Elfa system is a great affordable option if you want to create your very own custom closet. Although I initially cringed at the idea of forking over mucho moolah for the Elfa system, it's a much better deal when you consider that cost of one quality dresser is $500+ vs the $300-$700 you might spend with an Elfa system. (My closet costs me $400 and it is 75" wide.) Also, since your clothes are completely confined to your closet, you have more space in your bedroom. Three outstanding features of the Elfa system is it's easy installation, versatility, and the customer service. The Elfa system is designed so you do not have to be handy to customize your closet. The only thing you attach to your wall is one piece of steel which doesn't even need to be attached to studs. It's so easy that I managed to install an entire wall unit by myself. I designed a home office/craft room/design studio using the Elfa system. So far I've organized and filled my wall unit with a full bookcase worth of books, oodles of craft and paper supplies, office supplies galore, 3 printers (including the wide Epson R1800 and two all-in-one inkjets), my laptop, one large Carl rotary trimmer, and I still have two empty shelves and enough room for two task areas. Did I mention that this room is only 11x12 and I have a twin bed and an additional full length bookcase in there? Truly, I am a testiment that the reps at The Container store are wizards at solving major clutter problems and design obstacles. They will provide you with friendly professional help and get you motivated to tackle your overwhelming organization problem. Even a year later, they helped me with my major measurement blooper. He, my measurements were off by one inch. Also, I didn't have my old reciept, and I didn't have my design plan. So they looked up my old, old, old plan, recut one of my pieces, and doublechecked to make sure that my design would still work. Talk about some awesome customer service.
March 3, 2010