Rated

5

out of

5
 by
Altrajeff
Love our pantry
By using the elfa shelving we are able to utilize every inch of our pantry. There are no hidden corners. Love the amount of space available.
January 16, 2017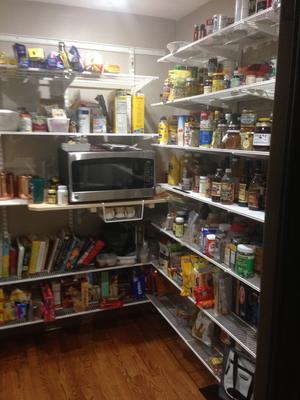 Rated

5

out of

5
 by
Fullycontained
Love the baskets
In our small coat closet I just installed the second of these baskets. They are perfect for corralling backpacks, purses, jackets, etc. They can make even a mess look great! I spent a few minutes trying to get this basket into the track before I realized I was installing backwards. Whoops! Make sure you have the front in the front and the back in the back.
March 21, 2016
Rated

4

out of

5
 by
MindyT
Purchased for Elfa Decor Solid Shelf
I ordered these to go with 12" Elfa decor shelves that I also ordered. I originally ordered the 101/2" bracket for 12" solid shelf as the description on the website led me to believe it would go with the decor shelf. After it did not work, I called a store representative who clarified that the ventilated shelf brackets actually support the solid decor shelves. All is fine now, but website was not entirely clear to me.
March 22, 2015
Rated

5

out of

5
 by
ZenModern
Shelf expansion completed
The best thing about ELFA is that it can be changed and expanded. We took our shelves when we moved and the space was different but we could change the configuration with just a couple of new brackets.
October 9, 2014
Rated

5

out of

5
 by
BonVivant
this was a test sample
I bought this as a test sample because I do not have a store close to me. I was delighted with the quality and purchased an entire walk in closet organization system after receiving the bracket.
April 24, 2014
Rated

5

out of

5
 by
Mattb123
Elfa is great
The whole shelving system is just fantastic, and the people at The container store are fantastic as well
April 18, 2014
Rated

3

out of

5
 by
JimO
Right product; WRONG PACKAGING!
I've been a long-time fan of Elfa - it's been in every one of my closets for the last 15 years (4 different homes). I ordered two of these brackets. The shipping packaging was 4x more than was necessary to protect and deliver this item. It was VERY EXCESSIVE - totally over packaged. Please reduce the amount of packing material you use. I will now more seriously consider local alternatives before buying online from The Container Store again.
April 12, 2014
Rated

5

out of

5
 by
brandismom
Sturdy and attractive
These brackets are heavy duty but no rough edges to catch on one's belongings. They came with a plastic top edge cover so that it is a "sealed unit" when you are done. Helps to tighten up the shelves as well.
March 23, 2014
Rated

5

out of

5
 by
lindyhopperj
Great design, easy to install
The shelf brackets are very easy to install and re-adjust if needed. The pieces are very well made-- consistent workmanship, very sturdy. The design made it very easy to install or remove ventilated shelves, basket shelves, and drawers.
March 23, 2014
Rated

5

out of

5
 by
Veet
expanding an existing closet
purchased additional Elfa components to expand and existing installation was a simple and easy project compared to other closet organizer systems. simple process
March 22, 2014
Rated

5

out of

5
 by
AuntMog8
It all hangs on this
All shelves, drawers, racks and whatnot all rest on or suspend from these brackets. They have to be easy to install- or who would use them, sturdy- because they hold everything, and attractive- because you will see them every time you use the system.
February 28, 2014
Rated

5

out of

5
 by
StorageSolutions
sturdy
Sturdy product, especially when used in conjunction with bracket cover.
February 27, 2014
Rated

4

out of

5
 by
HippoToo
Support
The support brackets come in a variety of sizes, are a little different to install, but are vet sturdy.
February 23, 2014
Rated

5

out of

5
 by
MsOrganizeIt
Elfa is fantastic!
Elfa is a great product! Organizing with it is so easy! Brackets for shelving come in various lengths to help you customize your space. Have it throughout the house- love it!
November 21, 2013
Rated

3

out of

5
 by
Laundry
Great system easy to use. Puts up quick and easily adjustable
September 15, 2013
Rated

5

out of

5
 by
Desertgyrl007
Best system ever
This is an amazing system that is easy to use and put together. The team at the Scottsdale store are fun, professional and courteous. Big shout out to Candice, Yo, Mark, Gretchen and Jackie for their tips and ideas on my newly discovered Elfa journey! Can't wait for the next Elfa event to buy more!!
July 2, 2013
Rated

5

out of

5
 by
BlueOcean
BlueOcean
Sturdy, easy to use and install. De-cluttering at its finest!
April 26, 2013
Rated

4

out of

5
 by
justpackit
THIS PRODUCT ROCKS IN TIGHT SPACES!
I custom designed a solution for our pantry which serves as a pantry, a place for our washer and dryer and has a small 1'x1' access door to our attic. Every inch is used thanks to Elfa. Best part of Elfa....to get the attic I have to take down the top 2 shelves. This is easy to do and to put back. Any other solution I found was not this flexible and we would have had to create another access place for our attic. SO it has been a great solution there. The reason I gave it a 4 instead of a 5 is that my husband bought a stand up elfa desk. When we tried to convert this cubicle stand up to something we could use at home with shelving above it we gained nothing. It was more costly to use it than to buy a whole other elfa solution even though the width and depth were perfect. So...just because its elfa and it is so supposed to be so flexible does not meant that it is flexible enough to covert to any solution in a cost effective manner.
April 3, 2013
Rated

5

out of

5
 by
TXgal
easy to install - love the elfa system
I love my new elfa closet - super easy to install and looks nice too!
March 19, 2013
Rated

5

out of

5
 by
windprince
Makes installation a "snap" :-)
I have installed a few things in my life, and by "a few" I mean a lot! I could not believe how easy the elfa system was to install. Initially, I was trepidatious, but once the header (top rack) was installed and the standards were hung, everything pretty much snapped into place. I can still remember the beautiful sound of the ventilated shelves snapping into place and then vibrating... I had so much fun that my wife decided to join in... not to be cheesy, but it was a great bonding experience.
March 18, 2013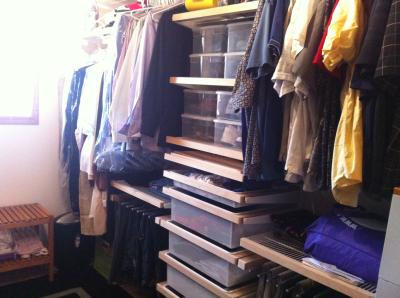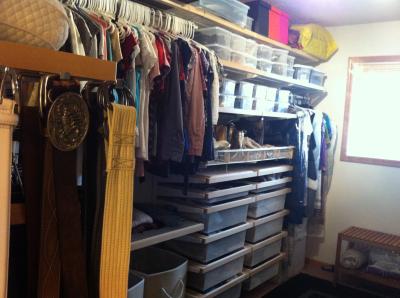 Rated

5

out of

5
 by
Legolady
Fantastic
I love the way the shelving locks into these brackets. They are sturdier that brackets from other systems I have used, and the finish is a nice bright white and very durable.
March 5, 2013
Rated

5

out of

5
 by
Sagebrush
In love with Elfa
Last spring I tore down the fixed wooden shelving in my pantry and replaced it with Elfa ventilated shelving. I am thrilled beyond words with the result. I have so much less wasted space now. The fixed shelving always seemed to be the wrong height for what I needed to store (I was particularly limited on where I could put the cereal), the way they did the supports also ate up height in many spaces of the shelves, further limiting where I could put things. And, there were only 5 shelves, which meant things got piled up on top of each other without enough space to organize them in order to find what I needed. With the Elfa shelving, I now have 8 shelves in the same amount of space and each shelf is at just the height I choose for it to be, so I can fit more things in, where I want them to be, and what is there is much more organized than before. It's a great solution to the problem I had. In addition, Installation was straightforward and relatively easy. I had my husband help me hang the header, and I did the rest myself.
March 2, 2013
Rated

5

out of

5
 by
abmouse
Works great with solid shelves
I have a decorative solid shelf and this product works perfectly with it!
February 18, 2013
Rated

5

out of

5
 by
ehrhartg
Easily reconfigured
I recently added solid shelving as a desktop and love it.
February 3, 2013
Rated

4

out of

5
 by
wellorganized
A Necessary Element of the elfa System
These brackets are necessary for use of many elfa components. The metal is solid is can withstand heavy loads.
January 12, 2013
Rated

5

out of

5
 by
jopritch
Nice looking and Functional
These brackets look nice, and the ability to easily move them to exactly where you need the on the standard is great.
April 27, 2012
Rated

5

out of

5
 by
Vikr
Elfa systems
I just installed a elfa system for utility room, laundry room, pantry and closet space. works great, installation was very professional, store service was great. The price was the limiting factor. Its very expensive including the installation through them.
April 27, 2012
Rated

5

out of

5
 by
angelp
Very Strong
These brackets are amazingly strong and sturdy. It only takes seconds to install them on your unit. If you decide you need to re-arrange items they come out of your unit just as quickly so that you can easily move them somewhere else.
April 16, 2012
Rated

5

out of

5
 by
NatD
Sturdy and Attractive
These work perfect with the shelves. They look great! We have them in my son's room and our playroom and we love them.
March 19, 2012
Rated

5

out of

5
 by
SusyQ
Very sturdy
Great sturdy brackets. Do not even compare to other brands. They lock into the hanging standards, and the shelves lock into them. Makes for a very strong system with no play whatsoever.
March 19, 2012