Rated

5

out of

5
 by
DanielH
Perfect for vinyl record storage
I purchased ten of these supreme crates and stacked them four high with the front open, then I fastened them together with zip ties, creating a shelving unit to hold my vinyl record collection. It worked perfectly. It is strong and good looking and they are the perfect size for holding vinyl records. I am planning on ordering ten more and expanding my shelving system.
October 31, 2015
Rated

5

out of

5
 by
MomSeeksValue
Finally, storage for my LP valuables
I finally have storage for the LPs that I won't sell or give away. They fit in a closet and I'm not worried about hurting them when they're in this crate. Beats cardboard boxes and other flimsy containers, and the crate is easy to keep clean.
April 26, 2014
Rated

5

out of

5
 by
MilkCrateMan
Super Versatile Crate
Bought this crate to house a custom computer rig, where maximum ventilation and cooling was needed. This crate works AWESOME! The size is great to easily accommodate the largest of graphics cards and whatever I want to stuff in it. The design lets air easily pass through the crate, over my components, for excellent cooling. Very pleased with this crate, will be buying more for future projects! Oh, and its also good for holding stuff. Did that for a bit before turning it into a make-shift computer case.
February 24, 2014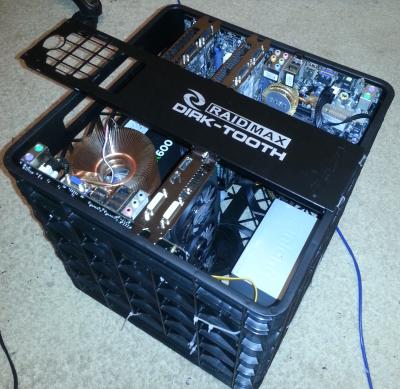 Rated

3

out of

5
 by
blessedgrandmaof6
Not What I expected
I bought Six to use for Scrapbooks but they started to bend with the weight! I guess they work great for albums but not scrapbooks!
January 20, 2017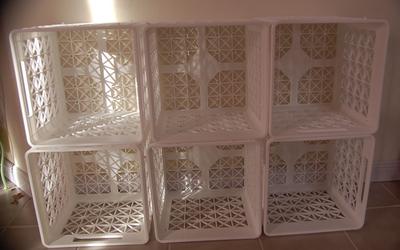 Rated

4

out of

5
 by
Hombre
Not just for vinyl records...
I found two great uses for this crate besides holding vinyl LP's: 1) It holds exactly 20 of the 22oz "bomber" bottles, and you can stack them 3 or 4 high without worry; for all you homebrewers out there. 2) If you stuff a 15gal, square felt planter into it (or sew up your own 5-sided cube from felt, or barrier material, etc.), it holds about 30-32qt of soil, yet allows: easy mobility with the handles, great drainage, aeration from all sides, and lots of ways to tie down for low stress training...for all you horticulturists out there. I did have to dock a star, though; as others have said, the thing is flimsy compared to an actual milk crate--especially given the price.
October 6, 2016
Rated

3

out of

5
 by
Labman
Not Supremely Sturdy
These are not as strong as the smaller Milk Crates so stacking them high with heavy stuff in them does not work as well as it should. If you stack them on their sides you need to use ZipTies to hold them together. Then the stack is much stronger and does not wobble around as much. I also needed the extra height to put 4x1 gallon water bottles in them and still stack them vertically for reserve water in the garage. All the 2&1/2 gallon water bottles I use to store in a row on a shelf have such poorly heat welded seems now they start leaking after just 3+ months.
August 28, 2016
Rated

2

out of

5
 by
Texpat
Cheap plastic sags under weight of vinyl records
This product is advertised as a durable crate, but check out the attached photo -- it sags down in the middle when filled with standard vinyl records. This product is not up to the Container Store's usual standard of quality. Disappointing.
April 3, 2015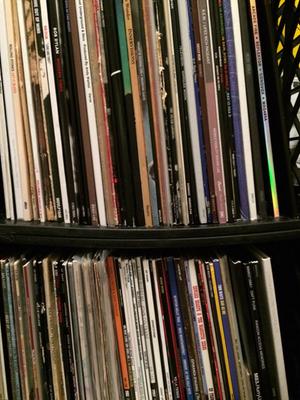 Rated

2

out of

5
 by
VinylFiend
MAKE THIS MORE STURDY!
This crate would be great if it were made of the same material that actual milk crates are made of. I stacked three crates sideways with the most vinyl at bottom to almost empty at top. Within the hour, the crate at to bottom began to bent so I opted to stack them vertically. Stacking them this way showed no signs of bending, but obviously made the middle and bottom crate's vinyl inaccessible. PLEASE make this crate with a stronger plastic.
February 4, 2015
Rated

5

out of

5
 by
Brooklyn2015
Great way to maximize space in small area
After looking at several different types of crates I selected the "Supreme crate" because it was larger than most & durable. The crates that sell for $3-$7 are not the same type of quality. Also, it's very difficult to find local stores that carry crates year round. Most retailers only carry in stock during back to school sales.
December 31, 2014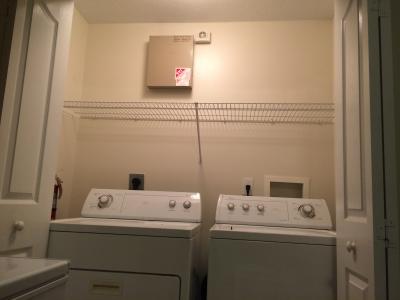 Rated

5

out of

5
 by
JPBG
Perfect for Records
Like the Review Title says, perfect for my bf's record collection.
April 25, 2014
Rated

5

out of

5
 by
HalliBee
Very Good for suggested use
While these crates do not have the sturdiness of the dairy crates, for the collector/hoarder of old vinyl they are a life saver. I had resisted buying them are several years but once I did......
April 9, 2014
Rated

5

out of

5
 by
Ganesha
Great for vinyl
Sturdy, stackable -- great for holding / storing / moving / displaying vinyl. The all-rounder, very efficient. I need 1 more than I ordered though :\
January 13, 2014
Rated

5

out of

5
 by
Jiwit
Versatile
These are perfect to stack up and fold your clothes in. I recently moved and my closet is a joke. I've resorted to designating one wall as my closet. They are meant to be stacked so they will stay in place and the size is big and deep enough to hold your clothes without it looking clustered. I would recommend the supreme crates over the milk crates because they are a little more functional in a home setting.
January 6, 2014
Rated

4

out of

5
 by
jan10
Supreme Crate
Fits record albums perfectly as described. Love that it stacks easily and safely locking together. However, when more than two are stacked it lacks stability.
December 28, 2013
Rated

5

out of

5
 by
bobguitar
Make Great Speaker Stands
I bought these to use as speaker stands. They work great when turned upside down. They are the perfect height and the extra cable can be hidden inside the crate
September 5, 2013
Rated

1

out of

5
 by
DaddyDoody
Flimsy, not up to CS standards
I purchased these to help house some vinyl albums. We used to use old milk crates to do this in college, and these "look" like they'd do the trick. But after using one of these crates to haul a load of albums up a flight of stairs, I feared the crate would fall apart on me. It was flexible, not rigid, and totally inadequate to bear any sort of weight more than a few pounds. I'll be bringing mine back for a refund.
August 23, 2013
Rated

5

out of

5
 by
inthecloset
Storage
I have an odd (L) shaped closet and these crates, stacked, sit in the closet on their side to create shelves for the linens. They hold several sets of sheets and it is easy to retrieve a fresh set. Brings back the college days. Good product.
July 13, 2013
Rated

5

out of

5
 by
Chesco90
Awesome for records
I got one crate for my record collection and I've bought two more since. They're really great, they hold a good amount, and can with stand the weight.
April 26, 2013
Rated

5

out of

5
 by
Mimi1999
Big and sturdy
Big enough to hold lots of items and sturdy enough to hold the weight
March 30, 2013
Rated

5

out of

5
 by
stephaniesnm
Perfect for Records
I have a lot of records and these do the trick. Easy to carry (although heavy which is not the crates fault) and stores a lot of records in just one crate.
March 26, 2013
Rated

4

out of

5
 by
NiceNTidy
good for yakin
i bought this for use on my kayak, to hold gear and be easy to carry. turns out to work well and plastic is sturdy enough to add bolt on items. i only wish they made it in a rectangle shape a bit larger than the square offered here. otherwise a great product.
March 19, 2013
Rated

5

out of

5
 by
opprinnelig
more than just a crate
Love these things. Built to last from a decades old design that is tried and true. I've set up a mini urban farm using them as modular square foot gardens for all kinds of veggies from arugula to zucchini. Just get some soil barrier by the roll, dirt and seed and you're good to go.
March 18, 2013
Rated

4

out of

5
 by
Kettdave
Perfect for records!
Got several of these for growing vinyl collection. Just the right size. Stackable and interlocking but a bit too flexible if full.
March 16, 2013
Rated

5

out of

5
 by
kiki5555
Perfect Fit
i purchased 5 Supreme Milk Crates for my vinyl records and my laserdisc movies, and I couldn't be happier with my purchase. Everything fit perfectly with room to spare.on top. I've got them laying on their side,two rolls high for easy access. I looked other places but others were too small. They seem very sturdy but don't have plans to sit on them. No cons, all good.
March 1, 2013
Rated

2

out of

5
 by
DJGirly
Plastic too weak.....
I did read the other reviews, but bought extra crates so as to not pack so many records in creating so much weight. Most DJ's want to have thier records accessible- being stacked on the side. I bought 8 crates and have two rows of four- and even though each crate is about 2/3rd of the way full- I can see slight dipping in the plastic of the crates. I wish could buy these with the strength of old-skool egg crates- even if I had to pay more for each crate. For the price- its an okay deal- I am just going to see how much these things bend as time goes on. I probably will just stack most of my records upright- if the bending gets to be too bad. You just gotta make it work.
December 29, 2012
Rated

5

out of

5
 by
Bruceski
Supreme Crate
I have a lot of LPs that have accumulated since the '60s. I got tired of using up my garage shelves for storing the overflow. These are an ideal size for LPs, especially the inside height. Some albums are oversize and won't fit my Audio Room custom shelves, especially later boxed sets. No problem for these stackable units. They are sturdy and have a ring on the bottom that fits the top of a crate below it in a stack. These solve storing LPs.
November 9, 2012
Rated

5

out of

5
 by
Ellegua
perfect
I got two, one for my vinyl and one for my cooking magazines. Great capacity.
August 2, 2012
Rated

5

out of

5
 by
kevinc5680
Perfect For The LP Collection!
For LP storage, these are great. I was surprised that finding dairy crates was so difficult but these are perfect for my collection. They stack and are easy to move. Unless you are able to get some of these for free from someone who ships milk, look no further.
May 5, 2012
Rated

4

out of

5
 by
Dahlia
the answer to most of our storage problems
I have found these crates to be a great way to maximize the storage space in a closet. These sturdy crates are the best solution for storing books, tapes, records (especially, they fit perfectly), and anything else that fits. They stack securely, either open side up or to create cubbyholes giving access to your stuff. They are an easy and economical way to organize a closet or other storage space.
April 27, 2012
Rated

5

out of

5
 by
DebL
Heart and Soul
My husband and I have an extensive record collections...that's right Vinyl Records- those round, flat, black things that carry music that most twenty year olds have never held in their hands. Now, my oldest son has started collecting records and we've found that the Supreme Crate is the very best solution for both storage and display. We'll be back for more very soon.
April 23, 2012