Rated

5

out of

5
 by
Ceil
Perfect!
These are the perfect solution as a space saver---I used them with the help of a wire shelf to hang jackets in our "mud room".
August 8, 2014
Rated

5

out of

5
 by
krisbell514
Very Useful
These are really really useful & such a great value. I have used these for hanging belts, jewelry, scarves, tank tops, work out stuff etc. Fit perfectly in my closet & match the same shade of white
March 8, 2014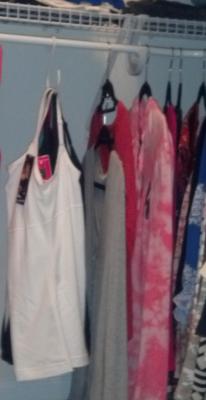 Rated

3

out of

5
 by
AuntieS
Great idea, but needs to fit better
This was just what I needed to hang some backpacks in a spare closet so they didn't take up so much shelf space. Unfortunately, the small curve is too small for my closet rod. I made it work by using the large curve for the rod and the small curve for the bag. But it would be more useful if it fit the other way for ALL clothes rods.
December 29, 2013
Rated

1

out of

5
 by
flintstonechick
Save your money
While this wasn't terribly expensive, it doesn't work on a wood closet pole, the hook is too small and doesn't slide.
November 22, 2013
Rated

5

out of

5
 by
TXRose
Great product
I used it to hang the Clothespin Caddy Translucent on an extra long shower curtain rod I have over the washer and dryer to store lost socks or clothespins, and hang hangers from the rod. It's great.
October 19, 2013
Rated

5

out of

5
 by
neatfreak006
Make Life Easier
I use these to hang my purses and bags in my closet so that they retain their shape. These are so easy to hook together to save space or use to display things. I'm so glad i got these!
June 3, 2013
Rated

5

out of

5
 by
pamtxmom
Versatile and inexpensive
As a household with 3 women, we have a lot of hand washables that need to be dried. I find these S-Hooks to be perfect for drying hand washable items, or wet bathing suits. They're easy to move wherever I need them - in the laundry room, over a bath tub or in my suitcase for a trip! I started out with one and now have about 5 of these hooks! They're always in use. Great product!
April 27, 2013
Rated

3

out of

5
 by
Acerspacer
Great for my unique use of it.
I would only recommend these hooks to my friends if they used them as I do - or - if they have sufficiently narrow closet rods. These hooks work very well for my purpose -- I turn them upside down (large end goes over my wooden closet rod) and use them to hold a section of chain link (the kind used for hanging flower pots or hanging lamps, etc.). In each link goes a clothes hanger. Hanging blouses and other tops in such a staggered manner (each chain section has from 5 to 8 links) lets me hang more items in a smaller space without getting wrinkled! The coating on the hooks keep them from shifting and keeps everything nice and neat. Unfortunately, I can't use the hooks in the conventional manner because the small end does not fit my older type closet rods. The manufacturer should re-think the size of the smaller end because those of us with sturdy wooden rods cannot use them for the purpose for which they were intended.
July 4, 2012
Rated

5

out of

5
 by
KrisK
Perfect for what I needed
I've been on the hunt for an accessory organzier for hats, after much searching I wasn't able to find exactly what I wanted, so I bought one of these, and some hanger clips and braided some rope to hang from this with the clips braided in and voila, exactly what i wanted. the nice part of this hook is that it has the different size on each side, I needed the larger hook as it's hanging from an exposed pipe in my basement apartment, and it fit perfect.
April 30, 2012
Rated

5

out of

5
 by
peggychen2010
great use!
great for long neckalaces, scarfs, bags, anything thats hangs!
October 2, 2010
Rated

5

out of

5
 by
angie4
Closet Rod S-Hook
i use this in my closet to hang my belts. it works perfect for me b/c it takes up very little space, and i rarely wear my belts. it is a pain to have to take off all the belts to get to one that is underneath all the others.
May 31, 2010
Rated

5

out of

5
 by
KyMinnie
great for organizing your closet
I use these to hang up purses in my closet. They are very strong and I was able to get 6 purses on each one.
April 5, 2010
Rated

4

out of

5
 by
misery
provides easy access and non-slip hanging
I used these to hang my daughter's dance outfits/ tutus that need to hang upside down. They vinyl coating keeps things from slipping off. The hooks don't fit on every rod but did fine on my wire closet rod and shelf.
March 30, 2010
Rated

1

out of

5
 by
MissTidy
waste of money
this product does not fit on ANY of my closet rods. It was a complete waste of money. I bought four of them. I opened one, and tried to stretch it to fit in one of my closets. Once I finally was able to secure it on the rod, it would not move at all. Not practical or effective. The site should indicate the size of the rod that would accommodate this product.
March 18, 2010