Rated

5

out of

5
 by
Starfox
Strongest shelves ever
Love the these shelves as they're well made and can hold very heavy items
August 25, 2016
Rated

5

out of

5
 by
DrBurl
Beautiful and Useful Shelves
My wife and I purchased this shelf (48 inch wide) to build an in-the-house storage unit for the room that has become the "office" in our home. The nice silver finish looks great and keeps the unit from looking like it belongs in the garage. The shelves are very sturdy, and ours are loaded with significant weights. We are delighted with the shelf unit, and highly recommend it to anyone looking for very utilitarian yet attractive shelving units.
August 20, 2016
Rated

5

out of

5
 by
Hummingbird42
Love the Whole Shelving System
I purchased the InterMetro shelving unit to put all of our large appliances on. We set it up in the garage with the canvas cover to keep the dust off. It holds everything we wanted it to, plus some. FANTASTIC! I like that I could purchase an extra shelf because some of the appliances aren't very tall, and I didn't want to waste one inch of space. Also, it's very sturdy and well-made.
August 5, 2016
Rated

5

out of

5
 by
WyoScuba
Max utility
Sturdy, easy to assemble, industrial chic. Very versatile.
February 6, 2016
Rated

5

out of

5
 by
CBinDC
Versatile!
I've been happy with the InterMetro purchases I've made so far. I purchased a single shelf to add to a set (my 4th) when I needed to add one more. These hold far more than the plastic things from home improvement stores (and the shelves don't sag). When they are on sale next, I plan to get 1 more set.
February 4, 2016
Rated

5

out of

5
 by
organizedinkazoo
sturdy and easy to assemble
I am organizing my basement and I love the versatility of the InterMetro storage system.
January 19, 2016
Rated

5

out of

5
 by
DarylW
Excellent solution and sturdy construction
We were having a difficult time finding a tall rolling cart to fit into our odd shaping closet. I decided to try Container Store's help. They sent me exactly what I needed. I ordered online and picked up at the store. The Metro was extremely easy to put together. I had it together with 4 shelves and wheels in 15 minutes. The black color looks very nice.
October 27, 2014
Rated

5

out of

5
 by
AVISB
PERFECT SOLUTION!!!!
I have this very tight space underneath a counter in my kitchen. The space was perfect for the 18 x 24 shelf. So I got 3 shelves and the short poles the are 3.5" tall. I was so excited. I got them home ans was all set to install them when I did not realize that there was a 6" lip that stuck out from the side that prevented me from just putting this all together and pushing it into place. Also there was a strip of wood that ran across the back that made the poles to tall for the space. I was all bummed that my idea was not going to work so I proceed to return every thing to the CS. While at the counter to make the return I was telling the sales associate that I was so disappointed that I could not use the items. I told her that the shelves were a perfect fit but the poles were to tall. Them, OMG! She said do you want me to have them cut for you, I did not realize that this was even an option. She did preface her statement with, "we do not recommend it and you cannot return them after they are cut. So I decided to take a chance. I had 3" cut off the poles. I figured, worse case I would just loose the cost of the poles. Anyway, I went home with my shorter poles and SUCCESS!!! The funny part was I had to actually get the poles in back in place and get the bottom shelf in place first and place the other two on the poles and allow them to all drop and raise them to the desired height one by one. It took some work but the outcome was perfect I am happy to say. Please check it out!!!!!
September 29, 2014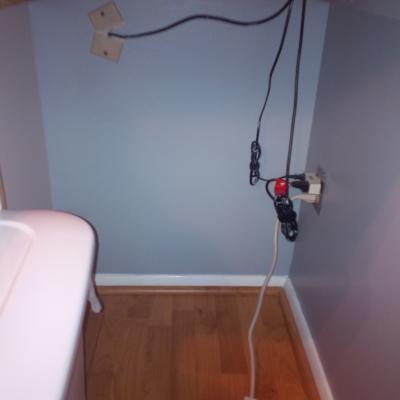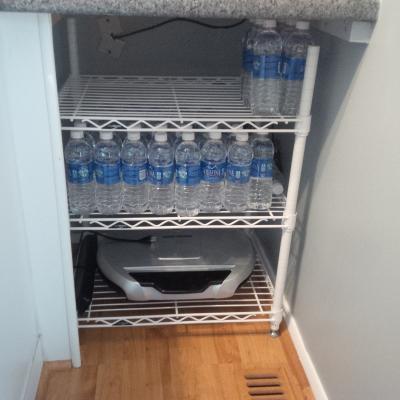 Rated

5

out of

5
 by
Blackhawkshani
High End Results
We purchased 3 shelves and 4 metro casters. Once assembled, we triple folded a piece of thick, slip resistant mat (available in the kitchen section) on the top shelf. My Boos Block fit perfectly on top! Add some baskets and storage containers, and VOILA! My butcher block cart is an exact replica of very pricey high end carts available at gourmet cooking stores. Total cost, including Boos Block and extras, approximately $250. Cost of pricey high end cart, approximately $850!
June 27, 2014
Rated

5

out of

5
 by
crewmom
Better than boxed shelving from the big box stores
A much better product than what I've purchased in the past from large chain home improvement stores. I was able to buy as many shelves as I needed for the project. The hooks are extremely useful in adding storage options without taking up shelf space. I also like the brushed silver finish which made for a better look in my son's room and matched his other furniture.
June 4, 2014
Rated

5

out of

5
 by
42hsb65
Nice rack system
Very practical. Easy to put he pieces together. Very strong.
June 2, 2014
Rated

5

out of

5
 by
LSTN
Sturdy
I bought a few of these in white to assemble an InterMetro shelf to house my TagStore boxes. It looks clean and feels very sturdy.
April 26, 2014
Rated

5

out of

5
 by
Kevek
Best general storage option I've ever found
We started with one setup of InterMetro shelves in our kitchen and have since expanded to a tool shelving system, a smaller one in the bathroom, and will probably add more in the future! Disassembled the pieces are light enough and maneuverable enough to get almost anywhere, and once assembled they're extremely sturdy and useful. Highly recommended!
April 25, 2014
Rated

5

out of

5
 by
shelflady
Cool looking shelving
I bought two of these units to be used in the bathroom for towels and accessories⿦. I wish I bought more
March 26, 2014
Rated

5

out of

5
 by
CGBS
Exactly what I needed!
I purchased these shelves to fit into a specific area in my closet. I was able to buy the shelves at the correct height and width, so that they fit perfectly. Now my clothing are neat and orderly and my closest is utilized to meet its capacity. Easy to carry up stairs and put together.
March 5, 2014
Rated

5

out of

5
 by
lvurpl
Excellent Product
Bought two of these wire shelves and 4 wheels to construct a cart for our 65" flat screen TV. It is very sturdy and easy to fasten the feet onto the wires. This is our second cart for our second TV. The other cart holds a 42" flat screen TV. Makes it mobile and the lower shelf holds additional electronics. Black color makes it blend into the décor. Worth the money.
February 7, 2014
Rated

4

out of

5
 by
RKCB
Good to know racks can still be purchase separate.
December 1, 2013
Rated

5

out of

5
 by
Chucky
The items we purchased were exactly as advertised, they hold a lot of weight and were very easy to assemble.
November 21, 2013
Rated

5

out of

5
 by
twinmom13
clean and simple
I bought these for extra storage in our basement. I got it in white and i think it's clean looking and extremeley easy to assemble. It seems to me that they are of good quality.
October 15, 2013
Rated

5

out of

5
 by
AtlantaJim
Excellent as always
We've been using Metro shelving for almost 9 years. This was just a rolling shelf package to use in the laundry room, but we've got a large pantry outfitted with several sets of these shelves, and they're great, expecially for the price.
September 30, 2013
Rated

5

out of

5
 by
Jakd
The easiest purchase ever.
I really needed shelving for the business. Strong but not an eye sore. I went on line to the Container Store and ordered away. I picked up the order right at the store. It was so easy and the shelves were perfect. I bought more for more spaces. The drive and pick up at the store was so unbelievably easy. I went back a third time. The Inter Metro and Metro shelving, the price, the order on line and just drive up, and the employees just bringing it to your car is the best!!!!!!!!
September 28, 2013
Rated

5

out of

5
 by
liz9
Love the look of open shelves
Shelves hold plenty of weight and with a liner, small things don't fall through. I like the open look and you have to keep your belongings neat that way.
June 27, 2013
Rated

5

out of

5
 by
LoverOfPracticalThings
Great part of a practical kitchen island
We needed a kitchen island that would be good for food prep (very little counter space in an NYC apt), storage, not to big, and movable. Intermetro let us design something that is all 4. We are so happy with this thing! Shelves are great. They were easy to install and cleans easily. We have them in black, which i think really makes it look like a piece of actualy furniture and not cheap shelving. It's been almost 4 years and it's in great shape. Here's the components of our kitchen island. 1. InterMetro® Butcher Block Top - 13-1/4" x 35" x 7/8" h 2. Shelves 14" x 36" InterMetro® Wire Shelf. In Black, it's 483015. We have 3, but you could probably get a 4th one in there if you wanted more shelf space. 3. 4 posts, 34-1/2" InterMetro® Post. Black is 483030. 34 inches seems short, but when you add the caster wheels, its counter height. 4. Wheels - we have 2 caster wheels with brakes and two without. 3" InterMetro® Caster w/ Brake is 483077 5. Canvas cover - we thought about this but didn't do it. We have young kids, but they don't grab everything as much as I thought they would. In fact, we keep plastic containers on the bottom, and when they are interested, it's kind of a nice distraction that keeps them busy. The fact that its on wheels has not been dangerous for the kids, but if we don't want it to move, locking the two wheels keeps it in place. Overall, a great product, and I'd buy Intermetro shelving again.
May 3, 2013
Rated

5

out of

5
 by
DenverMom
The solution to my storage problems!
These shelves are fantastic, and it's well worth the cost to get a unit that fits in any space, if you have storage problems. I have a small kitchen with few cabinets, and used these shelves to create a pantry in a back corner and a place to store my larger appliances. They are sturdy, attractive, and easy to put together!
May 2, 2013
Rated

5

out of

5
 by
Bookmom
InterMetro Wire Shelves
Sturdy, easy to assemble. I love it! Holds more than I thought it would.
April 13, 2013
Rated

4

out of

5
 by
manhattanette
Hard to assemble, but good quality
The shelves were a bit hard to assemble. It was hard to get everything aligned at the proper angle and to get the shelves to stay put at the right level. But, all said, once I got it put together, it seems very sturdy and looks really nice in my pantry. I will buy more of these shelves in the future.
February 20, 2013
Rated

5

out of

5
 by
Sideygirl
Super Strong and Versatile
I love InterMetro shelving. I've been using Metro shelving for about 20 years now. It's incredibly easy to put together and take apart. It's also easy to reconfigure to fit a new space or for a new use. Over the years as I've moved around and have needed to adapt the shelving for different homes, I've bought different sized poles, different sized shelves, wood shelf overlays, wheels - you name it. I use it for practically everything.
February 20, 2013
Rated

5

out of

5
 by
beacon
you won't regret your purchase
the whole system is great. Very substantial shelving to handle whatever you want to store on it. We took down old wooden shelves and installed 3 metro shelving units and one elfa hanging unit. I have totally organized my storage space. The shelving is so strong, that I have so fears that it will wobble or weaken over time. This is a permanent solution to a problem that has nagged us for years. I now buy all my shelving needs from the Container Store. You will not be disappointed. Superior product.
October 4, 2012
Rated

5

out of

5
 by
Gitanas
Sturdy Shelf
Shelf was very easy to put together, no tools needed. Shelf is very sturdy and made well.
September 26, 2012
Rated

5

out of

5
 by
jlsavage
Easy to Assemble!
The salesperson was extremely helpful in suggesting a custom design that would fit my personality and the space. They custom cut the rods to the desired height and I bought 3 shelves with liners. They told me exactly how to assemble it, and when I got home, it literally took 5 minutes. I've since purchased additional shelves to increase my storage capacity. This product is durable and highly recommended!!!
April 27, 2012