Rated

5

out of

5
 by
KellyS
Add an elfa easy glider!!
I have loved my food storage organizer for quite a while. Tonight I added an elfa easy glider (medium), and I am in food storage container heaven! Now my food storage containers are organized AND easily accessible!!
July 17, 2014
Rated

5

out of

5
 by
Alleta
Wonderful Dresser Drawer Divider!
In my bedroom, the past homeowner designed and built custom cabinets, bookshelves, and closets. I have hated these built-ins for years because I couldn't find anything sturdy or big enough (the closet drawers are 20in.x20in.x3.75in.) that would keep things organized. When I saw this 5 compartment divider in the food section, I knew it would be perfect! I put this in my closet drawer where I store my undergarments and night clothes. I use the 2 narrow sections for socks, the middle section for my bras, and the back two sections for my night shirts (mainly tank tops)and sports bras. With this in place, I still have some extra space where I put my panties! (I attached a pic to better explain, though it was laundry day and it looks rather empty.) Another feature I just love is that it is mesh. So my clothes stay fresh and can breathe. I used to close the drawer and because it's all wood the clothes would begin to lose their freshness. Now I simply slip a clean dryer sheet under the mesh and it smells like it was washed that morning!
February 24, 2013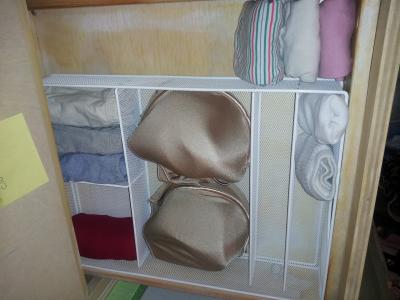 Rated

5

out of

5
 by
dfrog
great way to organize
This has organized my food storage. I am glad I purchased two of these.
August 19, 2016
Rated

5

out of

5
 by
GINAD
Not just for food storage!
I used this to organize cleaning products under the kitchen sink. Perfect. Stores stand up containers of 409/windex etc, with 2 separate areas for rags/sponges, scented sprays etc. Beats having everything in one messy basin!
May 18, 2016
Rated

5

out of

5
 by
tidytink
just what was needed
finally all those ids & containers are easy to find & not all over cluttering up the shelves
March 28, 2015
Rated

5

out of

5
 by
slade
Love this item!
Perfect solution for controlling my container mess
September 8, 2014
Rated

5

out of

5
 by
Gnome7
Got the job done :)
My mom had been looking for something to help organize her bathroom drawers and these worked perfect for her. They were a great size to help so things now had their place.
May 2, 2014
Rated

5

out of

5
 by
Trpl72
Best Food Storage Organizer Ever!!
I purchased the "White Mesh Food Storage Organizer" to corral my cabinet full of unruly plastic containers. OMG!! This was the best money I ever spent. The organizer slides out effortlessly and enable easy and quick access for putting containers away as well as utilizing them. My cabinet looks so much better and the container and lids are now accessible. What more could you want?? If you are on the fence about purchasing this product don't be its well worth it you will not be disappointed.
April 18, 2014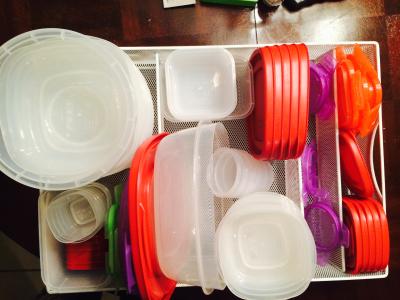 Rated

5

out of

5
 by
MamaBearLamothe
Manages Lids Perfectly
I bought this to get control of my endless supply of snap together lids. Having several stacks of these, even though they snap together, still becomes an unruly mess. It fits all 4 sized lids nicely and I turned them on their sides for easy un-snappable access!
March 26, 2014
Rated

5

out of

5
 by
PeruvianShopper
Great Baby Drawer Organizer
It is just the right size for my daughter's top drawer. I put all her socks in the bigger section, her hair bands on one of the small sections, and her hair mini clips on the remaining one.
March 18, 2014
Rated

5

out of

5
 by
crabbymom
I bought this item when organizing my kitchen - it fit perfectly. I now have an organized utility drawer.
February 13, 2014
Rated

5

out of

5
 by
gingerjane
Where has this been all my life?
I have always had odd sized food containers that fell out of the cabinet like Fivver McGee's closet. Instead of buying all new containers, I bought this
January 31, 2013
Rated

5

out of

5
 by
MidwestElle
Simple Perfection
Such a simple yet perfect solution (with ample inside flexibility) to plastic food container chaos. Love it!
January 21, 2013
Rated

5

out of

5
 by
KaseyCPA
Not just for kitchens!
I have two of these in my office. They stack beautifully, and the top ones slides beautifully so you can access the lower one.
January 26, 2012
Rated

4

out of

5
 by
caPatrick
Good for bathroom storage too!
I bought these organizers to use under my bathroom vanity to help organize all the little bottles and other items that were accumulating. Now things are much easier to find under the sink!
May 4, 2010