Rated

5

out of

5
 by
angrycats
Elfa to the Rescue!
i love Elfa i move constantly, and each time i move i can take my Elfa with me. Each time i move i get to do a different layout, and seem to find new ways to expand, over and over and over again. this is so much better than bookcases that don't always fit the new place!
March 19, 2012
Rated

5

out of

5
 by
PattersonPark
Love my new Elfa closet!
My builders' special closet was doing nothing positive for our home office. A single shelf? Excuse me? So I took it apart, painted it, and installed my custom closet designed by the wonderful people at the Container Store. From the beginning to the end, the process was delightfully simple. I started my closet plan online, typing in the measurements, called the 800 number, got my design in a few minutes, and clicked "buy" and "pickup". The hardest part was the drive to the nearest store, an hour away. When I got there, everything was ready, bagged, and instructions printed out. The lady even helped me put everything in the car in a safe way. What a dream! The next day everything went up easily and smoothly. We have a great and functional closet now. Thank you elfa! and The Container Store!
January 26, 2010
Rated

5

out of

5
 by
CJG1
How do I love my closet? Let me count the ways!
My back hall closet was a challenge. I couldn't fit my vacuum in it. I couldn't get at things I needed. Using a system based on Elfa shelfs and baskets I now have a beautiful, functional closet. I was able to use the Easy Hang Top Tracks and the standards, shelves, baskets, and hooks to fit all of my supplies in a rather small space. The sales people at the store helped me with every detail.
September 30, 2016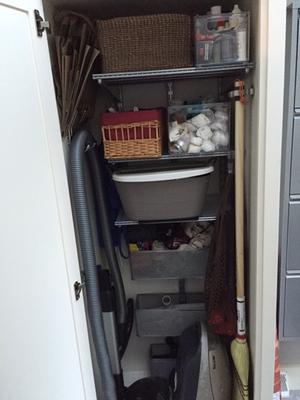 Rated

5

out of

5
 by
Tahuvi
Love Elfa
Almost all our closets and all the garage is done in Elfa. Heavy duty and much better than what can be bought at home improvement stores!
April 30, 2016
Rated

5

out of

5
 by
ShelfAbsorbedFool
Flexible But Stong
I've found Elfa products to be of exceptional quality. I prefer to use the shelf standards which screw directly into the wall when the underlying wall structure is conveniently located. But often those studs are not conveniently located. But if they are 8/16/24 inches apart then the easy hang top bracket can be securely attached. The number, size and spacing of the vertical standards can then be selected as needed. And, of course, standards can be changed if the need arises. I've found that a self-centering drill bit ( I like the Bosch version) is helpful when drilling holes in the wall to match the holes in the bracket.
February 21, 2016
Rated

5

out of

5
 by
trixiestoys
BEST MASTER CLOSET EVER
Very sturdy and easy to do. Did it in a day. Everything is organized and I have more room now than before! More clothes!
February 10, 2016
Rated

5

out of

5
 by
Billllll
Easy hang
Great stuff easy to install fun to work with the right design
January 16, 2016
Rated

5

out of

5
 by
DFHANDYMAN
High quality and well finished
See my review of the hanging standards. The top track is the "foundation anchor" that supports the entire set of standards and shelving of the elfa system. The track material (i.e., steel) is heavy gauge and has the strength to support a lot of weight. Excellent quality.
January 12, 2016
Rated

5

out of

5
 by
Canoe
Great System
My Daughter and I designed a system for our cellar on Saturday morning. Then we went to the store to check a couple of dimensions. I wanted to hit studs on the wall with the screws for the horizontal support. I found that the holes are spaced 4" from each end and then on 8" centers. (I think they should put this information in the details). A designer at the store did the design on her system and we made a couple of changes. What a great service. We ordered the system. They made cuts that night. We picked it up on Sunday afternoon. I bought a water level to make sure the level would be good. I had a 22 foot span. Then we put it up before supper and filled it up after supper. This is truly a well designed system. The instructions were another great service. One more thing. I bought the horizontal pieces with a bit of extra length and then decided how and where to cut one piece so that I could hit studs every other hole. The sheet rock anchors worked great in between. I installed the horizontals one at a time and used the one I was working with to mark the holes for its installation.
August 31, 2015
Rated

5

out of

5
 by
MichalB
ELFA System Is The Best!
I have a older house with small closets and I need to use every inch of it. I tried three other closet organizer systems before I saw elfa system at my friends house. I used elfa in all my closets and in my garage. I like Elfa because ones you put it together it becomes one solid peace. It doesn't swing or move like other systems. Also there is way more available options that other systems offers. What's also important for me is that you could re-arrange it. I already re-arrange on of our closets from a guest closet to to men closet, and finally to kids closet. I recommend elfa to every one. Couple of my friends also got it after they saw my closets.
August 28, 2015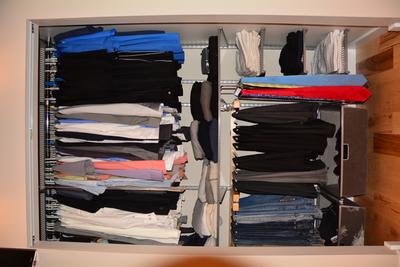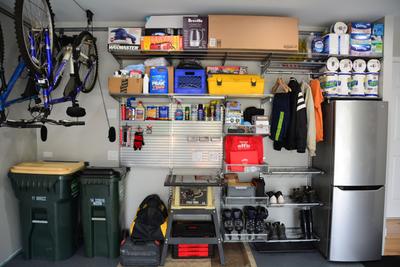 Rated

5

out of

5
 by
aagarage
Easy and simple
The second section of elfa system that I've installed in a couple of hours. Most of the time was spent deciding exactly where to put the shelves. Changed our minds a couple of times and took out a standard/added in a standard to get the right shelves in the right place to optimize storage. The hanging brackets make it easy to change your mind without having to patch holes in the wall.
July 14, 2015
Rated

5

out of

5
 by
Normsbride
Elfa is amazing!
We bought our first Elfa for the master his and hers reach in closets in our first house. At the new house, the workmen set in the top tracks for me in the master walk in closet, but I have installed all of the rest of it myself. We now have Elfa in the master closet, the guest room, the home office, the "Man Cave," the utility room, the pantry and the laundry room. We have both original and free standing. As a book case, it holds hundreds of volumes in the office. The "Media Wall" has nearly 4,000 CDs. It looks great. The few places in the house that have lesser shelving now bother me and it will all be replaced with Elfa soon. I measure my space, call the 800 number, get a drawing, make what changes I need, order and pick up at the store. I love the people in the store. They are friendly and so empowering. Yes, I am a 5'3" woman and, yes, I can install it all myself! I will admit that it is much easier to have a second pair of hands to put in an easy hang track or set the uprights for free standing. But.... I can and have done it alone. Love the versitility. Love the way it looks. Love the way it helps me get organized. It is amazingly strong and stable but still really good looking.
February 26, 2015
Rated

5

out of

5
 by
Hmrtraveler
There's no substitute for great design
Love the ELA system. I installed it myself. I was able to find 4 studs and lined up 4 of the holes of the rail with them and used the anchors for the holes in between. It feels very solid and once I hung the top rail, no more drilling or screwdrivers needed. All of the other components attach and hang nicely from it.
January 10, 2015
Rated

3

out of

5
 by
ladyg4
Hardware Missing
I recently ordered the track, rail and shelf with closet rod for a closet. I was totally disappointed to open the packaging and find no hardware. The instructions stated "enclosed hardware". If this item is sold separately - I suggest a pop up at checkout to recommend buying this. Really delayed the installation. Otherwise, I am very happy with the closet.
December 14, 2014
Rated

5

out of

5
 by
LSUBAIntDsgn1987
Versatility is invaluable!
I have been purchasing Elfa products for two decades. I love that it is high quality material which is strong and versatile. I can change it or add to it as my needs change. I've even moved the product from one home to another, improving it with every reconfiguration. It may seem expensive, but think of it as a collection. You just keep adding to it over time and it's always reusable in any configuration that is required.
November 7, 2014
Rated

4

out of

5
 by
MLR68
Great product but surprised something wasn't caugh
I self ordered online without assistance and picked up at a local store. The width of my shelf unit was two feet. I ordered the track at two feet, which was a mistake because the standards fell off. The track needed to be longer. When I went back to the store, I was informed that the tracks are never cut less than 26 inches, but mine was. I was a little surprised that this was not caught since I have always received recommendations. I chose not to return the original track even though I was informed that I would receive a refund. I know that I may be able to use it in some other way someday.
October 30, 2014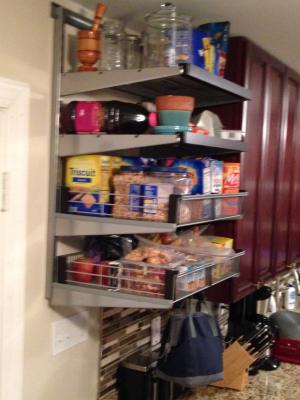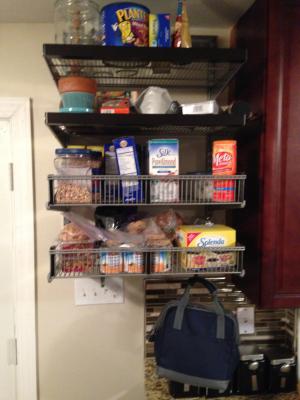 Rated

5

out of

5
 by
LabGeek
Solid! Easy for single DIYer!
I am a single 5'5 woman & was able to singlehandedly install my elfa closet because of this hang track. It is seriously heavy duty & it was physically hard for me to mark the holes for drilling while holding it level but that is not a design flaw, just physics! Still, it was so much easier than attempting to hang multiple standards in a level way & the fact that you can change the layout of the standards easily makes this system genius & worth paying for. I bought the screws/anchors even tho I might have had something that would work at home. I am fairly competent at the easier DIY stuff but it was worth it to have an anchor & KNOW what size bit was needed. Still can't believe I did it by myself. A second person to hold the track for me would have made it incredibly easy but even alone it was easier than I thought!
May 13, 2014
Rated

5

out of

5
 by
SGuenther
Elfa Easy Hang Top Rack
The ELFA product is overall a very nice product. Just install the top rack level and go from there! Everything attaches from here. It's very easy to install with a drill and screw driver. The drill is needed to create pilot holes.
May 6, 2014
Rated

5

out of

5
 by
CaseyW
This will take a load off Fanny!
We just bought a new home and have a much smaller kitchen than we were used to. We were looking for ways to open up the feel of the kitchen while highlighting our Fiestaware that brings a lot of color into the room. We first thought about cabinets with no doors, but ultimately decided on Elfa because we liked the look and it was cheaper than new wall cabinets. The final product turned out great! We were unfortunately not able to hit any studs with the rail placement, and even with all this weight and a few months of use, no problems. I was skeptical at first, but it's been fantastic! Great stuff!
May 3, 2014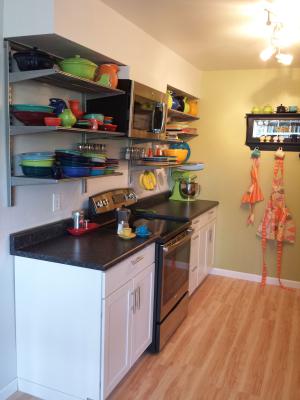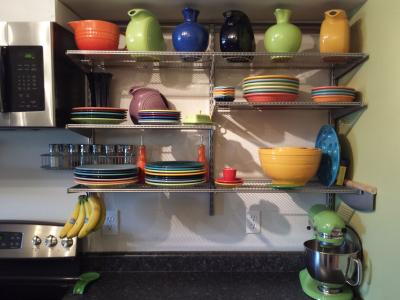 Rated

5

out of

5
 by
Bumble
Laundry Solution!
Best solution ever to my laundry room. The Elfa system is the best.
May 2, 2014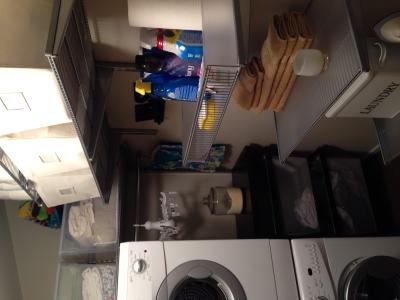 Rated

5

out of

5
 by
Johnson811
Kids stuff contained
The elfa system has transformed our garage from a mess to an organized space to find all our sports equipment. Very easy to set up and even easier to maintain.
April 25, 2014
Rated

5

out of

5
 by
Dairy
Elfa Platinum Easy Hang & Components = Flexibility
I'm up to my 7th Elfa closet installation (3 houses including sisters# and we love this system! It's flexibility enables installation in practically any location, and looks very professional once completely assembled. #attached photo is work in progress). You can easily grow or change your closet as your lifestyle changes. For example, one sister just had a baby and she rearranged the shelves for baby clothes. Absolutely necessary to have a level for this installation. And for the longer hanging tracks, 2 people are best for their installation. Make sure you have the hanger bar right side up when you mark your holes!
April 25, 2014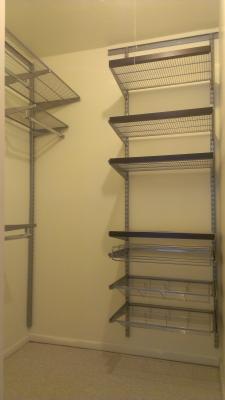 Rated

5

out of

5
 by
Titanator
Easy to install
This was the fisrt piece I used to create my behind the closet door wasted space Elfa Custom Scarf wall.
April 25, 2014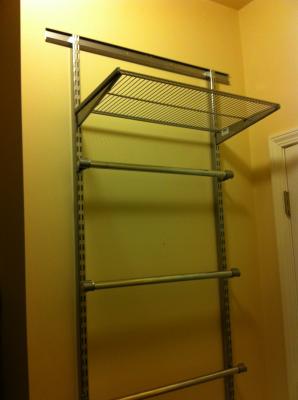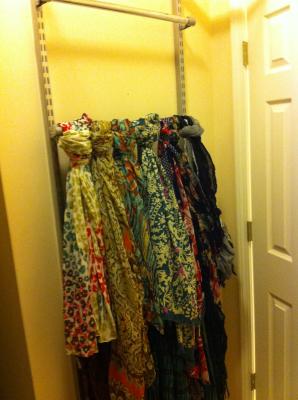 Rated

5

out of

5
 by
DesertRider888
Laundry Room Storage Problems Solved
This is perhaps the greatest system invented. It solves all of the vertical storage challenges that a homeowner may encounter. It's versatile, customizable, expandable, and so far, very durable. DIrty laundry is serious business in our house, and the elfa system provided the management options necessary to contain this task. The system is also kitten approved!
April 25, 2014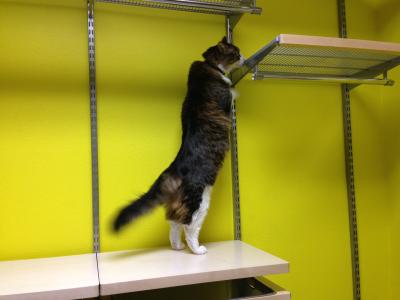 Rated

5

out of

5
 by
TOMO
Great Produts for our extra storage
Since 2009, we have used the Elfa system for our closets. We really loved this system with the easy setting and the beautiful results. Now we move another house, and it is time to buy the extra parts to expand our storage space. We deeply appreciate your continuous providing of the exactly same products as we bought in 2009!! We could expand our space without any gap between the previous and the new parts.
April 25, 2014
Rated

5

out of

5
 by
CCinnorthernVa
Why Elfa is best! in child's closet
I removed another brand of coated closet shelving and had to patch many holes from two of my adolescent and teenage children's rooms. Then, installing elfa -- fewer holes in walls, greater flexibility to change height and design as each child grows, and wide range of options to make closet a multifunctional storage and use space. My daughter's closet now also serves as a personal vanity -- reduces fights at the bathroom mirror. My son -- boys are not fashionistas -- utilizes his closet space to store camping gear, books, and software files along with clothing. Floors are cleared and Mom is happy. Want a great Mother's Day gift -- reorganize a storage space with Elfa. Easy to install too!
April 25, 2014
Rated

5

out of

5
 by
linsanity
So easy
I was skeptical but it was so easy to install that I ended up buying a few more!
April 25, 2014
Rated

4

out of

5
 by
CCCloset
Tricky
After drilling the holes in the wall, I was not able to get the drywall anchors to fit. I called the store and they told me to enlarge the hole in the wall. We had to play around with it to make it work but once we got them in, it worked great.
April 25, 2014
Rated

4

out of

5
 by
Rvega
They were able to cut this item with no problem! Works perfectly to fit the space!
April 13, 2014
Rated

5

out of

5
 by
queenofelfa
Only thing you need tools for!
Install this at the top of your wall and all the rest hangs from it! Amazingly strong.
April 12, 2014