Rated

5

out of

5
 by
gwwhite
Excellent storage basket
I bought these for my kitchen pantry and they keep everything in sight and are easy to clean! Good quality for a great price.
October 12, 2016
Rated

5

out of

5
 by
J2theC
Light at the end of the Collapse
My shelf collapsed one evening. Once I picked my clothes off the floor, on the advice of my girlfriend, I went to the Container Store website. I was blown away by the many design options and felt that I could utilize my carpentry skills. We went to the store and looked around. They design a closet to suit my needs AND installed it for well under my budget. So now I have twice the space and I must say I am glad my closet imploded.
September 30, 2016
Rated

5

out of

5
 by
TwinCitiesGuy
Cabinet sized drawers perfect for home office
Elfa products are simply the best. The cabinet size drawers are a perfect width and length for storing paper and other home office products, and the option to insert two-runner drawers provides for situations where more depth is needed.
January 9, 2016
Rated

4

out of

5
 by
Featheringthenest
This is gonna be great!
Just when I was sure that I had Elfa-ed everything that could possibly be, I discovered that I needed to put a set of drawers under my kitchen sink. So I placed my order for cabinet-size Elfa, had my husband pick it up and I began preparing the space. Now it's two weeks later and I'm ready to assemble and find that I didn't order the frame! So I have some lovely drawers, drawer stops, and feet which I'm sure will work wonderfully⿦ one of these days! I'll let you know how this goes when there's a sale and I can buy the frame *Persevering face* But just look how neatly everything fits in those drawers!
June 19, 2015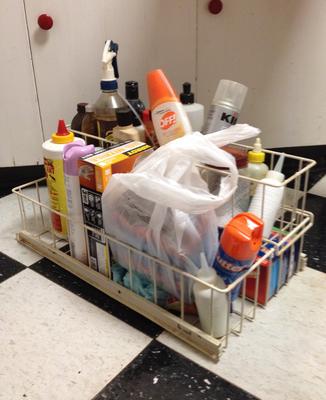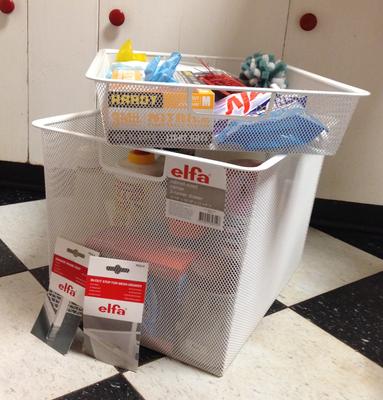 Rated

4

out of

5
 by
josie273
Perfect for under bathroom sink
we bought the two drawers and put them under the bathroom sink. It is perfect to put my blow dryer, curling irons etc in so they are not cluttering up the bathroom counter.
March 24, 2015
Rated

5

out of

5
 by
WizeOrganizer
Great product
I have purchased the Elfa drawers and over the door pantry holders for numerous organizing clients and have had complete satisfaction for everyone. I love the Elfa products!
June 27, 2014
Rated

5

out of

5
 by
Shamrockmom
Amazing container for the Kitchen
I LOVE these containers. They fit perfectly on the already installed white wire shelves in our pantry. I have started lining our shelves with them to keep things in order (ex. oils, sauces, etc). So far they are perfect :)
April 28, 2014
Rated

5

out of

5
 by
RobertL
Elfa Drawers
Great looking, well built. I like using all the Elfa products, whether I buy a kit, or design and build myself.
April 25, 2014
Rated

5

out of

5
 by
Lbmorrison
I love these!
I've measured all of my cabinets and vanities for these drawers.
April 16, 2014
Rated

5

out of

5
 by
mdohr
elfa mesh drawers
Perfect for my needs. I use a 7 slide frame with a mixture of drawer types in my pottery studio and they are ideal for dry or damp storage. I have various elfa units in my small (but now efficient) work space.
April 16, 2014
Rated

5

out of

5
 by
DanaEv
From chaos to control!
Before I got my Elfa sliding basket, I used many small baskets. How annoying and time consuming. Now I roll out my Elfa basket, take what I want and move on, in seconds!
April 10, 2014
Rated

5

out of

5
 by
OrganizedHill
My Pantry Never Looked Better!
This product is great. My husband installed them easily and they glide beautifully. I bought two different depths to contain different items. I love how beautiful they look with the labels! I will definitely be adding them to other areas of my home. P.S. I still need to add one more runner to the bottom section!
April 3, 2014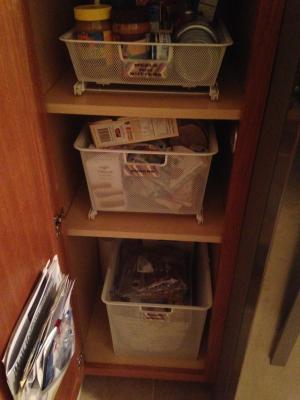 Rated

5

out of

5
 by
Lewey
Great product
We are able to do away with furniture as we can get these drawer units in our closet. It really helps to declutter our rooms and organize our lives.
March 18, 2014
Rated

5

out of

5
 by
betced
Great way to get organized
The options and sizes of products can be combined to fit any space.
March 9, 2014
Rated

5

out of

5
 by
MomHat
Great for Legos
We bought these for our son to sort his Legos. They work great.
March 3, 2014
Rated

5

out of

5
 by
Organizer02
Best purchase
This is the second elfa shelf system I have bought in the last few years. I love having this one in my pantry. Hope to buy more.
February 27, 2014
Rated

5

out of

5
 by
PENS
Best space saver
I love the quality of this product. Big space saver
February 26, 2014
Rated

5

out of

5
 by
KSots
funny how something simple can make a huge difference.
February 24, 2014
Rated

5

out of

5
 by
star5400
Excellent purchase
Great product as to size, appearance, & durability. I have an old ELFA organizer which I have owned for almost 20 years. It is still in one piece & providing its very useful purpose in my kitchen!
February 22, 2014
Rated

5

out of

5
 by
Brandi10
Love the strong drawers
We did a pantry renovation and I used the Elfa drawer system. It work beautifully!!! They are very strong and perfect for our pantry:)!!
February 22, 2014
Rated

5

out of

5
 by
Microrganizer1
Huge improvement!!
These slide out Elfa storage units for my base cabinets have drastically improved the way I store my stuff. Super easy to install, takes a couple minutes only. I no longer have to get down on my knees to get things and put them away. This product has worked wonders for my poorly designed kitchen and has especially made organizing my storage containers so much easier.
February 22, 2014
Rated

4

out of

5
 by
Vtphd
Mesh alpha drawer
Went together fairly well; would have been easier if pieces were identified with a letter or number for right or wrong side of slider frame.
February 19, 2014
Rated

5

out of

5
 by
raaone
Helpful for under bathroom sink
Bought the x-narrow mesh drawers- the very deep one and the short one- to keep things like hairspray and gels, plus smaller items. Easy to put together and glide nicely on the rails. Only thing they didn't mention was that the pegs to stop the motion on the rails need to be installed FIRST before you hammer on the top piece if you choose to buy that melamine topper. Might be obvious for some, but I didn't notice it before I hammered away, so I had to tape the pin from below to stop the drawer from gliding past the edge. Still a great product.
February 19, 2014
Rated

4

out of

5
 by
CatInColorado
Perfect Fit!
I bought a few of these to fit into my dresser drawers to help organize my ridiculously large collection of socks. They're perfect! They're tall enough that the socks don't spill over the sides (thus defeating the entire purpose) and are just the right length to fit into the drawers. I'm thinking I need a few more to help with the other drawers!
February 19, 2014
Rated

5

out of

5
 by
Organize4me
So glad I bought Elfa cabinet drawers!
Our bathroom cabinets have gone from caverns of piled up stuff to orderly drawers! It is worth adding the melamine tops to make a shelf to store a few more items. They are easy to assemble, but I'm not handy and I had trouble assembling the first one. Then I figured out: use a 'firm' mallet--not a soft rubbery one; assemble on a hard surface (I tried on carpet, and it was absorbing all the force-- plywood worked well); tap each leg in a little at a time--if you tap one in too far then they are not lined up and it's nearly impossible to do the rest.
February 17, 2014
Rated

5

out of

5
 by
SamanthaP
Just perfect
This system of shelving is the best. I bought my first one when I was in an apt, and it was the best money I ever spent. It helps me keep my bathroom clean because I can just through stuff in the basket when I am done with them. So well made, I had my last one for 3 years and it still looks new.
February 13, 2014
Rated

5

out of

5
 by
CWilliams
Love elfa Products
Best product out there. Love our Master Closets & Master Bath! Easy to install. Thanks
January 5, 2014
Rated

4

out of

5
 by
BklynBette
Great repurpose at great price
Purchased this slightly damaged piece from the discounted corner. It is the perfect size for storing toys...just the right depth, see through and easy for parents to move....as a personal organizer, I would recommend this item to all parents especially if they can find it in discount/damaged section.
January 1, 2014
Rated

5

out of

5
 by
BigRock
Very simple
I am "directionally challenged" and even I was able to follow the elfa installation instructions. The product is durable and very pretty. I'm looking through my cabinets for more places to add these elfa drawers. I'm hooked!
December 24, 2013
Rated

5

out of

5
 by
emsnan
Work beautifully!
Bought large and medium size mesh drawers. Using them in pantry sized cabinets for sorting loads in our laundry room. They fit perfectly and hold a full load of clothes. Our cabinets are Kraft Maid, not custom cabinets. These mesh drawers are absolutely perfect. I went back to the store to share w/ the sales persons about the excellent fit. Do not scratch the shelves as I take them in and out. Definitely worth the purchase..
August 29, 2013