Rated

5

out of

5
 by
mcdoodle
Best closet investment
I wanted to organize one wall of a small room being used as a clothes closet. Other storage systems looked either too utilitarian and flimsy or too elaborate and expensive, so I decided to give the Elfa closet storage system a try and couldn't be happier with the results. The in-store design service (Brian at the Sixth Avenue store) helped configure a solution for storing folded clothing and handbags in a 4⿿-wide space. The eight medium-sized drawers hold a surprising amount of shirts and sweaters, now sorted by color. The drawers glide easily, and I especially like that the drawer positions and shelf heights are adjustable so you can change the arrangement if your storage needs change. Being able to do this is an advantage over permanently-built in storage systems. The freestanding system means no holes in the plaster walls of my old house, and the whole unit can be moved if desired. I hesitated before adding the cost of décor drawers and shelf trim, but the clean, polished appearance was worth the investment. The instructions were easy to follow--my son and I did the assembly ourselves. I am very happy with the improved look and function of the space will definitely want to add more Elfa components to complete my closet organization project.
May 4, 2014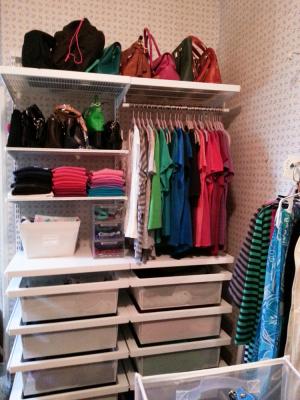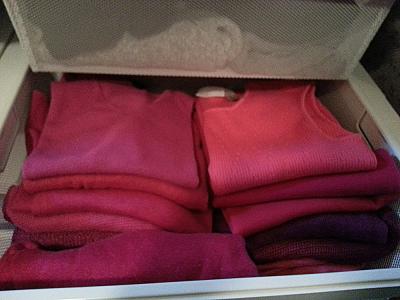 Rated

5

out of

5
 by
Verified Reviewer
NYC Must
My husband and I moved to NYC this year. We love our apartment and our nieghborhood with a couple of caveats - and one of those is that our bedroom has no closet. We went to the Container Store and a design staff member helped us design the perfect closet to fit our needs. It holds both my and my husband's clothes, 20 pairs of shoes, purses, and even has a vanity (using the home office deks) built in with a pullout drawer for my makeup and frequently worn jewelry. Competent, professional installers came to our home and installed it. Best of all, it is free-standing, so I'll probably still get my deposit back when I move. It's an expensive investment, but totally worth it in our book!
April 26, 2013
Rated

5

out of

5
 by
tarheelbabs
Love my freestanding Elfa!
I was so happy to see that Elfa has a great freestanding unit. My husband has Elfa in his closet, but I've take over a bedroom as my closet, so we didn't want to install the strips in the walls. The freestanding unit was the perfect solution--much better and far more versatile than the rolling racks I had been using!
April 3, 2013
Rated

5

out of

5
 by
mammy
best ever
If you want an organized closet, try this product, plus you will want to sleep in the closet it's so organized
March 26, 2012
Rated

4

out of

5
 by
thoughtfultraveler
Great product!
I just purchased my first freestanding unit to hold my shoes. Overall, I am very pleased with the system. For the most part, it was easy to put together. The exception was the top stabilizing bar. It requires significant coordination to get the top bar on. The directions during this step were not very helpful, either.
March 19, 2012
Rated

5

out of

5
 by
SingleMom
Wow!
I LOVE>LOVE>LOVE the ELFA freestanding closets! I can't believe how EASY it is to put together! Me, the single mom who owns NO tools! I also can't believe how much time I save being so organized. AND, I can take it with me when I move! I've got my next one picked out and can't wait to purchase more!
May 17, 2010
Rated

4

out of

5
 by
QuickCO
life changing closet
We got the closet for my daughter, intlalled it over the big snow storm. She loves her closet and keeps it like new, life changing as the teenager and Mom would say. Alot of money but a good investment. Thanks elfa elfs,,,
May 17, 2010
Rated

4

out of

5
 by
jenni2
need to include better instructions for new users!
This is my first Elfa product. We have a new house and I thought this would be perfect to make a tiny spare room into a closet instead of a bedroom we did not need. I liked the free-standing option because it allows more flexibility in case I change my mind. The unit, one completed, is really great - feels solid and well-made. But there are several things they could improve, which is why I only gave 4 stars. First, it came with no diagram and very few instructions - it included only the small pamphlet for freestanding units (which created the backbone) along with a catalog and a bunch of junk mail. I wasted a LOT of time figuring out the rest of the system trying to get information online. It would have been much better to include a simple installation guide (which I eventually did find online) and diagram of the completed unit (which I never did find)- instead, I had to look at the picture online and try to figure out what went where. Also, the website was jammed and the videos kept hanging and freezing. Wasted time could have been avoided with some simple instructions and a diagram included in shipping with the kit. Second, two of the 4-ft ventilated shelves were warped and bent so it was difficult to get them locked into place. This made installation frustrating. The bent and warped shelves only show if you know where to look. Third, some of the white bracket pieces arrived scratched - I was able to put them in places they did not show. We're a relaxed family but others may really have issues with the defects. Fourth almost every small piece (e.g. rod hangers and shelf bracket covers) arrived with a glued on sticker that took a lot of time to get off. In the end, I am happy with it and it is exactly what I was looking for. I am glad to have discovered Elfa and will likely buy again. But with minor improvements they could save new users a LOT of aggravation!!
May 12, 2010
Rated

5

out of

5
 by
kward
Closest organization
We recently had our closet done with all Elfa products. These included hanging cloths, shelves and drawers. My husband and I were in the Container store on a Sunday and to his surprise I decided to have the closet done. We do not have a super large closet but it is a good size for a Master. Tom got involved latter in the porcess and actually came up with a design that would work for us. We had tremendous help from Valerie at ParKMeadows , in LoneTree Colorado. We had them install for us and the experience and product is great. We really got organized and it even surprised my husband with the amount of changes that were afforded to us given the space we had. We want to thank Valerie and Elfa for having such great products.
March 26, 2010
Rated

5

out of

5
 by
MaryP
Closet Designs for our life
I have become a fan of designing closets to be more organized. It is very easy to design a closet and install and feel confident I got what I paid for and love the results.
March 21, 2010
Rated

5

out of

5
 by
Moet
Small Installer-huge results
After thinking about it for a few years I finally took the plunge and decided to transform my miniscule spare room 8 ft by 8 ft into a fabulous walk in closet. I purchased the Walnut & White freestanding walk-in unit and two 5 drawer storage units. I had scheduled a Saturday delivery. and even though we had a snowstorm that day, the Container Store still came through with the delivery. Considering I am only 5' 1" tall and weigh 110 lbs, I was able to put this unit together by myself in a few hours. Probably would have been a bit faster if there had been another person helping when securing the uprights, but even at my size it was doable. The Elfa products are amazingly well thought out and flexible. I found the installation video extremely easy to follow and in no time felt like a pro. I would advise anyone considering purchasing an Elfa free standing unit to not wait as long as I did. It is a strong, well made, attractive unit and I now am the proud owner of a "to die for" walk in closet.
February 2, 2010