Rated

5

out of

5
 by
txjules89
Alternate use!
I wanted to find some sort of shelf to put on my desk that could accommodate my keyboard and mouse. This item fit the bill. I can now stand and work at my desk a couple hours at a time, instead of sitting all day - and at a fraction of the cost of those adjustable work stations advertised elsewhere. The lower shelf is where I keep papers I'm working on, and pens, too. The shoe rack is very lightweight and is easily lifted onto and off my desk. I'm loving this new solution!
June 18, 2014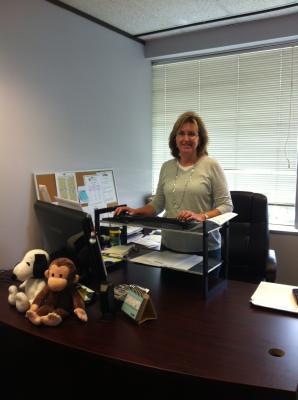 Rated

5

out of

5
 by
jlp918
Organized at last!!
I love these 2-tier mesh shoe shelves!! Clean design, a snap to put together, very sturdy and stable even on a plush rug. My husband had a lot of running shoes thrown into the closet, and now, they are well organized and easy to find. Three pairs of Men's shoes do fit on one shelf, but I managed to add some flip flps and slippers, so it does depend upon the size of the shoe. While these shelves are labeled for shoes, I can see them being used on possibly an upper shelf in a closet or in a laundry room. Good price, good investment!
April 23, 2013
Rated

5

out of

5
 by
1AU43N
Love it!
This is a great shoe rack! I have two of them stacked for my heels and am using something similar to the 2-Shelf Storage Stacker (http://www.containerstore.com/shop/closet/shoeStorage/floor?productId=10008155&N=73669) on the left for my flats and sneakers. The two things I love most: 1. It is a flat surface so you don't have to balance shoes on a rod. 2. The space between shelves is actually big enough to fit heels. Most shoe racks can only fit heels on a top shelf, not a middle one. It is great that it stacks, but I don't think I would put boots on it, because I am not sure how sturdy it would be. For regular sneakers, flats, and heels it is perfect. The only other drawback is that there is only one way to stack them and I would prefer to stack them so there would be more room under the shelf to put a regular shoe on the floor instead of just a sandal. Overall, I love it!
March 13, 2013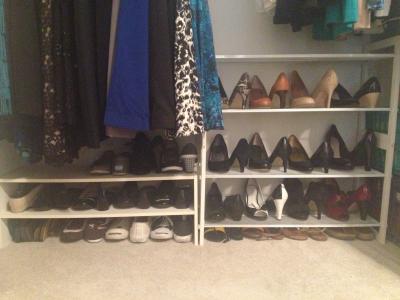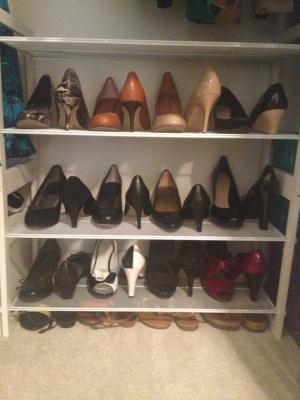 Rated

5

out of

5
 by
lizy
Great organizer!
This shoe shelf was very easy to put together and seems to be very good quality. It has made a huge difference in my small walk-in closet! I'm considering getting another one to stack on top.
January 21, 2017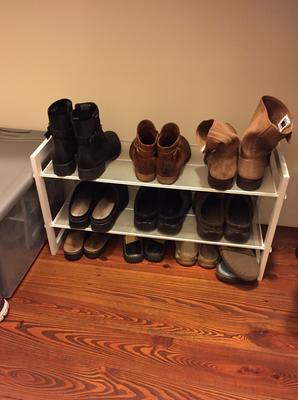 Rated

3

out of

5
 by
catloverd
Not Worth $30
The only reason I gave this shoe rack 3 stars is because it is not worth $30, more like $15. It's cheap, easy to put together, and does the job. Fits perfectly where we wanted to put it, so we're keeping it despite the cheap materials.
August 26, 2015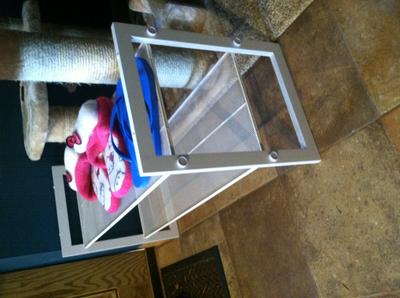 Rated

5

out of

5
 by
dedicated1776
great shoe racks
Really happy with these. I bought two, so I have a total of four shelves. I can get three pairs of my husband's shoes and four pairs of my shoes on each shelf (I was able to put shoes under the bottom shelf on the floor, too). The racks aren't super sturdy but how heavy are shoes? The racks are very easy to put together, so that's also a big plus. Great value for the money. And they look good!
July 28, 2015
Rated

5

out of

5
 by
JoshA12
Stackable
This looks good and you can stack them. We have three stacked and it's stable and useful.
May 7, 2015
Rated

4

out of

5
 by
Kayy
Love
I really like this shoe shelf! I'm single and these were very light to carry and easy for me to assemble, yet sturdy. My shoes look great on this and my closet looks so much more chic and organized. However, I am using the shelves to display my collection of heels and they were too tall to fit on the bottom shelves. So I just removed the bottom shelves and that worked better for me. If there was a way to adjust the levels, these would be perfect!
April 24, 2015
Rated

5

out of

5
 by
HamCollGuy
Excellent shoe storage solution!
This is a terrific product. It is attractive, simple to assemble, and creates a easy and quick solution to your shoe storage needs. It fits perfectly in my closet and is a great solution to my dress and casual shoe storage needs. I am planning on buying more of these racks.
March 7, 2015
Rated

5

out of

5
 by
margottc
Best Shoe Racks!
Easy to assemble, sturdy. No more heels slipping off the racks - even for large size shoes. Highly recommend.
December 30, 2014
Rated

5

out of

5
 by
Sunnyshell
Great product for the price
This is a beautiful option for our split foyer entryway! It is nice looking, I like that the shelf is grated to drop dirt on my floor so I can just sweep up (because who wants to dust a shoe shelf?! Not me!!) It isn't super sturdy. I hope my kids and 70lb lab don't lean on it... But at this price I wouldn't expect steel and oak. Great option for my family!
September 17, 2014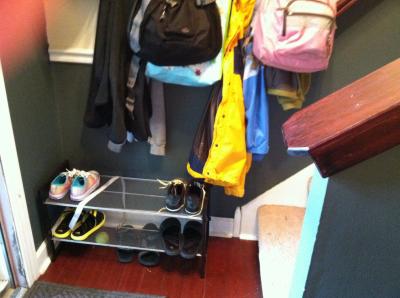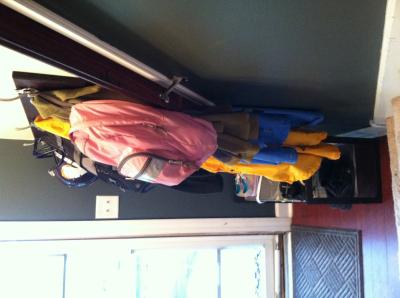 Rated

5

out of

5
 by
Corina
Easy to assemble, looks nice
The assembly is super easy - no tools required! Looks nice and I use one as an under-sink bathroom storage shelf. I now have 4 of these at home and am really happy with the purchase. I'd highly recommend it!
July 22, 2014
Rated

3

out of

5
 by
BikeGirl
Shoe clutter in the laundry room solved ...
We keep our everyday shoes in the laundry room, you know, the walking shoes, winter boots, etc. They were piling up around the utility tub and making it impossible to use. We purchased two of these shelves. Ugh, each had a shelf that was drilled such that it did not fit. Oh well, each also had a shelf that was drilled properly. From two boxes, we were able to build one functioning shelf. The other was returned since one was sufficient for our needs. Our boot tray slipped easily under and between the sides. So wet shoes go there and we have plenty of room for everything else on the shelves. When I returned the box with the two bad shelves, there was some concern and I'm confident that The Container Store will get to the bottom of this problem and get it fixed. In the meantime, it is a good looking solution for our laundry room. I recommended it to a friend with a similar problem.
June 13, 2014
Rated

5

out of

5
 by
DesignerT
What I love about this Stackable Mesh Shoe Shelf is that it's not a bulky product. The pieces are light and easy to put together or take apart.
May 23, 2014
Rated

5

out of

5
 by
Jess321
Perfect and easy
These look very high end and professional. They are study and sharp. Exactly what I wanted. Fit about 4 pairs of women's shoes per row. I bought for my walk in closet, but I'm putting in all of my closets. Also so easy to set up. It honestly took more time to open the boxes than to put them together. A child could do it.
May 9, 2014
Rated

5

out of

5
 by
TwinCitiesGuy
Versatile, lightweight, & sturdy shelf is a winner
Although advertised as a shoe shelf, I found that this item was just what I needed for an auxiliary desk shelf in my home office. Its mesh shelves and size are ideal for sorting and organizing papers and other office materials.
April 27, 2014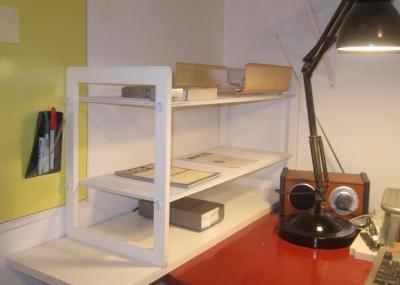 Rated

5

out of

5
 by
Bailez1661
Exactly what I wanted!
I love love love this shoe rack! It is a clean and sturdy design that allows me to fit more shoes in my closet! What's not to love?!
April 26, 2014
Rated

5

out of

5
 by
SuperMomOf3
The Container Store saves me again!!
I cannot stress how much I LOVE the stackable mesh shoe shelf!! I (like most women) have WAY too many shoes and my small closet gets so cluttered at the bottom! I was able to stack two of the shoe shelves on the wall just outside of my closet. When my shoes are stacked neatly, it holds 16 pairs of shoes, and I can even slide my flats beneath the lower shelf! To be able to keep my current season shoes out in just one corner of my bedroom saves me so much space! I definitely use CS for all my organization needs. They even have in-store demos! Best store ever. :-)
April 25, 2014
Rated

5

out of

5
 by
egvb1958
Nice Sturdy Product
We bought this item recently to replace an existing shoe rack that had gotten worn. It is nice and sturdy and also looks great - very happy with the product.
April 21, 2014
Rated

5

out of

5
 by
Jaxon
Serves its purpose ...
Bought this product to store shoes next to our front door. It was easy to assemble (less than 10 minutes) and was a fair price for the quality. I have had shoe shelves with the two bars and it kept falling apart. I would recommend this to anyone looking for a quick fix to store shoes.
March 18, 2014
Rated

5

out of

5
 by
LJJones
Holds all my shoes and then some!
I'm not a shoe collector, but I do have 8 pairs of shoes (and slippers). This shoe shelf matches the shelves I have in my closet, so it's very classy looking. It was easy to put together and is very sturdy. Since it's stackable, if I should ever get more shoes, it will be another purchase.
March 7, 2014
Rated

4

out of

5
 by
Rebecca42
Nice little shelf
I'm using this as a shelf on the counter for bread and fruit etc. I like that it is real wood and metal. The only plastic is the little cover for each screw hole. Very easy to assemble. The only reason I'm giving 4rather than 5 is that it would be nice for my purposes if the bottom wooden piece was finished looking but it has a groove for stacking.
March 4, 2014
Rated

5

out of

5
 by
Sweetcar
Good quality
This shoe shelf was exactly what we were looking for. The shelf is a good quality and looks nice (unlike a lot of other shoe shelves out there!)
March 2, 2014
Rated

5

out of

5
 by
TexasGran
Great Product
We purchased this shoe rack to hold my husbands shoes. It fits perfectly in the closet and holds men's shoes very well. We use the two shelves but also can put flatter items (sandals, slippers, etc ) under the bottom shelf so it functions as 3 shelves. We like the look as well as the functionality. Perfect for our needs.
February 25, 2014
Rated

4

out of

5
 by
DeannaD
Great for small entryway
We have a small entryway where we had hoped to place a shoe bench, but every bench we found was too big to fit comfortably into our small space. The Walnut 2-Tier Mesh Shoe Shelf is just right. It can easily hold 9 pairs of adult footwear (3 underneath the first shelf) or -- with the addition of one or more X-Small Water Hyacinth Bins -- can hold gloves, keys, mail, etc. as well. The shoe shelf and bins have been invaluable this winter and make coming and going much simpler.
February 12, 2014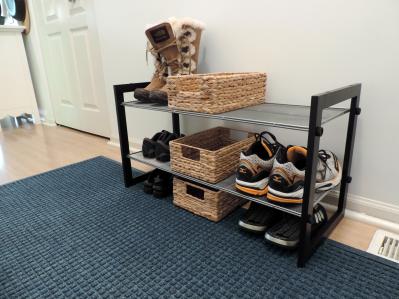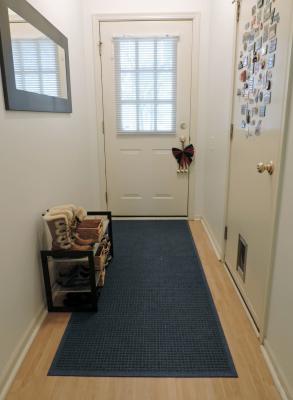 Rated

5

out of

5
 by
willbback
Makes use of wasted space
This was perfect for the top shelf in my closet. Utilizes all that empty space. Easy to assemble!
November 12, 2013
Rated

5

out of

5
 by
StorageandOrganizerLove
One of My Top Purchases
Love this product. In the past I bought the white expandable stack-able shoe racks and I loved them at first, but my shoes kept falling down. Now that I have these, not only are they aesthetically pretty, but they are functional. One of my top purchases from the Container Store.
September 16, 2013
Rated

5

out of

5
 by
Verified Reviewer
Very sturdy and easy to put together. Looks great as well. Can stack multiple tiers, but perfect for dorm room closet to separate shoes. Reasonably priced for the quality. I know I will be using this for a long time.
September 3, 2013
Rated

5

out of

5
 by
Krissyc97
Awesome
Very easy to put together. Once put together it was very sturdy and chic looking .
September 1, 2013
Rated

5

out of

5
 by
Geowiz1569
Perfect for sure
I had an unsightly pile of shoes in my room. I was looking for show storage that was nice enough to keep it in my bedroom. This shoe rack is perfect for that. The shelves are deep enough and tall enough for heels.
August 8, 2013