Rated

5

out of

5
 by
CherTx
Unbelievably beautiful!
I saw this in the store and thought that it was one of the most beautiful gift wrap sheets that i have ever seen. Could not get it because it was one of the first to be sold out. I can't believe that I can get it online... and I am shocked at the first reviewer's comments. Just saw the same gift wrap on the Ellen Show... 12/15/15 air date too. It was gorgeous. That prompted me to try to find it online. Woohoo. I am going to stock up on this one. Uniquely amazing!
December 15, 2014
Rated

4

out of

5
 by
Irenie
It's not just for Wrapping Presents!!!
I love, love, love this paper not only that it is made from recycled material, but the color, thickness and the design was just perfect for me to use as drawer liners. I did use clear contact paper to ensure durability. I agree it is hard to scotch tape but it would make a wedding gift look gorgeous and would be such a lovely keepsake memento for when the bride and groom create their wedding album. ( I am a scrapbooker and this paper would make an awesome addition to my scrape booking projects).
April 29, 2014
Rated

5

out of

5
 by
GeorgiaJanet
Stunning giftwrap
I needed a very special gift wrap for the most extravagant wedding gift I have ever given, and this fit the bill. It's extremely high quality; feels almost like cloth. It made for a beautiful presentation.
April 25, 2014
Rated

5

out of

5
 by
wallace
Spring Fling Party
Wrapping paper used as a wonderful table runner! Very festive!
April 21, 2014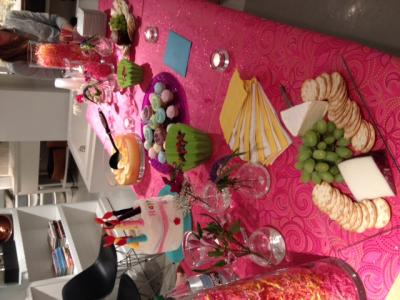 Rated

3

out of

5
 by
Ratatat
Glitter everywhere!
This paper is super cute and fun. I bought it for my mother-in-law's presents, since she has a dachshund. My only problem is that the green glitter (the dogs' scarves) gets everywhere while wrapping. It would be better if the green was just printed ink like the rest of the paper design.
December 21, 2016
Rated

1

out of

5
 by
WhoShotJR
NEEDS A WARNING LABEL!
Yes, it's gorgeous. BUT it's unusable, and it's a complete mess! This paper is far too thick (think wallpaper), and covered with glitter that just SNOWS right off the paper...the glitter sticks to your table, your carpet, your hands, your hair, and anything else it comes in contact with. I (tried to) wrap one gift with this paper and I don't think I'll ever get the glitter cleaned up. What's more, the paper doesn't fold, and tape DOES NOT stick. Beautiful but useless.
December 19, 2016
Rated

1

out of

5
 by
AWalker
Unusable
This is the worst wrapping paper I've ever used. Can't crease, can't tape, can't form. Left more glitter on my table than on the gift. Don't waste your money on this.
December 4, 2016
Rated

1

out of

5
 by
Suzu
Problems with this paper
I like the Container Store and have been happy with most of my purchases. However, this wrapping paper has an unpleasant chemical odor. In addition,the glitter comes off easily and prevents tape from adhering
December 22, 2015
Rated

3

out of

5
 by
Linzer
Beautiful but not perfect
This wrap looks absolutely beautiful on gifts. However, it requires a lot of tape, or very strong tape, to keep the gifts wrapped because of all the glitter. And it also has a very strong odor. That has gone away a bit since taking it out of the packaging, but it has a definite kind of chemical smell.
December 11, 2015
Rated

1

out of

5
 by
Katie34534543
Nightmare
Shed glitter all over my house! Impossible to tape securely.
December 12, 2014
Rated

1

out of

5
 by
cegeiger
Worst purchase evey made
This paper would not stick together with tape (any kind) or glue. It has a "fabric" feel and would not crease or fold properly. The glitter came off as soon as I touched the paper and made a huge mess as I was attempting to wrap a gift. After two frustrating hours of trying to wrap this one package, I gave up and used another paper. This is the ONLY product I have ever returned to The Container Store because of poor quality. It needs to be removed from their shelves.
July 9, 2014
Rated

1

out of

5
 by
cwb123
Glitter everywhere!
Beautiful paper, but the glitter went everywhere when wrapping the gifts, transporting them, and opening them. There was glitter all over the floor (I even wrapped the gifts in the garage), the carpet, the car, and the recipients! Also, I had to use gorilla tape because the glitter would not allow the regular tape to hold securely.
June 25, 2014
Rated

3

out of

5
 by
CardCountess
Beautiful but messy
This paper makes a beautiful gift wrap, but be forewarned that it leaves glitter everywhere...and you will surely be sporting blue glitter on your hands, face, and clothing. It is also very hard to adhere using ordinary tape.
March 26, 2014
Rated

5

out of

5
 by
SneakerDoodlez
Beautiful Paper
So beautiful you won't want to give it away. Great for decorating.
February 13, 2014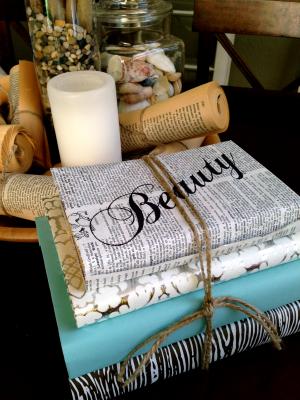 Rated

4

out of

5
 by
AAllen
Gorgeous; a little tape-resistant
I love this paper, it is gorgeous. However, the tape had a harder time sticking to the paper than others. Perhaps I just needed to find a stronger tape. Using ribbon will help keep the paper down! The paper is, as always, sturdy, the colors are vibrant, and the roll had enough paper to wrap several presents!
December 18, 2013
Rated

5

out of

5
 by
clong
Beautiful Paper
This paper is awesome. It would be great to wrap presents with, but I used it to decoupage on an antique armoire and it looks beautiful.
November 15, 2013
Rated

5

out of

5
 by
1aquagirl
OH SO PRETTY!
Beautiful paper! I love the "bling" that it has with the tiny pink crystals.
April 27, 2013
Rated

5

out of

5
 by
GHinNC
Great quality, cute design, easy to wrap. Love this paper!
March 4, 2013