Rated

5

out of

5
 by
dianereeves
love it!
i'm happy every time I open my drawer and see this elegant stacker showing all my jewelry so neat and pretty. It even smells good. The color is nice and the feel is elegant. Now picking out a ring or pair of earrings is a pleasure.
March 12, 2016
Rated

5

out of

5
 by
greyhoundlady
Mink Stackers
I have other styles of organizers but nothing compares to the quality of these. The compartments are a nice size and the ring section holsd rings that are wide. Nicely lined.
March 14, 2014
Rated

5

out of

5
 by
SarahGWright
Incredible, phenomenal, amazing!
I adore this jewelry box set! After using two smaller jewelry boxes (that couldn't hold all of my jewelry by the way) for too many years, I switched over to this customizable beauty. With five different stackers, I am now able to store all of my shiny baubles. There are different-sized slots to accommodate earrings, rings, bracelets, and necklaces. I really like the largest stacker, which I keep on the bottom, because it is deep enough to store my bangles and bulkier items. The clean-cut design and neutral tones are classy and fashionable. I would most definitely recommend this product to anyone who likes to keep their belongings in a jewelry box.
January 13, 2017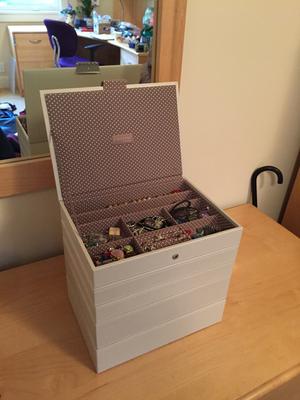 Rated

5

out of

5
 by
nicole131313
Simple and easy to use
Love this! I put the items I use more towards the top and less at the bottom. All of a sudden my mess of jewelry boxes is all contained!
January 8, 2017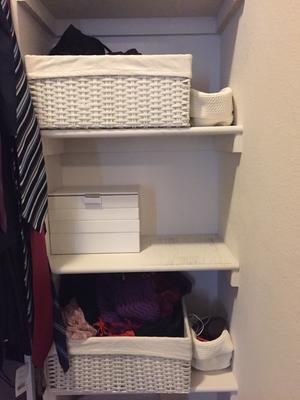 Rated

5

out of

5
 by
Suke
Smart and classy jewelry box for a minimalist!
Been wanting to splurge for the complete Stacker set for some time, and finally did with a price reduction. Works for my special pieces and looks special in my bedroom. Very glad I choose the diminutive Classic Stacker set.
December 30, 2016
Rated

5

out of

5
 by
mknova
Excellent for a shallow dresser drawer
My dresser has a wide, shallow top drawer, intended to store accessories. I bought an assortment of the shallow Stacker trays to fit into the drawer in a single layer, and have found it to be an elegant solution for keeping small jewelry sorted and easy to find. I highly recommend the trays for this use.
December 20, 2016
Rated

5

out of

5
 by
Oneputt1
Just what I wanted
I had been using a little storage box I bought at a hardware store (for screws, nails, etc,, but I was robbed last winter and that was taken, among other things. So when I saw the stackable jewelry box, I knew I had to have it. So versatile for various sizes of earrings, bracelets, and necklaces. Rings too. I love it! Thanks
September 20, 2016
Rated

5

out of

5
 by
Lonestarsuz
Organized storage
Love this product! Convenient and organized storage for jewelry. Have the line of this product and highly recommend purchasing!
March 11, 2016
Rated

5

out of

5
 by
GioDC
it is a very nice jewelry storage box. It is compact, and you can have A LOT of room for your jewelery since you can stack a few of them. The velvet interior prevent the oxidation, specially of the silver items.
March 16, 2015
Rated

5

out of

5
 by
Romano
I am loving my purchase!
I love the clean, simple, streamlined look of the stackers and the color is a beautiful shade of gray.
February 24, 2015
Rated

5

out of

5
 by
zebra121
Great Jewelry Organizer
Love this. Like that I could pick which trays I wanted and that there are several sizes to choose from. It was the perfect way to organize my jewelry. The only thing I wish is that there was a way to temporarily connect the trays so I don't have to worry about dropping the case, having the trays come apart and then have a huge mess. But I will just be careful, because this chest is worth it.
January 25, 2015
Rated

5

out of

5
 by
Rara25
Terrific and Attractive Jewelry Storage Solution
I initially bought a top section with the clasp, and two of the stackers with the small compartments. After finding that I was really happy with the quality and design, I went out and bought four more of the stackers with small compartments. The set of 7 total pieces stacks well, but it's probably the max that is practical to access. I will likely buy another top section with the clasp and some additional stackers to have another set. Each piece is well-made. The pleather exterior is high quality, really looks and feels like leather (at least in the vanilla color). The sections do stack securely (but not so securely they aren't easy to separate). I wish there was a stacker specifically made for bracelets and watches, and a stacker that is designed like top section with the clasp.
August 11, 2014
Rated

4

out of

5
 by
TheCK
I like it
I purchased 1 lidded stacker, 2 25-section stackers, and 1 deep open stacker as my new jewelry box. I was using cheap, plastic drawers before, so aesthetically, this is a real step up. :) I ordered this online when it was on sale and wish I would have paid more attention to the dimensions and gone with the larger stackers. This barely takes up any room at all on my dresser, which is nice, but it is definitely a lot more condensed than I am used to. I like the lidded stacker the best, since it has the clasp at the top where I can easily open it without taking anything apart, but I'm mildly worried that the clasp will break quickly -- it seems a bit flimsy. We'll see! One major pain I didn't think of when I purchased this: you have to literally take your jewelry box apart in order to look in any piece except the top. I mean, it's not heavy or anything, but I'm the kind of gal that needs to just see it, grab it, and go. It's not a deal breaker, but it is definitely something to think about before purchasing.
August 7, 2014
Rated

5

out of

5
 by
ddb6
stackers
have loads of jewerly that I never wear all hidden away in a box, These stackers help me organize my earrings for easy review. Best organizer ever!!!!
July 8, 2014
Rated

5

out of

5
 by
coastgirl
Beautiful and functional organizer
Love this organizer. It's so much easier to find the jewelry I want to wear, the jewelry is protected, and the containers fit inside my chest of drawers where I like to keep my jewelry. Since it is well made and beautiful it's the best of both worlds, beauty and function. I also like the fact that I can add too it as my storage needs change. Great purchase, I highly recommend it.
July 1, 2014
Rated

5

out of

5
 by
organizedinIL
Best Jewelry Boxes Ever
I purchased the white Classic Stackers -- one with the lid (which you have to have in order to make a closed system) and then another one with several compartments for rings and bracelets. Since then, I have purchased a couple of Stackers with small compartments that I'm going to use for earrings and a deep open Stacker for larger bracelets and watches. I have mine on a shelf in my closet and the whole system works nicely there. I suspect I may have to buy another lidded Stacker and start a new system, because too many under one lidded Stacker may make access inconvenient. They are very good quality lined boxes for a reasonable price. And you buy the ones with compartments to fit your jewelry, not have to fit your jewelry to the available sizes.
June 11, 2014
Rated

5

out of

5
 by
BeccaD
Just love it
Have been looking for a jewelry organizer for my James Avery collection and finally found the solution! I was able to pick and choose from the different stackable trays to meet my needs. I also love the velvety lining to protect my silvery pieces.
June 9, 2014
Rated

5

out of

5
 by
GrandmaInTheWoods
Elegant storage for precious jewelry items.
This is the perfect storage for those precious jewelry items that mean so much to me. Safe, soft place to keep them clean and protected. So happy I found this jewelry storage stacker.
June 4, 2014
Rated

4

out of

5
 by
OrganizationIsKey
Great Quality
I purchased two Stackers in the store about a month ago and so far I love it. They are of great quality and they have different colors to choose. I'm not actually stacking them as I am using them in my night stand as a quick grab some jewelry and go!
April 25, 2014
Rated

5

out of

5
 by
StephanieNola
Love these trays
I have a large jewelry box with drawers. Before I purchased these trays, my earrings were a tangled mess and I could never find the pair I wanted. Now, my jewelry drawers are so much better organized. I even found the matches to a few pairs that have been MIA for months when I got myself organized.
April 25, 2014
Rated

5

out of

5
 by
BNC002
Clean and Classic
I was looking for a way to consolidate my large earring, bracelet, and watch collections, as I've been using separate bulky jewelry boxes until now. I love the clean, streamlined look of the stackers (the Mink color is a beautiful shade of gray that nicely compliments my cherry wooden bedroom furniture. The boxes are nice and light, so accessing the lower Stackers is no problem. I am so happy with my purchase!
March 31, 2014
Rated

5

out of

5
 by
JRERN
Excellent Value
Excellent value for the money. Nice looking, Functional
March 28, 2014
Rated

5

out of

5
 by
AlmostThere
Finally have something functional for my jewelry!!
I've never had a place to put all my jewelry that made sense and that really worked for me. This one does! It was an added thing to my complete master closet ELFA makeover. I finally have my own (workable# area for my jewelry!! It fits perfect #stacked 2 on top of each other) in the small ELFA drawer too!
March 18, 2014
Rated

5

out of

5
 by
MeeksYi
Obsessed
I'm obsessed with these stackers. I got three of them - they look so nice, neat and organized and don't take up too much space on the vanity since - well - they stack. Should I get more jewelry in the future (which obviously, I will) All I have to do is go buy another section to stack. Super easy.
March 7, 2014
Rated

5

out of

5
 by
fordstang
Great for Organizing Accessories
I purchased this storage box and other versions to store cufflinks, watches, and other items in my wardrobe. It fits perfectly in my drawer to keep it hidden. I love how the boxes are stackable and complement each other. This a great design and I highly recommend it to keep your accessories organized.
March 5, 2014
Rated

5

out of

5
 by
Safetntx
Bow Tie Box
I purchased this set as a combination jewelry holder and bow tie box. I needed a covered box to store my many bow ties, and with the addition of dividers that I purchased @ The Container Store, came up with the perfect organizer and storage box for my ties. It works perfect!
February 13, 2014