Rated

1

out of

5
 by
Cintia
Worst purchase, it leaks
This soap dispenser leaks non stop. I wish I had kept the receipt to exchange it for something else. Very disappointed.
October 26, 2015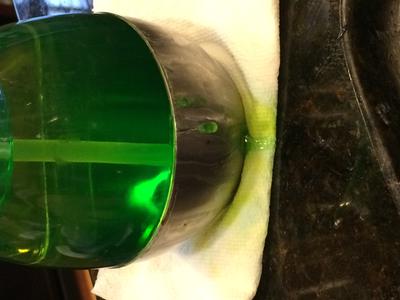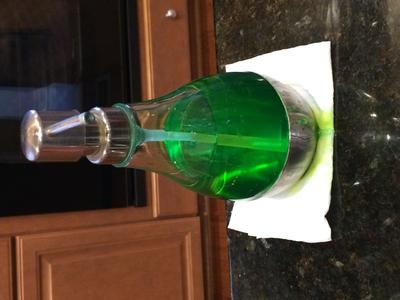 Rated

2

out of

5
 by
crystalf
it leaks :)
I love the look and feel of this dispenser. However, the first one I bought leaked. immediately and badly. I exchanged it for a second one which also leaked, though not quite as badly. The leak was towards the bottom where the silver and clear parts meet. I opted not to chance a 3rd one and bought a different dispenser made by a different manufacturer.
February 20, 2015
Rated

2

out of

5
 by
MrsRass
not happy
I had to return this as it leaked on the bottom and the pump didnt work. purhcashed the oxo brand. shame because this style i really liked.
May 5, 2014
Rated

5

out of

5
 by
Beverley
attractive and doesn't drip
We replaced a cylindrical pump from another manufacturer that had worked well for years but then started to rust. We replaced with the same brand (not from Container Store) but it leaked and dripped badly. This one works well and looks good, is small enough to work in a smallish space but holds a lot.
May 4, 2014
Rated

5

out of

5
 by
kaabrah1
Multi-Purpose Dispenser
I really like this dispenser. I have used several to de-clutter my bathroom counter tops. Instead of using soap, facewash and moisturizer from grocery store containers, I empty the products into the containers. This makes the bathroom look very elegant. These are functional and good-looking!
April 12, 2014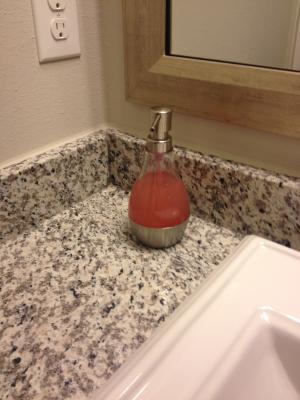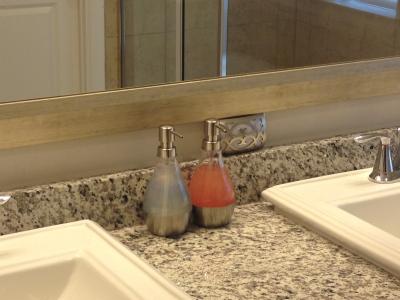 Rated

5

out of

5
 by
Lizzybird
Practical Despenser
I have used many different dispensers in the kitchen but I found this dispenser to be practical and stylish and very easy to use. It takes up very little space on the sink.
April 7, 2014
Rated

1

out of

5
 by
jhcc
Nice looking but leaks
My husband bought two of these and both leaked. Don't think they're recyclable either.
August 3, 2013
Rated

5

out of

5
 by
WIDA
Classy Dispenser
After hearing rave reviews about the Container Store I visited the Raleigh, NC location. Loved it from the front door! I bought this acrylic dispenser for hand soap beside our sink.. It reflects lots of light and looks so clean and classy on the countertop. I only wish that I had bought one for every sink in my house.
March 18, 2013
Rated

4

out of

5
 by
Melonhead
Very Practical
I like this dispenser for lotion, because it fits in the cabinet where bigger lotion pump bottles might be too tall. One drawback is that the silver finish doesn't stay looking quite as nice as when you bought it.
March 10, 2013
Rated

5

out of

5
 by
Svetlana
We use as lotion dispensers for our restrooms.
Our office uses this item as an office staple. The lotion however eats aways the silver-tone paint after time but with care to wipe it down, the dispensers still look great. We simply keep reordering after time but we love them because if they fall to the floor, they never break.
March 5, 2013
Rated

3

out of

5
 by
WorkingMomof3
Nice looking
I like how it looks and that you know when to refill it, but not the smoothest pump action, sticks a little, and the kids have a little bit of a hard time with it.
April 30, 2012
Rated

1

out of

5
 by
Greyhog68
Defective pump design
I agree with the previous reviewer. The soap congregates under the pump for some reason and makes a huge mess - dripping down the entire dispenser. Since someone else has had this problem, I think it is a design issue. Would not recommend.
April 12, 2012
Rated

4

out of

5
 by
SallyAnn
Beautiful design
I'm on my second one of the Teardrop dispenser because I love the simple shape. My only problem is that soap tends to congregate underneath the dispenser and for the life of me, I can't figure out why. Anyhow, I just wipe it up. I love it.
February 20, 2012
Rated

3

out of

5
 by
Titan777
Check for Flaws
I have it at the kitchen sink and the dispenser works and looks great, "BUT" make sure the stainless steel bottom doesn't have the tiniest nick in it . It came with a small deep scratch which allowed water to seep in and caused rust on the inside between the metal and the acrylic. Examine dispenser before buying and you should be fine.
March 11, 2011
Rated

5

out of

5
 by
Pooja
Works very well, and matches my contemporary bathroom.
February 11, 2011
Rated

4

out of

5
 by
murphscar
Matches well with other accessories from Umbra. Sometimes hard to pump, but works well.
January 28, 2011
Rated

4

out of

5
 by
disorganizedmom
great pump
looks great, easy to pump, does not slide across counter, easy to see how much soap is left
August 10, 2010
Rated

4

out of

5
 by
Deirdre
Beautiful, but the all-acrylic version is better
I really like this pump. Beyond its good looks, the pump is the best part... very reliable, unlike others I've tried that seem to break quickly. But... I had this stainless steel version, and ended up tossing it eventually because the metal started rusting. I'm back to the all-acrylic version and like it better.
May 17, 2010