Rated

5

out of

5
 by
Raider
Great! I am happy with what I bought!
I like it, so simple and nice! It matches our bathroom. Very easy to use. I been wanting to buy one a long time ago and finally I have it. I am happy that I bought it!
December 14, 2016
Rated

5

out of

5
 by
Zoe101
I Love It!!!!!!!!!!!!!!!
I bought this because I have braces, and I had an extremely messy countertop from all the paraphernalia that I have. I bought the green one, and it helped my keep my counter top clean. I absolutely love it!
March 22, 2016
Rated

5

out of

5
 by
a96aggie
Non-bathroom use
My wife was looking for a way to store her markers, the ones she uses for her adult coloring books. We bought two of these organizers, matched them with another Container Store product, and boom, an instant marker and crayon organizer.
March 19, 2016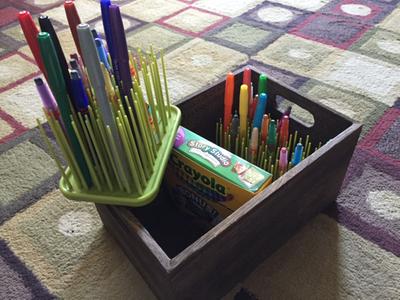 Rated

5

out of

5
 by
mudpud
Very handy--plus the green one is really cute
I've used this in the shower to stow my razor, plus to hold a bunch of haircare sample sachets upright--perfect when you're trying to use them up since normally they can fall over and leak. Lately, I've been using it drain cleaning sponges in the kitchen. If I lost it, I'd repurchase.
July 2, 2014
Rated

5

out of

5
 by
norawimberg
Organizer for Everything
A cute, sharp and easy way to organize in the bathroom or your office desk! Bought it for my son since he always has the toothpaste and the toothbrush laying around. Now it is always in the holder - love it!
May 12, 2014
Rated

5

out of

5
 by
TAKEN
Great product
I love this. It keeps everything in one spot on the counter so it doesn't look cluttered! It holds different sized toothbrushes and toothpaste or whatever else you can think of. Its perfect for odd shaped toothbrushes that other holders cannot accommodate. Plus its cute and inexpensive, money well spent!
April 25, 2014
Rated

5

out of

5
 by
Melina
This is such a cute way to store your toothbrush and toothpaste if you don't have drawer space, or if you just want a touch of flair to your bathroom! It does get dusty at the bottom, but a run through the dishwasher will take care of that. I've used the same one for about five years now.
March 12, 2014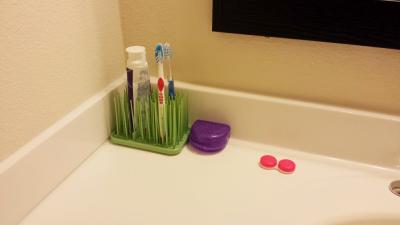 Rated

5

out of

5
 by
FLpommom
Perfiect for keeping teenagers organized
With two teenage boys, it was not uncommon to find their toothbrushes and toothpaste on the kitchen counter, the dining room table, or anywhere in the house. The product is awesome. They use their toothbrush and toothpaste, drop it in the 'grass" and it stand tall and organized for the next use. Easy to clean as well. Great for kids!
February 16, 2014
Rated

5

out of

5
 by
SAMT
Housewarming Gift
We were given this as a housewarming gift and at first didn't know what to think of it and how to use it. However, my husband claimed it as his to organize his desk and calls it one of the best gifts we ever received!
February 12, 2014
Rated

5

out of

5
 by
frieda
Great Find
This is the perfect toothbrush organizer. It holds many toothbrushes, and is fun and easy to use for young children as well as adults.
April 26, 2013
Rated

5

out of

5
 by
Asante
extremely useful
Awesome item. I bought 2; one for my desk and one for my small makes-up brushes. AMAZING! It holds everthing is place. I have a pair of small scissors, my glasses, stamps and pens in it. I'm buying more, Wish it were available in more colors!!
April 15, 2013
Rated

4

out of

5
 by
Pinkorganizer
Nice organizer
I use this in my bathroom and it is a cool way to hold our toothbrushes, the only downside is that its a little difficult to clean. I will try putting on the top rack of the dishwasher like someone suggested. Overall it's a handy and unique product with many uses!
March 22, 2013
Rated

5

out of

5
 by
Strad27
Wicked Awesome
I didn't think I'd like this little thing so much. I got the white one. There are two of us who share bathroom space and this little delight has given us a place to stick all of the following items: 2 toothbrushes, 2 tongue scrapers, 2 sets of wire-rimmed glasses, 1 full size toothpaste, other odds and ends as needed. The beautiful thing is, none of these items touch each other!! The spikes, or blades of grass as it were, are spaced progressively closer together from one end to the other. That said, if you have thick handled toothbrushes or thin, full tube of toothpaste or dwindling, tiny items or big, there *IS* a little pocket that fits the item. This doohickey has single-handedly and simultaneously accomplished the following for our lives: reduced the clutter, allowed for sanitary separation of tooth-cleaning implements, allowed for air-drying of said implements, allowed for drainage, kept our glasses where they cannot be stepped on. I LOVE THIS THING. *Easily* the best purchase in terms of both form and function within the last 12 months. Easily. REWARD GOOD DESIGN--GET ONE.
March 18, 2013
Rated

5

out of

5
 by
SheVe
Fun and functional
Love this little piece of design. Looks great in our contemporary bathroom and always brings a smile to my face. Took a moment to notice that the gaps on one side are tighter than on the other, but now I know exactly where to put my toothbrush and toothpaste.
March 18, 2013
Rated

5

out of

5
 by
snuggles
Perfect For Everyday!
This product is great! I would for sure reccomend it to a friend. I am a college student so i use this fun grassy organizer for my college dorm bathroom and man is it a time saver! it not only holds my toothbrush, but also my eyeshadow, lipstick, nail file, and floss. everything i need all in one place! a normal toothbrush holder only holds my toothbrush and i have to hunt for everyhting else. since space is limited this does the job. it is sturdy, heavy duty and adorable! its practical and cute/fun all at the same time! even if i didnt want it for my bathroom i could use it anywhere as a pencil holder, kitchen organizer or much more. this product is worth every penny.
February 18, 2013
Rated

5

out of

5
 by
jorjan
Wonderful!
This is the easiest for my granddaughters to use and for me to quickly clean. We all love it!
January 4, 2013
Rated

5

out of

5
 by
MarBar
Very Versatile
I could use one of these in every room of my home. From various cosmetic tubes to razors and shave cream. These are also great for pens, envelopes, and desk items. You could use one in the kitchen for small appliances parts and miscellaneous items. A truly useful organizer.
May 6, 2012
Rated

5

out of

5
 by
babylulu2
Great for the bathroom
This keeps toothbrushes and toothpaste together and off the counter and is easy to clean.
April 21, 2012
Rated

5

out of

5
 by
leo812
its holds
Not only does it hold my toothbrush and toothpaste, but it also holds my tongue scraper and Water Pic accessories.
April 9, 2012
Rated

5

out of

5
 by
Lcs5829
Great!
I love this product! I put it in the corner of my counter and I use it everyday. It holds my toothbrush nicely, and I lay my toothpaste sideways. It also holds my brush and any rings I take off for a shower.
March 21, 2012
Rated

5

out of

5
 by
KarenMc
Definition of "handy"
This little thing has SO many uses - for holding toothbrushes and toothpaste; makeup and brushes; papers; pens & pencils - I have purchased several of these. I just absolutely love them!
March 19, 2012
Rated

4

out of

5
 by
nomerun
Great organizer
This grass sits nicely on my desk to hold little bits of paper, business cards and such. I like it's color and the whimsy of it.
March 19, 2012
Rated

5

out of

5
 by
Verified Reviewer
Awesome bathroom organizer!
Saw this in Cosmo and loved it so I purchased it. Easy to rinse off and clean.
March 19, 2012
Rated

5

out of

5
 by
Mom2TheMonk
Grassy Goodness!
This thing is fantastic. We own two. One in the bathroom, and one in the kitchen. The bathroom one is white, and holds all of our toothbrushes, two kinds of toothpaste (kiddie and adult), a box of dental floss, and it even holds our big chunky spinbrush toothbrushes. The one in our kitchen holds our sponges, a toothbrush I use for cleaning purposes only, a nail brush, and a baby bottle brush for cleaning out glassware and the like. That one is in green. We love them both! Have only been using them for 2 days now, and already we cannot imagine our lives without them. If you're on the fence about it... DO IT! :)
March 17, 2012
Rated

5

out of

5
 by
11Thirteen
Clever tooth brush Organizer
I purchased this last spring and I still love it! It is good looking and effective holding the tooth paste and toothbrush securely without having water spots on the counter or falling over or out of the holder. When it is needing a cleaning, I simply put it in the upper rack of the dishwasher and it comes out sparkling clean and new-looking. I'd buy more of these. I put this item on my Pinterest page.
February 28, 2012
Rated

5

out of

5
 by
OrganizationObsessed
This is Awesome!
I've wanted the Grassy Toothbrush Organizer from Umbra for the last few years, but I never bought it because I was afraid it would be a waste of money. I'm so glad I FINALLY purchased it! Not only does it look great and sturdily hold my toothbrush, floss, and toothpaste, it's also easy to clean (the base lip keeps water droplets contained too) and allows my toothbrush to air dry more effectively. The picture shows exactly what it looks like in person (some websites show it looking more lime-green, but it's a grassy-mint shade. This isn't important but I like when the picture online accurately displays the product). I may have to buy a few more of these for my family and friends!
February 9, 2012
Rated

3

out of

5
 by
Chameleiana
Cute and handy, but takes up space
I bought this because it's a cute idea for holding toothbrushes/toothpaste. When I received it I thought it was just as cute as when I saw it online. It is well constructed and sturdy. It is versatile in that it holds many sizes/shapes of toothbrushes and also holds toothpaste. I'm returning it, though, because it takes up more space on our small counter (counter is only 30" for the two of us) than a cup does (and a cup holds our toothbrushes and toothpaste just fine too). It also felt awkward putting our toothbrushes in it - although we probably would have gotten used to that in time.
November 4, 2011
Rated

5

out of

5
 by
summerlover97
Great Product
We got one of these about two years ago for the bathroom. It holds all sized toothbrushes, toothpaste, tongue scrapers and all other dental tools. I am not sure how it should be washed but we put it sideways on the top rack of the dishwasher for sterilization and have never had a problem.
October 2, 2011
Rated

5

out of

5
 by
svocteam1
THIS IS THE CUTEST ORGANIZER EVER!!!!
I purchased this because when we remodeled our bathroom, the toothbrush fixture didn't hold our toothbrushes properly. Nowadays, toothbrushes are much wider. It is sturdy, well made, easy to clean and looks so cute on my bathroom sink!!!! I love it.:)
July 30, 2011
Rated

5

out of

5
 by
Pointermom
Beautiful, functional and super cool
I use this in the bathroom but plan to purchase at least one more for other things. It is pleasing to the eye, but more important, really gets the job done. It and my Louis Ghost chair will soon be complementing each other. This was a superb purchase and I recommend to all - it would be good for kids' stuff as well as adult and I'm sure that if I thought a bit longer I could make a list of 100 ways this can help you de-clutter and organize AND make your space look terrific. Kudos to Umbra and The Container Store!
July 23, 2011