Rated

5

out of

5
 by
JenMarie
Awesome hair tool organizer!
I recently picked one of these up to organize my hair straighteners, brushes, and combs. It works very well! I haven't put anything hot in them even though it does say it's heat resistant. It really helps with keeping my countertop clean of tools so I have more space to work with. I highly recommend!
August 26, 2015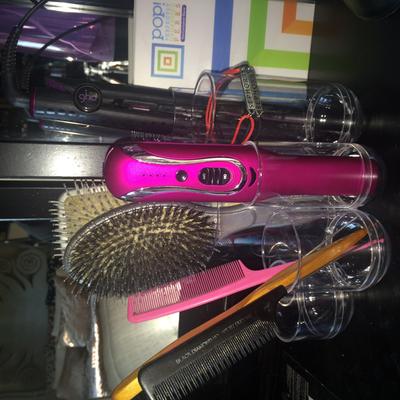 Rated

5

out of

5
 by
LonghornMom
great organizer
I have had mine for 3 or 4 years and it is starting to come apart where the cups are "welded/glued" Understandable since I have used it everyday since I bought it. I am about to buy a second one because it is awesome. I have a small countertop and it has made thing a lot more organized.
February 8, 2015
Rated

5

out of

5
 by
Tiffy
Love love love!
Purchased this to store my blow dryer and two flat irons. It works great and I'm happy to have them off the countertop. I've already recommended it to several friends!
October 21, 2014
Rated

5

out of

5
 by
Bebe66
Awesome accessory
This accessory is great for the countertop in the bathroom. I love that I finally have a place for my hairdryer.
June 29, 2014
Rated

5

out of

5
 by
ragincajun
Best countertop organizer
My husband purchased this organizer for me for Christmas, I love it...we didn't really want to put holes in the walls but I wanted something to put my hairdryer in when I wasn't using it. Also wanted something to hold my hairbrushes and hair accessories...this was perfect. Love it and wouldn't give it up for anything.
April 27, 2014
Rated

5

out of

5
 by
Jalo
Capelli countertop Organizer by Umbra
I like that its sturdy enough to not tip over with my heavy blowdryer. My huge roller brush fits perfectly in one of the tubes. Thanks.
April 26, 2014
Rated

5

out of

5
 by
Xoxo
Great Way to Organize Beauty & Hair Styling Tools
Like all Umbra products, this has a clean and modern design that works with all but 100% traditional decors. It conveniently and unobtrusively stores your hair dryer, makeup brushes, bobby pins, elastics, and other tools or accessories on your counter top and looks good doing it!
April 26, 2014
Rated

5

out of

5
 by
boomergirl
Love my make-up brush holder
I bought this today and I'm thrilled to have it. I own dozens of make-up brushes in all different sizes. I saw this today and couldn't believe my luck. I've followed on-line recommendations from You Tube and Blogs but all were so overpriced I wouldn't even consider spending the money the manufacturers wanted. This gem is large, clear and very sturdy. There are a hundred uses for this as other reviewers have noted. In my pic I've purposely included several unrelated items including a pair of red earrings. But, this nifty beauty is going to sit on my counter to hold all my make-up brushes plus a few other beauty related items. :-) I'm really going to enjoy this purchase. Thanks Capelli and The Container Store, Little Rock, AR
April 17, 2014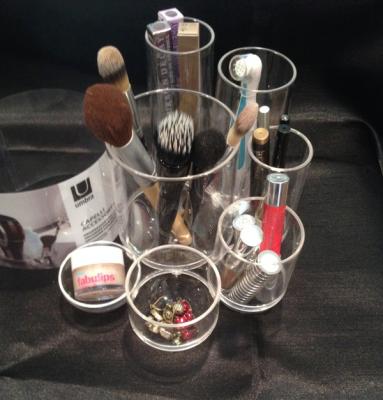 Rated

5

out of

5
 by
JCrotts
Great countertop organizer
Works great to keep things off the counter but easily accessible. I'm able to store my hair dryer, straightener and brushes all in one space.
April 13, 2014
Rated

5

out of

5
 by
Dasha
great little organizer
love it. it organizes my hair and make brushes and keeps my blowdryer from lying around. great way to organize and save space.
April 7, 2014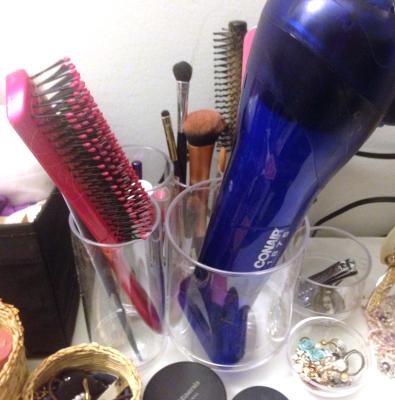 Rated

5

out of

5
 by
JGoody
Just bought another one!
Keep everything nicely organized so I just bought another one for the kids bathroom
April 1, 2014
Rated

5

out of

5
 by
organizedmom
Great option
I purchased this not to organize styling tools, but to keep all of the rubber bands, barrettes, hair clips and other "essential" hair items organized for my 6-year-old daughter. We use the curling iron section to store a brush, and there is even a section wide enough for us to stash the detangling spray. A great option to keep everything neat and tidy!
September 28, 2013
Rated

4

out of

5
 by
Nic1
I purchased this to hold my hair dryer, brushes, combs, mousse, etc. instead of the basket that I had been using. I like that it's clear. My only disappointment is that I use the nozzle attachment that came with the hair dryer and it is just a little too big to fit the hair dryer in the organizer with the attachment on. Not a huge deal but it does mean each time I use the hair dryer, I have to attach and de-tach. Otherwise, looks so much neater on my dresser than the basket. I like that I can clean this off as well.
September 1, 2013
Rated

5

out of

5
 by
Tam1
Great organizer
Great Orangizer. It holds my hairdryer, hair iron, a few brushes, hair clips & ponytail holders. I keep it in a bathroom cabinet & love how it keeps everything organized & out of sight.
April 26, 2013
Rated

5

out of

5
 by
slkcal
Very Functional
Needed something for counter in a small space and this organized everything. Best part is all you need is to set it down where you wish to locate item.
April 23, 2013
Rated

5

out of

5
 by
Brigitte
Great idea
This item has made cleaning the countertop very simple. Instead of picking up a lot of items, you can just remove this organizer and do the dusting quicker. I love it. We also have other things in this like makeup brushes, scissors, etc.
March 24, 2013
Rated

5

out of

5
 by
MiddleNameOrganized
Beautiful For Make-Up
My hair care products are elsewhere in another Container Store purchase. This holds make-up, my friends, and it holds it all beautifully. What a nice display for it all too. Makes me feel RICH!
March 18, 2013
Rated

5

out of

5
 by
FurnishinginChicago
My bathroom vanity is no longer a shambles!
I love that all of my hair care stuff is now in a compact, single place, not scattered across my vanity top! The organizer easily held both of my round barrel brushes, mousse and hair spray, as well as my blow dryer. The only shortcoming I can see isn't with the quality of the product, I just wish it had been designed with something to wrap cords for a dryer and curling iron around when not in use.
March 8, 2013
Rated

5

out of

5
 by
JenO
A nice place for all my things!
I love this product! I don't know what to do with the small compartment, but it makes my bathroom a lot less cluttery!
February 26, 2013
Rated

4

out of

5
 by
504YaHeard
Great organizer for hair tools
This organizer is just what I needed to organize my hair dryer, flat iron, curling iron and round brush. The organizer has a good weight to it, so it doesn't tip over if I remove the hair dryer.
April 24, 2012
Rated

5

out of

5
 by
CustomerA
Handy Organizer
This fits my hairdryer, curling iron, hairbrush, and other knicknacks. Occasionally falls over due to the height of the things in it and its light weight (if it were heavier it might not fall over), but I have learned to catch it before it tips over entirely. Overall I am very pleased with the way it organizes my hair tools.
March 19, 2012
Rated

5

out of

5
 by
LittleMissMessy
Fun and functional
I love this organizerâ¿¿I have the smaller version for cosmetics, too. They have a fun, asymmetrical design, and the clear polycarbonate material means it looks just as good in my bathroom as on my dresser. For a small living spaceâ¿¿and TINY bathroomâ¿¿this organizer makes a big difference. My assortment of hair tools is no longer in a tangled heap. :)
February 29, 2012
Rated

4

out of

5
 by
KimberAWB
Nice organizer
I needed a good organizer for my bathroom. This was nice and simple with plenty of options and ideas.
February 26, 2012
Rated

4

out of

5
 by
OrganizationObsessed
Great Purchase
The Capelli Countertop Organizer is cool and modern-looking and neatly displays my hair straightener, blow dryer (with the diffuser attached, may I add!), hairbrushes, bobbi pins, and styling products. It would be great for office supplies too! It takes up more counter space than the Tubo organizer, but overall it has a small footprint on my vanity. It's also easy to clean. The only con is that because the tubes are different sizes (some carrying heavier things than others), when I take out my hairdryer, the whole thing can fall over. Maybe velcro would keep it in place. Also, the smallest dish has short edges, limiting what is can hold. Though overall, highly recommended!
February 9, 2012
Rated

5

out of

5
 by
MisterGumbo
A most useful storage device...
I'm a professional model maker and am constantly looking for ways to store the many small tools and knives used in the course of my work. I have rotary trays and magnetic bars that all work well, but I find that the Capelli and Tubo Countertop Organizers by Umbra's multiple sized compartments works very well for me. The construction seems to be of a high quality plastic and I'm sure it will give many years of service.
September 1, 2011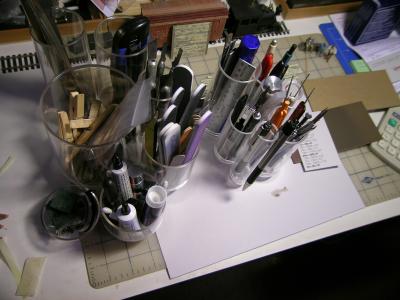 Rated

4

out of

5
 by
WesternNorthCarolina
Good if you need this type of storage
It takes up quite a bit of space. Useful for hairdryer, brushes, curling iron, etc. I keep it under the sink, out of site. Not something I want to see all the time but keeps my styling equipment handy.
August 7, 2011
Rated

4

out of

5
 by
Amii
I love this, but it does not last
I just bought my 2nd one of these because it keeps my hair iron and hair dryer neatly stored on the top flat part of the toilet. The heat resistent plastic means I can finish using my hair iron and put it away. All the plastic cylinders started to fall off after 6 months, must be the heat on the glue - but I have not found anything else on the market that was like this, so I bought a second one.
August 4, 2011
Rated

5

out of

5
 by
saukvillage
OMG - How did I live without this!
I had something else in mind to clean up the counter clutter when I ran across this organizer and decided to try it. It holds everything that was just lying on the counter and has freed up more space that I thought possible. It even holds the tube of toothpaste that seemed to never find a home. It also fits quite nicely in the dishwasher, thus, it always sparkels and at the same time keeps things neat and organized. I have even gotten my husband to put things back in the organizer, which is a first!
July 15, 2011
Rated

4

out of

5
 by
justgotwicked16
Keeps my dresser organized
I usually do my hair at my dresser in my bedroom. Before this purchase I was storing all my "tools" in an open shoebox with my hairdryer just laying on the dresser top. Now I can organize my hairspray, perfume, hair clips, pony tails, etc. and have my blow-dryer in its own home. The only thing I would change about this caddy is I would make one of the compartments wider, or oval shaped so that my deodorant could fit. Otherwise, I love it and my dresser looks so much more organized than with a shoebox.
July 12, 2011
Rated

5

out of

5
 by
Vegasgrl21
Capelli Countertop Organizer by Umbra
Love this product.I have it underneath my vanity. It was easier to put there. I LOVE all the products that I have purchased from you.
February 14, 2011