Rated

5

out of

5
 by
KayyyOhhh
Bag Display
I have this hanging from my utility rack where I house my shoes and other items that cant fit into my closet. It's great for hanging my tote bags, keeps them neatly displayed in a collapsed fashion that allows me to see each bag and access them easily. Going to purchase another, I have more bags to hang!
August 29, 2016
Rated

5

out of

5
 by
Pennca
Grab and Go Accessories Corner
I hung "C Link Umbra" on back of bedroom door for hanging purses, belts, necklaces etc. On wall behind door I attached two "Maple Racks" vertically with flat Command Velcro Picture Hangers" (removable and don't damage wall) for scarves. Each rack will hold 20 plus scarves. Also nearby have "Accessories Stand" for eyeglasses, bracelets, keys etc. Everything tucked away and easy to "grab and go" !
March 26, 2015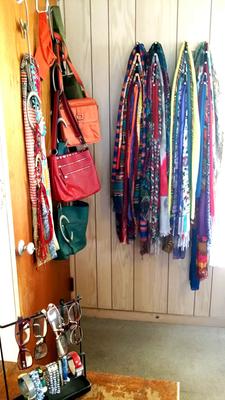 Rated

5

out of

5
 by
Lamajac
Great purse organizer
I have this in my bedroom closet to organize my purses. Now I can easily see them rather than have them clumped on the floor or on a shelf.
May 3, 2014
Rated

3

out of

5
 by
J1001
It Does The Job
It works well and we like it but it looks weird just hanging there. The aesthetics are strange.
April 29, 2014
Rated

4

out of

5
 by
patwms3
great purse storage
I love this. Now all my purses are hung neatly instead of piled up on the shelf and it doesn't take up much room.
April 20, 2014
Rated

5

out of

5
 by
wizco
Great purchase
I got two of these. Very happy with my purchase and it looks so much better in my closet.
April 17, 2014
Rated

4

out of

5
 by
queenofelfa
great for hanging purses
Finally a solution for purses where I don't have to lift some off to get at others. Many other uses come to mind --- may get more.
April 12, 2014
Rated

3

out of

5
 by
Jemera
I need verticle storage
My closets are stuffed to the brim and I thought this would relieve a little of the squeeze but I haven't hit on what to put on this C-link yet. It's a good idea but for now I'm not getting the use I hooped oout of it.
April 12, 2014
Rated

5

out of

5
 by
redsie67
just what i was looking for
works perfectly for my use. i needed a way to organize my smaller totes in my coat closet . i previously used hangers but they took up a lot of space. this slim lines the space used .
April 6, 2014
Rated

2

out of

5
 by
shmooo
OK for scarves
I bought two of these, one for scarves and one for belts. I like that the hooks to hang items on can be turned perpendicular to the top hook. However, after holding between 3 to 4 pounds of belts for about a year, the chain came out of one of the plastic hooks. Very reluctant to buy another one to replace it.
February 25, 2014
Rated

5

out of

5
 by
Nanachat
Great Product
Perfect for my handbags and it doesn't take up a lot of space!
December 8, 2013
Rated

4

out of

5
 by
StarlaDear
Great so far
I have one small and three large Coach handbags hanging from this and so far they are doing fine. It saves space and keeps the structure of the handbags looking nicer than if they were all piled up on a shelf. It might feel a little flimsy and I don't really care for the gold-ish color of the C's, but since it was only $10, it seems to be worth the money.
October 23, 2013
Rated

1

out of

5
 by
UpsetCustomer
Broke on the second day
I only put a few empty purses on this and the bottom hook still broke from the chain after two days. The plastic hooks are very cheap and the chains connecting them very thin. This might be okay for scarves, but it can't seem to handle more than two or three purses.
October 14, 2013
Rated

4

out of

5
 by
GayleCT
Pretty but flimsy
This looks good hanging in my closet with some scarves through the loops, but the loops are connected by a thin swaying cord so I find that I need both hands when I try to put something into this organizer. Needing both hands is a minus in my book -- I'm a busy mom always picking up, always carrying something, or trying to do two things at once, and if I need to put one thing down in order to take care of another, that's not good.
April 29, 2013
Rated

5

out of

5
 by
LaviniaLace
Cool Purse Gizmo!
After being able to hang up some of my purses from off the floor, my closet immediately looked more organized. A BIG thumbs up for a simple product that can do so much.
April 3, 2013
Rated

5

out of

5
 by
DogShowGirl
Super Space saver
I purchased this product in hopes of clearing an extra shelf in my closet. It not only gave me my shelf back but hangs straight and takes up very little room. Purses are easy to see and get to. Love it!
March 8, 2013
Rated

5

out of

5
 by
Schwadette
Perfect for Scarves and Purses
I could not believe how much room this cleared up in my closet! After taking all my purses off the top shelf, and hanging them on this hook, I had so much more space! And the hook holds all sizes of purses, as well as other things like scarves and belts. Just wonderful! I actually will be getting a second.
March 2, 2013
Rated

5

out of

5
 by
75hoyafan
You Always Find a Use for Container Store Product
I needed to find a solution to finding my bras, as opposed to sifiting through the drawers (even with dividers! I was strolling through the store and found this great C-hook for purses! Think outside the box--Container Store has it all!
April 27, 2012