Rated

5

out of

5
 by
DJLisette
Great shoe rack for guests/by front door
Needed a shoe rack that wasn't bulky, is still stylish and sturdy while in a brown color. Got this and it's perfect. We have it by the front door in our apartment so that guests and we can quickly put our shoes somewhere that doesn't dirty the carpet. This works with the color palette in our apartment and serves the function we need very well.
December 15, 2014
Rated

5

out of

5
 by
EXL500
Simple and very useful
The shelves arrived quickly, were easy to assemble, and are really useful. All at a good price.
July 28, 2014
Rated

5

out of

5
 by
bluedragon
very happy
I actually have this shoe shelf as 2 separate shelves, one at each of my doors (with a tray underneath). I have gotten several compliments on them. They are a bit more stylish than a traditional shelf, lightweight and very easy to assemble.
June 1, 2014
Rated

4

out of

5
 by
CRBennie
Shoe shelf fit for this Carrie Bradshaw
I bought this to replace some plastic shoes shelves in my closet that wouldn't accommodate higher than 2-3 inch high heels (i.e. 3-5"inches/platform wedges/etc) It looks very nice, a lot nicer than plastic shelves, and was easy to put together.
April 29, 2014
Rated

4

out of

5
 by
Kimberlee
Looks nice, works well
It looks nice and fits well in our closet. We had the shoe rack with the bars and it would fall apart. We bought this one to replace it. We have had it for 6 months and are happy with it.
April 25, 2014
Rated

5

out of

5
 by
Fratz89
Perfect
I had a cheap plastic shoe shelf for years and finally decided to upgrade. This one was perfect. I even bought two sets i liked them so much. It was easy to assemble, easy to stack, and looks great. Would definitely buy again.
April 10, 2014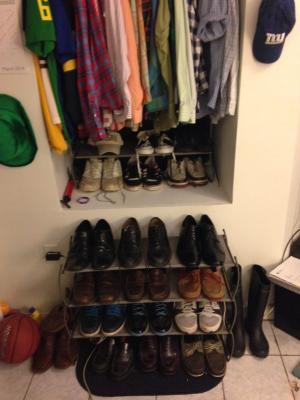 Rated

5

out of

5
 by
NETX
Great for Anywhere
You can put this in a closet or entryway. It will hold about 12 pairs of shoes. Great!
March 19, 2014
Rated

5

out of

5
 by
MemawJo
Easy and space-saving
Stacks one atop the other to save space and more can be added. Easy assembly (no tools needed). Nice color and fits over a boot tray to catch drips in wet or snpwy weather.
March 2, 2014
Rated

5

out of

5
 by
Song
Lovely!
Very easy to assemble. It's not just for shoes! It was the perfect solution for my sweater jumble on my closet shelf. Now I can see them all beautifully stacked instead of all piled up.
February 21, 2014
Rated

5

out of

5
 by
HoosierGirl
Fits perfect
This was the perfect height to fit under the bottom shelf in our walk-in closet. We bought two.
February 19, 2014
Rated

5

out of

5
 by
Nepster
Lightweight shoe rack
Just had Elfa platinum organizers installed and this shoe rack looks great with the Elfa. It is lightweight and easy to move and holds more shoe than I thought. Thanks.
February 1, 2014
Rated

5

out of

5
 by
Libertad
Sturdy Stackable Shoe Rack for Garage
It takes awhile to assemble, but is very sturdy and will last a long time. I got two so I could stack them in my garage. They hold tall boots on the top rack and have a lot of room on each rack. A little expensive but so much better quality than the cheap ones I purchased a few years back.
December 5, 2013
Rated

3

out of

5
 by
Jacks
Not great for the price
The first time I purchased the product one of the tubes didn't fit with its part. There was no way going around it so I had to return it. The second time parts were fine but for the price it seems unsteady and only comes with two stands. All in all it was an ok purchase. Not completely thrilled with it.
November 23, 2013
Rated

5

out of

5
 by
Chicagomom2
Just what I needed
This fit perfectly in our coat closet. It holds all the shoes/boots I was hoping it would. Assembly was easy and straightforward.
November 12, 2013
Rated

5

out of

5
 by
Masroj
Very stackable
I bought a total of four of these because I enjoyed the first two I bought. They are aesthetically clean and blends really nice with any decor. (Not a lot of my stuff matches.) What I enjoy about them the most is how I can take a few stacks and put in them anywhere in the apartment. I have a stack outside my front door, another pair inside for house slippers, and the others in closets. I would recommend these to anybody.
October 21, 2013
Rated

5

out of

5
 by
amgma
Perfect
Love this light-weight shoe solution. Bought two sets to use in my dressing area and will buy two more to use in laundry room/mud room Nice styling, great color that blends with my décor, and love the easy-to-clean woven material Clever stacking assembly. Also liked the price!
October 21, 2013
Rated

4

out of

5
 by
sandsky
holds more than pictured
Obviously, they show a neat row of singly- spaced shoes in the photo but, really, you can fit a lot more on each shelf... especially flat shoes, flip flops, sandals, etc. So overall, a decent purchase if you have an embarrassing stash of shoes. Assembly was relatively easy and tool-free- but a little time-consuming if you buy a lot of them.
September 16, 2013