Rated

5

out of

5
 by
LDB83
Great Product
I recently purchased the Cherry finish Treela can. It looks really nice and is the perfect size. I have several of these cans made by Umbra. They hold a lot, are super easy to clean, look nice, and the most important thing for me is that my dog can't turn it over. It is too tall for my dog to easily get into, so he loses interest. It's a great product!
March 24, 2014
Rated

5

out of

5
 by
yankeefrankee
a beautiful and cost effective solution
this is the perfect office waste bin. we have just moved into a new space, with herman miller designed furniture systems, white surfaces with walnut front panels. we needed new waste bins, and couldn't find anything suitable and the right size. well, these arrived and it was like CHRISTMAS! i put them out in our small conference room, and the people flocked to pick them up. they match our walnut veneer perfectly, and the horizontal grain, as opposed to our vertical grain, adds the perfect texture and visual interest!
September 17, 2012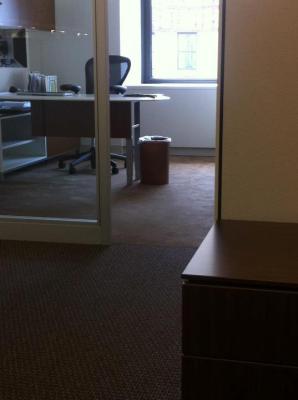 Rated

5

out of

5
 by
BJRS
We got this as a trash can for a shared office/living room and it fits the bill perfectly. It blends in well with the rest of our wood furniture.
March 20, 2012
Rated

5

out of

5
 by
InformativeReviewer
Modern look for an inexpensive trash can
Functional, nice looking, and cheap. Looks great with a more modern, minimalist decor. Just a plastic garbage can that add a touch of flair.
January 11, 2017
Rated

4

out of

5
 by
junghwa
Color Not As Pictured But Still Nice
In the photo it looks like a rich, deep color. Like walnut wood. In reality it is more of a washed out color. It looks more like a chocolate brown. Not really what I had in mind for where I was putting it but it works. It is tall and wide so it will hold a good amount of trash. It is thin plastic which keeps it light. I thought that was a good thing and then I accidentally dropped something somewhat heavy in there and it split the bottom open. It was like a hairline fracture so I used clear tape and it seems to be ok now. Just something to keep in mind. Probably best for just paper waste or tissue.
March 28, 2015
Rated

5

out of

5
 by
OnlineAnnie
Looks like wood!
These lightweight trash cans are beautiful and lightweight. They look great in my office next to my wood desk.
December 20, 2014
Rated

5

out of

5
 by
DannieT
I love my can!
I went in container store to buy a different garbage can for my new room. The sales clerk showed me the cans and I found the one I was looking for, then I went down and found this one. It matches my room PERFECTLY, I love it! Even my mom said you found a garbage can that matches your floor.
July 15, 2014
Rated

5

out of

5
 by
Danger
Great Looking, Great Price, Durable
I bought a bunch of these for the vestibules of the courtyard building I live in. These match the woodwork in those spaces and don't look cheap, plastic or out of place. The woodgrain finish looks great. Their price is great too.
March 8, 2014
Rated

5

out of

5
 by
Maia220
Perfect for my office
This trash can looks good in my office. Product is durable.
April 7, 2013
Rated

5

out of

5
 by
red1482
Good storage
I didn't buy this product to use as a trashcan, I bought it to store rolls of trace paper and drafting tools like a t-square. I'm really happy with this product as it is heavy duty and the brown wood grain looks nice with my furniture.
May 5, 2012
Rated

5

out of

5
 by
OnTheRidge
Perfect for our home office.
Even though the finish is supposed to be cherry, this can matches our teak office furniture perfectly. Since this trash can is a lot taller than our previous one, I'm hoping that our dachshund won't be able to stick his nose inside and spill the garbage.
December 23, 2011
Rated

5

out of

5
 by
TPDay
Outstanding Product
Great money and excellent value. Sturdy and holds up with being used in a child's bedroom, but blends in rather nicely. Excellent value for the cost.
May 17, 2010
Rated

5

out of

5
 by
yourstruly
good looking
This trash can is very attractive, at a great price.
March 12, 2010
Rated

5

out of

5
 by
OrganizationQueen
OrganizationQueen
I needed a good-looking waste basket for an oriental-designed guest bedroom. The clean, simple lines and color worked beautifully.
March 3, 2010