Rated

5

out of

5
 by
SCIndy
Great space-saver
I purchased two of these (and two medium folders) last year before a trip to Italy/European cruise. My friends were amazed and are still talking about how much I was able to pack into such a small suitcase. My compression sacs are the same size - approximately 10" X 14" - so maybe I was able to purchase them separately in the store. I like them for t-shirts, camisoles, etc., and for underwear because it makes those small items easy to find in one place. The two zippers make it easy to compress the items to make the most of space. I am so happy with this line of packing products. I am planning to purchase more for gifts.
October 18, 2015
Rated

5

out of

5
 by
CoryAnn
Lightweight & Space Saving
While the regular Pack-it Cubes are great, these compressions cubes take it to a whole new level. They are easy to fill and zip to compress. I use mine with items that I don't mind a few wrinkles in.
July 7, 2016
Rated

2

out of

5
 by
EmmyJ
I've seen better
Bought this and Eagle Creek Pack-It Vinyl & Mesh Compression Sacs at the same time for an upcoming trip to Iceland. I tried both on a bulky unisex medium sized Irish knit sweater and the other definitely compressed better. Pics below shows the before and after with larger bag used (sorry too inept to rotate). Would not buy this again. It was difficult to fit the sweater into this bag and I'm not so certain how useful the smaller bag would be. Would recommend the Eagle Creek Pack-It Vinyl & Mesh Compression Sacs over this.
June 11, 2016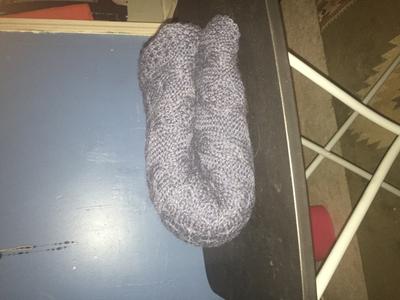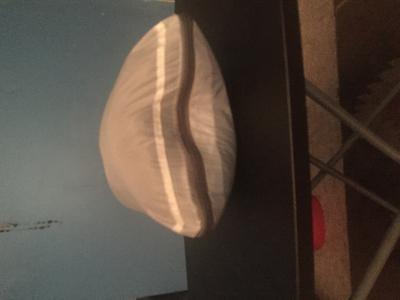 Rated

3

out of

5
 by
slkrabbit
Works better if you fold
I bought these to use when flying with a carry-on suitcase to try to fit more clothes. I typically roll my clothes when I travel, and while these did compress some, I found that they were better if I folded the items I put inside them. I was able to fit the same amount of clothes in the cube folded as I was rolled, and the compression seemed to work better.
March 29, 2016
Rated

4

out of

5
 by
Nili
On the fence
I use and like the Eagle Creek Specter packing cubes. I have three sets of the cube sets (one set being a compression set) and use the larger full cubes for jeans and pants and the medium sized half cubes for tee shirts and underwear. I can't say I find the compression cubes to be more useful than the regular cubes. Though it does compress it down some, if you pack the regular cubes with tightly rolled clothes, I find I fit the same amount and it takes up the same amount of space. I suppose if packing a fleece jacket or bulky sweater, the compression set may be more useful for this purpose. I do use and like them, but use the regular non-compression sets more often. I travel from Israel to the US quite frequently and use the Specter cubes every time I travel.
January 26, 2016
Rated

5

out of

5
 by
KThouston
Brilliant concept
Packing made easy! Not only do these compression bags save space in my suitcase but they also make it easy to locate items on trips where I live out of my suitcase... Feather light, space saving and so practical!
December 28, 2015
Rated

3

out of

5
 by
busybusy
Small!
Not sure I would have purchased if I'd seen them in person. Even expanded they are small. Don't think they will actually make a difference in my packing. Too expensive for what they are -- and I got them on sale.
December 15, 2015
Rated

5

out of

5
 by
kjf72
Great Idea
I have used Eagle Creek packing cubes for many years and thought they were great, but they have vastly improved them with this whisper light weight material and the ability to compress. They take up way less space and weigh almost nothing. They are a little costly but well worth it. Got these on Container Stores travel sale......a real bargain. Plan to get more....
June 29, 2015
Rated

5

out of

5
 by
Tinmast
Great product!
I have used other Eagle Creek Pack-It products for many years to organize my family's clothes when we travel. The compression set is great. I needed to bring a change of clothes to work. I was able to pack a pair of jeans, a t-shirt, socks, and a cardigan in a large bag, zip it up to compress it, and it fit in my shoulder bag. I also used the set for an overnight camping trip with my daughter. All of our clothes fit in the two bags, and we had plenty of room left in our backpacks to carry sleeping bags, food, and other gear. The bright orange color is great and the construction seems durable. I plan to buy another set. Hope it becomes available in other bright colors.
May 27, 2015
Rated

5

out of

5
 by
JeniferC
Love Pack-Its
We absolutely love the Pack-It systems. We have purchased many of them, and love their lightweight durability. We used these on our honeymoon, and they made packing a breeze!
May 22, 2015
Rated

5

out of

5
 by
Diamond52
Great packing system!
I purchased this packing system for my clothing because I want to have ample space in my luggage when I travel. These pieces work perfectly.
May 21, 2015
Rated

5

out of

5
 by
MomsBuyer
More Space in the Suitcase!
The Specter Pact-It Compression set is very, very light-weight. The material reminds me of parachutes. The zippers have large tabs and are very easy to pull/open. There are two sets of zippers. One opens the bag, the second is to compress the bag after filling. So, open both sets of zippers, fill the bag with socks, underwear, t-shirts, whatever, then close the zippers- Voila! The fully open bag has about a 3⿝ depth. Closing the compression zippers will take that size down, leaving more packing space in your suitcase!
May 14, 2015
Rated

5

out of

5
 by
Gene51
Great purchase
I have used this pack-it product for trips on our boat. I can fit about 5 shorts and top sets in the large bag and a week's worth of underwear in the smaller bag. Since there is limited space on a boat, once I compress it, I can find most any space to store it and the clothes do not get wrinkled. I hope to add more to my collection for my husband.
May 14, 2015
Rated

5

out of

5
 by
Handsb
Love this product!
The compression set is really a nice addition to our travel gear. Lightweight.
May 13, 2015
Rated

5

out of

5
 by
DEAT
Worth the money
Lighter than any bag I have purchased for this purpose (and since I travel a lot, I have had many). The compression is a bonus!
March 16, 2015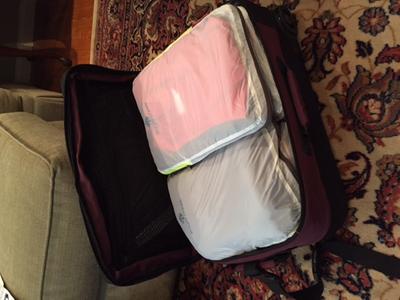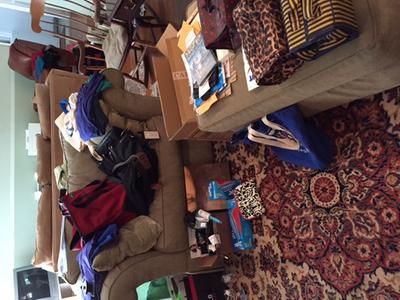 Rated

5

out of

5
 by
Voyageur
Simplify traveling
The compression bags are a convenient way to organize clothing to be able to live out of a suitcase and actually find things. Being able to compress clothing also eases closing a suitcase.
March 13, 2015
Rated

5

out of

5
 by
Ocdtothemax
Made Me A Believer!
I travel a lot and never thought these pack-it systems were worth the effort. I was going on quite a few trips over the summer and decided these compression pack-it's sounded interesting and decided to give them a try. They have totally changed my mind. I was amazed at how many things I could cram in and still compress down quite a bit. Saved me a ton of space! In addition, if you are on a trip where you are living out of a suitcase,it makes it easy to find exactly what you are looking for. TIP: after a few days of I turned one of the pack-it's into a laundry bag to keep the "dirties" separate from my clean clothes. I am now a believer!
September 1, 2014
Rated

5

out of

5
 by
ButterGirl
I have had several pieces of Eagle Creek packing envelopes for years and have been happy with them, but they are heavy. This newer line is amazing - so lightweight! And the compression packs are a must - especially when trying to pack in a small suitcase. Get them!!!!
August 5, 2014
Rated

5

out of

5
 by
Betty6953
Compression packs
Best product at the container store. I use half the amount of space in my suitcase. I purchased 2 sets for myself and 2 in green for my husband. He absolutely loves them! Our luggage has never been so organized.
July 25, 2014
Rated

5

out of

5
 by
Anii
Valuable Packing Tool!
These are the best little bags for packing because of the compression. They are great. You really have to try it to appreciate it. I highly recommend that you buy this for your next trip. I bought one pair (and will be getting another). He who packs the lightest wins.
July 14, 2014
Rated

5

out of

5
 by
NJCathi
Great for fitting things in
I've been rolling my clothes for a long time to save space but these help to compress things even more. Best for smaller items or things that you can fold up small.
July 13, 2014
Rated

5

out of

5
 by
SCShopper
Eagle Creek Compression Bags
Saw demo from a co-worker about this product. What an amazing product - I put it to test on our recent travel. I had so much room in my 20" luggage that I was able to purchase many other garments during my vacation. I am definitely getting another set. Will be getting every family member a set for the holidays.
July 1, 2014
Rated

5

out of

5
 by
Slkredhead
Fantastic Travel Packs
Just purchased the new travel packs from The Container Store made out of lightweight parachute material and they are great. I got the compression packs and they really help in giving you extra space in packing your bag. I would highly recommend this travel pack line.
June 25, 2014
Rated

5

out of

5
 by
TNTraveler
Love it
Works really well to compress everything down. Your stuff will get wrinkled so better for workout and casual clothes, etc. But it is awesome!
June 16, 2014
Rated

5

out of

5
 by
Antionette
Wow it did All Fit
Unlike for the use in clothes these two little bags did wonders. I can only use a carry on and I was able to get all the clothes I need and have them orderly. It took a moment to figure out how I could best use them but my next trip will be easy to figure out now that I've takin' the plunge into order.
June 9, 2014
Rated

5

out of

5
 by
emi1234
If you travel a lot, you must have these bags!
These bags are AWESOME!! I travel a LOT and often struggle fitting everything in my suitcases. No more! These bags allow so much additional space that I can still pack my workout clothes rather than leave them behind (aren't they always the first to go?). Yes, the zipper is sometimes funky but if you are patient with it, it works fine. Love these and will buy a second set.
June 7, 2014
Rated

5

out of

5
 by
denheels
Help for the packing challenged
I am getting better but am known to overpack. I just went to Europe for a week and could not believe the difference that these Compression Pack its made! When I first saw them I was doubtful - but the larger of the pair held several pair of jeans without any strain on the material or zipper. A must for long trips!
June 1, 2014
Rated

5

out of

5
 by
Jamelra
Great Idea
These make it so easy to pack and keep everything organized. I purchased five bags( a set of 2 and a set of 3) and am ready to purchase more.
May 22, 2014
Rated

5

out of

5
 by
ExecAsst1
If you travel you need these
These little bags saved my professional appearance. I traveled to Italy for a conference. While my coworkers were trying to iron, I put my clothes on and looked professional and polished. I'm going to get more and my entire travel wardrobe will be compressed yet perfectly pressed when I arrive at any destination.
May 19, 2014
Rated

4

out of

5
 by
sixpakc
Great product, makes packing easy!
After reading the reviews on this product and with how much I travel, I knew I needed to buy a set. The bags work as advertised and help me stay organized when I travel, as well as take more clothes and use up less space. There are 2 issues that I found, they aren't dealbreakers but I did want to put them out there. The zipping of the compression bag can be annoying because as I would zipper it, the material would get stuck in the zipper. I would go a few inches and have to pull the material out, that got annoying. While the zipper remained intact, I did have an issue with the pull of the zipper (the fabric used to pull the zipper, not the zipper pull itself) coming off and there is no way to put it back on.
May 13, 2014