Rated

5

out of

5
 by
TXnCutie82
Everyone Loves This!
I have a smaller GRID-IT! Organizer that I've been using for personal travel, but I bought the larger one to use when I travel for work. I'm a meeting planner and going to events requires various charger plugs, dongles, adapters, and more. This has allowed me to keep everything together so I can easily locate what a speaker or attendee may need. Many of our attendees have commented on how neat the product is and several of my coworkers have said they plan to steal it for use when they travel.
July 19, 2016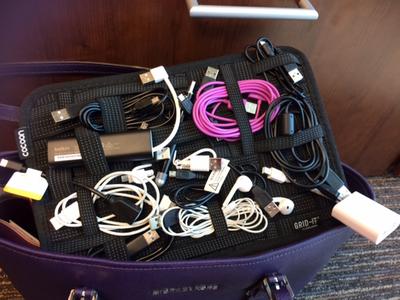 Rated

3

out of

5
 by
BlueSquidBoy
Okay but.....
I bought the small and medium size Grid-its. The elastic bands work great for holding a variety of different items. My complaint is with the medium size Grid-It. That size has a zippered pouch on the back side. The pouch is pleated, presumably to allow placing items thicker than a sheet of paper in it, however the design and placement of the zipper does not accommodate the pleats. The zipper is very light duty and as a result the zipper broke after the third use.
March 25, 2016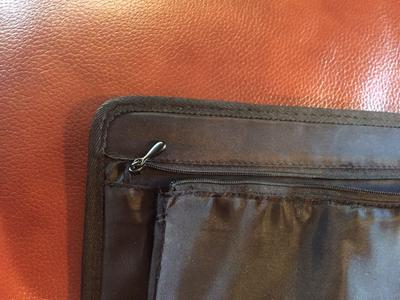 Rated

4

out of

5
 by
Stiltbeast
Nice design
This is a very versatile unit. I bought one to use as a small tool kit in my car, but I will get another to hold some of my larger sculpting tools. I like it.
April 29, 2014
Rated

5

out of

5
 by
eeeky
Great organizer
I use these to organize my cables and they are a lifesaver. I can look at it really quickly and find the cable I want. Before they were in a box and I had to dig to find the one I wanted. They hold my cables securely and I am not worried about any of them falling out. I am planning to order another one for travel.
March 24, 2014
Rated

5

out of

5
 by
JohnC
Really Good
Works as advertised: it really organizes all of the clutter in my briefcase for things like headphone cords, power cords, etc. Wish I bought this a while ago....
March 24, 2014
Rated

5

out of

5
 by
Hori
Amazing product
I like this one very much. Actually bought for my wife, so she could organize her purse. But, I used once to put all gadgets, wires, connectors and a/c adapters, and its fantastic. All strings are rubbered so your gadgets don´t slip, they are also modular, so anything, any size will fit. Want to buy one for myself;
February 14, 2014
Rated

5

out of

5
 by
PostMBAOrganizer
Excellent for Travel & Every Day Use
I purchased two of the GRID-IT organizers - one for me & one for my boyfriend. This was such a smart, practical gift. We both use it when traveling for tech devices, but my boyfriend also uses it on a day-to-day basis to corral his photography gear. An easy win for nearly anyone on your gift giving list!
December 27, 2013
Rated

4

out of

5
 by
Thwiipp
Great Organizer
I picked this up recently after seeing a post on lifehacker. I have to say it is better than i expected. Nice to have everything in my bag stay put and easily accessed. Nice that i can just take the whole thing out and just throw it in another bag for travel. Great item, but a bit on the pricey side. If it was cheaper I'd get a few more for myself and others.
August 8, 2013
Rated

3

out of

5
 by
DexterousDiva
It takes creativity
It's great if you can find a place to store it and be able to have the ingenuity to fit everything you can on it with the ability to get that item off without affecting the other items. It's great for small things that get lost at the bottom of a bag.
June 8, 2013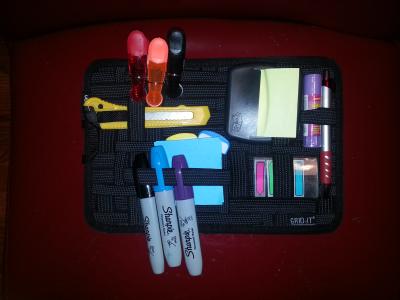 Rated

5

out of

5
 by
TotalGadgetGeek
Use for all kinds of things
I used to hate to try to carry cords, ear phones and other wired items until I bought my first Grid-IT. The small one is small enough to fit in most of my purses, and it makes carrying miscellaneous tech gear so easy. The varied spacing of the elastic straps makes finding the right place for items of various sizes so easy. It works for make-up, meds and other items I often need while traveling, as well. I have started keeping a few of these on hand in case I need a last minute gift for anyone with a cell phone.
April 26, 2013
Rated

5

out of

5
 by
Harmon
Great Grid
This product was a gift and we use it for my husband's briefcase and travel to organize his small tools, flashlight, camera, and chargers. It fits into a briefcase nicely and can easily be switched to the car, home, or office. Everything stays neatly in place but in plain sight.
March 18, 2013
Rated

5

out of

5
 by
HoosierGirl
Great idea!
We bought 2 of these. We put one in the DVD player case in the car. It holds all of the cords neatly & fits perfectly in the case. The second one is in the consule of our truck. It keeps everything neat. When the console is raised everything drops to the back. This product keeps that from happening.
February 18, 2013
Rated

5

out of

5
 by
jpv16nin
Great Product! Very Useful!
This is a great, innovative product. I am able to fit all the misc. things from my purse on this Grid-it. When I need something, I just pull out the whole thing and grab what I need, rather than dig, endlessly in the pit that is otherwise known as, my shoulder bag. Very useful and easy to use.
February 18, 2013
Rated

5

out of

5
 by
betsybug
Awesome!
Just what I needed to take a road trip over the river and through the woods to Grandpa's house we go. Not 2 minutes of pulling out of the driveway my 13 year old son lets me know that his headphones are dead. Packed the Grid-it the night before and threw it in my purse. . . working headphones were there ready for using and a peaceful trip to Grandpa's.
December 30, 2012
Rated

5

out of

5
 by
Bucks
Amazing!
My family loves Grid-its! My husband travels alot & uses the one with the case for all of his chargers. My daughter has one for her Ipod.
October 31, 2012
Rated

5

out of

5
 by
Sarahbeth
car visor
I wanted an organizer for my visor in my car, so I ordered this. It has no way to attach it to the visor, so I stitched elastic to the back. I used thin elastic & crisscrossed it along the back. It has remained in my car for over a year, & I have no regrets! I live in an area with a bad crime rate, so I put everything I don't want stolen in this. (No one looks at the ceiling for valuables!) My ipod, chargers, registration, proof of insurance, & even my phone goes up there. In the zippered pouch in the back, I leave some cash in case of emergencies & an extra house key. This product is easily the best organizational tool I've ever purchased.
July 17, 2012
Rated

5

out of

5
 by
LoveOrder
Excellent Product
I liked it a lot because it is a good way to keep all your cables and charges in one place, it is perfect for traveling and it is a good present for friends and family.
April 27, 2012
Rated

5

out of

5
 by
KBinSA
Best Organizer Yet
I purchased several of these as Christmas gifts for co-workers and one for myself. Love it! It keeps all the cords for my electronics organized and I can easily move it from my computer bag to my purse and have all the accessories I need for wherever I'm going.
March 19, 2012
Rated

5

out of

5
 by
adde
Overpriced, But Lasts Forever
I love this product and have it in almost every size. It organizes all the small things, especially cords, lighters, chapstick, pens, etc. I keep one in my glove box and one in my back pack. They are durable and last a long time, but they are not meant to hold heavy things. You also have to play around with it to get the most things to fit, but it's kind of fun to move items around like a puzzle. I love the zipper pocket in the back for post it notes and such, but it doesn't come with a zipper pouch on the square ones with a case.
February 26, 2012
Rated

3

out of

5
 by
alexandra76
A little disappointed in you grid-it!
I bought one for my techie husband and one for myself in the medium size. We both travel a lot and have ipods, phones, chargers, etc. It didn't hold cords as neatly as I had hoped, and really the capacity was not that great. Also, the product is heavy, so with cords etc. it was REALLY heavy. Maybe I was too ambitious and overloaded it, but I want all my electronic stuff in one place when I travel, and this wasn't cutting it. I'll go back to using a plastic bag. I did see on the reviews that a few people use it for their purse, so I will try just putting my phone and blackberry on it and putting it in my purse bc I hate fumbling for that stuff as well.
February 15, 2012
Rated

4

out of

5
 by
junebb
another good purchase
Good product. as described. would like to have a smaller version that fits easily into handbag
January 6, 2012
Rated

4

out of

5
 by
soccerchix
Cute idea
I purchased the small, it is pretty small like about 6 inches long. Looks like a cd holder for your visor for you car. It is being used for going back to college, and being put in my backpack. It is nice for ipod, pens, pencils, chapstick. I will now purchase the large one next.
April 13, 2011
Rated

5

out of

5
 by
Akelly
I was given the grid-it as a gift and it has been the best organization tool ever. It can store and organize an incredible amount of items that would normally fall to the bottom of a big tote bag and cause a mess. The grid-it takes all of these items and secures them in one place. I would highly recommend this product to anyone that carries chap-stick or a cell phone or pens and pencils or an iPod, etc.
March 6, 2011
Rated

4

out of

5
 by
timps
Good for traveling
I originally wanted the medium size, but it was sold out at the time purchased. I'm glad I went with the small. This is a great, easy access little diddy that holds iPod cords, a couple of iPods, chap stick, etc. all together. I loved being able to just pull one thing out (on the airplane) and not having to search around for things in my bag.
February 15, 2011
Rated

5

out of

5
 by
ConnieW
Love this thing !
I recently purchased the small Grid-It and just love it ! It is so handy to carry in purse/tote bag and also organizes all my stuff on my desk at home and at work. I love not digging thru my bag to find my phone, ipod, charger, etc. Highly recommend !
February 15, 2011
Rated

5

out of

5
 by
skirk94
Best Desktop Organizer EVER
I work from home and have taken to piling things (staplers, calculator, pencils, binder clips...) all over the floor. I purchased the smaller version of the Grid-It and I'm so happy with it. It keeps my phone, calculator, stapler and pencils close at hand all in a nice flat and functioning "container". The flexible rubber bands can easily accommodate any type of small office item.
January 21, 2011
Rated

4

out of

5
 by
Lucky3
handy organizer!
Grid It lets me keep loose objects in an organized fashion - can pop it in my purse or carry-on - now I don't have to fish around for all those small gadgets that I usually throw into my purse (where they get lost) - best of all, it lets me put all sized gadgets on its grid!
November 30, 2010
Rated

5

out of

5
 by
Jeannes333
So clever
This is so handy and clever to keep your things organized. I've put all of my Ipod items on this: Nano, Itouch, cords, chargers, etc. are now in one place. Love it.
August 27, 2010
Rated

5

out of

5
 by
WishingForOrganization
Helps untangle the wire jungle
I have a couple of Grid-it Organizers to keep laptop, I pod and camera cables and accessories (filters and extra memory cards) in order, easy to find and readily packable. The small will fit the rectangular Grid-it Case. You can easily switch out what is carried in the protective case.
August 14, 2010