Rated

5

out of

5
 by
OrgZen
Cable Heaven part 2
These cable ties are awesome. In the images attached, you can see an in-process and finished project using the following products: Cable-ID(s), Command (Silver) hook, Command cable hooks (hidden from view), and Cable Ties. See my separate reviews on each of these products ... This is one location (of many) where I used these super functional items to tame the cable beast. So organizationally Zen.
August 16, 2015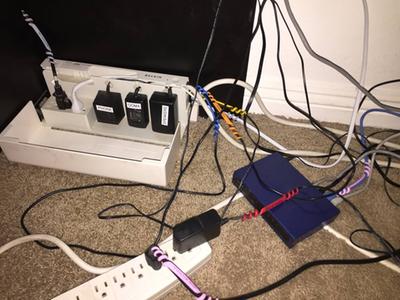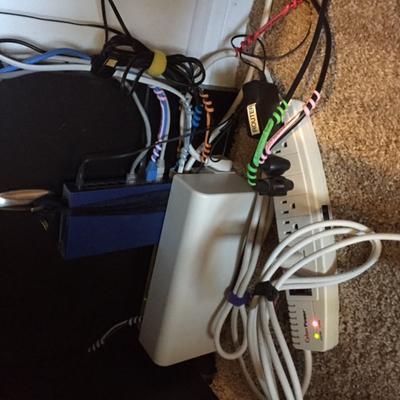 Rated

5

out of

5
 by
J0728
easy to use
Great for long cables. The colors make it easy to see who cable it's for.
May 24, 2015
Rated

5

out of

5
 by
Pjpatnea
Love these ties
I am a electronic crazy person; I have an I-pad, 3 e-readers, I-pod, several wi-fi speakers, smart phone and along with all this comes a tremendous amount of cables. When I pulled out one cable I always got multiples! It was crazy. Now they are all bundled with these wonderful little ties and I an no longer fighting the cables in my bag! Love them.
June 24, 2014
Rated

5

out of

5
 by
CapeCodBabe
Solves many problems
I use these ties to sort and separate flatware. Now I can find that special utensil in my drawer
April 26, 2014
Rated

5

out of

5
 by
Renato
Useful product
Nice product, very useful and well designed. Worked very well in my home
March 5, 2014
Rated

5

out of

5
 by
JSPTOCS2
Very useful
Love the cable ties! Have them used all over the house! Would like to be able to buy them in a particular color in addition to the mixed colors currently available, but otherwise have a couple packs on hand at all times.
January 20, 2014
Rated

5

out of

5
 by
MooreWife
Excellent and affordable
These are an excellent way to shorten excess cords from becoming a huge mess. Color coding feature useful for behind the TV tying, so you know what is what. They are a very affordable option vs. a lot of other brands and styles of cable ties. I have a laptop that has a similar style of cable wrap, and I always wanted to have additional ones as they are very neat, and simple. I will purchase more of these very soon!
November 13, 2013
Rated

5

out of

5
 by
pegjamo
Cable ties are the best!
I've struggled with messy cables forever, and wire ties are a pain, have to be cut and re-done every little shift. These are wonderful!
April 26, 2013
Rated

5

out of

5
 by
ones2006
Bought These After Returning A Different Item!
I would recommend the Case Logic cable ties made with velcro. I purchased the product in-store. The item came with six straps. The colors that came in the package were yellow, red, a nice lighter colored purple, dark forest green, a very dark navy blue, and black. I like the purple color a lot. These cord wraps are a good alternative to the medium and large Bobino cord wraps. I just returned a bunch of those and bought these instead. I do not consider it a negative point that these do not have a loop to attach the strap to the cord while the cord is unwrapped (as one reviewer does). The item is made of a somewhat stiff material, so after it has been wrapped around the cord for a couple days, it retains a round shape. The round shape makes it easy to loop around and store on an unwrapped cord. I have used this successfully for a Blackberry phone cord, and I liked how it worked. I have not tried it on a very thick cord yet. This may seem like an obvious tip, but it is much neater to pinch one end to the cord and loop it around until the velcro attaches rather than looping it around once and leaving a bunch of the velcro strip hanging off.
December 27, 2012
Rated

4

out of

5
 by
wellorganizedgal
These are great!
I love these ties--I keep a phone cord in my purse and the tie keeps it compact and neat. I also use the ties for other cords around the house.
April 27, 2012
Rated

1

out of

5
 by
lmh145
Better Product Elsewhere
It does not have a loop at the lead to secure the cords. I returned the product.
October 24, 2011
Rated

4

out of

5
 by
trurolady
tight wrap
the ties allow you to bind multiple cords securely
April 3, 2011
Rated

5

out of

5
 by
Musician
I love them!
It's a small price to pay to become a lot more organized!!!
March 10, 2011
Rated

5

out of

5
 by
wgalkow
Great cable ties
Very easy to get organized with these ties. No more wires hanging around.
July 12, 2010
Rated

5

out of

5
 by
Lilly
Best invention ever
These cable ties are a great product. I use them to keep all my cables and cords organized. I no longer have to spend time detangling my cords that charge my laptop from the one that charges my cell phone.
May 17, 2010
Rated

5

out of

5
 by
AJReviewer
Multi-use
Love these! I bought a few sets and use them in many different ways around the house, not just for cable ties. Easy to use, strong sticking velcro. I also have a few in my car in my emergency kit for any MacGyver needs.
May 17, 2010
Rated

5

out of

5
 by
RazorbackGirl86
Excellent Product!
I love these cable ties. I have so many cables in my computer bag, and these ties keep everything organized and untangled. They will bundle cords of any size, large or small. They are very durable and easy to use. I also use the ties to keep television wires from hanging loose and dragging the floor. The price is also excellent; a great value. I would definitely recommend this product.
May 17, 2010
Rated

5

out of

5
 by
Annie48
Useful
I use these to keep my curling irons, dryers, and flat iron cords wound up. Makes for neater storage.
May 11, 2010