Rated

5

out of

5
 by
loriannav
It's the little things...
As a frequent business traveler, it's the little things that make travel a bit easier. I replaced a set of the small Nalgene bottles (also from the CS) with this set of GoToob's. I was a little hesitant because of the price, but it was money well spent. What I like about these: -Ease of dispensing - The squeezable silicone tube is a huge improvement over trying to knock shampoo out of the Nalgene bottles like ketchup. Also, since these sit with the cap down, the product is ready to dispense. -Colors - Having different colors in the set is a huge help in knowing instantly whether I'm grabbing the shampoo or conditioner. -Leak proof - So far, these haven't leaked. The diaphragm inside the cap does a good job of keeping the bottle clean too. The cons: -Labels - Although not entirely necessary because of the color coding, the labels are difficult to read until you get up close. I might try coloring the letters with a Sharpie to see if that helps. Also note that the label stickers I have wouldn't stick to the silicone. -Space - Because of the design which has to capture the silicone tube, the lid is a bit large. I've compared this to another brand and it seems to be just the way these are. Overall, these have been a huge improvement and I'm quite happy!
September 22, 2016
Rated

4

out of

5
 by
Princess78
No Leaks Here.
Finally a travel container I don't have to put in a zip lock bag! This actually clicks closed. Also easy to squeeze contents out.
January 11, 2016
Rated

1

out of

5
 by
ByTheSea
Great idea BUT...
Great idea, great size, and convenient BUT after a short period of time both my lotion and my shampoo became congealed and un-usable. (I can only guess that the tube allowed the moisture to escape?) Bottom line... cleaning them was impossible and I threw them away. I do not recommend them.
November 23, 2015
Rated

4

out of

5
 by
Milo
Travel friendly.
These are best to use for what they are intended for: 'Traveling' and it isn't a good idea to use for long term at home. Why? It's because of the plastic cap. Mine did not broke yet because I haven't been using it for a long time now, but if I did, I can feel how fragile and easy it is to crack. I hope the brand would consider upgrading the cap, become sturdy and durable like the silicone tube. Also, I would not recommend putting regular coconut oil inside the tube unless you live in a hot climate. Coconut oil easily hardens on cold temperatures. I've included a photo for size reference. I expected the 3 oz. gotoob to be big like it is shown on their website, but it turns out not. My small hand can hug it completely. Small but surprisingly spacious container.
March 21, 2015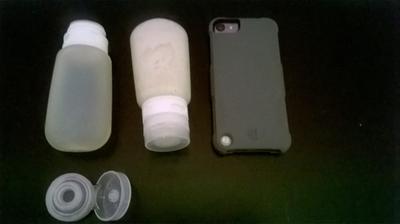 Rated

5

out of

5
 by
Kaseyb
Expensive but so convenient!
Finally broke down and bought these, they're amazing
December 27, 2014
Rated

5

out of

5
 by
Elmi
Works marvelously
Got the go toobs right before we left on a trip. I put lotion into the go-toob and it worked just as they stated it would! No leaking, no oozing, no dripping and it is a pliable plastic that is easy to squeeze. The lotion came out in a controllable stream, too! Love it!
July 27, 2014
Rated

5

out of

5
 by
510thehood
Goo is good for you
I thought I would like these and I do. But I was surprised to learn that they are also food safe which makes containing the goo, even better. More uses more goo = good.
July 2, 2014
Rated

5

out of

5
 by
Margjane
The best!
Recommended for thicker liquids like shampoo and conditioner. Lightweight, easy to fill, dispense without mess and do not leak. I like being able to squeeze contents out, rather than shake/tap from a rigid bottle. Labels are a bit hard to see but not a big deal. These are worth the extra cost, IMO. Was so impressed that I ordered more for friends, along with the equally great standing toothbrush holders.
June 25, 2014
Rated

5

out of

5
 by
sportygrlSD21
Best Travel Containers!!
Every time I travel for vacation, I always buy the cheap, flimsy, screw top bottles and was never satisfied with them. One day, I was browsing for other items at the container store and stumbled upon these. I hesitated to spend $25, but I ought to say I made the best decision! I recently traveled to Cancun, Mexico by plane, and I used these bottles for my shampoo, conditioner, and face wash. Here are the reasons why I love this product: - bottles are soft, see through, and comes in three different colors - sturdy - comes with a built in label - no need to worry about the label sticker coming off or writing on the bottles - easy to squeeze to get the product out of the bottle - leak proof I am very happy that I have found these travel bottles that can last me a lifetime.
June 3, 2014
Rated

2

out of

5
 by
Gman
Leakage
This product was not able to stay completely closed during my two week European vacation. It leaked everywhere.
May 16, 2014
Rated

5

out of

5
 by
Tulum
Pricey, BUT worth it!
Have purchased travel tubes before and hated them - leaked, flimsy and generally disposalable. I hesitated at the $25 price point in these and don't regret the purchae a bit. Simply, they are the best I've ever traveled with - sturdy, don't leak and even come with the cap that adjusts for the correct labeling of contents.
April 28, 2014
Rated

5

out of

5
 by
2Olives
Best Ever Travel Containers!
We travel constantly and after years of small screwtop bottle loyalty I found these. They feel nice, they look good, they work. They stick to the wall wherever you go. No more bottles propped in corners and on floors. Expensive but I love them!
April 26, 2014
Rated

5

out of

5
 by
aporthos
awesome travel containers
I love these containers because they are soft so easy to get the product out of the bottle and it is somewhat clear so you can see if you are getting low. I also like the built in label so you don't have to worry about which one is the soap and which one is the shampoo.
April 25, 2014
Rated

5

out of

5
 by
sydduu
Great Product
I have tried other travel containers and found these to be the best. The lids are secure so they do not leak and they are easy to fill and use.
March 5, 2014
Rated

5

out of

5
 by
Organizationguru
Awesome travel tubes
This product is perfect for travel size liquids. You can rotate the collar to label what is in the tube. It sticks to the wall of the shower for easy access. The opening has an extra seal that prevents explosion during air travel.
January 2, 2014
Rated

2

out of

5
 by
gcaryh
Nice design but leaks
I purchased these for a recent trip. Was glad I first put them in a zip lock bag. The shampoo bottle which was only 2/3rds full leaked all over. The bottle containing a heavy moisturizing cream and one with conditioner did not. Considering the high price, I expected more. They do have a nice spout that allows you to hold it facing down and the contents do not come out until you sqeeze the bottle. I purchased these because they feel soft in your hands.
September 29, 2013
Rated

4

out of

5
 by
Julester
Julester
I LOVE these. I have a whole cabinet full of travel containers, most of which leak or are so hard that you can't squeeze the product out. These squeeze nicely, and don't leak. They're a bit pricey, but I wouldn't use anything else. I don't really use them, but can attest that the suction cups do work.
April 30, 2013
Rated

4

out of

5
 by
Melissa31
Perfect for travel or gym bag
I love these! They are easy to refill and the different colors make it easy to tell which contain what (I keep shampoo in the green, body wash in the blue, and body lotion in the clear). I keep them in a 1 quart zippered vinyl bag in my gym backpack along with deodorant, a razor, travel toothbrush & travel size toothpaste so everything I need to freshen up after my workout is all in one spot. It's also easy to grab the bag and toss into my suitcase when I travel. The words on the label rings are difficult to read, but I usually remember by the color of the bottle anyway. I might shade the raised letters with a permanent marker though if I ever need to switch what's in each container in the future to make it easier to read. The suction cups usually work good but every now and then I have to try several times to get it to stick.
April 29, 2013
Rated

4

out of

5
 by
MaggieMae86
Great for Traveling
I got these last year before my trip and I love them. They are easy to fill and easy to clean. I gave these four stars because the suction cups didn't work all that well and they kept falling down, but it may have been the shower surface they were on. Overall they are definitely a must buy.
April 26, 2013
Rated

5

out of

5
 by
TraceyA
Works for Me!
As a flight attendant for more than twenty years, I have tried many different travel bottles and containers. After losing a considerable amount of expensive foundaton to leakage from the manufacturer's lackluster packaging, I transfered my makeup into one of these tubes. The Go Toob has kept my foundation fresh and best of all, it has not leaked in my makeup bag! It is easily filled and just the right amount comes out when squeezed.
March 29, 2013
Rated

4

out of

5
 by
kkco
Pretty good
I like these, but their shape means that they take up quite a bit of space in my 1-quart carry-on ziploc bag.
March 18, 2013
Rated

5

out of

5
 by
CSFan1983
Great Travel/Gym companion
I was really impressed with the design and attention to detail that went into this product. Not only is it good looking, easy to carry and leak proof, but the suction cups and the easily changeable names on the bottle make them extremely convenient.
March 2, 2013
Rated

5

out of

5
 by
halfmarathonmom
Great for my swimmer
Finally broke down and bought these after going through several inexpensive ones from the travel section at my local discount store. These are great! Dishwasher safe, they don't leak and they suction to the shower wall which makes her less likely to forget them. Definitely worth the investment.
February 22, 2013
Rated

5

out of

5
 by
Verified Reviewer
Great travel product
I bought a set and although I thought initially, they were expensive, they are actually well worth the price. I am able to use my own products from home, put them in this squeeze tube (it has a wide mouth so it's easy to fill), and I always have my favorite items ready to go for when I travel. Plus, since they are various colors, it's easy to remember which one is which, where is plain clear bottles, you might mix up your items since they are NOT color coded. I dropped one and the top cracked, so I contacted the manufacturer and they sent me TWO new tops for free!!
February 17, 2013
Rated

2

out of

5
 by
ContainerFan58
Disappointed
The silicone is like a magnet, attracting anything lightweight nearby. One bottle got a hair stuck on it and it was impossible to wipe off the silicone...had to wet the bottle to get it off. The so called labels around the collar are difficult to read, since they are raised letters of the same color. And when I went to put labels that I can actually read from a label maker on the bottle itself, as I've labeled other regular plastic bottles in the past, the labels don't stick to the silicone. Won't be keeping them.
November 9, 2012
Rated

3

out of

5
 by
WillsMom
Pretty good
I bought these for extensive travel. They leak a bit when in the hold of the aircraft, but not at normal pressure. Attractive and well-made, but a bit pricey for what they deliver.
April 27, 2012
Rated

5

out of

5
 by
Maumelle
Great Product
Great product! I bought these based on the previous reviews I read. I use them to put my lotion, body wash and shampoos. They are super easy to fill and use. I like how they don't just pour out of the tubes. I liked them so much, I went back and bought 2 more set for my mom and sister.
April 27, 2012
Rated

5

out of

5
 by
suryonhan
love it
I am a frequent traveler and have bought every container known to man but this product is THE best I have yet to use. It never spills! The grip is very soft and comfortable. The dial to label the liquid is super helpful. Overall, this is a great product!
April 2, 2012
Rated

4

out of

5
 by
Subrossnoah
Good Travel Product
Good product that did exactly what it was supposed to do. Didn't find that the suction cups worked well but didn't explode ;)
March 19, 2012
Rated

2

out of

5
 by
Sallydecorator
These DO leak on plane travel
I was so happy to get these. When they arrived I filled them up and tested them to make sure they were leak resistant. I love the texture, the easy-squeeze, and the large opening for filling. However, I travel a lot for work and I'm telling you they leak like crazy on airplane travel.
February 25, 2012