Rated

5

out of

5
 by
cay24
Well Conceived Container
If you take the time to store the Bandaids and Neosporin from the four or five different places that they presently reside and place them into this container, when the inevitable cut occurs, you'll have everything in one place and treat the injury more quickly. You can also toss out the flimsy boxes in which Bandaids are currently packaged.
July 23, 2015
Rated

5

out of

5
 by
OrganizedFreak
No More Searching in Multiple Boxes
It's exactly as described. The back not shown is for bigger bandages and stuff, fyi. I'm so glad I got this it's awesome.
May 14, 2014
Rated

5

out of

5
 by
Dee16
Bandaid Box
The box has room for all sizes of bandaids with back compartment for gauze. Fits in medicine cabinet, too. I bought two extra for stocking stuffers because they were red and on sale.
April 5, 2014
Rated

3

out of

5
 by
JohnMH
Great idea but flimsy hinges. They are tiny plastic tabs that break off. Order 3 received one with top tab already broke off. Another broke off after opening it 3 timed. If they can design a better stronger hinge, I would recommend it.
December 17, 2016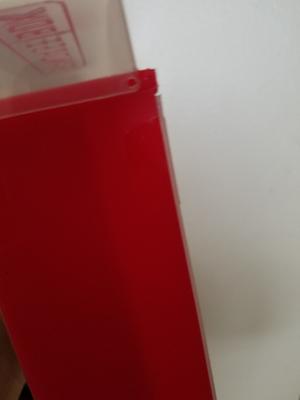 Rated

2

out of

5
 by
mnkelly
Great Idea, Not so great product
Loved the idea. However, it is so cheaply made. The hinges broke off on both the pull out and snap top as I was putting my band aides in.
November 13, 2016
Rated

5

out of

5
 by
Shannad21
Love it!
Definitely would buy again! Holds everything in place very well. Not difficult to open at all.
February 22, 2016
Rated

4

out of

5
 by
SmilesALot
Really Useful
I'm glad I found this box - it is so helpful and the separate compartments are great. While not perfect - it is a huge improvement over the mess I had before trying to find certain size bandaids all jumbled together.
February 19, 2015
Rated

4

out of

5
 by
Glaplante5
Bandage Box Review
Good little storage box. Doesn't hold quite as much as I thought, but keeps everything in one place.
February 7, 2015
Rated

2

out of

5
 by
bells42
Needs improvement
This is a great idea, but the lid for the antibiotic cream won't stay closed. Bought 2 of them (1 for ea. bathroom) and the lids on both wouldn't stay closed. If this were fixed, it would be a great product.
July 7, 2014
Rated

4

out of

5
 by
1OrganizedWoman
Perfect Solution
Every time I needed to find a band aid, I had to sift through dozens of scrambled sizes to find what I needed. Now, the three standard sizes are sorted and separated so that I can quickly grab what I need at a moment's notice. This inexpensive container has totally fixed my messy first aid kit.
July 5, 2014
Rated

2

out of

5
 by
countrygirl
OK Box
This is just so-so. Not easy to use inside the medicine cabinet, you really need to take it out. The compartment that holds the band aids tips forward for you to use, but isn't very stable. If I lived closer to a store I would have probably returned it.
June 9, 2014
Rated

4

out of

5
 by
Seagal30
Great find!!
I love this little bandage organizer!! For an organization junkie like myself it's like, finally!! How has this not been invented yet??!! Only complaint is in regards to the top ointment cover- it's flimsy, doesn't lock into place and is constantly flopping open- sort of defeats the purpose of having the ointment part but the rest of it is great enough that I'm willing to make due with that one little design flaw.
April 26, 2014
Rated

4

out of

5
 by
OrganizerPre
Good Buy - But Could Be Improved
This was a great way to combine all the half-empty boxes of band aids that were around my house. Plus, the compartment for the antibiotic cream means I always have what I need handy! I am happy with the purchase, but I wish the compartments were deeper. I still have a regular box holding the ones I couldn't fit. I haven't had any problems with it breaking, but I can tell the plastic is pretty flimsy. If you are looking for a way to keep your bandages organized though, I recommend it!
April 25, 2014
Rated

5

out of

5
 by
SuperMom2001
Great storage container
Great way to keep all of the various size bandages in one location. Cleaned up my bathroom just by getting rid of all of the individual boxes and it fit in my medicine cabinet. Great purchase!
April 24, 2014
Rated

5

out of

5
 by
florabora
Clever Storage
I love this container unit for Band-Aids. I always have open boxes of variety size Band-Aids that clutter my closet. I like tis container because it neatly stores a variety sizes of Band-Aids. On top you can place inside the neorosporin. On the back you can place big bandages. I like this because when I go on hikes I can just grab this container and I have a first aid kit to go.
April 24, 2014
Rated

5

out of

5
 by
ColoradoBruin
Great Purchase
Now I have all my bandaids organized and ready when I need them!
April 23, 2014
Rated

4

out of

5
 by
InLoveWithIt
Good especially if you have kids
This little box for band aids is a must have if you have kids. Great for separating out different sized bandaids and storing ointment and gauze.
April 22, 2014
Rated

4

out of

5
 by
PersonalHistorian
Great box, but a little small
This box was great for consolidating the several paper boxes of bandages in our house. However, it didn't hold as much as I'd like (though it holds plenty -- we probably just have a ridiculous amount of bandages).
April 17, 2014
Rated

2

out of

5
 by
mermaid1
bandage box
the box is nice, but it doesnt close well. the openings for bandaides and supplies is small. doesn't hold much.
April 15, 2014
Rated

5

out of

5
 by
KYMom23boys
Convienent
This box is great for grabbing exactly what you need on the spot OR taking the whole box and throwing it in my purse for outings OR in the car for road trips!
April 15, 2014
Rated

4

out of

5
 by
MartyC
Nice, but....
I liked the idea of having a tube of antibiotic with the band aids, but the lid simply closes shut--it does not latch shut, so this limits how this can be used. The top won't stay closed when moving it around, etc.--you could easily lose the associated tube. it's okay, but I would not have bought it if I had realized that.
April 15, 2014
Rated

4

out of

5
 by
SandytoesMcGee
Medicine Cabinet Fixer-upper!
I got this in the mail and immediately went to get all of our boxes of random band-aids as well as our antibiotic cream and put this box to the test. The antibiotic cream fit perfectly with room to spare (enough room to put a couple of alcohol swabs). The large bandage side was great for the few larger random size bandages I had. The other side is divided into three sections to accommodate various band-aids and it worked well. I gave it four stars instead of five because I wish the divided band-aid sections were a bit deeper to hold more band-aids. Also,I did not find it flimsy as other reviews had stated but the to piece did pop off when placing the cream there. It was very easy to put back on and I do not see it being a problem at all. It was a great solution for organizing our medicine cabinet, not having all of those little boxes and creams falling out of the medicine cabinet when you open it up. I would highly recommend it - I will be purchasing one for my office as well
April 15, 2014
Rated

5

out of

5
 by
rosearbor
a terrific little organizer
All bandages plus the antibiotic cream in one place. Got rid of all the small boxes! Bright red makes it easy to find.
April 14, 2014
Rated

4

out of

5
 by
Scoops
Really good for being able to instantly see how many of each size bandage you have on hand. I was able to get rid of no less than 6 boxes that were laying in the cupboard--some with only 2 bandages in them! I used the "thermometer/tweezer" compartment for larger gauze pads and smaller "spots" bandages. As mentioned in other reviews, the latch on the compartment for the antibiotic cream is pretty wimpy, but I wanted this box mainly for the bandage organization and I may just remove the lid if it refuses to stay latched. It comes off easily and won't be apparent that I removed anything if I choose to go that route.
April 14, 2014
Rated

5

out of

5
 by
denheels
so simple
Will repurpose the ziploc bag and am now able to find the bandaid I need.
April 13, 2014
Rated

5

out of

5
 by
HollywoodGirl
So great I bought 2!
Tired of my bandaids spilling out of their flimsy boxes into an unusable mess on my floor, I bought this product. It's fantastic. Keeps them clean and organized, plus the antibiotic ointment compartment on top is helpful. I also keep my individual packets of alcohol swabs there. I bought a second box and labeled it latex-free because I have a latex sensitivity and this way I won't make the mistake of using the wrong ones. Highly recommend.
April 12, 2014
Rated

5

out of

5
 by
Perfect
Love this
I have always hated how the band aids would fall out of the paper boxes they come in and end up all over the closet. This is the perfect solution to that problem.
April 9, 2014
Rated

5

out of

5
 by
TelephoneC
Great for Organization
My husband and I share our lives with parrots who inevitably nip our fingers. The bandage box makes it very easy to grab the size of bandage that you need without rifling though a multisize box trying to find the tiny bandages. It also lets me see what needs to be restocked. I love that there's a place for some antibiotic cream, too. There are generally a few tubes floating around the house, but I always know there's one in the box. The other side of the bandage box is one large compartment. Its not very deep, but you could put some flat gauze bandage packs or some individually wrapped alcohol swabs in there.
April 8, 2014
Rated

4

out of

5
 by
theperfectionist
The last frontier
When you get to the point that you are organizing your bandages, you have reached the final frontier, You probably already own one of everything at the Container Store. I ordered 2 of these and am basically pleased. This is the ultimate in being able to find what you need quickly when someone is cut and bleeding. It is not too clear from the drawing, but there is a second tilt out compartment on the back for large size bandages and accessories like small scissors and so forth. I used one organizer for the knuckle and fingertip bandages side by side, and the other back compartment will be used for the large 2"x3" bandages. I found only 2 negatives. First, the tilt out compartments are somewhat difficult to open, but it takes less time than locating and opening up every bandage box to find what you need. (I also put labels on the front to distinguish the Mickey Mouse ones from the Ninja Turtles. In a crisis, you don't need a child throwing fit on top of the injury because you grabbed the wrong character.) The second thing is that the plastic seems brittle. One of them arrived broken, with one end of the flip top broken off. (Of course, Container Store is replacing it at no cost, and did not require that I go through the hassle of returning the broken one. Kudos there.) I am not sure that it would survive being dropped on a tile bathroom floor. Still, I would probably buy a new one if that happened. Now that I have this, I am hooked.
April 7, 2014
Rated

4

out of

5
 by
CMC7
Just what I needed
I but band aids in bulk because of my six year old boy. They end up all over the place and I can never find the Neosporone when I need it. This is fantastic! Everything in one place.
February 27, 2014