Rated

5

out of

5
 by
ShesSoOrganized
Extremely convenient bag holder
These are used daily in our vehicles. Hanging a catch-all bag from one of the hooks helps us stay clutter free. When on long trips, its a great way to hang a bag of things like an umbrella, pillow, blanket, water bottles, and snacks. It also comes in handy with grocery/shopping bags that we may want to have off the floor. Genius invention!
September 23, 2016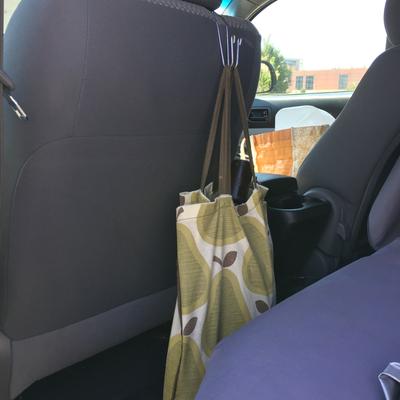 Rated

5

out of

5
 by
Texasbrit
Can't do without them
These are so simple they are genius. Gone the days when I grovel in the bowels of my car floor for purse, cell, pen, credit cards etc. when I stop suddenly and my purse and contents shoot off the seat and scatter. Don't know how I lived without them. Giving them to all my female family, friends and clients. Note with the close spacing of headrests it's tricky to hook more than one large item on each side but I'm fine with that. I hook my work tote on the back and my purse on the front. Added perk is it keeps both pristine clean! Love love love them!
May 12, 2015
Rated

5

out of

5
 by
MamaCioccolata
Shopping Bag Hooks
Whoever thought of these car hooks was a genius! I love them. Only bought one set for the back of driver seat, but will purchase another set for the passenger side seat as well. I use them frequently.
June 7, 2014
Rated

5

out of

5
 by
ladycat1170
Perfect
Sice I don't have a very big car, I love them as they keep the bags exactly where I placed them without falling over
April 23, 2014
Rated

5

out of

5
 by
Nuzediter
Need to get more
I bought a set to hang my daughter's backpack. Works great.
April 22, 2014
Rated

4

out of

5
 by
Luvurproducts
Great Product
I recently purchased this product not for it's intended use but rather to keep my purse from falling off the seat. I installed the hook on the front passenger seat closest to the driver's side facing forward and then hung a tote bag on it. Now when I travel, I place my purse inside the tote bag so it's not visible (think safety). Upon getting to my destination, I simply pull it out of the tote. No more reaching for my purse on the floor or it's contents.
April 2, 2014
Rated

5

out of

5
 by
Umsa
Genius!
If you're going to spend all that money on a nice purse, why let it roll around on the car floor?! Easy driver reach. I adore it, going to buy more for hubby and mom.
April 2, 2014
Rated

5

out of

5
 by
Buddie
Great for the car
I love these. Perfect for keeping purse off of the floor of the car.
March 18, 2014
Rated

5

out of

5
 by
GoBigMoe
Great idea
These are out of the way, but very handy. I will be using the dab of glue that others have suggested. I will also be buying a second set.!
February 22, 2014
Rated

5

out of

5
 by
Carlarw
So much easier
These hooks are great to hang your purse or shopping bags on so they don't sit on the floor or roll around when turning corners.
February 21, 2014
Rated

5

out of

5
 by
None4
Really strong
This product is strong enough to hold a lot, but is still unobtrusive. It is easy to attach and remove bags, etc. from these hooks.
February 15, 2014
Rated

5

out of

5
 by
johnsmel
Why didn't I think of this!?
These hooks are genius. We have a litter bag with a hanging strap and it works perfectly with these hooks. Everyone can reach it and the hooks keep it off of the floor. I bought a second set and when my small granddaughters ride in the car I can hang their activity bags from the hooks. I read the other comments and added a dab of glue to the insides of the plastic caps to prevent them from coming off.
July 2, 2013
Rated

5

out of

5
 by
momof2js
Great Product
I love these hooks! My old car had built in hooks. My new one doesn't. Chrome Car Hooks came to the rescue! They hold bags of all weights. I've put grocery sacks with no bending. They hold my pocketbook when I have a front seat passenger. The only problem I've had is that the rubber end covers keep coming off. I'm going to try gluing them in place.
March 16, 2013
Rated

5

out of

5
 by
SteelersGirl
Car Hooks to Happiness
These clever hooks resolve a multitude of challenges. We keep ball caps in the car and they are perfect to keep them at arms reach and out of the way. A must have for every car or truck. We'll buy a second set for our truck now that we know how well they work.
February 21, 2013
Rated

5

out of

5
 by
utox2rox
Great place for a hook
When I read the description of this item I thought it would be a useful little thing. I had no idea I would use it every day. I'm really glad I bought it.
February 16, 2013
Rated

3

out of

5
 by
Verified Reviewer
works but could be better
The hooks do what the are supposed to- keep my purse and bags in place. However, the little black rubber protectors at the end of the hooks keep falling off. I have even lost one. I have to be careful not to scratch my nice purse when I hang it on that hook. I do wish the hook had a little more gap so that larger handle bags could fit, but it does what it is supposed to.
February 6, 2013
Rated

4

out of

5
 by
jjy55
Great Idea
I purchased these hooks to hang my purse or plastic bags and it does work except that my purse has thick straps and I have to hold the hooks down to get my purse off of them. Plastic bags work great or anything with thin straps or handles. I did lose the rubber cover tips on one of the hooks but it doesn't seem to matter.
February 5, 2013
Rated

5

out of

5
 by
shorty51
Good Idea
Saw these hooks advertised in a magazine thought 'd try them. Very handy, everyone who sees them asks where I got them. They do stick out a little further from the headrest in my subaru then they do in my husbands car but they still do the job. Good idea
January 20, 2013
Rated

5

out of

5
 by
Mermaid
Perfect for road trips
I bought these hooks just before leaving for a road trip. They were fabulous! We used our plastic grocery bags, and when it was filled, we just emptied it at the gas station. When we weren't using it, they fit nicely in the glove box. Perfect.
July 13, 2012
Rated

5

out of

5
 by
petite13
Great Purchase
these car hooks are great - now I have my purse off the floor and within easy reach when I have a passenger sitting in the seat next to me
March 11, 2012
Rated

5

out of

5
 by
ttwoodard
Multiple uses
I have on the driver's side and one on the passenger side. They easily hold heavy objects (like my purse) or light items (like all the empty shopping totes that colonize in the back seat). But they are completely unobtrusive when empty. Very smart idea.
March 3, 2012
Rated

5

out of

5
 by
CLTnative
I love these hooks! The resuable shopping bags that were strewn all over the back seat my car are now neatly hung on these hooks. It makes a huge difference in how my car looks!
September 6, 2011
Rated

5

out of

5
 by
happysandy
Very efficient
I placed one hook on the driver's seat and on on the passenger. I have easy access to my purse whether I'm the passeger or driver. These are excellent in a small car such as mine.
August 15, 2011