Rated

4

out of

5
 by
Noisefree
Top loose
I would give this can 5 stars if the top was more snug. It fits within the groove along the inside rim just fine. But you can't pick it up by the top without the base falling off. I have a wide stretch headband in black (to match the can) to stretch over the seam where the base and the top fit together to hold them together. Most other people are probably not bothered by this. But I find it slightly annoying. Maybe a twist tight lid would be ideal for future design? It's still a great deal for the price and a perfect size for small bathrooms.
January 17, 2017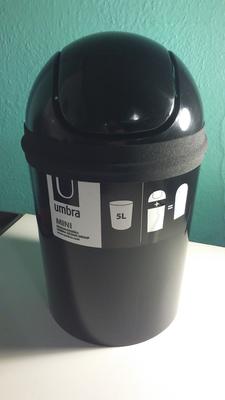 Rated

4

out of

5
 by
Sansia
Other than the lid not being the perfect fit...this item is great. Would definitely recommend it.
October 13, 2016
Rated

5

out of

5
 by
aheavenlyhelper7
PERFECT
this little can is exactly what the bathroom needs to not be too pushy and obvious and keep the trash discretely out of sight. adorable! had one for 20 yrs and it finally gave up the ghost so the container store saved the day with the exact replacement. TY Container Store
March 19, 2015
Rated

4

out of

5
 by
Cyma
Good for Office
I liked it but it is kind of small. We kept it in our office, so we can use it while sitting so we don't have to bend over just to throw small stuff.
March 3, 2015
Rated

5

out of

5
 by
MarkT
Great Product
We've bought these before from other sellers - great size and works well. Would love to see the whitish translucent one be offered!
January 30, 2015
Rated

5

out of

5
 by
borabora
Umbra Mini Can
Exactly what I was looking for in my small bathroom. The swing top cover conceals what is inside and it is a perfect size.
October 28, 2014
Rated

5

out of

5
 by
FanAnonymous
Nice tiny trash can
It's made of sturdy plastic and it's the perfect size. I personally use it to throw away open food or anything that may attract bugs. I throw the bag away daily so I never have food sitting in my home trash can.
May 27, 2014
Rated

5

out of

5
 by
lljens66
What a deal!
I purchased this Mini Can a few months ago, and have loved it. I put it in my laundry room to catch all the little bits of trash that I find in pockets and lint traps. It's super handy, and looks great. The swing arm is perfect for one-handed tosses. At $4.99, it's a steal!
April 27, 2014
Rated

5

out of

5
 by
Ashley13
So convenient and cute
I bought this to go on my nightstand next to the bed. It's so small that it fits perfectly in the corner, yet still has a lot of capacity for holding tissues, etc. I love the flip top feature too. Fun fact- my nightstand isn't actually a nightstand at all. It's a craft cart with two drawers from the Container Store in a cute floral pattern that works perfectly next to the bed :) Love this small space solution!
April 25, 2014
Rated

5

out of

5
 by
Monica623
Very functional
I use this in my laundry room for the lint from the dryer. It's very compact so it's not in the way. Another great Container Store product.
April 23, 2014
Rated

5

out of

5
 by
DiannaS
Great little can
I like that it's petite and fits under the sink easily. I really like that I don't have to push down on anything to open the lid, especially since it sits under the sink. I try not to get plastic at the grocery stores, but when I do, they fit perfectly inside this little bin. Happy happy!
April 17, 2014
Rated

3

out of

5
 by
singinlady19
Perfect Bathroom Garbage Can
I use this in my bathroom. It's the perfect size to dispose of small things we all use in there. I like that it is covered as well. I just wish the rotating opening was a little smaller because if I put an empty toilet paper roll inside, the flap gets caught on it. I also wouldn't put it on a desk, its a little too big for that.
April 15, 2014
Rated

4

out of

5
 by
NYC425
Small, but practical
The lid doesn't close shut so when you pick it up it falls off. Other than that, this garbage can is a great size for a small room.
March 20, 2014
Rated

4

out of

5
 by
setfree949
Great for under the sink
I wish there was a size between this and the next size up, other than that it's a great compact bin to put under the bathroom sink. Considering it is not seen it is at a great price point too!
March 18, 2014
Rated

5

out of

5
 by
Lavnderos1
Smallest, most perfect trash bin on the market
I have a small apartment, I wanted the smallest trash can I could find *with* a lid because I was putting it in my bathroom...I searched in stores and online...this is it folks...this is the one...you're not going to find a better, more affordable, more perfect for a small bathroom (or wherever) trash can out there anywhere!
March 3, 2014
Rated

5

out of

5
 by
Mama1
Bought this for my daughters room. Looks cute and does its job :) Great price for a great product!
May 3, 2013
Rated

5

out of

5
 by
Comanchegurl
A must get!!!
This is really a must for any house that has little kids. I bought this for our bathroom when our first child started to get around. It's great for on top of the counter. We have since had two more kids and bought 3 more for other bathrooms & laundry room.
April 26, 2013
Rated

3

out of

5
 by
TX2SEA
Swing lid not secured well
I had one of these for my bathroom. But the swing lid would often fall off. It was not secured well. There are probably better products out there if you are willing to pay more.
April 7, 2013
Rated

5

out of

5
 by
geisha
love it
this little can fits perfectly on my bath counter. it takes up very little space and is convient to use.
March 19, 2013
Rated

5

out of

5
 by
manda27
Cute
Cute little can, only problem... to get others to stop filling up this can past the opening keeping the lid cocked, but that is a user problem.
March 18, 2013
Rated

5

out of

5
 by
Melonhead
Great can!
This little trash can is great for the guest bath. Simple and clean, you hardly know it is there
March 10, 2013
Rated

5

out of

5
 by
SouthernCook
Great size for laundry room
I use this on a shelf in the laundry room. I use it for dryer lint and pop tops from the beverage frig. It is a grat size for this purpose.
March 8, 2013
Rated

5

out of

5
 by
DRRUSMC
Exactly what I needed
This is exactly what I needed and I am pleased to have it. Handy, yet inconspicuous. Great price and great service, in shipping it to me.
February 18, 2013
Rated

4

out of

5
 by
Wife1
Good Purchase
The mini can was smaller than I thought, but It works just fine in my bathroom. The swing lid sometimes does not swing back on its own.
August 19, 2012
Rated

5

out of

5
 by
twga
Best clean-up tool ever
Bought one for each of the little kids' rooms and put them next to their craft tables- they like them so much, they actually use them instead of dropping papers on the floor
April 27, 2012
Rated

5

out of

5
 by
BobP
Good Product
Looks good and works well. I'm using them on my kitchen counter for regular garbage and for compost material.
April 20, 2012
Rated

5

out of

5
 by
kristinb
love!
You can't find better design for the price! I bought a few of these stylish minis for my new office, and I love the swivel lid!
April 5, 2012
Rated

5

out of

5
 by
Sharkling
It's a bird, it's a plane, it's SUPER CAN!
This is a small swing lid can but for its size, it is super! I have it lined with a plastic grocery bag which fits nicely. It is great for the little things in life, such as bottle caps, candy boxes, wrappers, etc. I have it placed in an area where snacking goes on a lot and the trash is now placed in this cute little container! The swing lid makes it super fun to throw things away! Got kids?? Get this can! They love to play "throw the trash away" with this lid. Also, for $5.00, it makes a really great toy for toddler and older kids that are learning to put toys away. Use it to toss little things in and watch the kids take over! The lid does come off and can go on a kids head so you should probably supervise while kids are at play. This can can be painted, decorated, etc for added interest. So, this versatile little can is SUPER!
March 25, 2012
Rated

4

out of

5
 by
Teej
It works, it really works!
I picked up the white color of this Umbra® Mini Can. It was to replace an older can. It gets the job done and it is a nice white tone. Reminds me of a Star Wars Stormtrooper cause it put a black bag in it. I may draw a face on it. :) The lid peaks open and for discretion of waste. :)
March 18, 2012
Rated

4

out of

5
 by
Howard826
Like it
I placed this to bath room. It is simple and small to fit my bathroom. I like it.
March 12, 2012