Rated

5

out of

5
 by
Cooperative782
A great solution for trash / recycling
I've read other reviews of this can, and was also skeptical about spending so much on a garbage can. However, the old system we had was: using our round garbage can, which often slid/turned around and then to go over to the closet for the plastic recycling. Since NYC started recycling all plastics, our system started to get out of hand, plus we hated our round can. This can is totally worth the price: It's sturdy, doesn't slide, is quiet, you can hold the lid open with the easy lock, and it's tall, so while the recycling bin is narrow, it's very long, so it holds a lot. I love it so far (we've had it about 2.5 weeks).
April 30, 2014
Rated

5

out of

5
 by
budgles
The Garbage Can That Changed My Life
I spent quite some time eyeing this little number, being far too cheap, erm frugal to drop nearly 200 bones on a rubbish bin! But now that I have it in my possession, I can honestly say, this can is worth it's weight in gold. It's very striking (for a garbage can) -it could easily be left out in the open (if we had the space). Instead of cluttering up our countertop, our single-sort recyclables land in the blue bin w/ just a flick of the wrist -no liner needed. I love that there is a locking function so that you can have the lid propped open for convenience. Looks can be deceiving -I swear the garbage receptacle holds more that our old 12-gallon can! You can also use regular trash bags -there is a little slot to tuck the excess bag-age into, but we just tuck it under the lip of the can. Love, love, love this can!!
March 12, 2012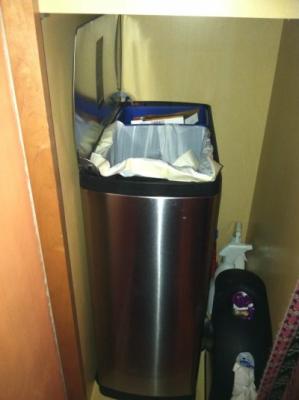 Rated

5

out of

5
 by
LizzyStitch
Just Perfect for my narrow kitchen!!
For years the wastebasket in my kitchen yawned at me, showing off all its trash. Recyleables lined up next to it, a reminder of my last couple of meals. It looked unsightly! When I saw the 2-bin recycler I was amazed! Could it be all it was described to be? Double bins for trash and recycling? A quiet closing top? A device to keep the top open when changing the bags? Plus, it was narrow and very good looking..... Yes to all! It takes up very little space along one wall, does not show of my trash, and holds the empty cans and bottles. Bins hold liners with a clever device in the back. It may be small for a larger family, but just perfect for a family of two to four. It seemed a bit pricy, but I have learned that you usually get what you pay for and this has been a super investment. I would recommed it to anyone needing an attractive, and workable trash bin!
July 5, 2011
Rated

5

out of

5
 by
scombro01
Worth it!
We used to rinse our recyclables and place them on the kitchen window sill until someone ran them out to the garage, which was on the other end of the house. I decided to invest in this product and am so happy I did. We now put our recyclables in the smaller of the two bins. The trash bin is much smaller than our old one, but that actually works out well for us. Before, our trash would start to smell way before we were even near filling our bag. Now, right when our trash bin is full is about the time it starts to stink. So we never have to run out half full bags to the garage. Everyone compliments me on it and some friends have purchased it after hearing me rave about it. Looks sharp too!
January 8, 2017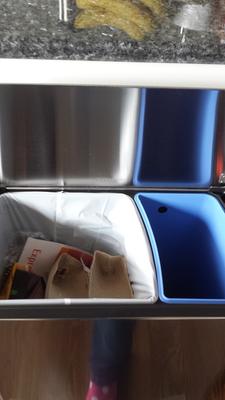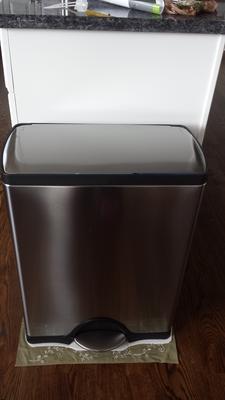 Rated

5

out of

5
 by
RnAna
Great!
Just as advertised. Soft closing top, no fingerprints on stainless steel, easy to insert bags. Just great!
December 1, 2016
Rated

5

out of

5
 by
AuntEm
Wonderful!
I know it sounds ridiculous to be so excited about a trash bin, but this surpassed my expectations. Durable, clean, and efficient. Well worth the money!
February 11, 2016
Rated

4

out of

5
 by
Hoosier2015
Concenient
I like that I have one place to quickly throw away both trash and recyclable items. The lid closes slowly which means I don't have to listen to it slam shut. The only reason I did not give it 5 stars is because of the price.
February 8, 2016
Rated

5

out of

5
 by
Erino
Great Purchase
This trash can provides a very efficient way to toss trash and recyclables in one convenient location with easy removal of both on trash day!
June 4, 2015
Rated

5

out of

5
 by
Caje
Exactly as pictured
I bought this because it is hard to find the dual trash can where the trash side is bigger and I wanted a trash can that was not gigantic. Looks great, functions great, easy to change bags in and out.
May 9, 2015
Rated

4

out of

5
 by
JennVB
Wish they'd make the bags the other way
I love this bin, but we create a lot more recycling than trash. I wish Simplehuman would make blue bags for the larger size and white bags for the smaller size. Otherwise my review would be five stars for this easy to clean bin that keeps us organized.
March 8, 2015
Rated

4

out of

5
 by
girathryn
Awesome but not perfect.
I love the fact that the stainless steel does not fingerprint. We use both sides for recycling, the larger side for plastic and glass on the smaller side for paper. Really wish the smaller side wasn't so small. It's over 4 gallons, but because of the shape it doesn't seem to hold much. Still the best recycler on the market though and we are happy with it.
August 27, 2014
Rated

5

out of

5
 by
Jessicablack
Worth it!
I had been eyeing this trash can for a month. I really wanted the combination of trash and recycle but wasn't ready to pay that much. Well I finally did it and couldn't be happier. It's gorgeous and functional. Love it!
May 12, 2014
Rated

5

out of

5
 by
retiredmom
top of the line
love the "hands free" foot pedal and the clean, sleek look. it has a beautiful finish that is easy to clean.
April 30, 2014
Rated

5

out of

5
 by
blondie2220
Wonderful product!
Imagine my surprise when I went into The Container Store and found this trash/recycler can ON SALE. I was so excited as my son had broken the clip on another Simple Human trash can I had for several years. They look very nice sitting out in your kitchen and love the trash bags, they fit like a glove!! The only thing I wish is that when you pulled the cans up to change the bag they would sit on a ledge like another model of the Simple Human cans I have. Other than that, I cannot find any faults. I had been wanting a recycler for quite a while and kept putting it off due to the price. When I found this one on sale I was thrilled. I had never seen any Simple Human products on sale before. It was meant to be!!
April 28, 2014
Rated

5

out of

5
 by
StorageGames
Lives up to its name
Very simple for this human. Solves many problems at once and makes recycling a breeze. All in a very attractive design at a reasonable price.
April 26, 2014
Rated

5

out of

5
 by
lala1985
perfect!
We chose this trash can because we loved all simplehuman products and we really needed something slick and nice since we don't have much space and the trash can had to be out in the open. The fact it has both recycling and trash units is awesome and makes it even more clever and useful!
April 25, 2014
Rated

5

out of

5
 by
JMJ42
Very convenient
We wanted a bin work separate compartments so that we didn't have to stack recyclables on the kitchen counter until we went out to the garage where the big bin is located. This bin lets us do that and looks great in my kitchen, too.
April 23, 2014
Rated

5

out of

5
 by
Christin7777
Best Purchase Ever
I never thought I'd be so excited about a trash can in my life, but I love this thing! It's big enough to hold quite a bit of trash, and all of my recyclable items. It also closes very quietly on it's own after you use the foot pedal. A little pricy but worth it!
April 14, 2014
Rated

4

out of

5
 by
Mrsmolly
Best trash can
Sturdy good looking trash can that contains both trash and recyclable objects together.
April 6, 2014
Rated

5

out of

5
 by
Sassysenior
Great product, never realized how much time it saves to have the recycle section all in one trash can.
April 4, 2014
Rated

5

out of

5
 by
BKlovesAMT
Kill Two Birds With One Stone
You will love this can. Never in a million years would I have ever thought that I'd pay over $30 for a garbage can, let alone $100! But, if you take your kitchen as serious as I do, ( it's a magical, cooking, healing laboratory in my eyes ;), then get it!! It tackles the everyday trash as well as the recycle items. My family was struggling with the issue of consistently recycling and having enough space to do it in. Our kitchen is narrow and tight and this can fits perfectly! P.S. Wonderful compliment to stainless steel appliances.
April 1, 2014
Rated

5

out of

5
 by
chicagogirl80
LOVE IT!
Should have bought this years ago! We used to use a simple human can in the kitchen with a small side ghetto white trash can for recycling. This trash can makes SO much sense! It's clean and streamlined and fits well in the kitchen and hides all the recycling out of sight. Easily take one or the other trash bag out without affecting the other. Best purchase ever!
March 14, 2014
Rated

5

out of

5
 by
Mszimney
So glad I finally purchased!
I had been eyeing this can for awhile. I just didn't think I needed to spend the money. Boy was I wrong! It's worth every penny. It's quiet, strong and a great looking piece of furniture in a small kitchen. As a previous reviewer said I also switched the sides. I use the smaller compartment can for trash and the larger for recyclables, works like a dream.
February 20, 2014
Rated

5

out of

5
 by
Yeesha
Love it!
I love this trash/recycle can. I've been wanting it for some time now and I finally purchased it. With the Click and Pick I saved 10% also. I love that one peddle opens both the trash and the recycle side...Very convenient when your hands a full of both.
July 29, 2013
Rated

5

out of

5
 by
cap4
Switch sides and its perfect
We use the large side for recycle and the small side for trash. Works well for us! Fits neatly under kitchen island "bar" ledge. So glad to get rid of separate containers and stream line our system.
April 30, 2013
Rated

4

out of

5
 by
Mandi1979
Keep your recyclables hidden!
I love simplehuman (have both a trash can and this recycler). I love the pedal and that the lid closes so quietly. I wish 4.2 gallon bin was a bit bigger - it's a bit narrow. Also, people often confuse this with my trash can (both simplehuman stainless steel), so perhaps they should provide a magnetic sign for the top of the lid identifying it as a recycler.
April 26, 2013
Rated

4

out of

5
 by
BNH29
Great
We love this trash can/recycler. It all fits into one can and looks nice from the outside.
April 26, 2013
Rated

4

out of

5
 by
Camper52
Like it!
We were having trouble finding something that would fit in our kitchen and make it easy to recycle. This fit the bill! And the sale make it worthwhile. Wouldn't have purchased at the full price.
April 26, 2013
Rated

5

out of

5
 by
VeronicaandDavid
Best size for small apartments
I thought my wife was crazy when she recommended we buy a garbage can that was nearly $180.00 at the time. We have had this garbage for 5 years now and it is in perfect condition and will make the short list of things we are keeping when we make our move in June. The reason we love this garbage can is the ease of use and compact size. We did not have the option to store trash under the sink and appreciated the two bins. We also appreciate how well it cleans up. Here are my only two issues: 1. It will not work for those who want to slide it into a narrow space since the foot operated lift is in the front. Compact yet can only be oriented one way. Simple human does have a model with the foot pedal on the side. http://www.containerstore.com/shop?productId=10033716&N=&Ntt=simplehuman+trash 2. the bags, which fit really well, are costly. It will, however, accept many bag types.
April 26, 2013
Rated

5

out of

5
 by
Jenny214
Exactly what I was looking for
I had been in search of trash and recycling combo bin, but everything I found seemed to be low quality or way too expensive. I was interested in this simplehuman model, but it was greatly overpriced at different store. When I came across it on The Container Store website and saw that it was on sale, I was sold! The quality is great and it's a very durable bin. Well worth the investment.
April 26, 2013