Rated

5

out of

5
 by
Jenms
Great product
This was a good investment. My kitchen space is small so this under the cabinet trash can was a great buy. It's sturdy and good quality. Much stronger than the "8 gal. Undercabinet Pull-Out Can" for $49.00. The SimpleHuman brand is a good buy for the quality. My only complaint is the size. I would like to see larger gallon options.
November 9, 2015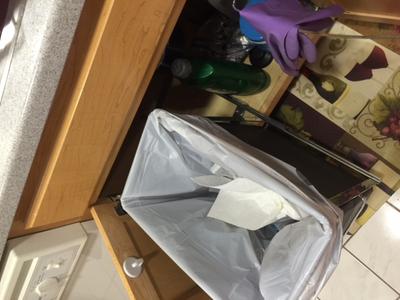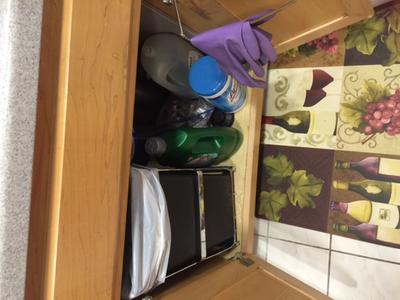 Rated

5

out of

5
 by
ElizabethNC
Great product!
We installed two of these (one for trash and one for recycle) in our kitchen. They were easy to install and slide out very nicely.
June 18, 2015
Rated

5

out of

5
 by
MEPH
Great Product
This would have been a great product for me...unfortunately, the plumbing under my sink was in the way and even though we measured before ordering...it just wouldn't fit. We had to ship it back. However, it is sturdy and very well made and would've been perfect to use if not for the plumbing issue. I would recommend it to anyone.
June 9, 2014
Rated

5

out of

5
 by
patcolbert
quality product, a tad expensive, though
I put two of these trash bins under my sink, one for garbage and one for recycles. They look good, slide easily and are heavy duty. While the $80 for a trash bin is expensive, it should last forever and hold heavy items, something most slide in trash bins shy away from.
May 12, 2014
Rated

5

out of

5
 by
DLJackson
Best garbage can ever
We love this garbage can in our family. No worries about the dog getting in it, no worries about smells and it's out of sight from anyone who visits. Most everyone who uses it wants one in their home
April 25, 2014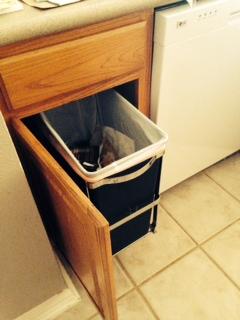 Rated

4

out of

5
 by
Brity
I am buying another for my recycling container. I still think it's a bit pricey, but it works so nicely and uses my space so well that I can keep up an argument.
April 21, 2014
Rated

5

out of

5
 by
Beetle
Great Trash Can
This trash can is a great space saver and keeps the trash streamlined for kitchens.
February 12, 2014
Rated

5

out of

5
 by
Weaseldoc
Good quality
Easy to install, works well, good sized can. Overall good quality for the price
January 8, 2014
Rated

4

out of

5
 by
Kevek
Works as expected
Seems solid and pulls out well. It works well for its intended purpose. Fit under my counter. Happy with my purchase.
May 20, 2013
Rated

5

out of

5
 by
CarrieDShops
Perfect size, durable!
We had an older kitchen and when we replaced soe cabinets,w e had a hard time finding a narrow but study trash pullout. This fit the bill. A little more expensive than we were hoping but worth it.
April 27, 2013
Rated

5

out of

5
 by
PoJoRanch
Excellent product
Super easy to install and works wonderfull. Love it. High quality as well. I'd recommend this item to anyone.
April 26, 2013
Rated

5

out of

5
 by
nshaz
Kitchen recycle
bought this for my kitchen and works great for recycle.paper, and paper products, installed under the sink, saves space and pulls out so easy, and no outside bulky trash cans.
April 26, 2013
Rated

5

out of

5
 by
brooklyngirl
great can
This can works great! I cant really tell you if it was hard or easy to install since my contractor did it for me, but it vworks great, super smooth. Love it.
March 26, 2013
Rated

5

out of

5
 by
Shellbee
Great product
I was always pulling the trash can out from under the counter then pick it up and put it back. I knew there had to be a better way and when I saw this I was very happy. It works great and was very easy to install.
March 25, 2013
Rated

5

out of

5
 by
tessarts
simplehuman® Stainless Steel 8 gal. Undercounter P
Excellent product! Very easy to install and practic to use! The price is extremly correct and the design is perfect to push and put the trash on! Estetic so good! Happy with my purchase
March 18, 2013
Rated

5

out of

5
 by
Walliey
Awesome trashcan!!
This under-the-cabinet trashcan is wonderful! Although it seemed quite pricey to me at first for a trashcan, I later found out that it was worth every penny! It was very easy to install (and I am not a handyman) and the quality is great! I think it will be very sturdy and last for a long time.
February 13, 2013