Rated

5

out of

5
 by
avengers6
best garbage can for us!
we r a family of 6 & have gone through many garbage cans, even more expensive cans. we like this one the best by far. i was hesitant to get it thinking that it wasn't going to hold up to our constant use & large waste capacity, but I was wrong & now want to buy a 2nd can to use for recycling to put next to it! super happy with it! the price is just perfect as well as i shopped around too & feel like the price could be much higher for the quality! highly recommend & waited a month to write the review after daily use!
January 11, 2017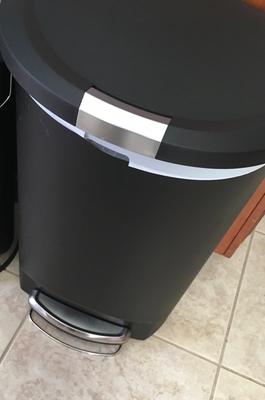 Rated

5

out of

5
 by
Susie33
Best kitchen garbage can
Easy to clean and disinfect. While you can purchase the heavy duty trash bags specially for this can, the regular tall kitchen garbage bags fit and work fine. The lock feature is great to keep small children out. I like that the lid closes slowly and quietly.
January 8, 2017
Rated

5

out of

5
 by
Phillyfire
Best Trash Can Ever!
This trash can has such a great design, everything from the wall bumper to the foot pedal. I absolutely love everything about this trash can.
September 19, 2016
Rated

5

out of

5
 by
kcmarie
Just what my daughter wanted
My daughter was looking for a new trash can to fit at the end of a counter in her kitchen and this fit the bill. She wanted to get away from all the fingerprints from a stainless steel one she had. Won't know how well it fits until June when they take it to their river house.
May 12, 2015
Rated

3

out of

5
 by
ambelilar
Good until it breaks
It was a great trash can. Lasted eight months, then the foot pedal broke :It just can't seem to handle very heavy use (we are a household of 6). Otherwise it was a good trash can.
March 16, 2015
Rated

5

out of

5
 by
warman843
Great Garbage Can
This garbage can is the perfect size for normal sized trash bags, there's no wasted space when you pull the bag out. I like the wall bumper in the back that helps you push the can flush to the wall but keeps it far enough away that the lid doesn't hit the wall when you open it. The pedal seems sturdy and works well. The lid lock is very strong (somewhat hard to disengage, but it's never gotten stuck). It is made of high quality plastic and the lid closes very quietly.
February 7, 2015
Rated

5

out of

5
 by
ScrappinKay
Great Product
Fits nicely against the wall and great that it locks.
December 20, 2014
Rated

5

out of

5
 by
Heikki1
Pet Proof!
We have a dog, about 40 lbs, who will go through the trash if given the chance. We recently bought this trash bin to to thwart her attempts. So far it has been working great we've had the bin for about 1 month or so. we found she moved it from the wall a few times with out tipping it. she has tipped it a bunch of times and occasionally she will tear up the bag of the that sticks out from under the lid and drags the trash can to our bed room. She knows she isn't suppose to do this but part of it she gets bored and does it. We use to had the same issue with out recycling can getting tipped over but we purchased a shorter bin so she can sniff it and realize the newspaper isn't something she wants, with out spreading it every where. I recommend this trash bin. It has taken a bit of abuse from our dog and is still thwarting her attempts no matter how hard she tries.
June 23, 2014
Rated

5

out of

5
 by
sclemons
THANK YOU
i no longer have to worry about our dog getting into the trash, his favorite thing to do when were not home. Thank you! Keeps smells in and its easy to clean, it even looks classy!
April 25, 2014
Rated

4

out of

5
 by
Emdash
Great trashcan
I love that this takes normal trashbags--not just the expensive simple human variety. My only issue is that the "lock" can be hard to tell if it's on or off, so if you step on the lever when it's locked, it feels like you might break something. Nothing HAS broken, but it makes me a little nervous.
April 25, 2014
Rated

5

out of

5
 by
terwilligers
Great Purchase!
This was a bit of an impulse buy for us. We have a dog who has been getting into the garbage and were looking for a trashcan with a lid that could lock. We found the perfect one! It is large and roomy and bags are easy to get out of it ( a personal pet peeve). Plus, the locking mechanism works great for our nosy dog.
March 25, 2014
Rated

5

out of

5
 by
yanranicm85
Awesome
This, I believe, is one of the best trash cans I have ever bought. I love that the lid doesnt slam and keeps smells in. Also the use of the lid peddle makes it nice when your arms are full and have to throw stuff away without reaching down to open the lid. One of the best features is the locking lid. I have dogs and the new puppy love to explore and if he gets close to the trash can before I catch him he's already exploring what's inside. The locking lid keeps him out and if it tips over, keeps the trash from falling out.
March 21, 2014
Rated

5

out of

5
 by
AnyGivenDay
Ended Dog's Snack Time
For the longest time we struggled with our dog getting into our lidded trash can. He would just stick his head in and graze whenever the urge hit him. I was content to stick with the trash can because I couldn't see spending money on a more expensive kind but my husband had had enough. He researched options and came across this one which we ended up purchasing. It opens quietly and closes gently. But most importantly, our dog hasn't had bite from it since we started using it. We did have a problem with the pedal breaking but it has a warranty and was replaced without any trouble.
March 17, 2014
Rated

5

out of

5
 by
RachelsMdai
Finally! The dog can't make a mess.
This trash can is exactly what we've been looking for. We have a large dog (standard poodle) who is too smart for our own good. He is very subtle and very fast. Therefore we've often had trash all over our floor as he explored the garbage can. We've tried several types, but he's always figured out ways to bypass our clever ways to lock them. NOT WITH THIS CAN! With a quick and easy (for humans) lock that the dog cannot figure out how to override. It's made our lives easier (definitely a first world problem, but still... You won't regret purchasing this item.
March 13, 2014
Rated

4

out of

5
 by
MorningGlory
Great design but go easy on the pedal
We bought this can in August of 2012 for our kitchen. I like the design and operation but the pedal broke yesterday. Thankfully, simplehuman is standing behind the product and sending out a replacement pedal. We are gentle with this can, stepping on the pedal only with stocking feet. Hopefully, the replacement pedal will be easy to install. Overall, it's a great trash can but go easy on the pedal.
February 4, 2014
Rated

5

out of

5
 by
Bag536
Great Trash Can!
I didn't expect to be as excited as I am for a kitchen trash can. It is a great, large size. The lid slowly closes, not slams shut, which is a nice feature. It looks nice and is very sturdy. I imagine I will get many years of good use out of it.
September 22, 2013
Rated

5

out of

5
 by
sunnysd
Great!
This is perfect for recycling items. Very easy to lift and move around and enough space so I don't need to empty it every day.
May 7, 2013
Rated

5

out of

5
 by
Crissie
Love It!!
This is the best garbage can I have ever bought! Beautiful style, holds the bags well, and it even locks.
April 29, 2013
Rated

5

out of

5
 by
amaedel
Great Child-proof Trash Bin
I'm not usually one to pay over $20 for a trash can but this is well worth the price! The soft-close lid is wonderful: no more loud, annoying slams of the door whenever we toss something out. The step open mechanism is very sturdy and has held up to a year's worth of use with little wear at all. The lid lock is perfect to keep out curious little hands from prying open the bin and keeps everything inside if the whole bin topples over. The plastic is very hardy and hasn't retained any smells from our trash, which is a big plus. Overall, this bin is a very stylish, affordable and practical trash can that's well worth the purchase! Love it!
April 26, 2013
Rated

5

out of

5
 by
Crlyfry
Best trashcan ever
I never thought I would be so happy with a trash can purchase. The locking lid is a godsend if you have any pets that like to run or bump into things (or eat out of the trash). Perfect size. The liners get a little pricey, but they are super roomy and never tear. The Simplehuman line is great!
April 15, 2013
Rated

5

out of

5
 by
Katcows
Great Trash Can!!!
I bought this last week for our office. It's great. No one in the kitchen area has to touch it...just step, throw in trash & leave. It's great! The opening is wide enough that no one is leaving ucky stuff on the sides etc. I am so glad we got this trash can from The Container Store! Thanks ya'll!
March 21, 2013
Rated

5

out of

5
 by
Lmw921
I've had this can 1 yr without any problems so far. I'm pleased.
March 18, 2013
Rated

5

out of

5
 by
Lulu162
Simple Human Garbage Cans
Excellent can. The lid doesn't slam down and it keeps animals out.
March 17, 2013
Rated

5

out of

5
 by
Mommydearest
Wonderful!!!!!!!!!!
I didn't go into The Container Store to buy a garbage can, I went into the store to see what it was all about. While I was in there I started looking at the selection of garbage cans and ended up picking this one. I am so glad I did, a nice touch for my kitchen. Good quality and keeps my dog out of the garbage. Love this product, will buy more.
March 5, 2013
Rated

5

out of

5
 by
dianestarshopper
Nice, simple & well priced!
This is a nice, simple, well made and durable. A good price for a large bin. I like that it comes in black as it blends in with my black kitchen decor. I love all the simplehuman products!
March 4, 2013
Rated

4

out of

5
 by
TheRealWonderWoman
Good Purchase
Good purchase. Works great. Love that lead can be locked.
March 2, 2013
Rated

5

out of

5
 by
Verified Reviewer
Excellent
Great product... Stylish, compact, space saving.... Very cool product for the money. I would recommend this to anyone who wanted a great trash can.
February 24, 2013
Rated

5

out of

5
 by
Sunny13
Most Helpful Purchase
Love a step-on garbage can! If you're hands are full and/or messy step-ons are the best. This one offers all that you need at a reasonable price.
February 20, 2013
Rated

5

out of

5
 by
prime199kat
Simple and Effective!
This plastic can has a reasonable cost to buy and is just about the right size for putting in the kitchen. By just stepping on the step, the can opens up so no need to use your hand to open and close. Design and cost is simple and nice!
February 17, 2013
Rated

5

out of

5
 by
Verified Reviewer
Awesome trash can
Looks good, works well, has a pet lock on it, nice price.
August 14, 2012