Rated

5

out of

5
 by
justwondering
works great for organizing
I've had this for about a year now I think and it has been wonderful for cramming those little vegetable/fruit bags we get and reuse on occasion. They used to be stuffed under the sink and this has helped keep that area clear. I used command hooks (like those seen to the right of the Bag Holder holding the reusable microfiber cloths and tools) so it is not quite flush with the door, but this set up has worked pretty well.
June 19, 2015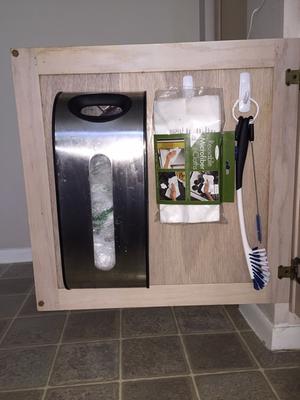 Rated

5

out of

5
 by
alioni
Simply perfect
I can't believe how simple this solution is--to the mangled mess of grocery and doggie bags I have been fighting with for years. Added bonus for my house--I was able to install it without hardware--just peel the backing off the heavy duty sticky tape. I'll be looking for some other simple human solutions :)
February 25, 2012
Rated

5

out of

5
 by
MollyCK
Brilliant, inexpensive solution!
This is a great way to get those ugly plastic bags out of sight yet still be kind to Mother Nature by reusing them. This holder fits nicely on the back of a cupboard door and is good looking. The only caveat I offer is that the holder needs to be either 1) screwed to door or 2) adhered with stronger mounting tape as the mounting tape they provided was not strong enough.
November 21, 2016
Rated

5

out of

5
 by
CatherineOrtiz
So Needed
A client had so many plastic bags from the supermarket, from mall stores, etc that it took over an entire cabinet in the kitchen. Purging (supermarket would not take back all the bags), and recycling the bags, we saw it took 2 large refuse bags to contain them. Now the client has just enough for when she does need them, and is able to use the rest of the cabinet for other items (like her reusable bags and tool box) that didn't have a home. I also have one for myself.
April 9, 2016
Rated

4

out of

5
 by
DeltaZeta1989
No Mount Needed
This product is exactly what I was looking for in terms of holding regular grocery bags. It does not require a mount, it comes with two stickies on the holder. However, the stickies did not hold up for more than a week. I will be buying some 3M stickies to replace the ones that did not hold up the holder in my kitchen cabinet. This product would not work well with larger bags or paper bags.
January 13, 2016
Rated

5

out of

5
 by
Pharmacyboy
Everyone needs one of these!!!
One of the BEST purchases I've ever made at The Container Store!!! It sure helps keep all your plastic bags organized under the cabinet and it looks nice too!!
March 25, 2015
Rated

5

out of

5
 by
thumpers
Best Organizer Ever
This product is amazing. Took my sloppy bags & organized into this compact container. Fits perfectly anywhere in the house. I high recommend buying this product.
March 16, 2015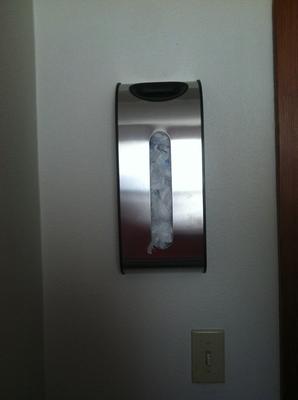 Rated

4

out of

5
 by
msbolden
Great for organizing bags
I love the simplicity of design and ease of use. I used the adhesive tape to mount on the inside of my pantry door however, it has fallen off twice. I added extra strips of adhesive tape and it seems to be holding on well. If this doesn't work I'll use the accompanying screw to mount. I like the idea of storing my bags out of sight in the kitchen, since I reuse them all over the house.
January 26, 2015
Rated

4

out of

5
 by
emargl
Small, but functional
Doesn't hold as many grocery bags as I was hoping, but still handy. I might have to try folding the bags to make a little more room. Nice that it came with tape, so I didn't have to do much work to install it.
September 19, 2014
Rated

5

out of

5
 by
Hastingsteam
Love it, this is my second one, had to leave the other behind in Texas. Sticks well inside cabinet under sink.
April 28, 2014
Rated

5

out of

5
 by
Belladonna
Neat Freak's Dream
I love this bag holder!!! My kitchen is contemporary and I love stainless steel. It holds a lot of grocery bags and does not take up much space. It is esthetically pleasing, easy to mount, and firmly attaches to any surface. Great purchase for all!!!
April 27, 2014
Rated

3

out of

5
 by
Chrispy
Does its job
For the price, you can't really ask for more. It does the job: holding plastic bags while looking sleek. The stainless steel is a nice touch and hides the ugly plastic bags quite well. I'm not sure if it's my wall or the product but the product is a bit shaky and not sturdily mounted. I tried everything to stabilize it but it is what it is. Also, I found that if there are too many bags inside the holder, it's way too hard to get one out. Obviously it makes sense that if it's too packed then it'll be hard to get anything out but unless you perfectly roll up the grocery bags and put them in nicely, it'll take 5 seconds more of your life. Haha. I do recommend this product for anyone looking for a cool looking way to organize their grocery bags.
April 25, 2014
Rated

4

out of

5
 by
cocs
Good buy
Great product only wish that it could hold more bags
April 24, 2014
Rated

5

out of

5
 by
jgbuttricksr
perfect
This is exactly what we had been looking for. It looks nice, works great and easy to install.
April 13, 2014
Rated

5

out of

5
 by
jeffc
May save our marriage!
My wife drove me made saving shopping bags, mainly for future use. They filled our pantry shelves and were unsightly, not a big problem, but hard to retrieve without spreading all over the place. This attractive container saved the day, I stuck it inside the pantry door and it really works well. Also gained an extra half a shelf.
April 3, 2014
Rated

5

out of

5
 by
Owner
Very Satisfied Customer
This product is great, especially for the price! You can't beat it! It's stylish and great to get your place organized. I thought it was such a great product, I went back and purchased a second one for my mom!
March 31, 2014
Rated

4

out of

5
 by
Sunscreen5
Great container, I wish it was slightly larger
For years I stored my empty plastic shopping bags within other bags, inside a hanging metal basket intended for potatoes and onion storage. The look is great and it takes so much less space. I also wish it was slightly larger to fit more empty bags.
March 30, 2014
Rated

5

out of

5
 by
Olja
Very cool
I kept my grocery bags in the spacing between the fridge and the wall. Naturally, it made sense to put this holder close to the spot I used for it. So, I mounted it on the wall next to the fridge and it matches my stainless steel fridge, really cool. I didn't want it to look like a decoration, so I mounted it low, yet high enough so that I can use the space under it for a little chair my preschooler uses. The opening on the top is really nice and smooth on your hands.
March 16, 2014
Rated

5

out of

5
 by
Hags82
Fantastic!
I don't know about everyone else, but we used to have 2 HUGE bags full of bags. One was for "good" bags and one was for "bad" bags. (A "bad" bag means it had a hole or two in it. Not ideal for picking up dog poo.) Now I bought 2 of these holders and it takes up practically no room at all. They are mounted to the wall and out of our way. What a great solution!! Get these now!
February 13, 2014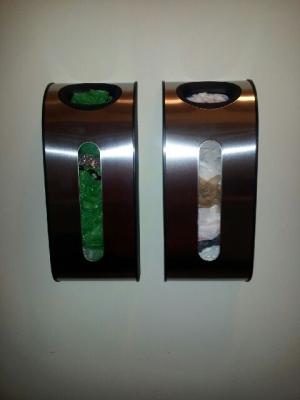 Rated

5

out of

5
 by
Gillian
Wonderful Product!
Easy to install with the tape backing (or you can also mount to the wall). Sleek design and holds a good number of plastic bags.
January 21, 2014
Rated

5

out of

5
 by
UNCLUTTEREDMOM
SO SIMPLE BUT VERY USEFUL
LOVE THIS PRODUCT. IT WAS EASY TO STICK ON THE WALL WITH SELF-ADHESIVE STRIPS. LOOKS ATTRACTIVE HANGING ON MY LAUNDRY ROOM WALL. BEST OF ALL PLASTIC BAGS ARE ORGANIZED AND EASY TO ACCESS.
November 25, 2013
Rated

4

out of

5
 by
Veee
Awesome Idea !!
For a super clean and organized person like me I definitely find this item quite the find. It was able to hold many of my bags and took away the dire clutter in the corner of my kitchen where I kept the bags hidden from view hahaha. By far best purchase yet.
October 29, 2013
Rated

5

out of

5
 by
tmwors
This isn't really a new concept of a product but it definitely has a better appearance than other products that do the same. It feels like it belongs and matches appliances as oppose to just looking like something that was just stuck up on the wall.
September 11, 2013
Rated

4

out of

5
 by
Dropo
Handy, but wish it was bigger
If you tend to save all those plastic bags from stores, this is a good product for keeping them neatly contained. I only wish it was bigger.
July 27, 2013
Rated

5

out of

5
 by
VictoriaB
Instead of having a bagful of bags!
I had one of these years ago but left it in the last house bc it was mounted. I also gave it away as a gift to relatives and they all use it and love it. I FINALLY replaced mine in my new home. What took me so long?! It's a great way to keep plastic bags organized and in a much smaller space!
July 23, 2013
Rated

3

out of

5
 by
Producer6
Cute but not necessary
This works but doesn't hold very much. It's pretty but beware of fingerprints.
May 8, 2013
Rated

5

out of

5
 by
SimplyPlaced
This is a great product. Very easy to put into place
April 21, 2013
Rated

5

out of

5
 by
BornToBeOrganized
Love it!
A great way to store bags! It does everything it should do. It keeps the bags contained, yet easily accessible.
April 10, 2013
Rated

5

out of

5
 by
MamaBear2FourCubs
Simple, inexpensive storage solution
Love this product! I used the tape and it hung securely to the interior of my cabinet door. Easy to install and a great way to stash all the plastic bags in a neat and convenient location!
March 25, 2013
Rated

5

out of

5
 by
Mar1
Great Product
No complaints. Holds a LOT of bags. I didn't want to use the attachment screws on my cupboard, so I applied it using only the adhesive strips, and it seems to be holding great! I would recommend.
March 10, 2013