Rated

5

out of

5
 by
DorisG
PERFECT little trash can
Ok 99.9% of trash cans are round... this one is OVAL and it fits 8x11 pieces of paper along with other trash, the handle is perfect to carry and to dump items into a larger trash bin for trash day. Sleek and slim perfect for small places in between toilet/sink, desk/wall and bedside. Going to replace all my round bins to this fun design!
February 8, 2016
Rated

5

out of

5
 by
2thfairy
Love this can bought 2
I purchased the Umbra Black and Blue Skinny trash can for my kids rooms. They are very stylish, easy to empty and very sturdy. They fit nicely under their Elfa desks.
January 8, 2017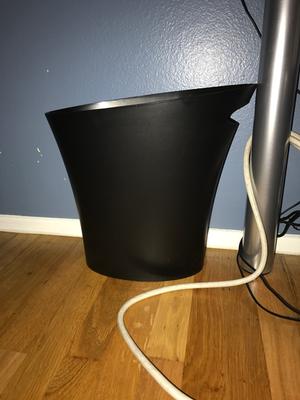 Rated

5

out of

5
 by
SoCAmom
perfect size
Exactly what the dorm room needed! Perfect size and the handle cut out is convenient.
September 18, 2016
Rated

5

out of

5
 by
supapam
Cool
I originally purchased this for my son to take to college, but I thought it was so cool, I kept it for myself. It is too small for him anyway. I use a regular size grocery shopping bag to line the entire thing.
September 18, 2016
Rated

5

out of

5
 by
yorkeemommee
Love this style!
The Skinny Can by Umbra is perfect for our small downstairs bathroom. The style looks great, is easy to empty, and to clean. Great buy!
July 16, 2016
Rated

5

out of

5
 by
PAshopper
Perfect fit for narrow spot
The Skinny Can is truly skinny...fits in the narrowest spaces. I tucked it between the toilet & the wall for a low-profile but stylish addition to the bathroom. Lightweight but well made. Pretty color.
February 20, 2016
Rated

5

out of

5
 by
Squeak
NIce and slim
Just needed a slim fitting waste basket in the office space. My color palet is very neutral so this worked well. Perfect price.
December 3, 2015
Rated

5

out of

5
 by
MarionH
A great space saver.
What a great trash can for under my desk. Leaves plenty of room and makes my under-desk area look and feel uncluttered. It's nice looking and a good size as well.
March 30, 2015
Rated

5

out of

5
 by
Musicole
Perfect
It's cute, functional and it fits. Really glad I made this purchase.
March 26, 2015
Rated

5

out of

5
 by
Maye
Very sturdy - very nice!!!! I bought two of these for my bathrooms.
May 2, 2014
Rated

5

out of

5
 by
1969Apricot
Trash can
I love the shape! It fits easily in tight spaces!!
April 29, 2014
Rated

5

out of

5
 by
Razzi
So handy
I bought this trash can to use in my utility room, and it's the perfect shape and size. I especially like the little cut out on the end which makes it easy to grab and empty or transport to another location.
April 3, 2014
Rated

4

out of

5
 by
NYC425
Looks good in room
Bought the blue garbage can and the color looks the same in person. Perfect size for a nice looking recycle bin.
March 20, 2014
Rated

5

out of

5
 by
containeraddict22
Skinny trash can
Can fits the space it was needed and matches the color of the room to boot! Good deal all around.
February 27, 2014
Rated

5

out of

5
 by
nilla
great space saver
I bought the bin in the beautiful aqua color to go in the cabinet under my bathroom sink. I love the slimline design because it maximizes the depth of the cabinet rather than the width. Had I bought a round trashcan it would have taken up all the space but now I have room to put things along side. I love clever design!!
February 15, 2014
Rated

5

out of

5
 by
GraphicsGirl
Slim & Modern
Love the sleek, slim and modern lines to this trash can. I know, it's a trash can but...I love it!
December 14, 2013
Rated

5

out of

5
 by
CollegeMomGoesDecorating
Stylish Skinny & Space Saving
This was a great compliment to the color scheme for my daughter's dorm room. The sleek style makes it easy to put under the desk or slide in a small space. It's very easy to rinse off and clean but if you can find trash bags to fit the can, I do recommend buying some.
September 30, 2013
Rated

5

out of

5
 by
mgreer02
SO CUTE!
The aqua color is seriously gorgeous! I'm so happy with my purchase. This is going to look great in my dorm room!
August 24, 2013
Rated

5

out of

5
 by
mudpud
Good for tight spaces
Love the slim profile of this trash can. Plastic grocery bags fit perfectly inside as a liner, too. If it came with a flip top, it'd be perfect for the bathroom (you know, in that narrow space between the toilet and the wall?). As it is, I just use it in my bedroom, underneath the desk.
August 23, 2013
Rated

5

out of

5
 by
jocn
Trash can
I love it. The shape is so nice. Holds lots of trash.
August 13, 2013
Rated

5

out of

5
 by
Verified Reviewer
love it!
love the shape and color and it fits perfectly in between my cabinet and toilet in our half bath...
July 2, 2013
Rated

4

out of

5
 by
Ayecee
Great for odd spaces
I wanted to replace the waste basket in my bathroom, which is an odd shape. The waste basket was blocking the bottom drawer of the vanity (because there is no other space that it could fit in) and it became annoying to move it every time I needed to open the drawer. I replaced it with the Skinny Can and it's now occupying the gap between the wall and the bathroom vanity, which is only wide enough to fit it! Also, the handle makes it easy to pick up and change the trash bag. I'm giving this 4 stars because the opening is quite narrow compared to a standard size waste basket & trash sometimes rebound & fall onto the floor. But, this is something that I'll have to get used to & I'll have to change my habit of tossing trash, lol. All in all, this is a great solution for odd and/or tight spaces!
June 3, 2013
Rated

4

out of

5
 by
sjah
Smaller than expected
The waste basket is really small. Even though I read the dimensions it just seemed like I was going to be getting a bigger item. It's in my son's nursery and luckily he's not making a lot of garbage yet so it's great for right now!
May 13, 2013
Rated

5

out of

5
 by
Melllow
Great trash can
Perfect size for the office or bathroom. Great colors and we love the clean design. We got 3 so far and plan to get a few more.
May 3, 2013
Rated

5

out of

5
 by
Musikpep
Great Utility Can
Purchased this can for use in a tight space as a laundry room trash can. It works great. Gives me a place to put lint, etc. without taking up too much space in an already small room.
April 23, 2013
Rated

5

out of

5
 by
pixistix
cute and mod
this fits great between the counter and toilet, it's sleek and modern, and the blue provides a great shot of color - love it!
April 11, 2013
Rated

5

out of

5
 by
cleanUpGirl
Perfect for a small space
Great product for the price. Fits perfectly in the narrow space between the toilet and the counter. I loved how it looked, so I bought two more for other places in my apartment!
April 5, 2013
Rated

5

out of

5
 by
sunflower752000
practical and affordable
Trash can was very affordable yet attractive and practical... looks great anywhere
March 31, 2013
Rated

5

out of

5
 by
Moose2
Loving It !!!
The space under my bathroom sink was limited. This product fits a narrow opening and is still big enough to hold enough trash. The colors are beautiful and I love the handle slit. I'm definitely happy with this purchase.
March 26, 2013
Rated

5

out of

5
 by
LMarie91
Perfectly skinny!
My bathrooms in my house are small, especially the guest bathroom... This trashcan fits perfectly! I love it. Since I'm extremely limited to where I can even place a can, this one is perfect. Thanks container store!!! :D
March 25, 2013