Rated

5

out of

5
 by
Dragle
Best container ever
This is without a doubt my granddaughter's favorite trash container ever!
March 16, 2015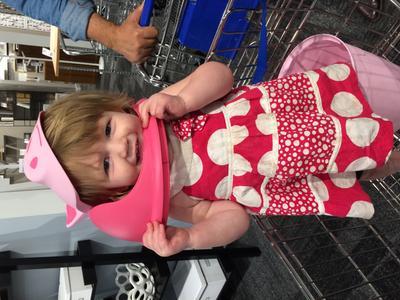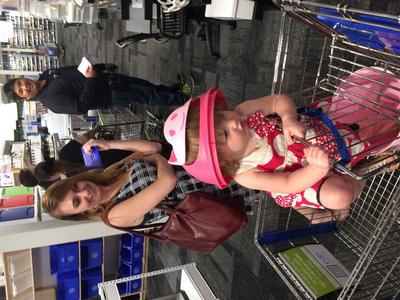 Rated

5

out of

5
 by
Mellienellie
Adorable!
I love pigs! A few years ago, I found this pig wastebasket and fell in love. I'm an elementary music teacher and see all 800+ students in my classroom. They all love to throw away trash just to "feed the pigl" Not only is it cute, but its very durable. Although its been "fed" over and over for 2 years, it still looks brand new. I highly recommend this product!
April 26, 2014
Rated

5

out of

5
 by
sapphicSis
The frog makes me smile.
This trash receptacle is the most adorable waste basket I've ever seen (or owned). Beware that it's lightweight, thus easily knocked over by rambunctious pets. At any rate, it's a very cute container for trash or storage. I use a smaller basket from a dollar store inside this one as a liner, so the trash bag doesn't have to cover the frog's "hands."
April 25, 2014
Rated

4

out of

5
 by
cmmm
Cute, minor issue with lid
This is perfect for a bathroom trash can. The size is just right so that you can use a grocery bag for a trash bag. A minor issue that I have is that the lid can easily be knocked over. A snap on it, or a twist-on lid would be a good improvement.
March 31, 2014
Rated

5

out of

5
 by
EBMiller
Great Trashcan for Child's Room
This trashcan is a perfect size for a child's room. It is worth noting that the small Kroger trash bags fit this bin perfectly. The lid swings well and does not stay tilted open. Also, the swing lid attachment to the lid base is not flimsy or misaligned. Oh, it's cute, too!
March 4, 2014
Rated

3

out of

5
 by
Selynn
Cute trash can.
If you're buying solely for looks: This is a really cute trash can and my daughter loves it. But I wish the lid stayed on better. For example: a snap on lid.
February 28, 2014
Rated

5

out of

5
 by
MRB34
The Lid saved me!
I needed a lidded garbage can to deter my little dog from emptying the garbage and spreading it around the entire house! The swinging lid is just enough to startle him with its gentle swinging motion! Super cute too!
February 12, 2014
Rated

5

out of

5
 by
Headmumfy
Dog lovers take note
We are responsible pet owners who use powder scented pick up bags for our two dogs. But...we don't want the bags in the house. So, we use one of these adorable swing lidded animals outside at the front fence. When we've returned from a doggie walk, we toss the full bags into the barrel. Nine times out of ten a toss makes it in :). On trash day, we simply empty the bags into the proper receptacle for removal. It's fun, it's bright and cheerful, and we all crack up about filling up pig pig, or froggie. We have run over the lid now and then, but fortunately these aren't expensive!
January 21, 2014
Rated

5

out of

5
 by
MissPiggy27
Cute purchase
I took a picture of my pig trash can to all my friends and they thought it was adorable. I just LOVE it!!!! It's the perfect trash can for where I needed it. A great collection to all my pig parafanilia.
September 22, 2013
Rated

4

out of

5
 by
BobInVegas
Daughter loves it!
We saw these wonderful animal trash containers at the container Store in Town Square (South Las Vegas) and instantly our 4-year-old daughter had to have the Piggy. She loves it (and uses it)!
April 26, 2013
Rated

5

out of

5
 by
MissHeather
Best kid's trashcan
This can is the right size. It is easy to clean. And just adorable I the kid's bathroom.
April 26, 2013
Rated

4

out of

5
 by
baci
very cute!
With 2 pull ups in the basket, there is no room for more, I have to change the liner very often. The kids bath has a duck design and they didn't have this, basic, choice. I chose the lion because of the colors. It's very cute and the material seems strong. The trash can is not a nice area to look at but this can really gives a nice look to the bathroom.
March 21, 2013
Rated

5

out of

5
 by
KYSM
Pig Swing-Lid Can
We love this little gal! We bought her about 2 years ago for the office. She has outlasted at least 3 other trash cans in here. Quality, durable product. Perfect small size for a small office.
March 18, 2013
Rated

5

out of

5
 by
vencedora
Cutest Pig Around!
I was strolling through The Container Store, looking for a shoe organizer when this adorable little pig started calling my name! As a pig-collector, I immediately saw him in my guest bath with all my other pig accessories. I took him home, and now I can't help but smile when I see him sitting there. My grandkids love him, too. My pig-collector friend is going to be so jealous!
March 18, 2013
Rated

1

out of

5
 by
Linda814
Disappointed
I purchased the Tiger Swing-Lid Can and wasn't completely satisfied with the product. The lid does not securely fit on the can, defeating the purpose of having a covered container in a children's bathroom. Not worth the shipping to return.
March 17, 2013
Rated

4

out of

5
 by
Verified Reviewer
Very Cute
Serves as a great simple and adorable trash can for an office, bedroom, or kids bathroom. It's a perfect size to line with grocery bags. I only use it for "clean trash" though because the lid easily falls off if knocked over, and I have a nosy dog who likes to eat tissues and other paper products. It would be nice if the lid clicked on the bin (which is why I give it 4 stars instead of 5). We just keep it in the corner of the room that's blocked off by other furniture since it's not exactly doggy proof.
March 16, 2013
Rated

5

out of

5
 by
k9lvr217
Cutest trash cans for kids or animal themed rooms!
I purchased the lion and panda cans over 10 years ago for a kids room, and ended up using the panda for myself in an animal themed adult bathroom. It's whimsical and sturdy enough for a child's use, but stylish and useful enough for an adult. These cans are still in use today and are as sturdy as ever!
March 16, 2013
Rated

5

out of

5
 by
jdkk004
very cute
Bought this for my 15 yr old daughter and she loves it. Can't wait to go back.
March 12, 2013
Rated

5

out of

5
 by
palmers4
who knew a kid could love a trash can so much
My son hasn't had a trash can for his room and he loves animals. When I saw this tiger one at the store I knew he would love it. It is very durable and fits a small trash bag well inside of it. We are having fun with it and my daughter might just need the piggy one real soon!!
February 28, 2013
Rated

5

out of

5
 by
Marv
Animal Swing-Lid Cans
A novel and effective way to train small children to put all of their trash into the proper receptacle. I use one in each of their bedrooms as well, according to the favorite animal of the individual.
March 31, 2012
Rated

5

out of

5
 by
PinataParty
Cute bin for trash or toys
I first used this to dispose of dirty diapers, but then the diapers got a little smelly once baby started eating solids, so I cleaned it real good and used it for small toys. It's a cute bin and works as it should.
March 31, 2012
Rated

5

out of

5
 by
Shocantelle
So Cute
I bought this to use as a wastebasket for my room because I love pandas and it could not be cuter. It's just big enough to use as a wastebasket without being too large as to be in the way. Very happy with this purchase.
March 19, 2012
Rated

5

out of

5
 by
MommyofGirls2
Adorable!
My girls (4 and 2) LOVE these cans! They each have one in their rooms. It's great for clean up time and easy to empty! GREAT for teaching your kids to tidy up with their very own can!
March 19, 2012
Rated

5

out of

5
 by
KarenPreK
Freddy the Frog
This trash can is absolutely perfect. It is a Pre-K teacher's dream! My niece would pick a letter of the alphabet and then go through my house finding items that begin with that letter to feed "Freddy the Frog". So cute!
February 24, 2012
Rated

5

out of

5
 by
Wolfblossom
So cute! (bought the pink piggie)
Bought to store my 8 month old daughters small toys in the living room. The look on her face the first time she tipped it over and discovered the toy jackpot was priceless! Seems durable enough, she has played with the bin and the lid and has taken it apart and it goes back together fine. Like other reviews there is a small issue with the lid coming off the bottom easily but that may be a non issue once it has a trash bag in it to make the fit tighter. Would purchase again.
November 29, 2011
Rated

4

out of

5
 by
Gretna
Smiles for your room
The four trash cans are delightful and arrived in good condition in SPITE OF the very bashed in boxes in which they arrived. I suggest better packing would help ensure that they always arrive safely. Fortunately, they were perfect and add smiles to a room.
October 27, 2011
Rated

5

out of

5
 by
Molly822
Cute, Functional
I wanted a Frog themed trash can for our Frog bathroom. Our 18 month old loves to go through the trash, so the lid definitely slows him down. He loves to swing the lid. It seems well made and durable. I couldn't ask for more!
February 18, 2011
Rated

5

out of

5
 by
Jenn60900
Cuttest Panda
I love it just as my daughter her favorate animal is the panda and she just loves it. Toooo Cute
January 1, 2011
Rated

4

out of

5
 by
SpoofyGirl
Very cute for kids room
I finally found a trash can for my daughters room with a lid. No other retail store carried anything cute for a kids room. The lid does not fit very securly and if you bump it the lid will slide off. Still love it though.
November 6, 2010
Rated

4

out of

5
 by
metoo
Made my daughters B-Day!
Seems to be a very durable/sturdy item and my daughter was thrilled to finally get the panda bear trash can for her room! The top seems to just sit on the can, would be nice if it twisted to possibly lock in case can falls over.
October 6, 2010