Rated

5

out of

5
 by
Fromaway
Trash Rac is a great solution for a small kitchen
Easy to install, sturdy, and the supporting tray keeps the bag from sagging. This is the second type of door trash container I have had, and This one will last for a long time because it is metal. Great product!
January 2, 2017
Rated

5

out of

5
 by
NicoleML
Love it!
I love that I can hide an ugly trashcan, keep less things cluttered on the floor, and away from the puppy's reach! It's also convenient that if i don't happen to have the actual trash bags, I can just slip a used grocery bag on there and it fits perfectly!
March 10, 2016
Rated

5

out of

5
 by
Hilloughby
Perfect solution for a small space
I just moved into a Manhattan apartment and didn't have a good option for a trash can in my small new kitchen: the pull-out cans didn't fit and there just wasn't room anywhere on the floor. And then I found this, and it's really just perfect. One recommendation though is to get the bags that are designed for it; it'll work with plastic grocery bags but theirs are just a bit bigger and a better fit for the frame.
December 29, 2015
Rated

5

out of

5
 by
peachpie2
great purchase
was easy to install and just the right size. could not find in any retail stores.
July 21, 2015
Rated

5

out of

5
 by
TheBake
Should be a stock item
Nothing negative about this item. It certainly performs well. My only concern is that this is an item that isn't stocked on the shelves? The only size that's stocked at the stores are 3 gal. Why? Please stock the 5 gal for those who generate a little more garbage.
July 20, 2015
Rated

5

out of

5
 by
Herbbo
Just what we needed.
Easy to install. Fits neatly in available space. Perfect for smaller kitchens like the one in our townhouse,
May 2, 2015
Rated

5

out of

5
 by
Artie56
Saved my sanity
Finally found this product to replace the miserable "improved" Rack Sack, which made me angry every time I used it. This system is very similar to the original Rack Sack. Why they changed it is a complete mystery. Love the simplicity of this system; the top stays up by itself, and I can use plastic grocery bags with it. Highly recommend.
November 25, 2014
Rated

5

out of

5
 by
AzSarah
Best Money I've Ever Spent!
I have redone my kitchen and now there's no place for trash/recycling. I do not have a garbage disposal so I do get stinky garbage. I was ready to bite the bullet and buy an expensive pull out trash can, but the pipes under my sink are weird and I just wouldn't have enough vertical space. I searched the website again and saw this! I am so happy with this. I can scrape the food bits while I'm at the sink. Seriously...I smile whenever I use it.
November 12, 2014
Rated

5

out of

5
 by
MsKate
I love both of mine
I use two racks, one at my food prep station to take care of all the scraps I create. I often use that one for general around the kitchen trash because with only one person and doing a lot of recycling I only fill a grocery bag a week with kitchen trash. My other rack is under the sink. We are allowed, here, to recycle without rinsing, but there are a lot of ants in the area so I choose to rinse anyway. After you fill the bag, if you fill it full, as I like to, it's hard to get out through the top (well, truthfully I had that problem with my large kitchen trash can, but it was the only way to remove the full bag and sometimes it resulted in rips#. One day as I was fighting to convince the recycling bag to come out without removing anything #even though the bags are free, I like to stuff them fairly full) I realized that the bag doesn't have to come out the top, you can just drop it down and remove it through the front of the rack.
September 19, 2014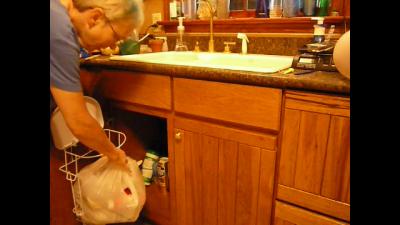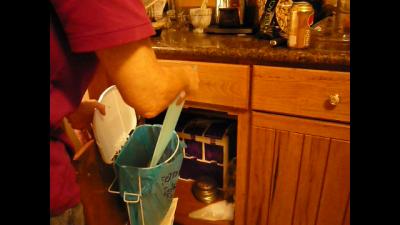 Rated

5

out of

5
 by
MackieMac
Lifesaver in a small kitchen
I have a small kitchen and no room to put a regular trash can anywhere. If I didn't have my 3-gallon TrashRac on the inside of the cabinet door under my kitchen sink, I think I would go nuts. It's right where I need it the most and it gets constant use. The bags are easy to change out, and for its size, it holds quite a lot. Also, the price is very reasonable. I've had mine for 18 years! Please don't ever stop carrying this product or the refill bags.
September 1, 2014
Rated

5

out of

5
 by
chigal
Can't live without this
This is my third purchase of this product. I had one at two different residences and just moved. It is the most convenient and inconspicuous garbage solution I can think of. Doesn't take a lot of space and you can recycle all of those plastic grocery and store bags.
July 5, 2014
Rated

5

out of

5
 by
Xock
Very efficient
This terrific in our vacation home. We rent the house when we're not there and this is very convenient for renters. Even though I generally hate plastic bags, this is such an efficient use of the seemly inevitable plastic shopping bags that I don't feel so guilty about getting them when I shop. One design feature I particularly like is that bags fit snugly over the rack and have never slipped off before disposal. The unit itself was a snap to install and, once you learn the trick, adding a new bag is easy.
July 4, 2014
Rated

4

out of

5
 by
Lunchrmma
Love my rack sack.
I inherited the frame from my Grandmother. I had always liked the idea of a small garbage can/sack.
July 1, 2014
Rated

3

out of

5
 by
missmrsmz
Good Under Cabinet Trash Can
I installed this in my bathroom under the sink cabinet. I've always disliked seeing the trash can next to the toilet or anywhere in the bathroom and this takes care of it for me! Installation stinks though - it took me forever and I'm a pretty handy gal. I agree with another reviewer who said that it should come with a paper diagram so that you can pre-drill from it instead of guessing or drawing dots inside of the door at random. I installed it 3 times before I finally got it correct.
May 14, 2014
Rated

5

out of

5
 by
BernieS
Solved the problem
Added a cabinet in the kitchen and lost a good spot for the garbage can. Looked several places for a can small enough to fit under sink with issue of plumbing not allowing much space. Almost ready to give up and found this. Mounted easily, fits perfect, loved the fact has a lid and can probably just use grocery bags. Instructions very clear with pictures. Only three screws to mount was nice Probably not good for families with children but works great for two empty nesters.. Love website, wish we had store closer to us.
April 8, 2014
Rated

5

out of

5
 by
dolliewar
TrashRac
We did away with our kitchen trash can because of small children and would drape a grocery bag on the cabinet door under the sink, it was a convenience...then one day while visiting my Aunt I saw her pull open the door under the sink and drop trash into a cute container...we finally found your store in Dallas, those Gals are awesome helpful nice, just loving my hideaway trashrac!
April 4, 2014
Rated

5

out of

5
 by
mv2144
Great solution for a small kitchen
After hemming and hawing over getting a good looking stainless (Simplehuman-esque) trashcan, we decided we didn't want to see our trash and could save space by putting it under the kitchen cabinet. This design saves more space by hanging on the door, uses regular shopping bags (no extra cost and a good way to reuse those). We like that we have less trash on hand (less smelly, less pests), and it's hidden. This is a simple construction (and therefore affordable), and comes with everything you need, including a tray to catch any leachate and a storage basket for extra bags. We like it so much we bought a second for the recycling.
March 30, 2014
Rated

5

out of

5
 by
johannanunez
best buy for small kitchens
Not only is it a great space saver but you can put it on a wall or under a desk. Just switch out the bolts. The trash bags included are fantastic as is the fact that you can reuse store bags. Daily trash take out required which keeps the temptation of not taking it out til it is full at bay. Two thumbs up for easy install.
February 17, 2014
Rated

5

out of

5
 by
GayleG
Silly with Happiness
We've kept a grocery bag hanging from a knob in the kitchen for the last year, and as we fill it with empty, crushed water bottles we empty the bag into a larger bag in the garage. It was annoying to have the bag constantly in the way, then.....I found this little number!! The best thing EVER!!! We now have a place behind a closed door where we can throw our emptied water bottles. It was easy to install and is perfect for our needs. I feel giddy!!!
January 21, 2014
Rated

5

out of

5
 by
beachesdunedin
GREAT SIZE NOT JUST FOR A "RAC"
These 5 gallon bags fit perfectly in my pull-out garbage can. They are not just for the "rac" garbage can.
November 25, 2013
Rated

5

out of

5
 by
PR2578
Awesome Purchase!
Purchase one when we bought a house 14 years ago it finally broke after 9 years but definitely got our money's work. Loved it so much I bought another one. I prefer to have things hidden and no clutter so its perfect. We take garbage out everyday as we do not like to have it accumulate. Now my son is getting his own apartment and he wants one. It will be on of his house warming gifts!
September 27, 2013
Rated

4

out of

5
 by
KZK83
Good but just didn't work for us...
This product would have been perfect, Its relatively sturdy, for what it is, and it was basically already put together in the box. We returned it because while it fit on the door for under the sink...it did not fit through the opening of the cabinet (I forgot to measure that). I sought this item out because it came highly recommended by a friend.
August 28, 2013
Rated

5

out of

5
 by
CandyDiva
compact and out of sight
I love that this keeps trash compact and out of sight. Since it is a smaller size bag, it tends to be taken out more frequently so odors are more easily contained. Holder allows bags to hook on so no more bags collapsing into pails leading to a mess. I loved this system so much I bought the small countertop version for food prep and for camping
August 13, 2013
Rated

5

out of

5
 by
Lucille
No kitchen mess or odors
Handiest kitchen gadget and keeps trash out of sight with no odors. Shipment was on time.
July 4, 2013
Rated

5

out of

5
 by
AprilMichelle4
Great Hidden Trash Can for Smaller Spaces
Since we don't have a lot of extra floor space in our kitchen, and our cabinet under the sink does not have much room, this is the perfect fit. It's very convenient and is out of sight until we need it. I also really like being able to reuse the plastic shopping bags as liners.
June 14, 2013
Rated

5

out of

5
 by
HerbieFan
Into 6th Year Of Use and Still LOVE It!
When I moved into my condo, I no longer had space for a big trash can in the kitchen. After looking around at solutions that would fit under my sink, I spotted this one that wouldn't take the entire space on one side and decided to give it a try. I not only have this hanging on the inside of the cabinet door on one side, I have a handy bin filled will cleaning products that I can pull out when needed on that side and still have the other side of the cabinet for a two tier roll out drawer made for under sinks with plumbing pipes for more storage. I have been more than satisfied with my choice. I even installed it myself and it is still hanging! :-) I live by myself, eat most of my leftovers and recycle everything I can, so a bag can last me quite a few days before it gets anywhere near full (or smelly) but I would imagine that even in a family situation, the bag would hold at least a day's worth if not more of kitchen trash if you are a responsible person that recycles cans, glass and cardboard type containers.
May 5, 2013
Rated

5

out of

5
 by
denthomp
Amazingly great purchase
My husband and I could not believe how easy this is to install and how much the bags can hold! This was a great purchase. We both have recommended it to friends and family.
April 27, 2013
Rated

5

out of

5
 by
dht183
Great space saver
I've been using this for several years now and it still works great. Such a great solution for small Brooklyn kitchens. It's easy to clean too. Highly recommend if you don't have room for a big trash can.
April 26, 2013
Rated

5

out of

5
 by
SunnyCat
Worth Every Penny
This product was exactly what I was looking for. I wanted the smaller bin rather than a larger one. We are a family of 4 and I hate having trash hang around in the house so it gets emptied every evening. I get to reuse my shopping bags so it is a total win win.It was easy to install it does exactly what I need it to do. I am so happy with this item. I would highly recommend this item to anyone that is looking for an under the counter bin.
April 26, 2013
Rated

5

out of

5
 by
melanya2001
Best Purchase Ever
this trash container is great if you want to hid it in a cabinet but the best is that it doesnt take up storage space since it's attached to the cabinet door. The bottom tray is a great place to store extra bags. i am very pleased.
March 22, 2013