Rated

5

out of

5
 by
TinMansHeart
Works perfect
I installed these in my bathroom. I use them with round magnetic jars to hold hair pins, rubber bands, small hair clips. They work great seeing that i don't have any drawers in my bathroom!
June 10, 2016
Rated

5

out of

5
 by
katiewm
spice rack
I bought two strips and mounted them in the kitchen to hold my spice jars with magnetic bottoms. Each 14" strip holds five jars. Stylish and functional.
April 25, 2014
Rated

5

out of

5
 by
Trying2Containmyself
in daughters room...
love this, it is great my daughter can hang artwork and add pics anytime...nicer than tacks in the wall and a nice clean look
April 2, 2014
Rated

5

out of

5
 by
wylies
great little magnetic strip
With a stainless steel fridge, I needed something unobtrusive & magnetic to keep my grocery list & the children's hot lunch schedule posted on. This was easy to install, works & looks great!
February 10, 2014
Rated

5

out of

5
 by
Cupcakes
Great Product
Bought 4 of these for work in white to hang things over my desk. The magnets are super strong. Only problem was one of the screw heads was not machined out so I had to search for a new screw that would fit.
January 3, 2014
Rated

5

out of

5
 by
jmsia
Perfect for hanging kids art!
I purchased over a dozen of these and hung them above the desk area in my kitchen to hold greeting/thank you cards and in the kids craft area to hang their artwork. I hung some from the ceiling in the bar area where hanging crafts can free float - no more tacks and tape! It looks clean and the magnets make it a breeze to change out art. The tiny magnets that come with it are surprisingly strong. I wish they were a little bigger though they are hard to get off the strip!
October 23, 2013
Rated

3

out of

5
 by
Gladi
works
I love all the size options with these, I just wish the magnets were stronger, but I was trying to use them more than what they were intended for.
May 5, 2013
Rated

5

out of

5
 by
Luvstoorganize
Great multi use product!
I used the purple in my daughter's room. They take up so little space. It's a great place for her to display her dance ribbons and photos and it looks cute in her room too.
April 27, 2013
Rated

4

out of

5
 by
MomForTwo
kids art display
I originally bought two stripes but ended up using 3 of them to make a long stripe. Very easy to use and install. With strong magnets, it can hold not the paper project, it also holds twisters, woods, candy craft and more! My kids love seeing their creation on the wall and we are able to switch things out as needed. Convenient and no more pins and tapes!
April 8, 2013
Rated

5

out of

5
 by
Holliz
Nice solution for additional magnet space
I bought two of these (the olive and the red) to install on our wall next to the refrigerator because we have one of those 'fridges that doesn't have a magnetic surface. We have a 2 year old and over the years I'd like to be able to hang up the things he brings home from daycare and then from school, in future years. This is a great solution. I am actually going to buy 2 more. They're easy to install, just two screws and you're done. I hung mine horizontally but you could use them vertically too. They come with these tiny, circular, fairly strong magnets in case you need them. They work great but I'm only going to use them on the strips that are out of my son's reach as they're tiny and I'm sure he'd love to toss them in his mouth. You don't have to use the tiny magnets that come with it...whatever you already have works, too.
April 7, 2013
Rated

5

out of

5
 by
Verified Reviewer
Loved These!!
I bought myself the 3 of the silver to go in my office and have found them extremely useful. I can put all those little cards and pieces of paper you collect in the day on here and know where everything is, as those things tend to get lost on a big board. I loved these so much I'm going to be buying more for my daughters room!! A DEFINITE MUST BUY!!
April 4, 2013
Rated

5

out of

5
 by
rachel555
not easy to find these anywhere else - very handy
love that you guys have these in multiple sizes at a good price - hard to find elsewhere. cute colors. good sizes for all places.
March 26, 2013
Rated

5

out of

5
 by
ContainerGodess
Use when you have a stainless refrigerator
Easy to use to hold all the thing we used to hang on the refrigerator
March 25, 2013
Rated

5

out of

5
 by
SaraF
Love it!
This is the perfect little magnetic board for any space. Big, small it doesn't matter--if you're on the go and need to put important reminders, or those tickets that you don't want to lose. I have a few special pix of my kids hanging on mine right by the door--so I see them when I leave and get home! Love it!
March 18, 2013
Rated

5

out of

5
 by
Cindydb
Mini Magnetic Strip
This is a great product. I use them everywhere in our home. Garage, Kitchen, Kids rooms, and especially as an accessory to our calendar/activities board. If you have items stuck on your fridge, laying around your home, or projects your kids are proud to show off - these will be a priceless item to your home organization!
February 26, 2013
Rated

5

out of

5
 by
Cnorwood588
Great!!!
I bought this for my magnetic containers that I keep loose spices in, and it works perfectly for this! I have it right above my stove so they're within reach when cooking. I currently have four magnetic containers on mine, but I think it could easily fit one more. The little magnets that it comes with are very strong, and I use those on my refrigerator. Very happy with this product, and I intend to purchase another soon. You can't beat it for the price!!!
February 22, 2013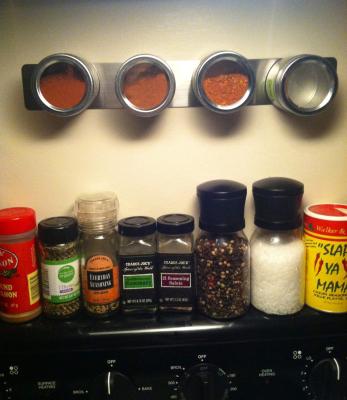 Rated

5

out of

5
 by
2dogs
bello, bueno, barrato
Perfect little strip combined with mighty magnets go up easy, have a finished look, and the price is right.
February 15, 2013
Rated

5

out of

5
 by
Orgscrapper
Pretty and Practical
I was tired of my scrapbooking ribbon always getting tangled in a drawer. We placed two of these strips over my work table and added the magnutz super strong magnets. I was able to sort, untangle, and hang my ribbon for easy access. It also adds a pop of color. I love how the bars are sleek and blend into the wall.
May 4, 2012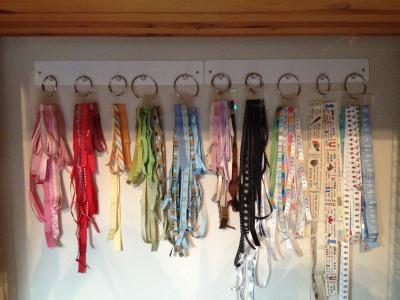 Rated

4

out of

5
 by
dementedcat
Very Versatile
I purchased a couple of these magnetic strips to hang on the wall just below a large framed piece of art over my sewing machine. They aren't very noticeable since the art is mounted on white mat board. I use them to hang my sewing pattern instruction sheets up for easy viewing. I've also put my small scissors and seam ripper on there--they are drawn to the mighty magnets kept there--to keep them out of reach of my grandchildren.
March 20, 2012
Rated

5

out of

5
 by
DenverShoppingQueen
keeps me organized
I bought this strip as part of my closet remodel. I have it mounted on the wall to organize my necklaces and it works great. The strip is strong and many types of magnets work great on it!
March 20, 2012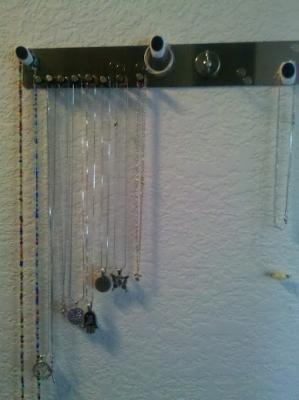 Rated

4

out of

5
 by
Angelina
Love these...
I have a refrigerator that isn't magnetic. I've got two of these on my refrig. I can hang my kid's lunch menus, homework, notes for my hubby, etc. Love love them.
March 19, 2012
Rated

5

out of

5
 by
nslnswetie
Great magnet
I purchased this strip to pu t on my corkboard. I need more pinup space than magnet. This helps me make the best of both words. The best part is I can move it back and forth. I used pushpins to hold it up and it is very strong. The magnets it comes with easily hold up several thickness' of paper.
March 9, 2012
Rated

4

out of

5
 by
OhSoNeat
Functional AND decorative
The Mini strip is wonderful for smaller items, especially photos. Decent color choices. Magnets work well, but a little too flat. Used the strip along with magnetic storage containers on the wall to help declutter the desktop.
March 9, 2012
Rated

5

out of

5
 by
Cooper08
Useful and colorful!
These are so great. I use them in my bathroom on one wall to hang my jewelery. Not only is it convenient and space-saving, but the colors of the strips, plus being able to scatter them in different designs made this product very fun. Normally I stick them on my walls with Command Strips, but for hanging heavy items, mounting them with screws is best.
March 8, 2012
Rated

5

out of

5
 by
dsusan
Great organizational tool for the home office and colorful to boot
March 7, 2012
Rated

5

out of

5
 by
SemiOrganizedLady
Easy and Convenient
These are so easy to install - I usually don't even install the wall anchors in the drywall and they stay in place just fine. Convenience: 1. By our door to park something that needs to go to the bank, post office, or elsewhere. 2. Over my drafting board to hold drawings to which I'm refering. 3. On our cork board to hold a mesh pencil/pad container and other things off of the counter and by the phone. 4. At top and bottom of our whiteboard that isn't magnetic - holds the pen cup, eraser, and papers. 5. Propped in a glass jar to mobilize my magnetic "to do" list.
March 4, 2012
Rated

5

out of

5
 by
MaddyH
Great product!
I purchased this magnetic strip to help organize my kitchen spices. I put it inside the spice cupboard on the back of the cabinet above the other items already inside. Then I took the small spice containers (yy McCormicks with the red lids) and put a magnet on the bopttom of each. I used my label maker to put the spice names on the lids. Then I put them on the magnetic strip in the back of the cupboard. Now I can accomodate more spices and they are very organized. I love this product.
February 29, 2012
Rated

4

out of

5
 by
Kayla12
Very cool
I love this, but I wish I would have bought the larger size! I mostly hang papers from it and it gets crowded fast. I also bought different magnets, too. I wasn't a big fan of the flat ones that came with it.
February 28, 2012
Rated

5

out of

5
 by
Katheryn
Greatest Purchase
We are remodeling our kitchen and I needed these mini-magnetic strips to put my appointment cards on, etc. They are great and have the strongest magnet I have ever seen. I just love them. Thanks for a great product.
January 26, 2012
Rated

5

out of

5
 by
AthleteswithAutism
Awesome buy!!
We are using this product as part of our visual support system to help our athletes gain independence in our sports programs!
May 13, 2011